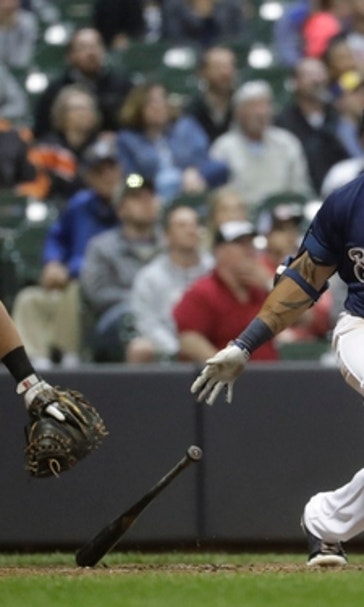 Eric Thames bashes his way into Brewers' record book
BY AP • April 26, 2017
MILWAUKEE (AP) Eric Thames is bashing his way into the Milwaukee Brewers' record book.
No adjustment period necessary for the bushy-bearded first baseman in his first season back in the majors after three years playing ball in South Korea.
With a two-run shot on Tuesday night against the Cincinnati Reds, Thames upped his major league-leading home run total to 11. He also set a franchise record for April homers.
The Reds must already by sick of Thames, who has eight homers in six games against Cincinnati pitching.
''It is crazy with baseball,'' the left-handed slugger said after hitting two homers in Milwaukee's 11-7 win Monday. ''There are some teams that somehow the ball finds your barrel, and there are some teams where you get a good pitch and you swing and it is a foul ball or a strikeout. I don't know.''
Most American fans had no idea how Thames' success overseas would translate to the majors. He hit .348 with 124 home runs, 379 RBIs and 64 steals in 388 games during three seasons in South Korea.
The Brewers signed the 30-year-old Thames in November to a $16 million, three-year contract. In need of more lefties in the lineup, they cut right handed-hitting first baseman Chris Carter after a 41-homer season that tied for the National League lead
Thames had an unremarkable initial stint in the majors, hitting .250 with 21 homers with Toronto and Seattle in 2011 and 2012. The Blue Jays selected Thames in the seventh round of the 2008 amateur draft.
There was still enough a history, though, to track Thames' progression all the way back to his days playing college ball at Pepperdine, general manager David Stearns said before Tuesday's game. Thames has said he learned how to be patient while playing in Korea because while pitchers there don't throw as hard, they were able to locate their offspeed pitches.
''We do the best we can analytically, but we recognize that can only take us so far and we try to look at some other factors of the `why,' and why is the player having success in his current environment. Do we think that those driving forces will translate to the major league level,'' Stearns said.
''In this case we ultimately thought that there was a good chance that the reasons that Eric was having success ... in Korea would ultimately translate to the United States,'' he added.
Now Thames is processing information about major league pitching at a quick rate, making adjustments pitch by pitch.
''He's not missing. As the saying goes, you may get one good pitch to hit in your at-bat, you don't want to miss it,'' Reds manager Bryan Price said. ''He's hit some good pitches too, but he doesn't miss a mistake.''
Cubs pitching coach Chris Bosio has called Thames' breakout ''a head-scratcher,'' and some took his comments in a radio interview as an accusation that Thames may be using performance-enhancing drugs. Thames has been asked about such suspicions and denies using banned substances.
''If people keep thinking I'm on stuff, I'll be here every day,'' he said Tuesday. ''I have a lot of blood and urine.''
The early success is also about feeling more confident in his abilities and having more fun over the last three years.
In January, during his first interaction with Brewers fans on a winter caravan event, Thames spoke about looking forward to the little things again like being able to speak more English with teammates, and playing cards in the clubhouse. He said he felt humble to be back in the majors. An affable personality also lends to the appearance of Thames feeling at ease in Milwaukee.
''In Korea and here, I'm just going to do my job and work as hard as I can so come game time I can relax and let it all go,'' Thames said.
Among other notable tidbits:
-He broke the Brewers record with 10 homers in the team's first 21 games, passing Rob Deer (nine in 1987).
-He has reached base at least three times in seven games, and in 17 of his 19 games.
In Korea, Thames was a star. His April exploits with the Brewers have created a buzz in the majors.
''It is amazing when stress levels decrease you actually have fun and be loose and are able to relax,'' Thames said. ''It is crazy.''
---
AP freelance writers Andrew Gruman and Joe Totoraitis contributed to this report.
---
More AP baseball: https://www.apnews.com/tag/MLBbaseball
---
---