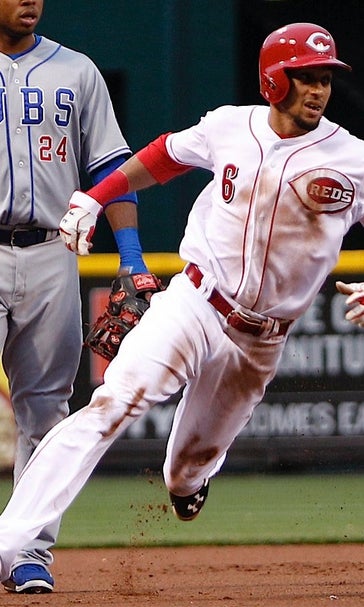 Does a speedster on base help the guy at the plate?
May 13, 2014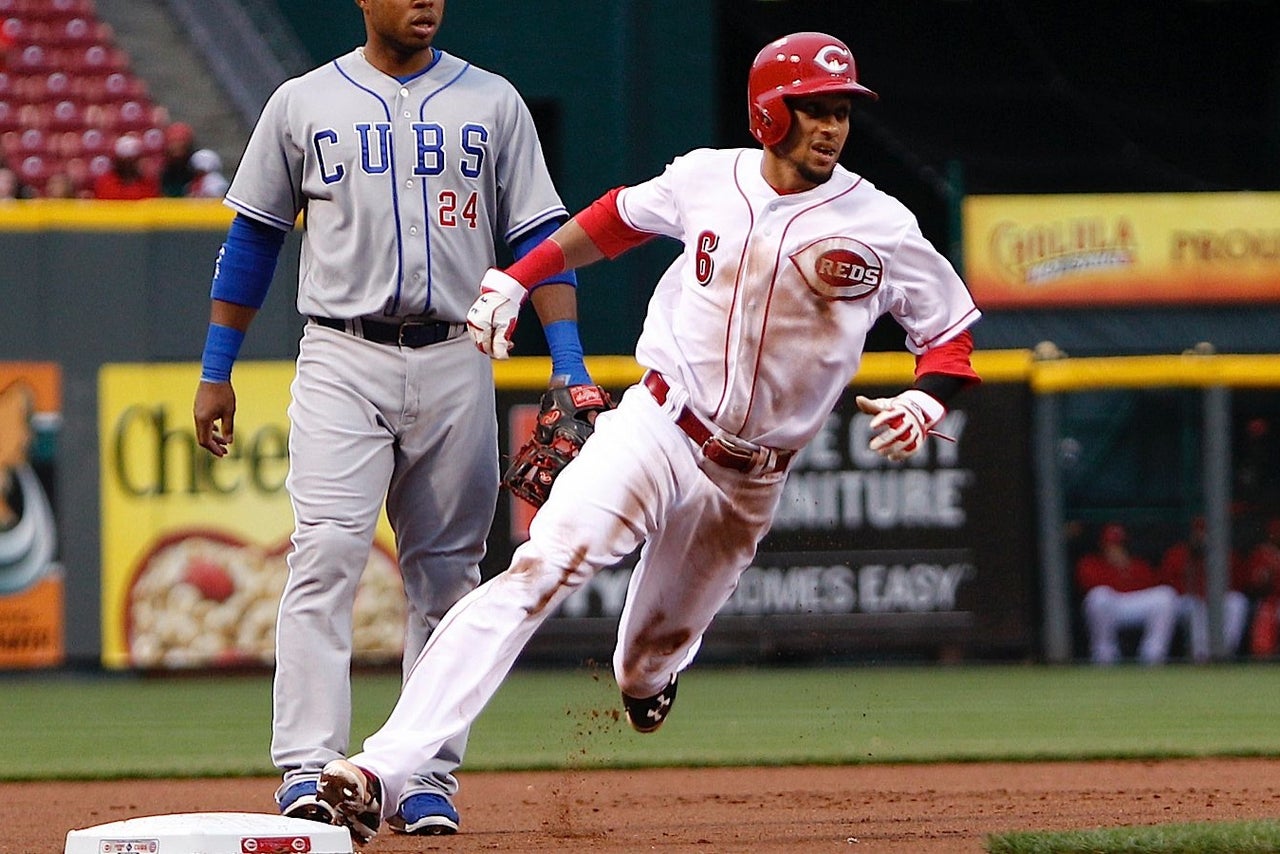 Heading into Opening Day, the only thing that disrupted our blissful visions of Billy Hamilton's upcoming "I Heart the '80s" throwback-style season was that pesky .308 on-base percentage he put up in Triple-A last year. As we've known for a few decades, players' major-league stats often bear more than a passing resemblance to their minor-league stats, and in Hamilton's case, that low OBP was backed up by the warnings of scouts, who cautioned that he might not have the strength to punish major-league pitching. Sure enough, through his first 32 games and 110 plate appearances as the Reds' full-time center fielder and leadoff hitter, Hamilton has a .299 OBP, though he's looked a lot less overmatched lately. (Split Hamilton's season into two 55-PA chunks, and over the second of those samples, he has a .382 OBP.)
Hamilton's performance so far falls well within the range of possible outcomes that Baseball Prospectus' projection system, PECOTA, forecast for him this season. Hamilton's weighted-mean PECOTA projection called for him to have a .305 on-base percentage and a .242 True Average, near matches for his actual .299 and .241 marks to date. Despite that dismal projected performance at the plate, though, the system expected Hamilton to be worth over three Wins Above Replacement Player, thanks to his plus defense in center and projected 73 steals.
Real-life Hamilton has been an above-average center fielder, and he was on pace for right around 73 steals before being sidelined earlier this month by a nasty case of sprained knuckles (though he's been caught in almost 30 percent of his attempts, which PECOTA didn't predict). Hamilton's ancillary skills have helped him make up for some of his offensive struggles. In fact, they may have helped more than we know. Is it possible that Hamilton has a heretofore hidden skill that no projection system or advanced statistic can capture?
Late in spring training, Reds slugger Joey Votto told Eno Sarris, "The best lineup protection is when Billy Hamilton is on base in front of me, and it's not about protection, it's that I get a more predictable pitch to hit — fastball." Votto has a reputation for being a cerebral, sabermetrically savvy batter, and his claim sounds reasonable. It makes perfect sense that with the fastest, most aggressive runner in baseball on base, pitchers would rely more heavily on the offering that they can throw the hardest and with the best command, giving their batterymate the greatest chance to make an accurate, on-time throw. And if batters really do see more fastballs with Hamilton on base, it would be to their benefit. The following table lists the most common pitch types thrown this season; four-seam fastballs have the lowest groundball rate per ball in play, the highest slugging percentage on contact and the second-lowest whiff rate.
So, is it true that hitters face more fastballs with Hamilton on base? To find out, we'll have to construct a study that will isolate what we want to know.
First, we should focus on stolen-base situations — for our purposes, cases when Hamilton is on first base with second base open. (When someone's clogging the bases ahead of him — and relative to Hamilton, everyone's a baseclogger — pitchers needn't be as mindful of his speed.) Second, we have to ensure that our sample isn't biased. We can't compare the pitch selection that all batters see with Hamilton on in a steal situation to the pitch selection that all batters see with any runner on in a steal situation because the batters in the former group would consist exclusively of Cincinnati's middle-of-the-order hitters, who might not reflect the league as a whole. Nor can we simply compare the pitch selection that batters see with Hamilton on in a steal situation to the pitch selection that the same batters see in all situations, since pitchers might vary their pitch selection somewhat with any runner on base.
To get a true apples-to-apples comparison, then, we have to compare the first pitches batters see with Hamilton on in a steal situation to the first pitches the same batters see with all other runners on in a steal situation. And to calculate the average increase in fastball rate with Hamilton on (if there is one), we have to weight the non-Hamilton numbers by the distribution of batters who've come to the plate with Hamilton itching to take off.
The good thing about the sample we end up with is that it's not skewed. The bad thing is that it's awfully small. Hamilton hasn't played much in the majors, and as mentioned earlier, he's had trouble getting on base in his limited big-league time. In addition, when he is on base in a stolen-base situation, he often takes off very quickly. Even if we include September of last season, we get only 41 0-0 pitches with Hamilton on first and second base open. Of those 41 pitches, 34 (82.9 percent) were "fastballs" (counting four-seamers, sinkers, and cutters). When the same distribution of batters went to the plate with someone other than Hamilton on first with second base open, they saw only 69.4 percent first-pitch fastballs. That's a sizeable fastball boost with Hamilton on base. Not only that, but batters have hit much better in plate appearances with Hamilton on base in a stolen-base situation than they have with other runners on in similar spots. Votto was right!
You can find the full roster and results here, but let's skip to the summary, which displays the fastball percentage for the same group of batters on 0-0 counts from 2007-14, both with regular runners on in stolen-base situations and in more than 15,000 cases with hyper-aggressive runners on in similar spots:
Think about the last time you watched a game in which Hamilton was on base in a stolen-base situation. If you're like many spectators, you only had eyes for him. And if you thought his speed was distracting from afar, imagine how it must have felt on the field. We know it has an effect on the pitcher, the catcher, and the other infielders, who have to keep a close eye on his lead. But the batter, too, can have his concentration shaken by a habitual thief, and that explains why hitting stats suffer with an aggressive runner on base.
These findings jibe with those of Tom Tango, Mitchel Lichtman and Andy Dolphin, the co-authors of The Book, who calculated that having a runner on first with less than two outs confers a major advantage upon the batter (on the order of 14 points of wOBA), most likely because the defense is playing in or at double-play depth. But they also discovered that the advantage dissipates with what the authors dubbed a "disruptive runner" -- one with a high rate of steals per opportunity -- on first.
So why is a batter better off with a slow runner or a fast runner who rarely steals on first than he is with someone who's a constant threat to steal? Stolen bases are distracting. When a runner goes, the movement can catch a batter's eye at the moment when he's trying to focus on the pitcher's release point. And worse, the hitter might feel that he has to take a pitch because the batter got a good jump, or swing at one to rescue the runner from being out by a mile.
"Hitting behind Dave Roberts in Double-A, I remember feeling frozen at times when he'd take off," says FOX Sports analyst and former major leaguer Gabe Kapler. "A bigger distraction came with false breaks. Average batters inevitably are more likely to take when out of the corner of their eye they witness their teammate appear to be attempting a stolen base."
A steal attempt imposes an extra cognitive load at a time when the batter's brain needs no extra strain, and as a group, hitters pay a price in performance. As The Book concluded, "The stolen base reduces the wOBA of the batter by 22 points, compared to the situation if the runner elected not to steal." If Hamilton is having any effect on his teammates' offensive performance, it's probably a harmful one, despite the extra fastballs and hittable pitches. His ability to distract people with his speed is a weapon, but that weapon is pointed at his teammates, too.
Last month, Votto again discussed Hamilton's effect on his plate appearances on ESPN 1530 in Cincinnati:
I told (Hamilton) last year, 'You're the first person that has ever protected me.' In that, by definition, protection should be giving me an opportunity to see better pitches during my at bat. [Pitchers] changing their approach against me and spending their time and energy … or at least splitting their focus between me and him. I saw several pitches that split the plate or in a part of the strike zone I never ever would gotten before because of him. So, there are going to be some advantages to having a guy run all of the time in front of me if he is on base a bunch, but I personally noticed a difference last season.
The authors of The Book did find that "middle-aged" batters are the least disrupted by runners who are attempting to steal, so maybe Votto really isn't bothered by having Hamilton on the move. As Kapler adds, "The truly elite guys have a calm that shocked me. They simply swing when they get a good pitch to hit or take balls regardless of what the baserunner does. I bet Votto falls into that category." Either way, it might not matter as much if Reds skipper Bryan Price sticks with his recent decision to bat Votto fourth.
But if Price bumps Votto back up to the second spot and Hamilton continues to get on and go, the former MVP might find that having the leadoff man on comes at a cost that's easy to overlook when evaluating prolific runners. Even cerebral hitters can be fooled by a small sample.
Thanks to Dan Brooks, Rob McQuown, and Harry Pavlidis for research assistance.
---
---