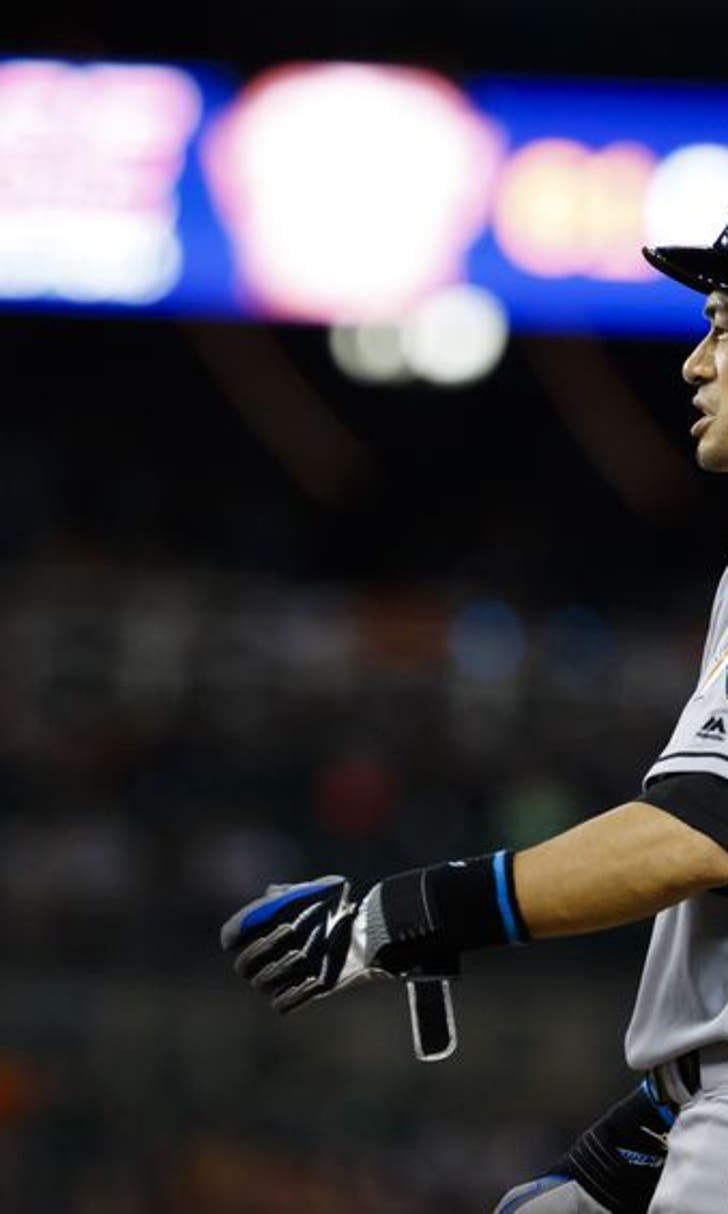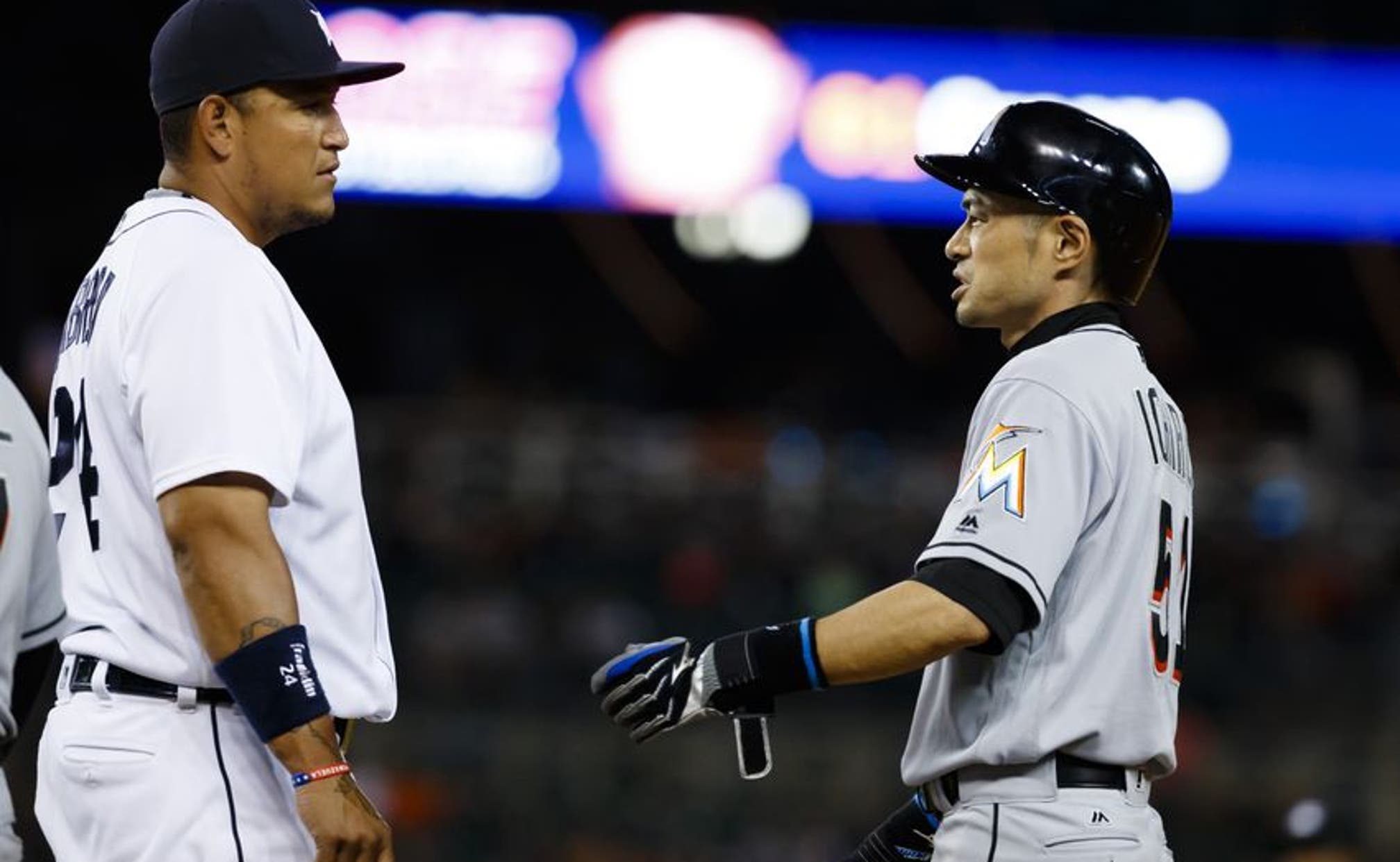 Detroit Tigers: Three Ideal Center Field Trades
BY Fansided and Ben Rosener/FanSided via Motor City Bengals • December 17, 2016
Sep 2, 2016; Kansas City, MO, USA; Detroit Tigers left fielder Justin Upton (8), third baseman JaCoby Jones (40), and right fielder J.D. Martinez (28) celebrates in the outfield after the win over the Kansas City Royals at Kauffman Stadium. The Tigers won 7-6. Mandatory Credit: Denny Medley-USA TODAY Sports
Detroit Tigers fans will see a different center fielder next season. With Cameron Maybin gone, the team will turn to a new starting outfielder in 2017. Here are three trades that make sense.
Detroit Tigers general manager Al Avila has yet to make a significant trade this offseason.
So far, the general manager has only made one trade and a number of minor signings.
Avila flipped Cameron Maybin to the Los Angeles Angels of Anaheim for pitching prospect Victor Alcantara.
He also reportedly brought in a pair of pitchers on minor league deals to provide depth. Michigan native A.J. Achter was reportedly signed, as was fellow starter Anthony Vasquez.
While Alcantara, Achter, Vasquez and Rule 5 draft pick Daniel Stumpf help give the Tigers some more pitching depth, they don't do anything to address the need in center field.
As it stands, some combination of JaCoby Jones, Anthony Gose, Tyler Collins and Andrew Romine will see time in the middle of the outfield.
While that grouping may have worked for a rebuilding team, the Detroit Tigers are still a contender on paper.
Not only has the team kept most of its veteran stalwarts, the Tigers have also seen division rivals deal away key pieces.
Chicago flipped Chris Sale and Adam Eaton for major prospect hauls while Kansas City shipped Wade Davis to the Cubs.
With the Twins' youth movement still developing, it is very likely that Detroit will head into next season as one of just two non-rebuilding teams in the American League Central.
The Tigers have an excellent shot to not only make the playoffs, but potentially unseat Cleveland for the division title. If they want to reach both of those objectives, they may need another center fielder.
JaCoby Jones is still the future of the position, and is close to being an everyday regular. Obviously, if Jones can find success as a starter in 2017, Detroit won't need to make a move.
However, if the team does bring in a center fielder, it will likely be a short-term option to serve as a stop-gap until Jones is ready.
Here are three ideal trades the Detroit Tigers could make to acquire a center fielder.
Sep 24, 2016; San Diego, CA, USA; San Diego Padres oinch runner Travis Jankowski (16) is congratulated after tying the game in the seventh inning against the San Francisco Giants at Petco Park. Mandatory Credit: Jake Roth-USA TODAY Sports
Detroit Tigers Acquire: Travis Jankowski and Brad HandSan Diego Padres Acquire: Jose Iglesias, Buck Farmer and Anibal Sanchez
While the Tigers would deal away a solid starting shortstop in Jose Iglesias, the team would net two exciting pieces in Jankowski and Hand.
Jankowski, a 25-year-old speed merchant, is an excellent defensive outfielder. Even when JaCoby Jones is ready for a starting role, the current Padre can make an impact as a pinch runner and fourth outfielder.
The former first-round pick can also help Detroit bridge the gap from J.D. Martinez to Christin Stewart.
Whenever Jones takes over in center field, the Tigers can shift Jankowski to right field to man the position until top prospect Christin Stewart is ready for the Majors.
In 131 games last season, Jankowski contributed a 2.1 WAR and a 3.1 BsR. He also stole 30 bases while chipping in with 53 runs scored, 17 extra-base hits and 12 RBI. On the defensive side of the ball, the center fielder turned some stellar numbers.
His UZR finished at 11, while his UZR/150 checked in at 20.9. Overall, Jankowski turned in a DRS of three.
Brad Hand
Simply put, Brad Hand was one of baseball's best setup relievers last season.
Over the course of 82 appearances (89.1 innings pitched) the southpaw struck out 11.18 batters per nine innings. He also notched a 1.6 WAR. Additionally, he posted a 12.2 swinging strike percentage while turning in some excellent run-prevention stats.
In his 89.1 innings of work, Hand pitched to a 2.92 ERA, a 3.07 FIP, a 3.3f xFIP and a 3.09 SIERA.
Controllable through 2019, the ex-Marlin would give Detroit another left-handed option in the bullpen. In this scenario, the Tigers could move forward with Hand and Justin Wilson in relief roles.
However, with Kyle Ryan, Blaine Hardy and Stumpf also providing left-handed options for Brad Ausmus, the Tigers could flip Wilson for a premium return.
Dealing Iglesias would be difficult, but the Tigers have Dixon Machado waiting in the wings. The prospect has the defensive upside to be just as good as Detroit's current starter with the glove.
Why the Trade Works for the Padres
While San Diego has a number of young options around the infield and in the outfield, there greatest area of need is at shortstop. Former top prospect Luis Sardinas is the club's best option at this point at the position.
While Sardinas hit .287 with a .770 OPS in a 34-game stint for the National League West club last year, he still owns a career on-base percentage of .284.
Iglesias would obviously fill the need for the Padres.
Speaking of positions of need, San Diego is in dire need of starting pitchers.
Last year, eight different Padres made at least 10 starts. Of those eight, only Christian Friedrich, Luis Perdomo and Paul Clemens will open next season with the club.
Considering Perdomo's ERA ballooned to 5.71, while Clemens' FIP sat at 4.79, reinforcements are clearly needed.
In Sanchez and Farmer, the Padres would acquire two starters to plug into their rotation.
If the former Marlin can rebound in spacious Petco Park, San Diego could always deal him at the trade deadline for more prospects.
Jun 12, 2016; Milwaukee, WI, USA; Milwaukee Brewers left fielder Ryan Braun (8) is greeted by second baseman Scooter Gennett (2) and center fielder Keon Broxton (23) after making a diving catch of ball hit by New York Mets third baseman Wilmer Flores (4) in the eighth inning at Miller Park. The Brewers beat the Mets 5-3. Mandatory Credit: Benny Sieu-USA TODAY Sports
Detroit Tigers Acquire: Keon Broxton and Scooter GennettMilwaukee Brewers Acquire: Kyle Ryan, Mark Lowe, John Hicks and Dominic Ficociello
There's a lot to unpack here with this hypothetical trade, so let's start with Detroit's return.
Despite appearing in only 75 games, Broxton racked up a 2.1 WAR while excelling on the base paths and in the field.
One of Milwaukee's many base=stealing threats, the center fielder contributed 23 stolen bases and a 3.5 BsR. What's more, he thrived defensively.
Playing in center field, the 26-year-old turned in a 5.4 UZR, a 23.2 UZR/150 and a DRS of nine.
Generally, a player who does all this—not to mention a .188 ISO and 20 extra-base hits—wouldn't be dealt.
However, despite Broxton being controllable through 2021, the Brewers will need to make room for elite prospect Lewis Brinson in center field. A potential 30-30 threat, the former Texas farmhand hit a blistering .382 in Triple-A last season and could debut for Milwaukee in 2017.
Gennett
In addition to Broxton, the Detroit Tigers would also acquire Scooter Gennett.
A second baseman by trade, Gennett collected 56 RBI, 58 runs scored and 14 home runs in 136 games last season.
Set to make $2.525 million next season, the infielder's salary helps offset Lowe's contract in the deal.
While Gennett was productive last year, Milwaukee's additions of Travis Shaw and Eric Thames will likely push Johnathan Villar into starting at second base.
While fellow infielder Hernan Perez can see time in the outfield, Gennett has played all put one inning of his career in the Majors at second base. He'd represent a solid bench bat and an insurance policy should Ian Kinsler be dealt.
Why the Trade Works for Milwaukee
With a crowded infield and a rotation that isn't lacking in options, the Brewers' most significant area of need is in the bullpen.
Carlos Torres, Jhan Marinez and Corey Knebel all return, but the team will need to replace the departed Tyler Thornburg and Blaine Boyer.
Ryan is an obvious candidate to step in and provide quality innings, while Lowe has bounce-back potential.
Similar to the Padres and Anibal Sanchez, the Brewers could deal Lowe a the trade deadline for future pieces.
Also going to Milwaukee is Hicks. As it stands, he is James McCann's only backup in the Motor City. However, should the Tigers sign a free agent catcher, Hicks may be stuck in Triple-A Toledo.
With prospect Grayson Greiner making his Mud Hens debut late last season, Hicks could be expendable if another veteran backup is added.
As of now, Milwaukee will use some combination of Manny Pina, Andrew Susac and Jeff Bandy next season. There isn't a clear-cut starter in the mix, and Hicks would give the team another young option.
Rounding out the deal is Dominic Ficociello.
While the prospect isn't going to be a base stealing machine like many of the Brewers position players, the 24-year-old can play across the diamond. Ficociello has experience at first base, second base, third base and in left field.
Milwaukee clearly values defensive flexibility as Shaw, Villar and Perez can all play multiple positions.
Ficociello would be an excellent fit in that regard.
Jun 28, 2016; Detroit, MI, USA; Miami Marlins right fielder Ichiro Suzuki (51) gets set to bat in the first inning against the Detroit Tigers at Comerica Park. Mandatory Credit: Rick Osentoski-USA TODAY Sports
Detroit Tigers Acquire: Ichiro SuzukiMiami Marlins Acquire: Tyler Collins and Buck Farmer
Ichiro may not be the WAR and batting average machine that he was in his early years with the Seattle Mariners, but the future Hall of Famer is still extremely productive.
The 43-year-old continued to rake at the plate, with a .291 batting average and a strong .354 on-base percentage. He also chipped in with 48 runs scored, 22 RBI and 10 stolen bases. What's more, the veteran is still a solid fielder in center field.
He'd be the definition of a stop-gap option, but Ichiro would provide quality production in center field until JaCoby Jones is ready.
Why the Trade Works for the Marlins
Right off the bat, Collins gives the Marlins a younger option than Ichiro to serve as a fourth outfielder.
While the former Tigers prospect isn't a perfect fit in center field, Marcell Ozuna can occasionally play in center field, effectively serving as Christain Yelich's backup.
Additionally, Farmer would add more pitching depth to the team. Even with the signings of Edinson Volquez, Jeff Locke, the Marlins could still use an extra starter or two.
A potential swingman, Farmer could also contribute out of Miami's bullpen.
Both Collins and Farmer serve as young controllable players for the Fish, who would acquire the duo for Ichiro's expiring contract.
Given that the club has handed out significant free agent deals to the likes of Volquez, and Junichi Tazawa, Miami could use some controllable, young pieces.
More from Motor City Bengals
This article originally appeared on
---
---