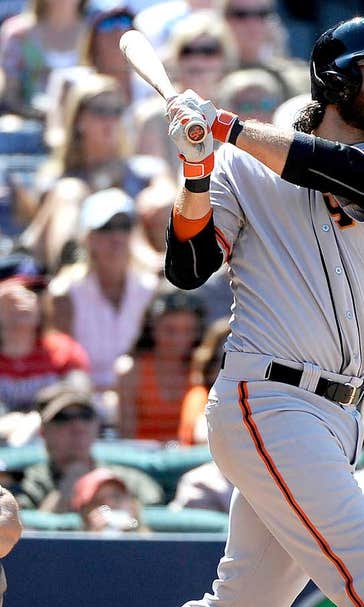 Crawford homers twice as Giants hand Braves 6th loss in row
BY foxsports • May 4, 2014
The San Francisco Giants put together quite a mind-boggling statistic in their first three-game sweep at Turner Field.
San Francisco did not have a hit with a runner in scoring position, but still won three straight over the Atlanta Braves. Credit belongs to strong pitching and seven home runs.
Brandon Crawford hit two home runs and Madison Bumgarner helped the Giants beat Atlanta 4-1 on Sunday, handing the Braves their sixth straight loss.
The Giants were 0 for 4 with runners in scoring position on Sunday and 0 for 7 in the series. Still, the National LEague West leaders left town with a five-game winning streak.
''That's incredible,'' manager Bruce Bochy said. ''What a job our pitching did here. . . . The long ball, that's what won it for us because we couldn't get a hit. They had great pitching as well.''
It was San Francisco's first sweep in Atlanta since 1988 -- long before Turner Field opened in 1997 and before Bumgarner was born in 1989.
''That's a big series for us,'' Bumgarner said.
The Braves' skid is their longest skid since an eight-game slide in May 2012. Atlanta, which leads the NL East, was held to one run in each of the losses to San Francisco.
''We've been struggling,'' said Dan Uggla, who was 0 for 4 and is hitting .190. ''We've got to turn the corner and just turn this thing around. Like, now.''
Bumgarner (3-3) allowed one unearned run and three hits in six innings, striking out nine.
Improved control allowed Bumgarner earn his first win since April 11. He walked only one batter after issuing a combined eight passes in his last three starts before Sunday.
''I still felt like I got behind a lot of times when I wanted to get ahead, but it's a big step forward,'' Bumgarner said.
Santiago Casilla pitched the ninth for his first save. Closer Sergio Romo was rested after recording saves in two straight games.
Crawford gave the Giants a 2-1 lead with his homer off Alex Wood (2-5) in the fourth. Crawford hit a two-run shot off Jordan Walden in the eighth for his first career multihomer game. He began the day with only one homer this season.
Wood lost his fourth straight start, again receiving almost no run support. The one run scored by Atlanta on Sunday is the only offense Wood has received in that span, which included back-to-back 1-0 losses.
The left-hander has a 3.00 ERA after allowing two runs on seven hits and one walk in five innings.
Braves manager Fredi Gonzalez, who hinted he may tweak his slumping lineup, said an offensive turnaround is coming.
''Somebody's going to have to pay for it,'' Gonzalez said. ''Sooner or later somebody's going to come in here and we're going to score 10 runs a game for two or three weeks. That's my mindset I've got going on right now.''
The Giants' only runs in their first two wins of the series came on five solo homers. They found another way to score in the first when Hunter Pence hit a one-out double, moved to third on a wild pitch and scored on Buster Posey's grounder to first base.
Atlanta's Evan Gattis was called for catcher's interference on Posey's grounder, and the umpires initially ruled Posey was safe at first and Pence had to return to third base. Bochy took advantage of Rule 6.08c, which allows a manager to take the live play instead of the interference ruling.
Jason Heyward hit a sacrifice fly in the Atlanta third. The Giants reclaimed the lead on Crawford's homer to right-center with two outs in the fourth.
NOTES: Bumgarner has allowed only one earned run in winning three straight starts against the Braves, including two wins in 2013. . . . Gonzalez said SS Andrelton Simmons was held out for personal reasons and is expected to start on Monday. . . . Braves RHP Gavin Floyd (elbow surgery) came off the 15-day DL and will start on Tuesday against St. Louis as RHP Ervin Santana has his scheduled start skipped due to swelling below his right thumb. Gonzalez said he expects Santana to start on Saturday against the Cubs. . . . The Giants open a series at Pittsburgh on Monday as RHP Matt Cain starts. . . . The Braves' homestand continues on Monday night with RHP Aaron Harang facing Cardinals RHP Shelby Miller.
---
---