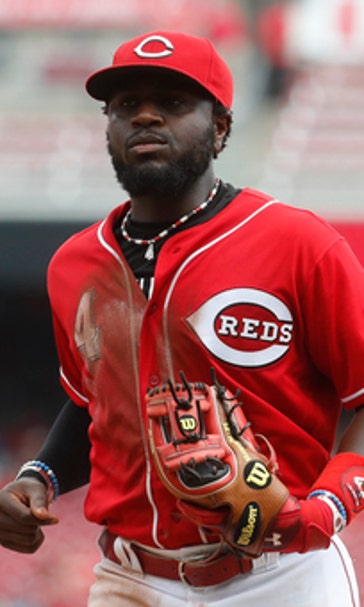 CORRECTION: Braves-Phillips story
February 13, 2017

ATLANTA (AP) In a story Feb. 12 about Brandon Phillips of the Atlanta Braves, The Associated Press reported incorrect details about his contract. He had 10-and-five rights to block trade rather than a no-trade clause.
A corrected version of the story is below:
Braves acquire Brandon Phillips from Reds in trade
The Atlanta Braves have acquired 3-time All-Star Brandon Phillips from the Cincinnati Reds for two pitchers
ATLANTA (AP) - The Braves acquired three-time All-Star Brandon Phillips on Sunday from the Cincinnati Reds for left-hander Andrew McKirahan and minor league right-hander Carlos Portuondo.
Braves general manager John Coppolella called Phillips a ''Gold Glove-caliber defender who will also deepen our offensive lineup.''
''We are thrilled to `welcome home' Brandon to Atlanta, where he will play in front of his family and friends and many of his fans,'' Coppolella said.
Phillips graduated from Redan High School in Stone Mountain, Georgia, in 1999, when he was drafted in the second round by the Montreal Expos. He made his debut with the Cleveland Indians in 2002.
Phillips, a 35-year-old second baseman, has a $14 million salary this season, of which $2.25 million is deferred without interest, then can become a free agent.
As a player with at least 10 years of major league service, including five with his current team, Phillips had the right to block any trades. In exchange of Phillips waiving that provision, the Braves agreed to add a $500,000 assignment bonus if he is traded by Atlanta.
His contract still includes a limited no-trade provision that lists 12 teams to which he cannot be traded without his consent.
''It should be noted that we never included no-trade or limited-trade provisions for players such as Hall of Famers Greg Maddux, Tom Glavine and John Smoltz, as well as future Hall of Famers Chipper Jones, Fred McGriff and Andruw Jones, and we have no intention to include these provisions in the future,'' Coppolella said.
Phillips has a .275 batting average with 334 double and 197 home runs in his 15 seasons in the majors. He is only 137 hits shy of 2,000 for his career.
McKirahan, 27, was claimed off waivers by the Braves from the Miami Marlins in 2015. He had Tommy John surgery, causing him to miss last season.
Portuondo signed with the Braves as a free agent last year after eight seasons in the Cuban league with Santiago. He pitched in 17 games for Class A Carolina and Triple-A Gwinnett.
---
---