Butler jumps from Royals to A's for 3 years, $30 million
BY foxsports • November 18, 2014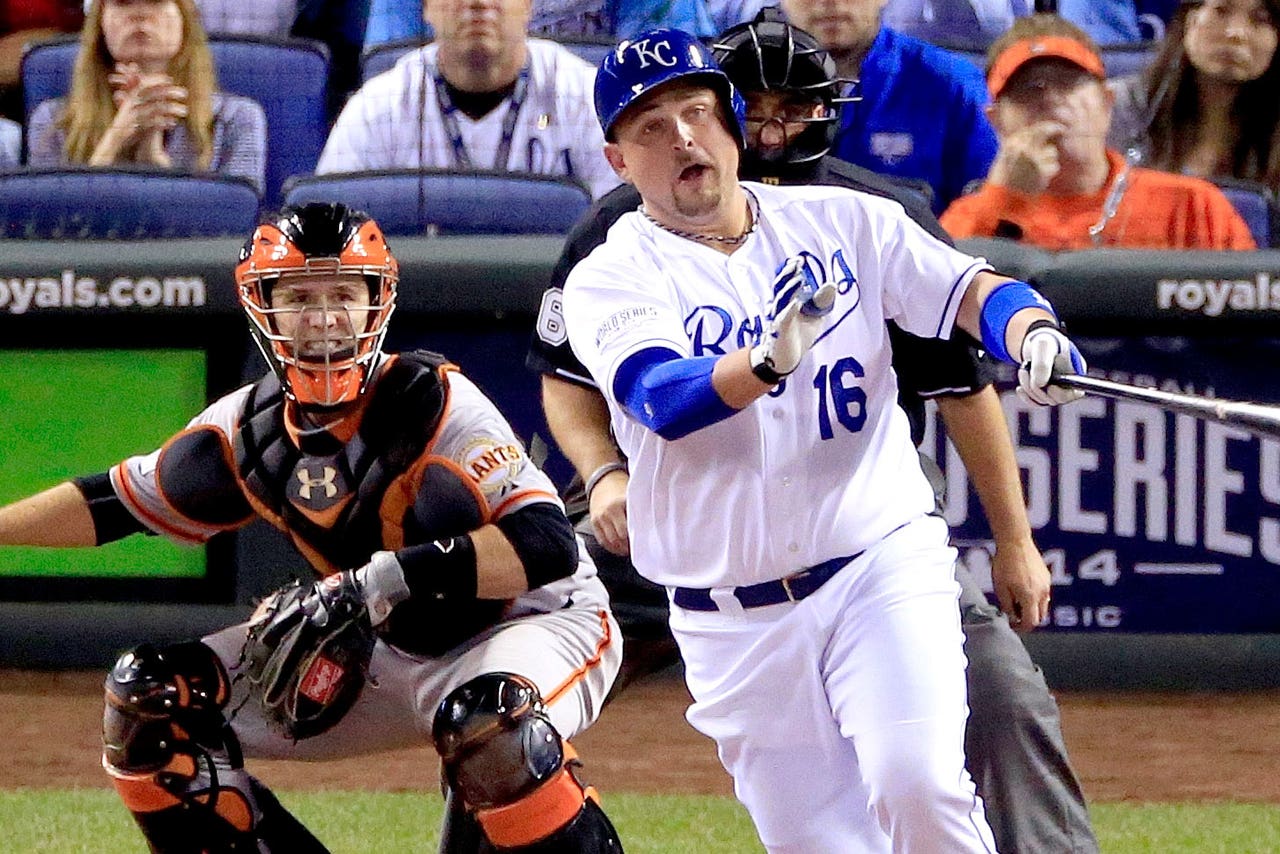 Billy Beane realized the interest in designated hitter and first baseman Billy Butler would be high, and wasted little time bringing him to the Oakland Athletics.
The versatile Butler agreed to a $30 million, three-year contract with the A's that takes him through the 2017 season.
Always looking for a middle-of-the-lineup hitter, Oakland announced the deal Wednesday to bring in Butler. He provides manager Bob Melvin another player who can contribute at multiple positions.
The A's weren't willing to wait given that Beane expects the pool of available hitters to dwindle in a hurry.
"We felt there were a number of teams out there looking for bats that might have had him somewhere on their depth charts, and once one or two guys came off the board, there was going to be more intensity in terms of the pursuit," said Beane, the A's general manager. "We were very aggressive right from the start and had pretty rapid negotiations."
Butler helped the Kansas City Royals reach the World Series last month after a 29-year playoff drought. In the postseason opener, they rallied late to eliminate Oakland in the American League wild-card game. Butler contributed two hits and two runs batted in.
After losing to the San Francisco Giants in a seven-game World Series, the Royals declined their $12.5 million option on Butler for next season, making the 2012 All-Star a free agent for the first time in his eight-year career.
"Finding right-handed power in the middle of the lineup at this stage is really difficult," Beane said. "It's not very often you get free agents that are in the prime of their career and still have some upside to them."
The Royals, who selected Butler with the 14th overall pick in the 2004 draft, owed him a $1 million buyout.
Oakland used a rotation of designated hitters and several players at first base this year, including catcher Stephen Vogt when he was dealing with a foot injury that required surgery after the season.
A steady and productive hitter for most of his career, the 28-year-old Butler is coming off a down season. He batted .271 with nine home runs and 66 RBI in 151 games this year, 108 of those as a DH.
Before that, he played at least 158 games in each of the five previous years, including all 162 in 2013.
Butler's best season was 2012, when he batted .313 with 29 homers and 107 RBI. He made the All-Star team that year, when the game was played in Kansas City.
He dropped off to 15 homers and 82 RBI in 2013, then struggled at the plate this year. As the Royals chased a playoff berth during the stretch run, he was regularly held out by manager Ned Yost in late September.
Once the Royals qualified for the playoffs, though, Butler returned to the lineup.
In his first postseason, he hit .262 (11 for 42) with eight RBI, three doubles and a stolen base in 13 games as Kansas City won its first pennant since 1985.
Catcher John Jaso, limited by concussions the past two seasons, has been cleared for baseball activities by renowned concussion specialist Dr. Micky Collins at the University of Pittsburgh. Jaso also could play some first.
Beane has often been aggressive in the trade market in past Decembers, but doesn't consider that a focus this offseason.
"We're not going to be so aggressive in trading some of our younger players," he said. "Now, I think we need to consider some focus on younger players who are with us already or consider bringing some in. Some players we're not going to trade regardless." 
---
---