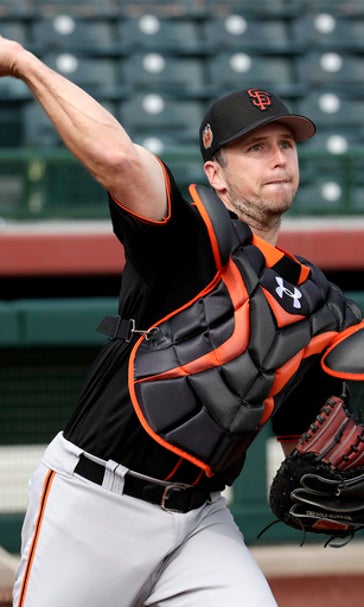 Buster Posey eager for fresh start, to raise power numbers
February 20, 2017

SCOTTSDALE, Ariz. (AP) Buster Posey leans on the back of the batting cage under Arizona's blue skies, one leg crossed over the other as he watches his teammates take their cuts while awaiting his own turn. The star catcher chats up athletic trainer Dave Groeschner and talks hitting with manager Bruce Bochy.
''Hi, Buster!'' hollered 6-year-old Jordan Larocco, a first-grader from Peoria who attended Monday's workout with father Michael and 1-year-old brother, Sebastian. Posey immediately turned and offered a wave and smile.
Gearing up for the World Baseball Classic and his ninth major league season in an already decorated career, Posey is perfectly happy to leave last year behind.
He is unable to put a finger on why his power numbers fell or say for certain whether fatigue was a factor. He cleared the fences for the fewest times when playing a full season in his eight years as a big leaguer.
''Oh, you feel worn down at the end of every year regardless if you have power numbers or not. You usually feel a little bit better when you are hitting a few more homers, just the way it goes,'' Posey said. ''I don't know exactly what the explanation was. I'm looking forward to getting out and getting after it this year.''
Now, the 2010 NL Rookie of the Year and 2012 MVP is working on an abbreviated spring schedule with the San Francisco Giants to learn the pitchers and find his hitting stroke before departing for the WBC to play for the U.S. team.
He batted .288 with 14 home runs, 33 doubles and 80 RBIs in 146 games. Posey has read statistics that his exit velocity - or how hard he hit the ball - was as high as ever.
''If I look at that, that tells me I was probably hitting too many balls on the ground,'' said Posey, who turns 30 next month. ''Maybe that could be something mechanical. More than likely it probably is. Hopefully there's an adjustment I can make where I can keep that consistent hard contact rate but maybe get a few more balls in the gap or better.''
Posey also made a career-high 122 starts behind the plate last season and played 123 games at the position in all. Bochy plans to have him catch fewer games if at all possible.
''I'd like to try to rest him a little more, to be honest. We'll see how it goes, how the games go more than anything,'' Bochy said. ''If they're good crisp games, that plays a part in how much he plays. If you have a bunch of long games you have to rest him a little bit more.''
Improving his diet became a priority for Posey, with wife Kristen's assistance.
''My wife gets credit for that,'' Posey said of his clean eating. ''I just don't have the option to eat bad stuff from what she buys. I think it can be very beneficial. The main thing is trying to eat as raw as possible. That's kind of the way we look at it. We're still going to eat our grains and we're not against the carbs that way, but just trying to eat as raw as possible.''
They also work together through his foundation as strong advocates and support for pediatric cancer research and treatment through their foundation.
Posey has never had a hard time finding motivation to work in the offseason, yet the disappointing way last season ended provided ''a little bit of an extra push.''
The Giants are revamping their bullpen after the struggles down the stretch and in their final game: squandering a three-run lead in the ninth against the Cubs using five relievers.
''This is the first time that we had lost in the playoffs and even coming off of World Series wins, I've been ready to go at this time of the year,'' he said.
Posey caught new closer Mark Melancon on Day 1 last week at Scottsdale Stadium and has made a point to quickly get up to speed with all the pitchers.
''I'm excited to learn from him and just get better together,'' Melancon said. ''I feel like we're going to be able to help each other out a lot. I already know his work ethic and the thought that he puts into each game. Those things really excite me because I'm on the same page with that.''
---
---