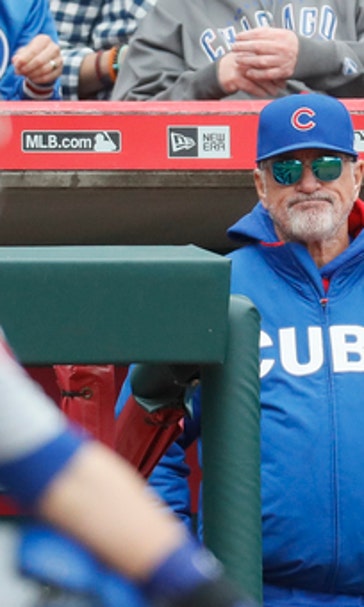 Bronson Arroyo goes 6 innings, leads Reds over Cubs 7-5 (Apr 23, 2017)
BY AP • April 23, 2017
CINCINNATI (AP) With his high leg kick and below-the-radar breaking balls, Bronson Arroyo showed the Cubs a little old-style pitching. Who needs to throw 90 mph to beat the World Series champions?
The 40-year-old righty gave his best performance yet in his long comeback from elbow problems, pitching three-hit ball over six innings on Sunday, and the Cincinnati Reds salvaged a 7-5 victory . Arroyo worked fast, varied the angles of his deliveries, and kept `em guessing with his minimalist pitches.
''I'm happy for him, to see him back up,'' Chicago catcher Miguel Montero said. ''He's a tough pitcher to face. Obviously he's throwing below hitting speed right now.''
Arroyo (2-2) needed more than two years to recover from Tommy John surgery. The Reds gave him what amounted to a final chance this spring, and he's back to fooling `em with his unusual repertoire. Jon Jay saw pitches of 67, 74, 83, 75 and 70 mph during one at-bat.
''I don't want to say I had pinpoint control, but I was throwing the breaking ball down and out where it was almost impossible to hit,'' Arroyo said. ''They knew where I was going, but I still had enough late movement to surprise them.''
Arroyo allowed Anthony Rizzo's two-run homer - his third of the series - and struck out seven batters for the first time since May 13, 2014.
''This was the first time he looked like the Bronson of his first time through here,'' manager Bryan Price said, referring to Arroyo's 2006-13 stay in Cincinnati.
Raisesl Iglesias gave up a pair of runs in the ninth before finishing off the Reds' 3-7 homestand.
Patrick Kivlehan's bases-loaded double highlighted a four-run sixth inning off John Lackey (1-3) and decided a matchup of up-in-years starters. The 38-year-old Lackey and Arroyo have combined for 793 starts in the majors.
Despite the loss, the defending champs took two of three in the series and moved back into first place in the NL Central. No surprise that it happened in Cincinnati - the Cubs have won 17 of their last 22 at Great American Ball Park. They've taken 20 of their last 25 overall against the Reds.
''I have nothing to complain about,'' manager Joe Maddon said.
Rizzo extended his hitting streak to 12 games - matching his career high - with his two-run homer in the fourth inning. His three-run shot with two outs in the ninth helped the Cubs rally for a 6-5, 11-inning victory in the series opener. He had another three-run homer during a 12-8 win on Saturday.
The Cubs have homered in their last 15 games at Great American. They hit seven in all during the series.
TRAINER'S ROOM
Cubs: Ben Zobrist started at second base and batted cleanup. He'd missed the last two games because of tightness in his back. Zobrist singled and doubled in four at-bats.
Reds: SS Zack Cozart was a late scratch from the lineup because of a sore left wrist. Kivlehan, who wasn't in the original lineup, made his first start at shortstop and hit his first double in the majors.
REDS MOVE
RH Ariel Hernandez was recalled from Double-A Pensacola and RH Lisalverto Bonilla was optioned to Triple-A Louisville, giving the Reds a fresh arm in the bullpen.
HOMER STREAKS
Rizzo also homered in three consecutive games last April 20-22, the last two of them at Great American Ball Park. In 2015, he homered in four straight games from July 29-Aug. 1.
LACKEY'S LAST TWO
Lackey allowed seven runs - five earned - in six innings, throwing 104 pitches. A pair of errors set up Cincinnati's decisive four-run sixth.
''I felt I definitely pitched better than the numbers are going to show,'' Lackey said. ''I didn't give up a whole lot of hard contact. What are you going to do?''
Lackey has given up 11 runs - nine earned - in his last two starts.
''Any little mistake is getting hit and hit hard,'' Montero said.
UP NEXT
Cubs: LH Brett Anderson (1-0) allowed six runs in only 3 2/3 innings in his last start, a 9-7 Cubs win against Milwaukee. He'll face Chad Kuhl (1-1) as the Cubs open a series in Pittsburgh.
Reds: LH Amir Garrett (2-1) makes his first start in Milwaukee, facing Matt Garza (0-0). The rookie stuck out a career-high 12 Orioles in seven innings during a 2-0 loss to Baltimore on Wednesday.
---
More AP baseball: https://apnews.com/tag/MLBbaseball
---
---