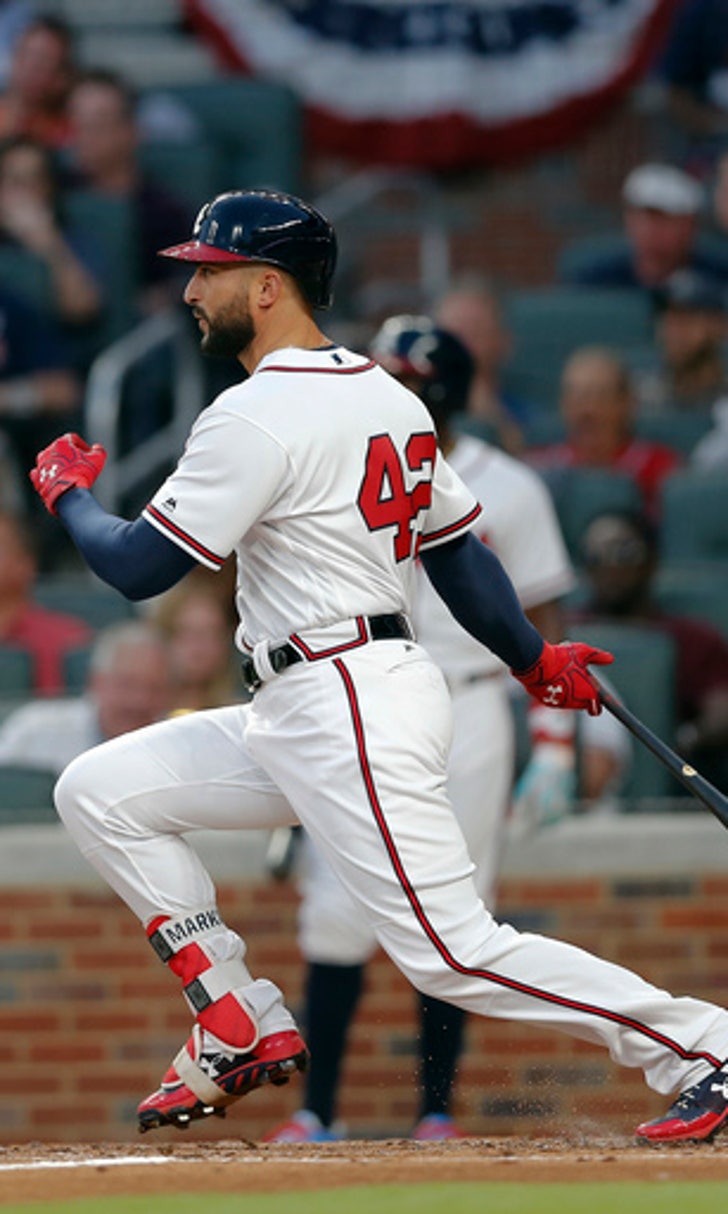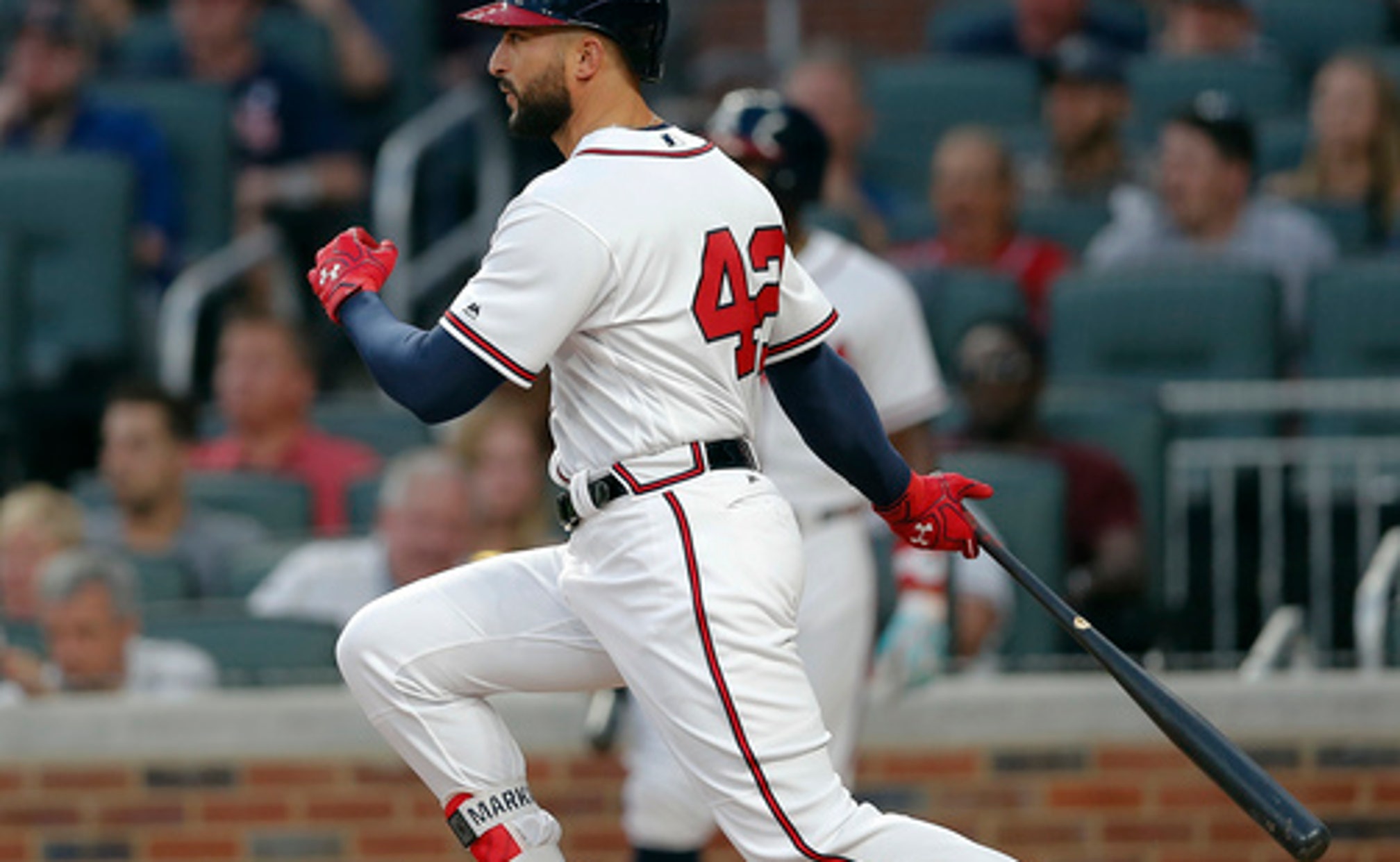 Braves top Padres 4-2 as Dickey pitches in 3rd Atlanta park (Apr 15, 2017)
BY AP • April 15, 2017
ATLANTA (AP) After giving up a home run on his only curveball, R.A. Dickey went back to his knuckleball. He knows that pitch is the reason he's still in the major leagues at age 42.
Winless at Turner Field, Dickey got a victory in his first appearance at SunTrust Park as the Atlanta Braves beat the San Diego Padres 4-2 Saturday night behind home runs from Brandon Phillips and Adonis Garcia.
Dickey said he threw about 90 percent knuckleballs. He said the pitch ''was really moving,'' especially in his last two innings.
''The thing was dancing around pretty good,'' Braves manager Brian Snitker said,
Atlanta won its third straight following a five-game losing streak, including its first two games at SunTrust Park.
Dickey (1-1), who left Toronto to sign an $8 million, one-year contract with the Braves, gave up two runs and seven hits in six-plus innings with six strikeouts. He allowed consecutive home runs in the second to Hunter Renfroe and Austin Hedges.
Hedges knew he should take advantage of what he said was a mistake.
''Your game plan was to be aggressive on the knuckleball,'' Hedges said. ''A lot of us hadn't seen it before.''
Dickey was pitching in his third Atlanta ballpark. He got two victories for the U.S. team that won the 1996 Olympic bronze medal at Atlanta Fulton-County Stadium but was 0-3 against the Braves at Turner Field in six starts and three relief appearances for Texas, Seattle, the New York Mets and Toronto.
Jim Johnson pitched a perfect ninth for his third save.
Phillips and Garcia homered in the sixth off Clayton Richard (1-2), who allowed four runs and nine hits in six innings. Padres manager Andy Green said Richard ''got a ton of ground balls'' before making a mistake with an inside fastball to Phillips, who grounded out to the pitcher in his first two at-bats.
''I was very mad about those two at-bats,'' Phillips said. ''I went up there and said, `You know what, I'm going to try to hit this ball as far as I can,' and the next thing you know I did.''
Dansby Swanson and Nick Markakis had run-scoring singles off Richard that tied the score in the third.
Dickey had a fourth-inning single but drew a few boos in the sixth when he failed to run out a grounder that was bobbled and then recovered by Will Myers at first base.
Fans applauded when Dickey was lifted after allowing infield hits to Allen Cordoba and pinch-hitter Christian Bethancourt in the seventh. Jose Ramirez retired Manuel Margot on a flyout, then got Will Myers to ground into a double play.
TRAINER'S ROOM
Padres: RHP Luis Perdomo (right shoulder inflammation) threw from 120 feet and is expected to soon throw off a mound. Green said he is encouraged Perdomo should miss only two starts and get activated from the DL.
Braves: OF Matt Kemp (right hamstring strain) had a more strenuous run on the bases before the game. Snitker said Kemp, eligible to return from the DL on Tuesday, remains ''day to day.''
PLAY DAY
Former Braves players Brian Jordan and Johnny Estrada participated in the team's ''Play Day'' celebration of the 70th anniversary of Jackie Robinson breaking Major League Baseball's color barrier. The team and a local YMCA coordinated the day of skill competitions and games for youth in metro Atlanta. Simon Kwon, the winner of the skills competition, wore a 42 jersey as he threw out the first pitch.
FIRST START
Cordobo, taken in the winter-meeting draft, had a walk and an infield hit in his first start in left field.
UP NEXT
Padres: RHP Trevor Cahill (back) is expected to return from the DL Sunday to make his second start this season.
Braves: RHP Bartolo Colon (0-1) is 3-3 with a 4.12 ERA in seven starts against the Padres.
---
For more AP baseball coverage: https://apnews.com/tag/MLBbaseball
---
---