Braves' Grilli out for season after rupturing Achilles' tendon
July 11, 2015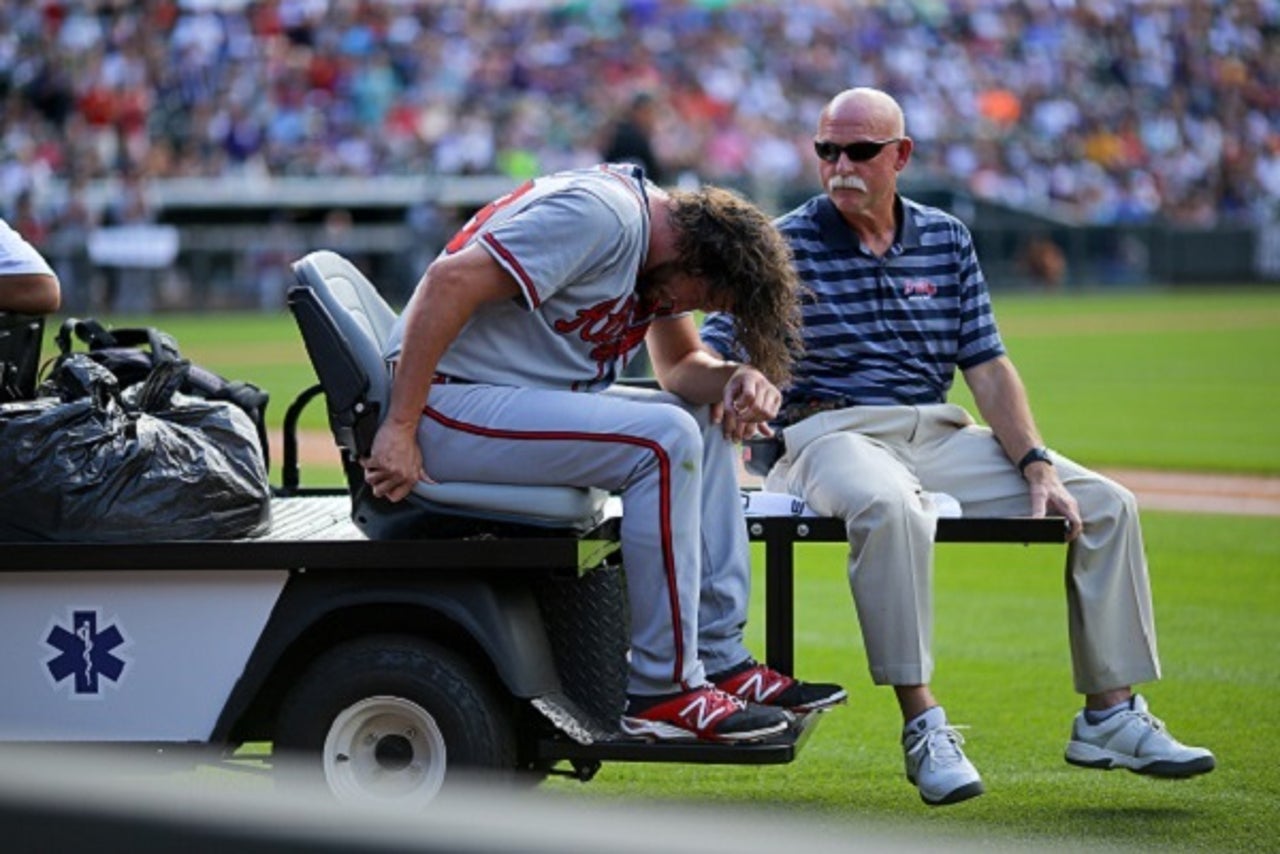 By The Outside Corner
The Atlanta Braves and the MLB trade market took a huge blow on Saturday when reliever Jason Grilli sustained a ruptured left Achilles' tendon. His 2015 season is likely finished, the team announced.
Grilli suffered the injury in the ninth inning of the Braves' 3-2 loss to the Rockies on Saturday. The reliever ran to cover first base on a ground ball by Colorado's Drew Stubbs. Grilli's foot appeared to catch in the grass as he planted his left foot, but given that it was an Achilles' injury, it's possible that the tendon just blew out.
Here's video of the play, courtesy of Sporting News' Ron Clements:
The 38-year-old was having a strong year as the Braves' closer, taking over ninth-inning duties when Atlanta traded Craig Kimbrel just before the season began. In 35 appearances, Grilli compiled a 2.67 ERA with 45 strikeouts in 33.2 innings and 24 saves.
With the annual demand for relievers among playoff contenders, an ability to pitch in both setup and closing roles, along with a relatively inexpensive contract (the remainder of a $4.25 million salary this year, $3 million next season and a $3 million club option for 2017 versus a $250,000 buyout), Grilli figured to be in high demand before the July 31 trade deadline. Teams like the Blue Jays, Cubs, Tigers and Dodgers were surely among those interested in acquiring the reliever.
Considering the Braves weren't looking to contend this year, GM John Hart figured to get a nice package in return for a proven, affordable reliever under contract through next season. What's been an impressive rebuilding project for Hart now encounters a significant obstacle.
At 38 years old and sustaining an injury to his plant leg, you also have to wonder if this might be a career-ending injury for Grilli. No player wants to see his career finish under such circumstances, but it's even more of a shame considering the revival Grilli experienced during the past five seasons as he became one of the best relievers in the NL.
More from The Outside Corner:
---
---