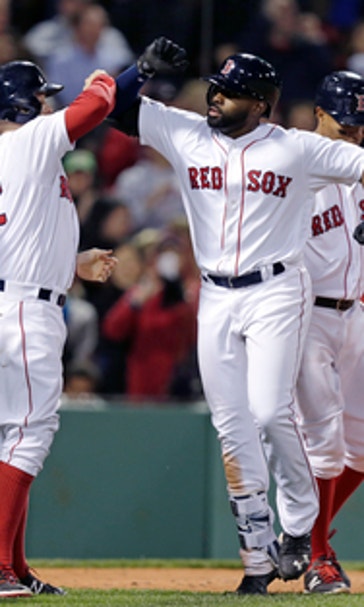 Bradley Jr. has slam, 6 RBIs in Boston's 14-7 rout
May 10, 2016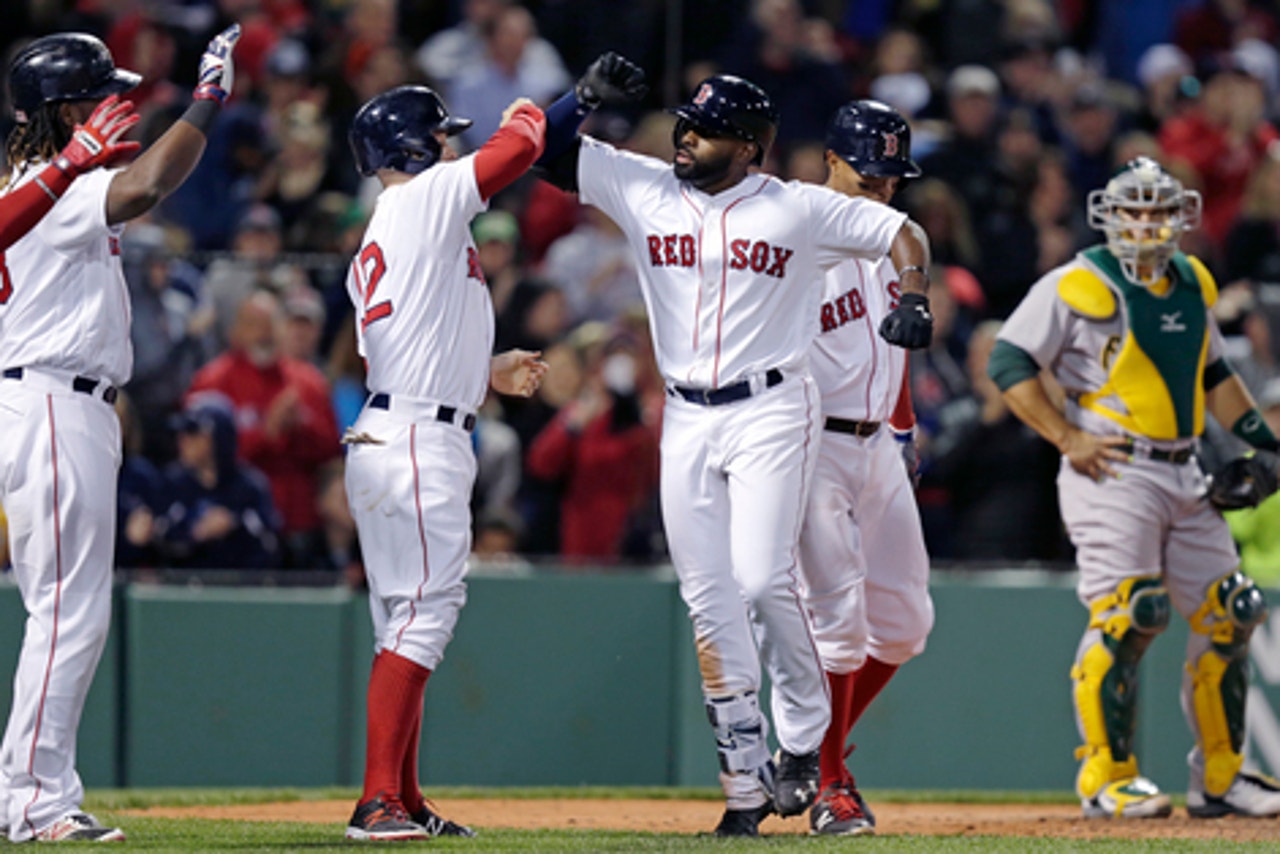 BOSTON (AP) Jackie Bradley Jr. doesn't want to think very much about his current run.
He's just enjoying it while it lasts.
Bradley extended his career-high hitting streak to 15 games with a two-run single in Boston's six-run fourth and added a grand slam two innings later, carrying the Red Sox over the struggling Oakland Athletics 14-7 on Monday night.
''You feel confident. You want to swing it more,'' he said. ''It's one of those things that you want to keep it going as long as possible.''
Bradley currently owns the majors' longest streak, hitting .382 (21-for-55) during the stretch.
''He's on a strong run, not only on the number of base hits, but he's driving the ball hard,'' Red Sox manager John Farrell said.
Brock Holt hit a two-run homer, and David Ortiz had three hits and two RBIs for Boston, which has won seven of its last 10 games.
Khris Davis hit his seventh homer and drove in two runs for Oakland, which has lost 12 of 16 and fell to 1-7 this month.
Josh Reddick's club-record streak of hits in eight consecutive at-bats was stopped when he grounded out his first time up.
Clay Buchholz (2-3) gave up four runs and six hits in five innings.
Oakland scored in each of the first three innings to open a 4-1 lead before the Red Sox charged ahead with their six-run inning.
Boston chased Sonny Gray (3-4) during an inning in which the Red Sox had seven hits, two of them doubles off the Green Monster by Ortiz, and sent 11 batters to the plate.
''He's going through a tough time,'' Athletics manager Bob Melvin said of Gray. ''We haven't seen him struggle. I think we probably left a few outs out on the table for him out there, too. That may have cost him a few runs. But it's a struggle for him right now.''
Travis Shaw's RBI double and Bradley Jr's single tied it, and Mookie Betts doubled in the go-ahead run. Dustin Pedroia's run-scoring single made it 6-4, and Ortiz capped the rally with an RBI double against Fernando Rodriguez.
Holt homered in Oakland's bullpen the next inning, and Bradley hit his slam over a short wall in deep right.
Gray gave up seven runs and eight hits in 3 2/3 innings. He is 1-3 with a 9.61 ERA in his last four starts.
''I'm going to have to sit down tomorrow and start trying to figure some stuff out,'' he said.
Davis' homer landed into the first row of Monster seats.
TRAINER'S ROOM
Athletics: Third baseman Danny Valencia left the game with tightness in his left hamstring. He just came off the 15-day DL on Friday after straining the same hamstring. . Melvin said infielder Chris Coghlan's back ''tightened up'' Sunday. He didn't start, but was inserted into the game. Melvin also said Jed Lowrie fouled a ball off his right foot and needed x-rays.
Red Sox: LHP David Price (4-1, 6.75 ERA) had a bullpen session, hoping to correct his delivery after a rough start this season. ''The focus - in addition to his normal work routine - was to try and get him to stay over the rubber a little longer and get his hands separating a little bit more in sync with his normal delivery,'' Farrell said.
FLYING BAT
Shaw swung and missed in the eighth with his bat sailing over the newly-added protective screen behind Boston's on-deck circle and traveling about 15 rows up into the stands. No one appeared to be injured.
WANT MORE
Buchholz said he was surprised he was taken out after the fifth.
Asked if he expected it, he said: ''not really. I really didn't know what was going on. I thought I got traded or something.
''I would have liked to have gone back out.''
NOTHING TO SAY
Farrell said he hadn't heard from major league baseball if was getting a punishment after he was ejected and went back onto the field Friday night at Yankee Stadium.
''I don't have anything to update,'' he said. ''I have not heard anything.''
UP NEXT:
RHP Sean O'Sullivan (0-0, 0.00 ERA) is slated to make his first start in a Red Sox uniform on Tuesday night, facing Oakland's LHP Sean Manaea (0-0, 7.20). O'Sullivan last started on July 6, 2015, with Philadelphia. For Manaea, it will be his third since being recalled from Triple-A.
---
---