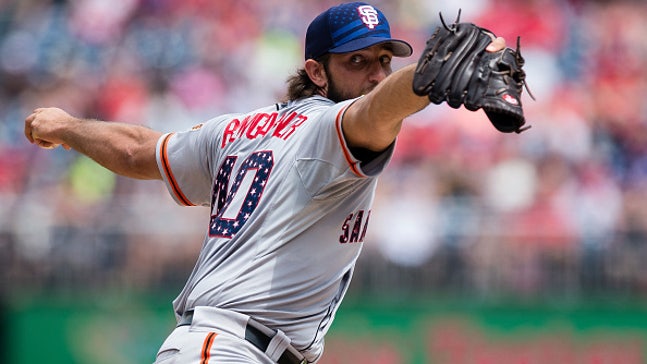 Best pitching duels of the day: July 10
Published
Jul. 10, 2015 10:58 a.m. ET

by Brandon Warne
It's a wonderful baseball Friday with aces dotting this slate as all 30 teams are back in action. Check 'em out:
Cole Hamels (PHI) vs. Madison Bumgarner (SFG)
10:15 p.m. ET
In a matchup of what is quite likely the two best left-handers in the National League, these two match up yet again for what feels like an extraordinarily high number of times for non-divisional foes. All that could change with Hamels' potential status as a highly-valuable trade chip, most specifically if he's deal to an American League club, but for now, you'll get a matchup of two fantastic left-handers. Hamels is a couple outs away from bringing his ERA back under 3.00 for the first time in a couple weeks, as a five-run outing against the Yankees pushed him over back on June 24. If you're into pitcher wins—blech—Hamels hasn't won since May 23, and the Phillies are 2–5 in that span. But don't blame Hamels, as he's put together a seven-game stretch of 3.06 ERA, .613 OPS against, 52 strikeouts, and 11 walks over those 47 innings.
Bumgarner is coming off his roughest start of the year—six earned runs against the Nationals—and like Hamels has had a couple iffy somewhat recent starts. Bumgarner allowed five earned runs against the Phillies—not against Hamels, however—back on June 6, but was bailed out by his offense in a 7–5 win. The Giants have lost four of Bumgarner's last five starts, and like Hamels he's not really to blame either. Certainly Bumgarner struggled last time out, but in the other four starts he's allowed a combined seven earned runs in 31 innings (2.03 ERA). Other than a slight groundball drop, it's been business as usual for the left-hander with the Giants this season. He's got a strikeout per inning, virtually no walks (1.7 BB/9) and is generally doing what he's paid to do. And unlike Hamels, he isn't going anywhere for quite some time.
Warm-Up Tosses
Here's a look at today's "aces in isolation:" Noah Syndergaard (opposed by Arizona's Chase Anderson) and Atlanta's Shelby Miller (Colorado, undecided). A rough stretch for Syndergaard has been smoothed out with back-to-back one-run starts, lowering his ERA back under 4.00 and now all the way down to 3.38. Even with the usual rookie struggles, Thor has been fantastic, with a strikeout per inning (59 total) and only 12 walks allowed. He's also inducing grounders at a higher than average rate, and is averaging an insane 97 mph on his fastball. He's must-watch at this point.
A couple scoreless frames can push Miller's ERA back under 2.00, where it has resided for much of the season. An NL All Star for the first time, Miller has been a stabilizing force in a rotation where Julio Teheran and Alex Wood have struggled a little bit. The strikeouts have come a bit more of late—18 over his last two starts—and if he's on the cusp of adding those regularly, he can be a real weapon. After all, he was fantastic without them.
Lance Lynn versus Gerrit Cole would be the preferred matchup on any other given day, and might be for people interested in seeing two teams that are playing a bit better. The oft-underrated Lynn has been better than ever this year, overcoming some minor health issues to post a 2.53 ERA and stake his claim to the ace spot vacated by Adam Wainwright's injury. He's had some swift and severe competition from Carlos Martinez and it's neck and neck right now. That's about as good of a compliment as one can pay Lynn, because Martinez has been pitching like his hair's on fire. In any other year, Cole would be a sure-fire frontrunner for the Cy Young. Instead, he languishes a distant third behind the likes of Zack Greinke and Max Scherzer. That isn't the a slight on the impossibly-young right-hander, who is still just 24 and is putting together all the necessary facets for an ace in today's game. He's got strikeouts, doesn't walk anyone and has a fantastic groundball rate. We've seen the future, and it is indeed good.
Michael Pineda versus Clay Buchholz probably won't draw as much attention as New York and Boston usually do, but these are a pair of righties that are at least somewhat quietly—considering their markets—having really nice seasons. Pineda's still doing the walk nobody thing—issuing 13 in 99.2 innings—while Buchholz has been ridiculous after a rough first month. Buchholz' ERA sat at 6.03 on May 4, and he's made 11 starts since: .592 OPS against, 2.17 ERA, 64 strikeouts, and 13 walks in 78.2 innings. That's some kind of turnaround.
Kendall Graveman versus Danny Salazar also probably won't generate too much buzz, but Graveman has been pitching tremendously since returning from the minors, and Salazar is one of the most exciting arms in the entire league. Graveman came back from the minors in late May with an 8.27 ERA; it now resides at 3.16 after the following stretch of nine starts: 1.78 ERA, .642 OPS against, 38 strikeouts, and 15 walks in 60.2 innings. The strikeouts don't really line up, but that's still a fantastic stretch. Salazar continues to ride the rollercoaster—seven whiffs and one walk but five earned last time out—but is still exciting because he throws extremely hard with good secondary stuff. As said in this space numerous times, if he puts it all together he could be the best pitcher in the AL. That's scary.
Short Hops
Carlos Rodon is going today for the White Sox. He's certainly not pitching like an ace, but has the kind of raw stuff that is worth watching as he works his way up the ladder.
Statistics courtesy of Baseball Reference, Brooks Baseball, and Fangraphs.
More from The Sports Post:
---
---