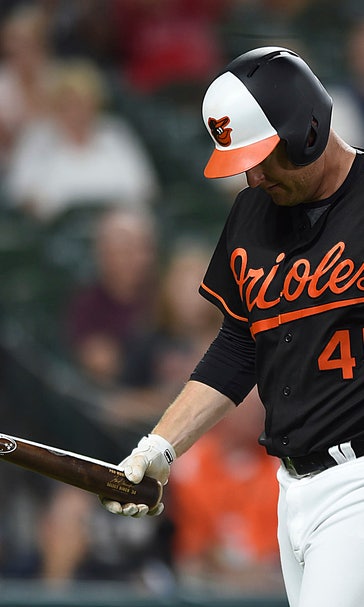 Batting average sinks to 46-year low, strikeouts top hits
October 2, 2018
NEW YORK (AP) — The big league batting average dropped to its lowest level since 1972, strikeouts topped hits for the first time and defensive shifts increased by another 30 percent while innings and pitches per starting pitcher dropped again in a another baseball season of rapid change.
The batting average fell seven points to .248 in the regular season that ended Monday, down from a Steroids Era peak of .271 in 1999.
Strikeouts set a record for the 11th straight year, increasing by 1,103 to 41,207, and topped hits (41,019) for the first time in big league history. Hits led by 2,111 last year and by 13,418 in 2006.
Home runs dropped from a record 6,105 to 5,585 but was the fourth-highest total behind last year, 2000 and 2016.
In a game transformed by teams' use of advanced analytics, defensive shifts on balls in play rose to 34,673 from 26,705, according to Sports Info Solutions. There were just 6,882 as recently as 2013 and 17,826 in 2015.
Twenty-six of the 30 teams increased use of shifts, with Detroit, Kansas City, the New York Mets, Philadelphia and St. Louis doubling. Only the Los Angeles Angels, Milwaukee, Texas and San Diego declined, but the Brewers had the fifth highest overall total.
Innings per starting pitcher dropped to 5.36 from 5.51 last year and 5.89 in 2012, and average pitches per start fell to 88 from 92 in 2017 and 95 in 2012. Relievers per team per game rose to 3.4 from 3.2 last year and 3.0 in 2012.
As a result, complete games set a record low for the fourth straight year at 42, down from 59 last season and 104 in 2015. Complete game shutouts dropped from 27 to 19, the fewest since 1874, when there were just eight teams. There were 65 shutouts as recently as 2014.
There were 95 starts of one inning or fewer, more than double the 38 in 2017, and 244 of two innings or fewer, up from 133. Use of an "opener" reliever instead of a starter by Tampa Bay in many games was a factor, and some other teams started to copy the innovation.
Sacrifice bunts dropped from 925 to 823, the fewest since a record-low 806 in 1900, the last season with eight teams. Toronto had a record-low five, while Oakland and the Los Angeles Angels had six apiece and Boston seven. There were 1,667 as recently as 2011 and no club dropped below double digits until Texas had nine in 2005. No team had fewer than 50 in 1972.
Nine-inning games averaged 3:00:44, down from 3:05:11 for last season, helped by new restrictions that cut mound visits without pitching changes to an average of 4.01 from 7.41.
There were 1,400 video reviews, an increase of four, and overturned calls rose by six, from 47.3 percent to 47.6 percent, and the average time of reviews dropped five seconds to 1:23.
Disabled list placements rose from 702 to 737. There were 563 in 2016, the last season before the primary disabled list switched from 15 days to 10.
---
---