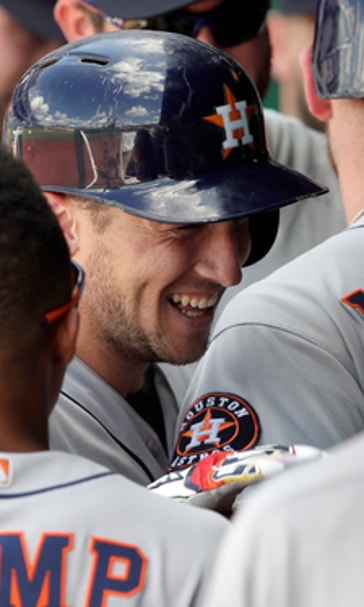 Astros win 10th in row, Keuchel get HR help to beat KC 10-2
June 16, 2018
KANSAS CITY, Mo. (AP) A.J. Hinch wiped the sweat from his brow after watching his Astros win their 10th straight game on Saturday, joking that he might get tossed early the next time out to avoid the Kansas City heat.
The skipper hasn't been sweating many outcomes lately.
Houston's latest solid start came from Dallas Keuchel, who allowed the Royals two unearned runs over six sharp innings. Its latest offense came from Max Stassi and Alex Bregman, who belted three-run homers at spacious Kauffman Stadium. And its latest win was a 10-2 rout as the heat index eclipsed 100 degrees.
''I'm really happy with how consistently the guys are showing up expecting to win, and then going out and doing it,'' Hinch said. ''We're a hard team to beat right now.''
No matter the situation. No matter the conditions.
''Winning streak, no winning streak, it doesn't matter. We just play our game,'' said Bregman, who survived the blazing sun and oppressive heat, which sent Stassi and Astros first baseman Yuli Gurriel to the clubhouse with symptoms of dehydration.
Jose Altuve hit a two-run double in the first to send the World Series champions on their way. The Astros have won the first nine games on their 10-game road swing, already making it the best trip in club history with the series finale still to come on Sunday.
Coincidentally, the Astros had an 11-game win streak end in Kansas City last season.
Keuchel (4-8) has begun to emerge from a monthlong funk, allowing two unearned runs and six hits in six innings. The 2015 Cy Young winner had surrendered a combined 17 runs over his last three outings, and had not won since tossing seven scoreless innings against Texas on May 13.
Meanwhile, the Royals have lost five straight and are 2-12 since the calendar flipped to June.
''We've been around this clubhouse for a while to the point that we've had our ups, we've had our downs,'' Royals pitcher Danny Duffy said. ''We know what we need to do to come out of them, it's just about doing exactly that. It's not ideal where we're at right now. It's pretty much the opposite of what we drew up coming into the year. We got to come out of this stretch ourselves.''
Duffy (3-7) had been pitching well of late, going seven shutout innings his last time out. But the Royals left-hander allowed seven runs on seven hits and three walks in just six innings, becoming the most recent starting pitcher to have a rough time with the Astros' potent lineup.
''We've played some good baseball. Obviously the teams we've been playing have played better than we have,'' he said.
Duffy was in trouble right from the start. George Springer opened the game with a walk, Bregman added a single and Altuve ripped a double to give the Astros a 2-0 lead.
The Astros tacked on two more runs in the fifth, getting some help from third baseman Mike Moustakas, who flubbed an easy grounder that led to an unearned run. And after Kansas City matched the tally in the bottom half, the Astros' big bats put the game out of reach.
Stassi began by swatting Duffy's 1-0 pitch to left field for a 7-2 lead, and Bregman added his homer in the ninth inning to extend his career-best on-base streak to 27 consecutive games.
The only consolation for the Royals was that they weren't grand slams. They pitching staff had served up one of them each of the past two games, including Evan Gattis' in the series opener.
''This is a tough club,'' Royals manager Ned Yost said. ''You make a mistake and they make you pay.''
STATS AND STREAKS
Royals C Drew Butera snapped a 0-for-16 skid with a single in the third inning. LF Alex Gordon ended a 0-for-13 slump with a single in the sixth. ... Houston is now a season-high 22 games over .500.
SO LONG, SOLER
Royals OF Jorge Soler will miss at least six weeks after breaking a bone in his left foot during the series opener. Soler will head to the DL but with Triple-A Omaha on the West Coast, a corresponding roster move will not be made until Sunday. Soler was hitting .265 with nine homers and 28 RBIs.
TRAINER'S ROOM
Royals: 1B Lucas Duda will begin a rehab assignment with Omaha on Sunday, Yost said. Duda has been out since May 14 with plantar fasciitis in his right foot.
UP NEXT
The Royals send RHP Brad Keller (1-2, 2.31 ERA) to the mound in the hopes of avoiding a sweep. The Astros counter with RHP Lance McCullers Jr. (8-3, 3.83 ERA) as they try to keep their streak going.
---
More AP baseball: https://apnews.com/tag/MLBbaseball
---
---