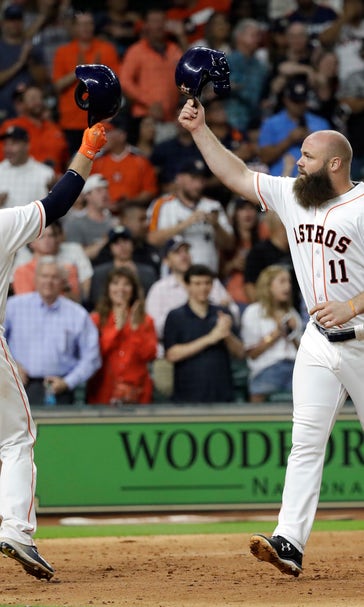 Astros hit 5 homers to end skid with 12-1 win over Rockies
August 16, 2018
HOUSTON (AP) — Throughout their five-game losing streak, the Houston Astros failed time and again to get a big hit when they needed it.
They didn't have that problem Wednesday night.
Evan Gattis and Tyler White hit two homers each, Yuli Gurriel added a two-run shot and the Astros broke out of their offensive slump in a huge way with a 12-1 win over the Colorado Rockies to end their skid.
"We needed to have a little fun," manager A.J. Hinch said. "Obviously, nights like this produce that and the hits produce it. Hitters love nothing more than hits and runs."
Gerrit Cole struck out 12 and the defending World Series champions stopped a nine-game home losing streak with their first win in Houston since July 14, their last game before beginning a 10-game road trip. Houston's five home runs were a season high, and the run total was more than the Astros managed in their last four games combined.
The win, combined with Oakland's loss to Seattle, helped the Astros extend their lead in the AL West to two games, with a series against the Athletics coming up next to start a nine-game trip.
"It's nice to finish a homestand that was disappointing on a high note," Hinch said. "Happy flight (Thursday) for a really important and really long road trip."
Carlos Correa, who entered the game 1 for 15 since coming off the disabled list on Friday, added a three-run double for the Astros, who have been struggling to find their offense with AL MVP Jose Altuve on the DL for the first time in his career.
"For me at least it was a relief, coming in from the DL ... to come out with a double and three RBIs and give us the lead early, I think it was huge," Correa said.
The Rockies had trouble stringing hits together against Cole (11-5), who yielded five hits and one run in six innings to end a three-game losing streak and get his first win since July 14.
After managing just three hits in a 5-1 loss on Tuesday, the Astros got going immediately in this one. Alex Bregman hit a leadoff double before Tyler Anderson (6-5) walked the next two batters to load the bases. Correa followed with his double to make it 3-0.
Bregman drove in a run with a sacrifice fly in the second before Gurriel's homer extended the lead to 6-0.
The first homer by Gattis came with two outs in the third to make it 7-0.
Cole had allowed just one single with two outs in the fourth when three straight singles, capped by one from Trevor Story, cut the lead to 7-1.
White's two-run shot pushed Houston's advantage to 9-1 and chased Anderson with one out in the fifth.
Anderson allowed a career-high nine runs on seven hits, all for extra bases, in 4 1/3 innings. He remained winless since July 4.
"When he missed in the strike zone, he missed down the middle. That's a bad combination," Rockies manager Bud Black said. "You're throwing balls and your strikes are sort of middle. That's a tough night for Tyler."
Gattis sent one just over the short wall in right field with two outs in the fifth off Harrison Musgrave to put the Astros up 10-1.
White added a second two-run homer when he connected off Musgrave with one out in the seventh.
TRAINER'S ROOM
Astros: Hinch said OF George Springer (sprained left thumb) will come off the disabled list Friday when he's eligible, barring any setbacks between now and then. ... Altuve, who has been out since July 25, took batting practice on the field for the first time since he's been out. Hinch said that was an encouraging step, but he still isn't sure when Altuve will return. ... C Brian McCann, out since June 30 with a knee injury that required surgery, will begin an extended rehabilitation assignment with Triple-A Fresno on Thursday.
Ks ALL DAY
Cole's 12-strikeout performance was the franchise-record 25th game this season in which a Houston pitcher struck out at least 10 batters. The previous record was 24 set in 1968, and the 25 double-digit strikeout games tie several teams for the second-most in AL history. The 1973 Angels hold the record with 32. Cole has 219 strikeouts this season, tied with Boston ace Chris Sale for most in the AL — and the most by an Astros pitcher since Nolan Ryan fanned 228 in 1988.
UP NEXT
Rockies: RHP Jon Gray (9-7, 4.81 ERA) will start against Atlanta RHP Julio Teheran (8-7, 4.33 ERA) in the opener of a four-game series Thursday night. Gray is 3-0 with a 1.04 ERA in his career against Atlanta.
Astros: Off on Thursday before Charlie Morton (12-3, 2.88) starts the opener of a three-game series at Oakland. Morton took his first defeat since July 1 in his last start when he allowed seven hits and three runs in six innings of a 3-2 loss to Seattle.
---
---