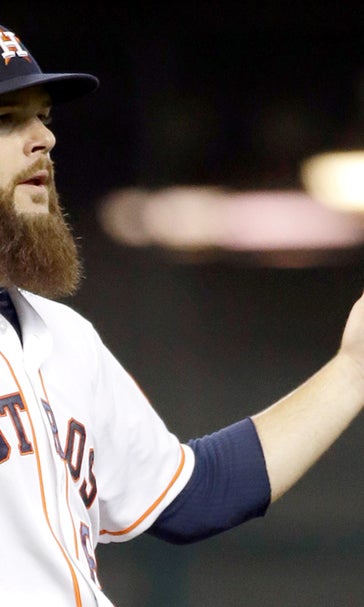 Astros' Dallas Keuchel strikes out 11 in 4-hit shutout of White Sox
May 30, 2015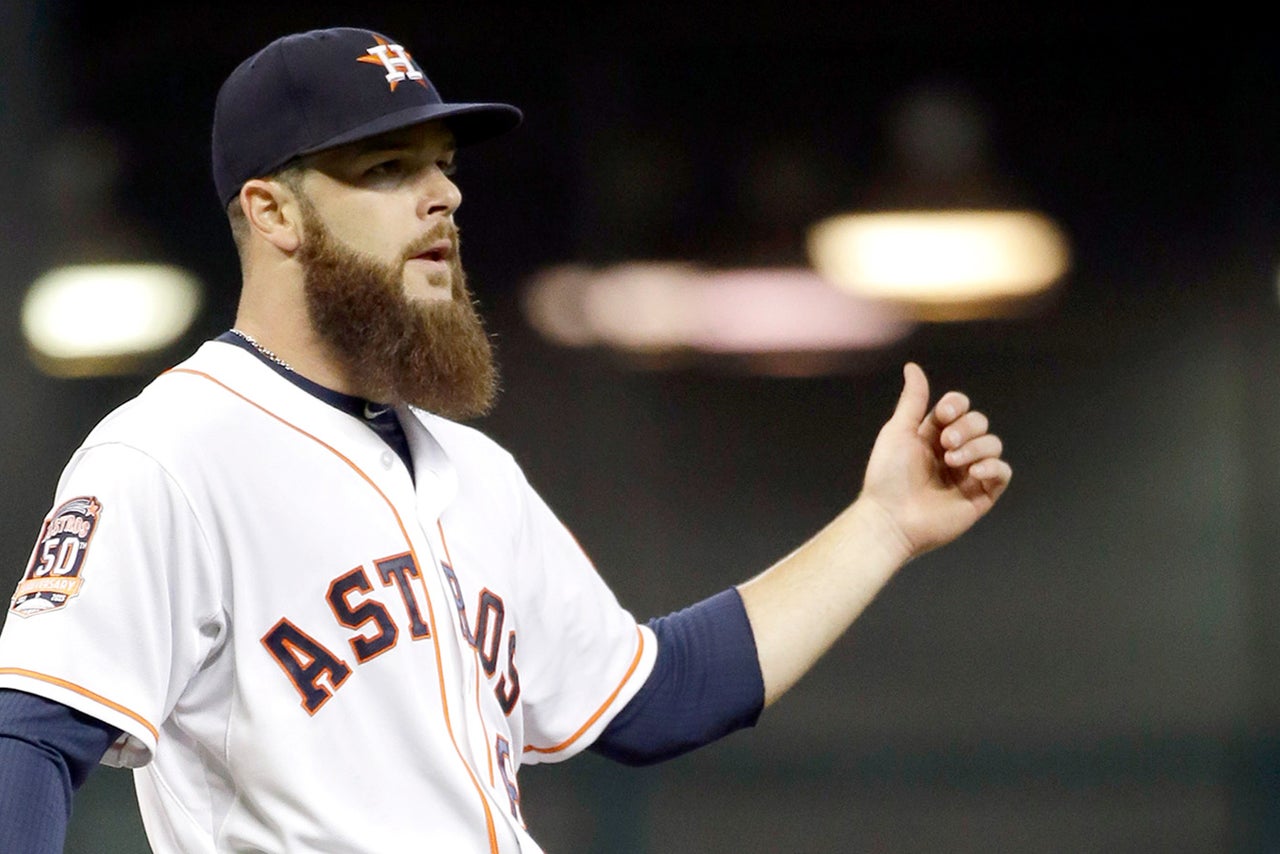 With techno music blaring, Dallas Keuchel emerged from a thick fog in the darkened clubhouse as multicolored beams of light danced around him, illuminating his bushy beard and he smiled.
Keuchel had just wrapped up a four-hitter where he struck out a career-high 11 to lead the Houston Astros to a 3-0 win over the Chicago White Sox on Saturday. Heavy rain caused minor flooding inside Minute Maid Park during the game, but there were no delays.
Afterward, the Astros celebrated Keuchel's win by transforming the clubhouse into a club, complete with a strobe light, fog machine and multiple lamps that sent lights of all colors to every corner of the room.
"I just continue to pitch well and hopefully help this team win and have a dance party in here afterward if we win," Keuchel said.
Storms swept through the area as the teams played and water seeped into a couple of concourses in the stadium. Drainage issues caused flooding of three to four inches and the water stood for about 5 or 6 minutes, according to the Astros.
The public address announcer told fans during the seventh inning that the stadium would remain open after the game for those who wanted to wait out the weather. Only a handful of fans remained in the stadium an hour after the game.
There was an announcement around 6:45 p.m. that the weather had passed and people needed to leave the ballpark because the doors would close at 7 p.m.
By then, the Astros had closed out another win.
Keuchel (7-1) pitched his second career shutout and first since May 13, 2014. He didn't walk a batter and finished with a major league-leading 1.76 ERA after throwing his eighth complete game overall.
Winning is something the Astros have done plenty of this season after several miserable years of losing. They improved to 31-19, tying the 1998 team that won a franchise-high 102 times for the best 50-game start in team history.
"It's nice to be a part of something like that where the past two years we were pretty much down and everybody counted us out," first baseman Chris Carter said. "So it's nice to get this recognition now and hopefully we can keep doing (this)."
Evan Gattis and Carter hit back-to-back home runs in the eighth.
Jose Quintana (2-6) allowed one run in 6-1/3 innings.
Keuchel bounced back from his first loss of the season in his last start, which broke a career-high eight-game winning streak dating to last season. The Astros lost that game 4-3 to Baltimore despite Keuchel throwing his first complete game of the season.
"He was great," White Sox manager Robin Ventura said. "I don't know if we faced anybody as tough as him."
Gattis connected for his team-leading 11th homer with one out in the eighth off Dan Jennings. Five pitches later, Carter also got to Jennings, launching his eighth homer to left field.
Quintana gave up five hits. It was his third straight road start where he yielded just one run.
The Astros took a 1-0 lead on a sacrifice fly by Jonathan Villar in the fourth. The throw beat Preston Tucker to the plate, but catcher Geovany Soto lost the ball.
Chicago outfielder Avisail Garcia was back in the lineup after missing the last five games with inflammation in his right knee. He went 1 for 4.
TRAINER'S ROOM
White Sox: 1B Jose Abreu was out of the lineup after leaving the game in the eighth inning on Friday night with inflammation in his right index finger. Ventura said X-rays were negative and that he's listed as day to day.
Astros: LHP Brett Oberholtzer came out of the bullpen session he threw on Friday feeling fine and remains on schedule to come off the disabled list and start on Monday. Oberholtzer has made just one start this season after two stints on the DL with a blister on his left index finger. He will take the spot in the rotation left open when Scott Feldman had arthroscopic knee surgery on Friday. ... RHP Samuel Deduno struggled with control in a rehabilitation appearance for Triple-A Fresno on Friday night, walking four in one inning. Manager A.J. Hinch wasn't sure on Saturday what the next move was for the Deduno, who has been on the DL with a lower right back strain since May 14. 
---
---