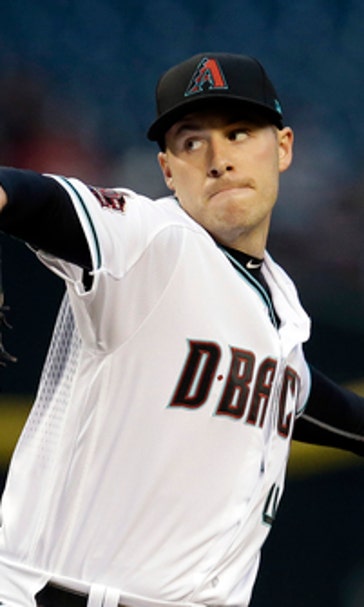 Arizona's Corbin has no-hitter through 7 against Giants
April 17, 2018
PHOENIX (AP) Brandon Belt hit a checked-swing infield single with two outs in the eighth inning to end a no-hit bid by Arizona Diamondbacks left-hander Patrick Corbin.
The left-handed Belt pulled up on a pitch but still made contact for a slow roller to the left side. The infield was shifted toward first base, and shortstop Nick Ahmed dashed to get the ball and throw across his body to first. Belt beat the throw on a close play.
Corbin retired the first 10 batters he faced Tuesday night before walking Joe Panik with one out in the fourth inning. He had retired 13 straight before Belt reached, and he got Brandon Crawford to foul out to finish the eighth with 87 pitches.
With two outs in the seventh, the Giants' Buster Posey turned around center fielder A.J. Pollock with a drive to deep center, but Pollock tracked down the ball and made a diving catch.
Diamondbacks third baseman Daniel Descalso made a diving stop from the right side of second base to rob Belt of a hit in the third inning.
The 28-year-old Corbin (2-0) struck out at least eight batters his first three starts of the season and had six through eight innings against the struggling Giants.
Corbin's previous longest no-hit bid was 5 1/3 innings on June 17, 2013 against Florida.
---
More AP baseball: https://apnews.com/tag/MLBbaseball
---
---