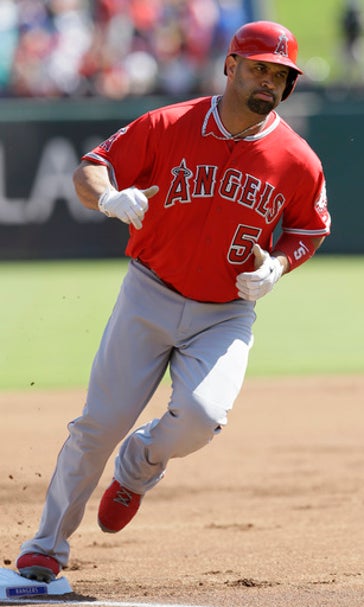 Angels preparing to start season without Albert Pujols
BY foxsports • February 18, 2016
TEMPE, Ariz. (AP) The Los Angeles Angels are preparing to start the season without Albert Pujols, who is recovering from right foot surgery.
Manager Mike Scioscia said Thursday the three-time NL MVP is doing some swinging but still has a lengthy recovery ahead. Coming off his first 40-home run season since 2010 with St. Louis, Pujols had surgery in November after foot pain limited him to a designated hitter role during the final month of last season.
The team's medical staff thinks Pujols won't be ready for the April 4 opener against the Chicago Cubs.
''The doctors have given the timeline, but if you know Albert, you know he always come back quicker than the timeline given,'' Scioscia said Thursday as pitchers and catchers reported. ''But we're definitely not going to sacrifice a lion's share of the season to get him back maybe two weeks before he should.''
The Angels are readying alternatives at first base. C.J. Cron, who played there last season when Pujols was the DH, is a possibility. So is free-agent addition Daniel Nava, who has spent the past two weeks taking grounders at the Angels' spring training facility.
''I think he's adequate and he's progressing,'' Scioscia said of Nava, who also figures into a potential platoon in left field.
Even when the 36-year-old Pujols returns, he may spend a good amount of time at DH. A 10-time All-Star, Pujols has been less than stellar during much of his four seasons with the Angels. He hit a career-low .244 last year.
''The biggest thing we need from Albert is to hit in the middle of our lineup and get his at-bats,'' Scioscia said. ''We're a better team with him playing first base. But I would rather sacrifice that defensive component he brings than to put the offensive component at risk.''
Pujols' absence could cause further trouble for star Mike Trout, who had limited chances to drive in runs last season as the Angels went 85-77 and missed the postseason by one game.
Without Pujols batting cleanup behind him, Trout may not get as many good pitches to hit. Pujols' absence means it is unlikely Trout would move up to second in the order, according to Scioscia.
''I think one of the real deficiencies we had last year was Mike Trout - I don't even know how he got to 90 RBIs. His opportunities were just not there,'' Scioscia said. ''One of the most important things we're going to do is set the table for Mike.''
Despite the Angels' failure to sign a high-profile free agent to play left field, Scioscia believes they will have a more potent lineup when Pujols returns, one not as dependent on the home run. The Angels have just one playoff appearance in six years.
''I think we have more contact on this team,'' said Scioscia, beginning his 17th season. ''Depending on how it folds out, there is a possibility for more team speed. I think in some spots are defense is going to be better.
''I think there are a lot of positives we're going to be excited about.''
NOTES: LHP C.J. Wilson (elbow surgery) is to throw off the mound Friday to start camp but could get extra days off in his recovery. . Scioscia said RHP Jered Weaver ''looks real good,'' but it's too early to say whether there's an increase in velocity after a poor 2015 season, when his fastball averaged 91 mph. . Scioscia said a couple of the eight potential starting pitchers could move to the bullpen.
---
---