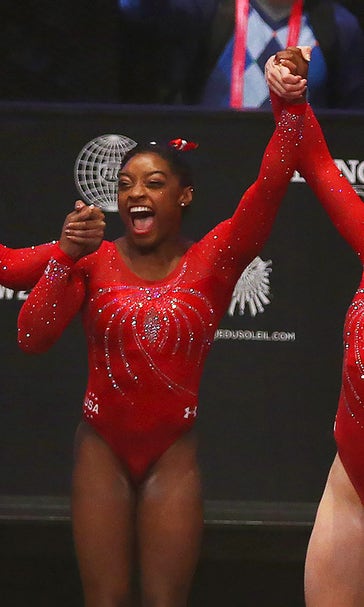 Biles helps US women vault to third straight world gymnastics title
October 27, 2015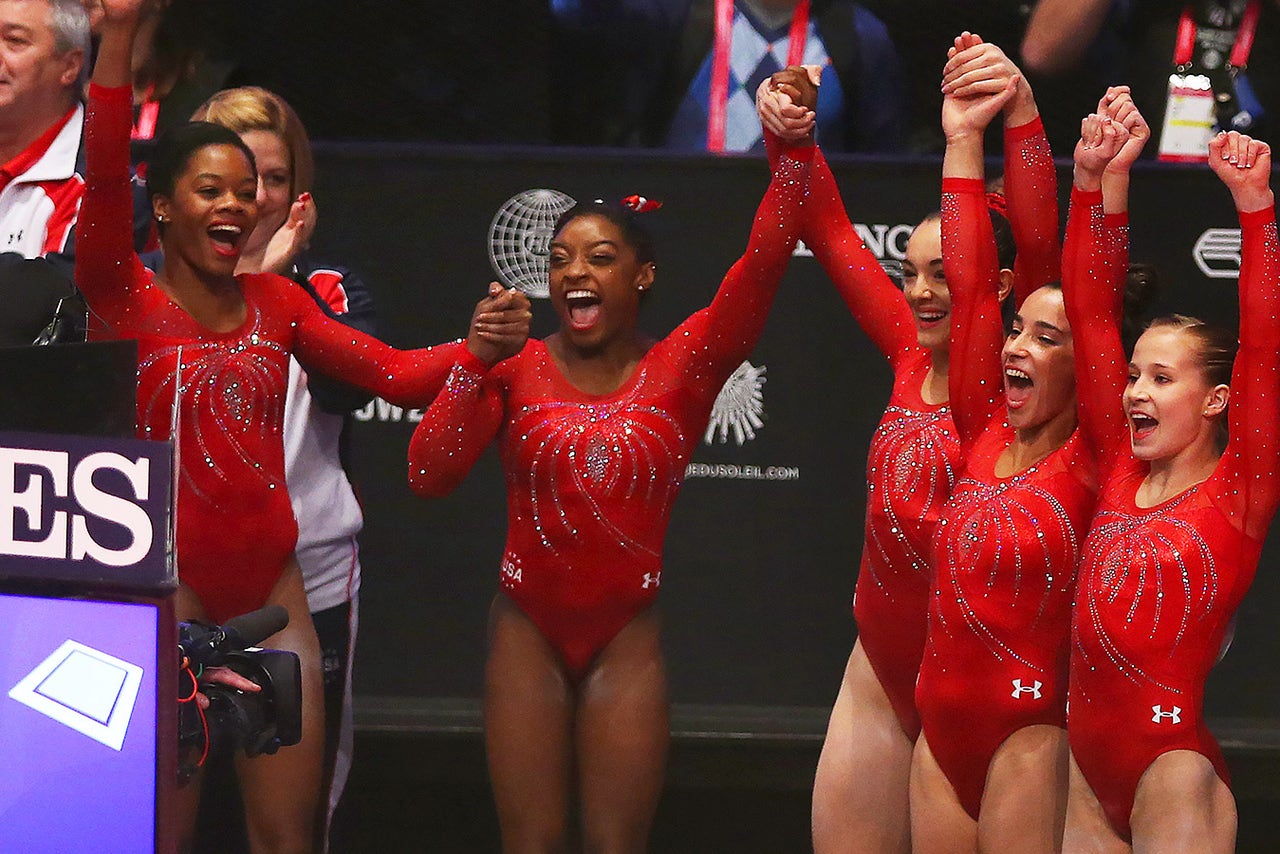 The gap is becoming a canyon. No matter the stakes, the year or the young women with the USA patch on their shimmering leotards, there is the gymnastics' powerhouse constructed and relentlessly maintained by national team coordinator Martha Karolyi and there is everybody else.
And it's not close. Not really close to close.
The U.S. is so steady and so deep at the moment its competitions feel more like exhibitions. The world championship the Americans won on Tuesday night appeared so easy they were more focused on Karolyi's approval up in the stands than whatever scores the judges felt like handing out.
"We're unstoppable," Gabby Douglas said.
The reigning Olympic gold medalist was kidding, but only a little. The U.S. won its third consecutive world title by delivering four pressure-resistant rotations around pink-clad SSE Hydro, putting up a total of 181.338, more than five points clear of China and surprise bronze medalist Britain, a blowout in a sport where the differences are often measured in fractions.
"We never just assume we will be on the first place," Karolyi said after the program captured its fifth championship since she took over in 2000. "Only through dedication and hard work, you can get better. That's our philosophy. Hard work, discipline and also high number of repetition which takes patience and can be boring sometimes."
To the point where the girls joked about going on strike after qualifying last Saturday, citing a stretch of nearly three weeks without so much as a day off.
Karolyi acquiesced a little by allowing them to get out and explore Glasgow on Monday. Then it was right back in the gym for another one of those necessary but monotonous workouts that makes doing it in front of the crowd and for the rest of the world seem like a vacation.
Maybe because in a way, it is.
Maggie Nichols, the only American chosen to compete in all four events on a team that includes Douglas, two-time world champion Simone Biles and three-time Olympic medalist Aly Raisman, seemed perfectly at ease during the biggest meet of her life. The 18-year-old calmly blew on her fingers while waiting to be introduced for uneven bars and she playfully fanned herself at the beginning of an attitude-filled floor exercise befitting of someone whose nickname happens to be "Swaggy Maggie."
Only afterward, when she caught a glimpse of the scoreboard with that familiar American flag at the top, did Nichols let the moment sink in.
"I got the shivers, it was so cool," she said.
She might want to get used to it. Less than 10 months before the flame is lit in Rio, the Americans' five-woman Olympic lineup appears close to set between Nichols, Biles, Douglas and Raisman.
Three years removed from Olympic triumph in London as part of the "Fierce Five," Douglas and Raisman might be getting better. Sporting gold nail polish she bummed from Biles, Douglas was spectacular on uneven bars, her 15.333 the highest of the night. Raisman overcame uncharacteristic mistakes during qualifying to drill her balance beam set and put together a floor exercise so dynamic it would be the best on any other team but her own.
That honor, however, falls to the incomparable Biles. Given a bit of a break when Karolyi opted to sit her out of uneven bars in favor of Nichols, Biles spent 90 seconds making the hardest tumbling passes on the planet seem like a kid just fooling around during recess. She ran off the floor to join her teammates, celebrating long before the 15.733 was posted on a night the U.S. put up the highest team score on floor, beam and vault.
"We were like `Yeah, Martha's so happy we can't wait to talk to her,'" Biles said.
There was, however, a bit more joy to go around.
China slogged through a sloppy qualifying but responded with a strong push to a silver medal. The Chinese were their usual airy selves on uneven bars, their only real miscue coming on beam. When Wang Yan hopped off during the second rotation, any chance at an upset vanished. Not that China was counting on it anyway.
"We wouldn't win the gold anyway so we were very relaxed," Shang Chunsong said.
Competing alongside the Americans after finishing second in qualifying, Russia looked ready to put up a fight when it trailed by less than a point after vault.
A half hour later, the Russians were done in a meltdown not quite as epic as the one that befell Romania -- which didn't even make it out of qualifying for the first time in more than 40 years -- but no less stunning.
Needing to top the U.S. on bars to put any kind of stress on the Americans, Russia let a spot on the podium slip away when star Viktoria Komova slipped off in the middle of her routine. One rotation later, the Russians imploded completely, as Komova, Maria Kharenkova and Seda Tutkhalian found themselves standing on the mat in shock after falling.
That opened the door for the Brits, who have spent a decade slowly building itself into a legitimate contender. When Ellie Downing drilled her vault, the Hydro erupted into a Union Jack-waving frenzy.
Yet there was only one flag at the top in the end, the same one that's been up there the last four years. The one that doesn't appear to be going anywhere anytime soon.
"I think it only gets better from here," Biles said.
---