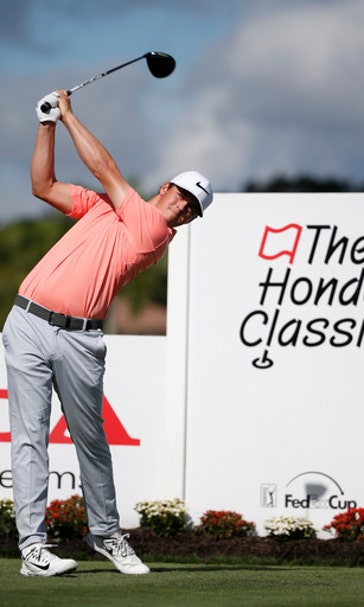 Wesley Bryan, Cody Gribble share early lead at Honda
February 23, 2017

PALM BEACH GARDENS, Fla. (AP) Cody Gribble and Wesley Bryan returned to PGA National on Thursday under far different circumstances.
They are rookies on the PGA Tour, not trying to get through the grind of Web.com Tour qualifying. And they both shot 6-under 64 to share the early lead at the Honda Classic.
Bryan is coming off his best tournament, a tie for fourth at Riviera in which he got within two shots of Dustin Johnson toward the end of the third round. It took him awhile to get going in warm, calm weather, and he finished with a 30 on the front nine.
Gribble already has won this season at the Sanderson Farms Championship last fall while the top players were in Shanghai. He missed four straight cuts on the West Coast and finally got his swing back to where he wants it. Along with birdies on three of the par 3s, he hit all 18 greens in regulation.
They were two shots clear of Ben Crane and Graham DeLaet among those who played in the first half of the draw.
Defending champion Adam Scott opened with a 68.
Sergio Garcia was among the leaders until he pulled his tee shot into the water on the par-3 fifth hole for a double bogey, made two more bogeys and finished with a birdie for a 68. Garcia headed straight for the putting green after his round.
Bryan, still more known for the trick-shot videos he makes with his brother, can feel his confidence starting to grow.
And it helped to be on familiar turf.
''I think the comfort out here this week ... yeah, I got into some pretty good form, but out here on the golf course, I got through Q-school just about 14 months ago, and it's a place that I'm comfortable at and a golf course I know,'' he said.
He picked up a rare birdie on the sixth hole, one of two that have been converted from par 5s to par 4s for the Honda Classic, followed that with a 12-foot par save and then a 10-foot birdie on No. 8 to join Gribble in the lead.
''Just kind of picking up where I left off,'' Bryan said. ''I was able to get the ball in the fairway with some of the tougher driving holes out there, and set up a couple good birdie opportunities. It was really nice getting back on the East Coast on some Bermuda greens that I grew up on as a kid.''
Gribble's PGA Tour journey started a year earlier than Bryan's. He tied for eighth at Q-school in December 2014 to get onto the Web.com Tour. He did well enough in the final event to earn his card, and a month later he was a PGA Tour winner.
''This is one of the tournaments I like to play,'' Gribble said. ''I played it well in Q-school a couple years ago. I've got some good memories.''
There weren't a lot of good memories over the last month, missing the cut in three straight events starting with the Phoenix Open. But the Texan has been grinding away with his coach the last few weeks and it's starting to take hold.
''We both know exactly how we want the ball to come out. We want less curve. I tend to draw it too much,'' Gribble said. ''I know we wanted more a cut swing, but kind of finally ... it's hard to explain. It clicked today, but it could be lost again tomorrow. You never know. It was a great start, and hopefully I can build on it.''
It helped to have a birdie putt on every hole. His lone bogey was a long three-putt on the 16th hole.
---
---