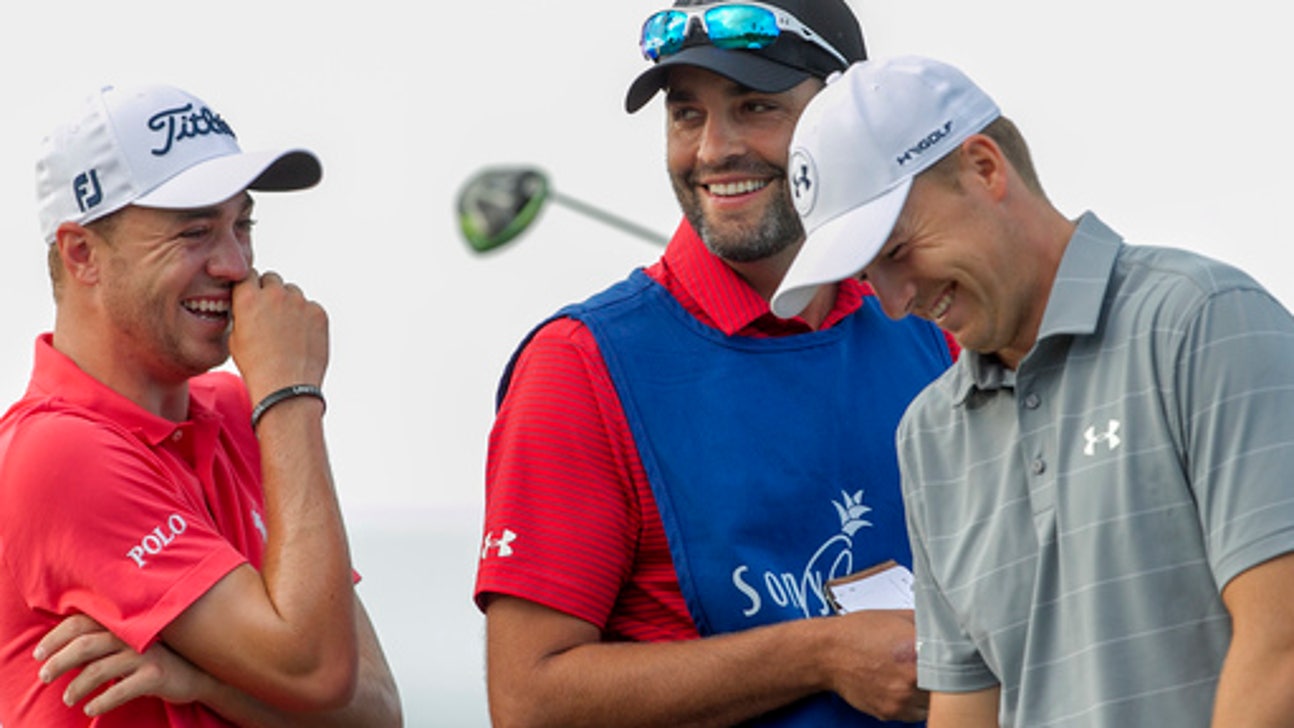 Thomas will take his 59, and a trophy would be a bonus
Updated
Mar. 4, 2020 8:37 p.m. ET

HONOLULU (AP) Two islands, two big moments to celebrate, and Justin Thomas had to think about which meant more to him.
He won at Kapalua, but that won't put him in the record book. Winning a PGA Tour event happens 47 weeks out of the year.
And then on Thursday in the Sony Open, he made a 15-foot eagle putt on the final hole to shoot 59 . That gets him in the record book with the eighth sub-60 round in PGA Tour history. But he still hasn't won the tournament.
That won't be decided for three more rounds, and history is not necessarily on his side. Of the previous seven sub-60 rounds, only three players wound up winning - Al Geiberger at the Memphis Classic in 1977, David Duval at the Bob Hope Classic in 1999 and Stuart Appleby at the Greenbrier Classic in 2010. Duval and Appleby each shot 59 in the final round.
So which was the greater feat? Which brought more satisfaction? Winning a tournament or shooting 59?
''On paper, it would be today,'' Thomas said. ''I have a chance to win a golf tournament every week. I don't have many chances to shoot 59.''
Oddly enough, only when he thought he had a chance did he start thinking he was out of chances at Waialae Country Club.
Golf's magic number - even though Jim Furyk holds the record with a 58 , any score that starts with ''fifty'' is still magic - first crossed his mind when he two-putted for birdie on the par-5 18th to make the turn in 29.
''As well as I was driving it, I can go shoot 6 or 7 (under) on this side and really, really post history,'' he said.
He birdied the next two holes. On the par-3 fourth, he hit 7-iron to 5 feet for birdie. He was 9 under through 13. And then he started to think that maybe this wasn't going to be his day. Thomas missed a 10-foot birdie chance on No. 5 and still doesn't know how his 30-foot birdie attempt on the No. 7 didn't go in.
Spieth and Daniel Berger - all of them were born in 1993 and graduated high school in 2011 - were as much into this pursuit as Thomas, if not more. Spieth wrapped his hands around the back of his neck when Thomas didn't make the putt on No. 7.
''When those didn't go in, I was kind of saying to myself, `Maybe this isn't meant to be.' I thought some of the things that happened earlier in the day, I was kind of curious if I was going to post a number or if it was just an unbelievable round,'' Thomas said.
He made eight birdies and two eagles. Equally important - maybe even the key shot for him - was a 10-foot par save on the eighth hole. That kept him at 9 under going to the par-5 ninth, his final hole which is 506 yards and easily reachable with a good drive.
He thought he hit a good drive. It wasn't easy. Instead of clearing a fairway bunker down the left side, Thomas saw it hit top of the bunker.
''I saw some sand flying and I was ready to punch something,'' Thomas said. ''I was pretty upset about that, because I felt like all chances right there were gone.''
That's when Berger saved the day.
Berger, who beat out Thomas for PGA Tour rookie of the year in 2015, also was in the bunker. Thomas already was planning to hit wedge out of the sand and take his chances from the fairway. At worst, he shoots 60 or 61.
But then Berger hit a 4-iron out of the bunker and onto the green. Thomas asked for a 5-iron.
''This isn't a time for me to lay it up,'' he said.
From 207 yards, with as good a shot as he has hit, Thomas cleared the lip and hit it to 15 feet. Berger was just outside of him, so he got a good read - the putt broke to the right - and he poured it in.
Thomas joined Duval as the only players to break 60 with an eagle on the last hole. He joined Furyk as the only players to break 60 with a bogey.
He just wasn't sure what to make of it. This wasn't the stoic Duval fist-pumping his way around the green. Thomas held both arms to the side, and he punched the air with his right fist only after seeing Spieth and Berger celebrating far more than he was.
''I think I got more excited from seeing them get excited than I did my putt going in,'' Thomas said. ''I thought about it going up to the green. I'm like, `If I make it, what am I going to do?' It's not like winning a tournament. You have three days left to try to play well. So I didn't really know how to react. I never had a putt on the last hole on a Thursday mean that much.''
And that's where he was on Friday. Back to work. His name is in the record book, but not yet the trophy.
The only other player to shoot 59 in the opening round was Paul Goydos at the John Deere Classic in 2010. He was runner-up to Steve Stricker, who opened with a 60.
Thomas only had a three-shot lead over Hudson Swafford when the day ended.
No matter. It's already a great week.
---