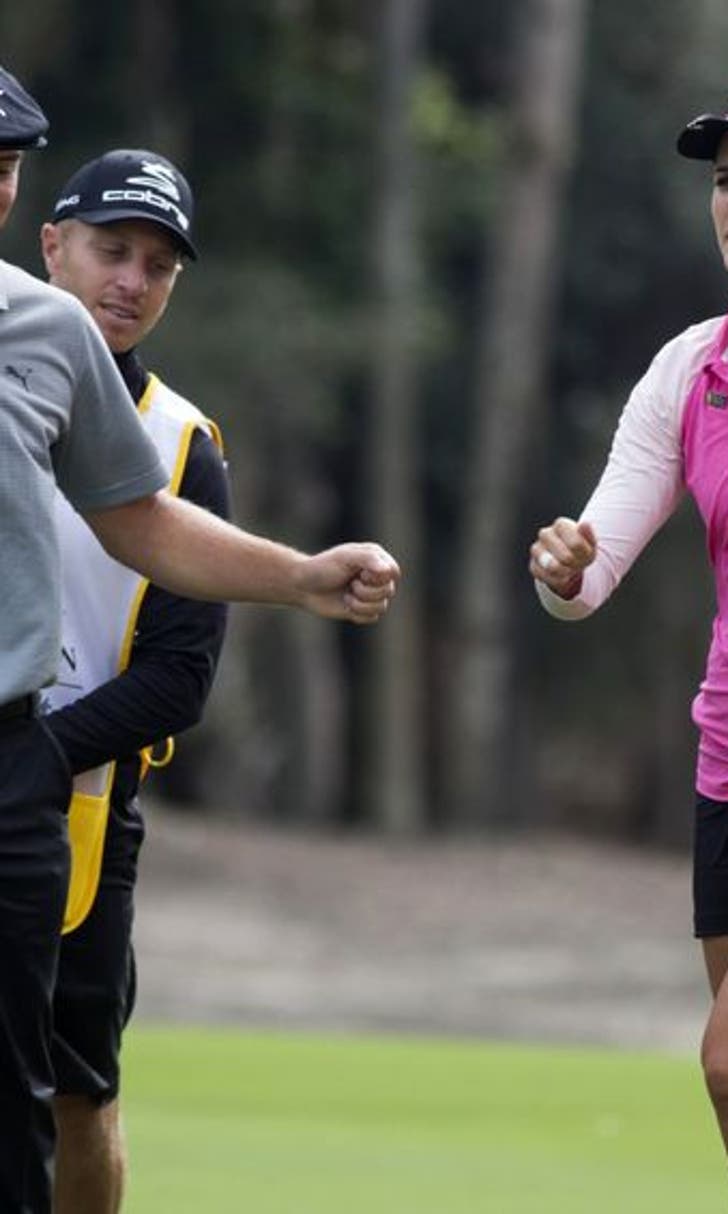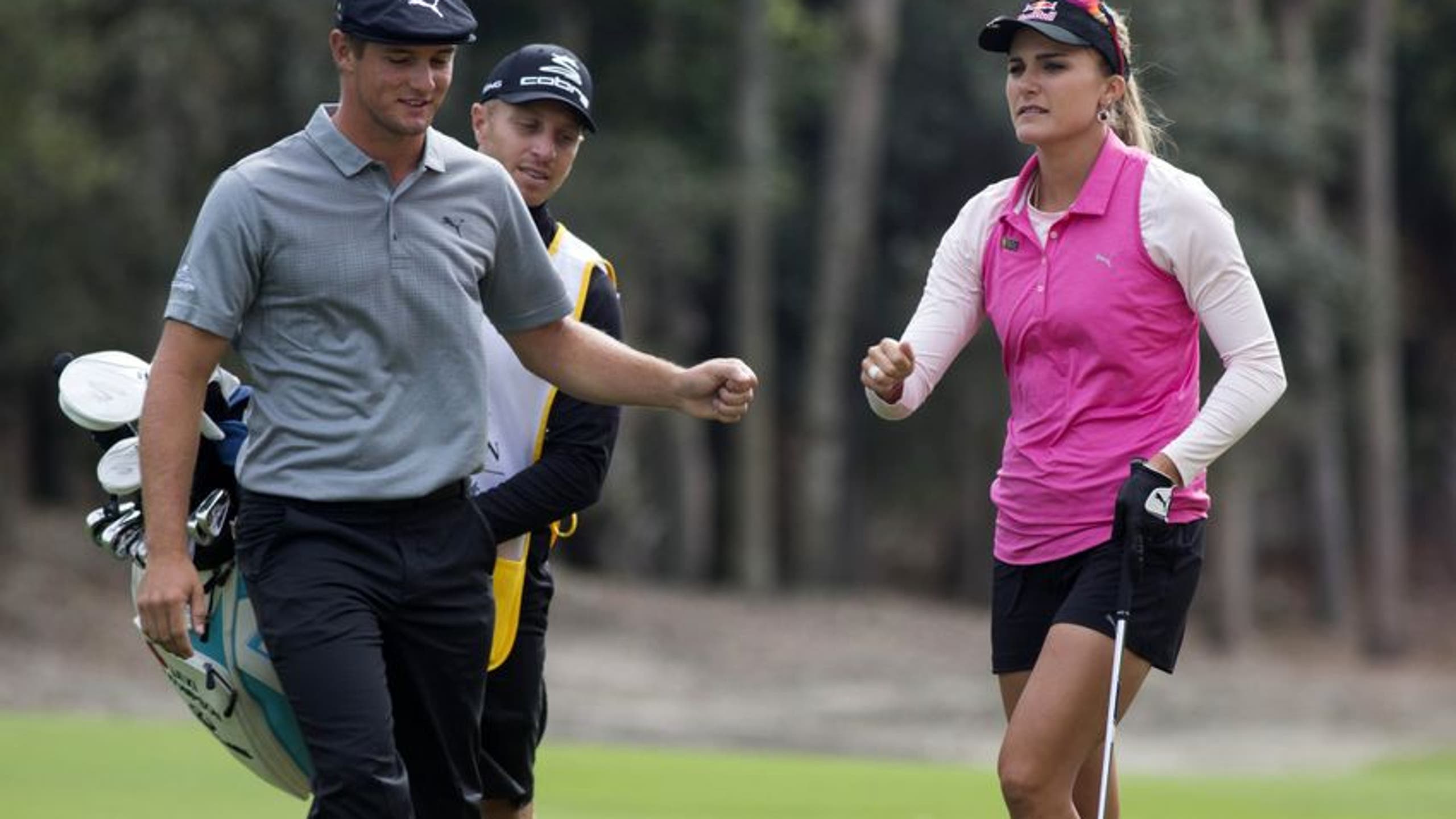 The Story of the Bryson DeChambeau/Lexi Thompson Pairing at Tiburon
BY Fansided and Kathlene Bissell/FanSided via Pro Golf Now • December 15, 2016
Bryson DeChambeau and Lexi Thompson made headlines at the Franklin Templeton Shootout, but how did their pairing come about?
It should come as no surprise that  Lexi Thompson and Bryson De Chambeau were popular with the fans at the Franklin Templeton ShootOut.
They make a handsome and well-turned-out couple on the course, but none of that would matter if they couldn't play golf.  And here's the interesting twist on how they got to the tournament in the first place.
It so happens that Greg Norman, who already made $40 million as an early investor in Cobra Golf 20 years ago, has returned to the Cobra fold. He and Cobra must have decided that there was no better way to showcase new clothes, new clubs and new faces, than by featuring Thompson and DeChambeau at Norman's event, once known as the Shark ShootOut.
But none of that business stuff came up at press conferences.
"It's an honor being here as a rookie," DeChambeau said to media before the tournament. "I don't think there's been a rookie that's played yet."
"It's a huge honor for me, being only the second woman who's played in it, and following Annika," Thompson said. "She's always been a role model of mine. And to get the invite from Greg Norman, that's pretty amazing."
When asked how the pairing came about, DeChambeau said he thought Norman and Bob Philion (who happens to be CEO of Cobra Golf) had a hand in it. But DeChambeau never mentioned Philion is CEO of Cobra. He just let it go.
Now the fans often don't care about the backroom business of golf, but there was one thing TV audience and golfers in the locker room were all wondering before round one. How would Lexi Thompson do on a golf course that was men's length? Pretty well, according to DeChambeau.
"I was nervous the first few holes walking up to my drive," he said to the Naples Daily News. "I didn't know if it was her ball or mine. She hits it out there pretty far. After seeing that I was OK, I settled down."
While the LPGA has played the same course at 6500 yards for the CME Group Tour Championship, the Shark ShootOut played it at 7300.
"I think it's awesome having a female compete on the PGA Tour," DeChambeau said. "I don't think it's an issue. If she's long enough, she can perform. She has a great ability to hit her irons close to the pin. There's no reason why you shouldn't have that opportunity."
As it turned out, Thompson really didn't have a length problem  She made an eagle on the par 5, 17th, in the second round, after hitting an iron from 217 yards for her second shot. Smylie Kaufman and Justin Thomas were both outside her on the green, as was her partner DeChambeau.
Thompson nails her drives about the same distance as DeChambeau, but of course, "she's a girl," as you'd hear at the schoolyard, so it's unexpected that she'd hit it that far. But galleries love to watch her boom a drive farther than some of the men, most of the women pros and most average male golfers. She's the top ranked American female golfer and doesn't even turn 22 until next year. Her future is bright.
DeChambeau, who just turned 23, has become known for his ability to garner a good share of female fans, for his single length clubs, and for leaving college early. But he comes with a pedigree. He is one of a handful of golfers to win the U.S. Amateur and the individual NCAA title in the same year, a feat also accomplished by Phil Mickelson, Tiger Woods, Jack Nicklaus and Ryan Moore (winning point-getter of the most recent Ryder Cup).
So, while the pairing of DeChambeau and Thompson might have been a business decision at the outset, it was one that proved popular with galleries and TV audiences.
The only question that remains is, after DeChambeau's comments, will Thompson get any invitations to play in regular PGA Tour events, and if she does, will she accept?
More from Pro Golf Now
This article originally appeared on
---
---