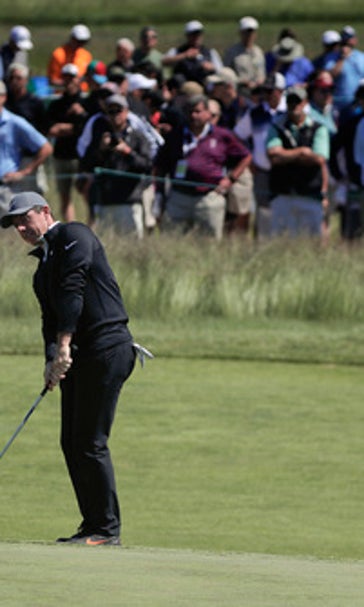 The Latest: Rain just what USGA wanted on eve of US Open
June 13, 2018
SOUTHAMPTON, N.Y. (AP) The Latest on the U.S. Open, golf's second major championship of the year (all times local):
5:20 p.m.
This year's U.S. Open will be a chance to celebrate the state of golf in the country.
Americans hold all four of golf's major trophies for the first time since 2004. Patrick Reed won the Masters this year, joining PGA Championship winner Justin Thomas, British Open champ Jordan Spieth and last year's U.S. Open winner, Brooks Koepka.
The last time that happened was 2004, when Phil Mickelson won his first major. At the time, Jim Furyk (U.S. Open), Ben Curtis (British) and Shaun Micheel were the reigning champions.
But it's not just the majors.
The United States also won the most recent Ryder Cup, Presidents Cup, Solheim Cup and Walker Cup.
---
4:15 p.m.
Justin Rose is one of six players with a chance to leave Shinnecock Hills on Sunday night as the world's No. 1 golfer.
And the 2013 U.S. Open champion knows just how he wants to do it.
''Becoming world No. 1 is going to be a byproduct of winning this week,'' he said Wednesday. ''So I may as well just continue to focus on the winning. That's where the points are. That's where the fun is, to be honest with you.''
Dustin Johnson entered the week as the top-ranked golfer in the world. The others with a chance to move up to the top spot are Justin Thomas, Jordan Spieth, Jon Rahm and Rory McIlroy.
Rose played in the U.S. Open the last time it was at Shinnecock, in 2004, but missed the cut.
That's probably why he didn't have such fond memories of the course until he came back about five years ago and played with a couple of members.
''It completely changed my impression of the whole golf course,'' he said. ''It went from being not a very fun experience to actually, wow, now I see why it's one of the top rated golf courses in the world. I thoroughly enjoyed it.''
---
2:25 p.m.
The USGA prefers the U.S. Open to be played in firm, dry and fast conditions. It was raining Wednesday, so USGA chief executive Mike Davis was all smiles.
Davis says the forecast for the four days of competition calls for plenty of sunshine and enough breeze to make Shinnecock Hills play the way it should. He says the light rain on Wednesday is keeping the course from getting too fast before Thursday's opening round, and it will allow the USGA to have more control over how firm the ground gets.
Davis also says he has changed some of the pin positions because of the wind expected for the opening round.
The last time the U.S. Open was at Shinnecock Hills, in 2004, the course became so bone dry that golf balls wouldn't stay on the seventh green and only three players broke par on the weekend.
---
1 p.m.
Rickie Fowler couldn't have found a better athlete than Tom Brady to play a round of golf with two days before the U.S. Open.
After all, Brady owns five Super Bowl rings and three NFL MVP awards. Who better to have around as Fowler seeks his first major championship?
Fowler, Brady, Phil Mickelson and a few others played a round at nearby Friar's Head on Tuesday. Fowler learned something about the quarterback: He can putt.
Fowler says, ''If I can take that into this week, that's one that can help me.''
He stressed the importance of relaxation heading into the U.S. Open at Shinnecock Hills, one of his favorite American courses. He says a big part of success is being rested mentally and physically.
It will be plenty hectic Thursday morning when Fowler tees off with Hideki Matsuyama and Marc Leishman. The threesome in front of them is Jordan Spieth, Rory McIlroy and Mickelson.
---
12:30 p.m.
The USGA has a history of clever groupings for the U.S. Open, and this year was no exception.
Among the more notable ones was Phil Mickelson, Jordan Spieth and Rory McIlroy. All of them are multiple major champions. All of them are among the most popular in golf. They also are the only three players at Shinnecock Hills who are missing one leg of the career Grand Slam.
One other group is worth noting: Andrew ''Beef'' Johnston is playing with Daniel Berger. The other member of their trio is Kevin Chappell, who is sponsored by Ruth's Chris.
---
12:10 p.m.
Rory McIlroy has played a lot of golf in June. Nearly all of it was for fun.
He played at National, Friar's Head and Garden City. Although that wasn't exactly designed as preparation for the U.S. Open that begins Thursday at Shinnecock Hills, it can't hurt as McIlroy seeks his second American title. He won it in 2011.
McIlroy said Wednesday that he played 18 out of 19 days, taking off Saturday to recharge his batteries.
He played with friends from the area as he stayed on Long Island. His accommodations for the U.S. Open are close to Shinnecock Hills.
He says, ''it's not a bad place to spend a couple of weeks in the summer.''
He was particularly impressed by Friar's Head and National, both of which he'd never played. And perhaps picked up some tips on wind and grass conditions.
---
---