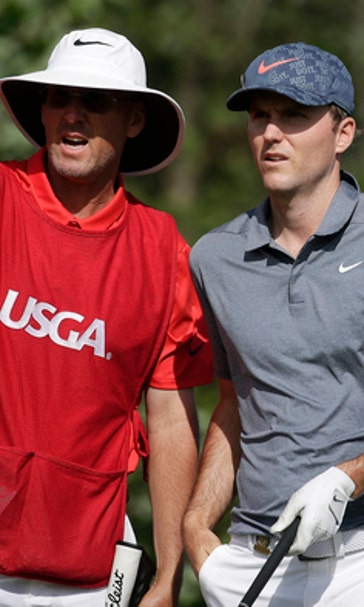 The Latest: Henley has 1st struggles in US Open
June 15, 2018
SOUTHAMPTON, N.Y. (AP) The Latest on Friday's second round of the U.S. Open (all times local):
7 p.m.
The U.S. Open cut sliced off some huge names.
Gone are Tiger Woods, Jordan Spieth, Rory McIlroy and Jason Day.
Headed home are Sergio Garcia, Adam Scott, Martin Kaymer and Jon Rahm.
Throw in some other major tournament winners such as Keegan Bradley, Charl Schwartzel and Ernie Els.
Shinnecock Hills beat them all.
Woods, McIlroy, Spieth and Day had little chance of sticking around after first-round struggles. In his first U.S. Open since 2015, Woods shot 78-72.
McIlroy was even worse on Thursday with an 80. He came in with an even-par 70, not nearly enough.
Spieth rallied from a first-round 78 with four straight birdies on his back nine, then bogeyed his final two holes to wind up at 9 over - and done.
Day also didn't get into the mix from the outset, shooting 79-73.
---
6:45 p.m.
With the top of the leaderboard within reach, Ian Poulter went the other way.
The Englishman stood at 3 under par through 16 holes of the second round, one shot behind leader Dustin Johnson. But his third shot from a greenside bunker at the eighth hole, his 17th, flew the green. Even worse, a weak attempt on his fourth shot went into the high grass.
From there, Poulter was fortunate to escape with a triple-bogey 7, which dropped him to even par.
On the ninth, perhaps still shaken from the previous hole, Poulter bogeyed again. That dropped him from second place alone to a tie for fourth, five shots behind Johnson.
---
6:15 p.m.
Jordan Spieth is not quite ready to leave Shinnecock Hills.
Spieth was 11 over for the tournament with six holes to play in the second round of the U.S. Open. He had only three birdies in 30 holes. And then the three-time major champion came to life.
Spieth made an 18-foot birdie putt on No. 13, another birdie putt from that length on No. 14, a 10-foot birdie putt on No. 15 and he made it four straight birdies with a 10-footer on the par-5 16th. That got him to 7 under, one below the projected cut line.
---
5:50 p.m.
Talk about roller coasters.
Jimmy Walker, winner of the 2016 PGA Championship, has two eagles in his second round of the U.S. Open. He also has four bogeys and a double bogey.
Walker's eagles came on the par-5 16th, a 610-yard monster, and the par-4 fourth.
At 16 - he played the back side first - Walker reached the green in two and sank a twisting putt of about 15 feet. He gave a slight fist pump when the ball went into the cup.
His reaction wasn't nearly so tame on No. 4. His drive entered the bunker on the right side of the fairway, but his second shot was exquisite. It bounced twice and fell into the hole for a 2.
Walker raised both arms in triumph, slapped hands with his caddie, then bowed to the fans, a huge smile on his face.
Still, he was only 1 over par for the day and 6 over for the tournament with two holes to go.
---
5:40 p.m.
First-round co-leader Scott Piercy didn't need social media to straighten things out after playing his first nine holes at 3 over on Friday.
He had three birdies (and a bogey) on the last six holes to finish at 1 over and even par for the tournament.
The 2016 U.S. Open runner-up had such an awful practice round on Wednesday that he watched videos he had posted on Instagram to straighten out his swing. He came out Thursday and shot 1 under - one of four golfers in the overnight lead.
Friday didn't start out so well. Starting on the back nine, he was 3 over when he got to the fourth hole and rattled off back-to-back birdies. After a bogey on the eighth hole, he finished with another birdie on No. 9.
''When you get kicked in the teeth on 16, three-putting from 4 feet, you better wake up,'' he said. ''So I really tried to keep my emotions in check, even though I was kind of (angry), figure out what's going on with the putter, how do I fix it?''
---
This item has been corrected to show that Piercy's quote referred to the 16th hole instead of the 14th.
---
5:20 p.m.
The back nine at Shinnecock Hills is where Jordan Spieth began the U.S. Open. It's also where his U.S. Open most likely ended.
Spieth started bogey-triple bogey on Thursday and never recovered, posting a 78 for his worst score in this championship. On Friday, he was right on the projected cut line until a double bogey-bogey start to the back nine.
After playing the front nine in even par, Spieth came up short of the green on No. 10. His next shot didn't make it up the slope and rolled back down. So did the one after that.
Then, he went over the green on the par-3 11th and made bogey.
He was 11-over par through 12 holes and most likely needed to play the final six holes in 3 under. He has only three birdies through 30 holes this week at Shinnecock.
---
5 p.m.
Defending champion Brooks Koepka is making a move up the leaderboard in the second round of the U.S. Open.
Koepka blitzed Erin Hills a year ago, winning his first major title at 16 under par. Shinnecock Hills has been a far different test, and he opened with a 75.
After a tough start in the second round, including consecutive bogeys on Nos. 12 and 13, Koepka got going. He birdied the 17th and 18th holes, then made another birdie on the first.
His fourth birdie in five holes, at No. 3, brought him to 2 under for the day and 3 over in total.
Dustin Johnson leads at 4 under, the only player under par in the field.
---
1:50 p.m.
Tiger Woods is going to need some help to make the cut at the U.S. Open after finishing the second round at 2 over par, leaving him 10 over for the tournament.
But he says he hasn't given up his belief he will win more major tournaments.
''Absolutely,'' he said when asked if he would add to his total of 14 majors.
Why?
''Have you seen the way I've been swinging?''
Woods says he hit the ball well but struggled with his putting in two rounds at Shinnecock Hills. And he had extra trouble on the first two holes, playing them at 7 over on Thursday and Friday.
The projected cut line is 7 over heading into the afternoon session.
Woods showed plenty of grit at the end of his round. He birdied his last two holes, but he was 14 shots back of leader Dustin Johnson.
Woods said careers are measured by what players do four times a year in the majors, noting he won three of them in one year alone. He said he had a good feeling coming into the tournament, but his opening 78 put him too far back to make much of a move.
Despite the two birdies to finish, Woods said, ''I don't think you can be too happy and too excited about 10 over par.''
---
1:20 p.m.
Dustin Johnson has shot a 3-under-67 in the second round of the U.S. Open to grab a three-stroke lead after the morning session.
Playing under control throughout, Johnson shot 33 on the back nine, with birdies on the 11th and 16th holes. After bogeying No. 1, Johnson had birdies on the fourth and seventh, where he rolled in a 45-foot putt. The crowd roared as if it was his playing partner, Tiger Woods, who knocked it down.
Ian Poulter, yet to tee off, is the only other player under par. He shot a 69 on Thursday.
---
1:10 p.m.
England's Tommy Fleetwood tamed Shinnecock Hills with a morning round of 66, the best so far in the U.S. Open.
Fleetwood began the day at 5 over par, then ran off six birdies in his round, including four on the front nine. He trailed leader Dustin Johnson by five strokes after the morning session.
The 27-year-old in his first season on the PGA Tour but a pro since 2010. He finished fourth last year at Erin Hills. He has four European Tour victories, including the last two years at Abu Dhabi.
---
12:30 p.m.
The sun is out at Shinnecock Hills.
After gusting wind for the first round and wet weather on Friday morning, the sky cleared just before noon in Round 2. Golfers ditched their long-sleeved shirts and umbrellas were put away.
It's not clear what effect the change in weather would have on scores. The wind left just four players under par after 18 holes. Rain helps soften the greens and rescue the golfers from the super-fast putting surfaces. But the wind off the various Atlantic inlets dries them pretty quickly.
Dustin Johnson remained the leader at 3 under through 14 holes.
---
11:20 a.m.
The first hole at Shinnecock Hills is the fourth-easiest hole on the course, but it isn't playing that way for Tiger Woods.
After a triple bogey on the par-4, 399-yard hole in the opening round, Woods had a double bogey on Friday. That's half of the 10 strokes he's lost to par on just one hole.
Woods' tee shot with a 2-iron looked good, giving him a good lie on the right side of the fairway. But his approach went askew to the right and landed in the deep rough. His third shot rolled off the green and then he pitched to about 8 feet. He missed the bogey putt.
The cut was projected for 6 over in the morning, but that could creep lower if Shinnecock Hills continues to torment the golfers. Woods hasn't made the cut at the U.S. Open since 2013.
---
10:40 a.m.
First-round co-leader Russell Henley was doing just fine in the second round of the U.S. Open. He stood at 2 under par and a shot behind leader Dustin Johnson when Henley reached his 12th hole of the day, the par-4 third.
A poor drive and a whiff led to a 7.
Henley drove into the left high rough and couldn't move the ball on his first attempt. His next try went into the rough on the other side of the fairway.
By the time he was through by two-putting, he had a triple bogey and was at 1 over par.
---
10 a.m.
Led by a 32 on his first nine holes by Rafael Cabrera Bello, scoring is improving at the U.S. Open.
Rainy conditions certainly are helping.
Shinnecock Hills, which played to an average of 76.4 strokes in the opening round, has been far less difficult while wet. Cabrera Bello of Spain birdied the 10th, 16th and 18th holes as he started on the back side. That puts him at even par, still three shots behind leader Dustin Johnson.
Johnson, the world's top-ranked player, is 2 under through seven holes, also on the back side, with birdies at the 11th and 16th.
Also having good starts to their second rounds are Russell Henley, another co-leader on Thursday who is 1 under for the day and one stroke in back of Johnson, and Tiger Woods, who is 1 under in the same group with Johnson. Woods is at 7 over for the tournament.
---
9:25 a.m.
Day 2 of the U.S. Open has a different look, with light winds, cool temperatures and drizzle under gray skies greeting early starters.
After brutal conditions in the opening round that sent scores soaring, players returned to Shinnecock Hills in hopes of making some birdies that were so elusive the day before.
Co-leader Dustin Johnson made one on his second hole to move to 2 under par for the tournament, tied with Russell Henley, who is also 1 under on his round. Tiger Woods also is 1 under through four holes, trying to recover after an opening 78.
Woods and Johnson are playing together in the featured morning group that includes Justin Thomas, who is even par through four holes.
Shinnecock Hills, set up for par 70 in the Open, played to an average of 76.4 in the first round. That included 199 double bogeys or worse for the field.
---
9 a.m.
The second round of the U.S. Open on Friday has begun in much better fashion for Tiger Woods.
Woods triple-bogeyed his first hole on Thursday on the way to an 8-over-par 78 that left him nine shots behind the leaders. But in chillier conditions under cloudy skies, Woods birdied the par-4 10th, his opening hole.
Dustin Johnson, his playing partner and one of the leaders after the first round, also had a birdie, on No. 11. He is at 2 under, tied with Russell Henley, who has two birdies and a bogey through seven holes.
---
---