Shane Bacon golf mailbag: Answers to all your U.S. Open questions
Published
May. 4, 2015 3:56 p.m. EDT

I spent the better part of last week in the beautiful Pacific Northwest during one of those gorgeous stretches that make you wonder why everyone on planet Earth doesn't live there. Of course, not a single raindrop smacked my windshield, which helps, but as we fast approach the first U.S. Open ever hosted in this part of the country (45 more days!), the questions, rumblings, interest and, frankly, concerns have started ramping up. People are simply curious about what to expect when the U.S. Open embarks for Chambers Bay, and though Ian Poulter has already made up his mind apparently, I have a different opinion.
So with that, I open up the weekly mailbag. If you want to participate, just fire me a question via Twitter at @shanebacon or send a lengthier one to me over at Facebook.
Fore, please ...
@shanebacon since you just played it, how fast do you think the USGA can make the greens at Chambers without things getting out of control?

— Michael Fullan (@mrfullan) April 28, 2015
Bacon: If you've kept up with some of what the pros are saying, the worry is, of course, green speed. Not only is Chambers Bay going to have the largest fairways in the history of the U.S. Open -- the 13th hole is more than 100 yards wide! -- but it will have some massive greens.
Every green is like four complexes in one, depending on where the pin is. The mounds and banks around the greens can be deceiving at times. You want to play shots off those banks to get the ball close, but it's almost a trick by the golf course to force you into that decision.
Let me give you an example: The eighth hole, a par-5 that will play longer than 600 yards for much of the week, has a massive slope from back to front and left to right. One of my approach shots, I pushed maybe 3 or 4 yards left of my target, a fine-looking shot in the air considering the slopes bring the ball back toward the green. But the issue was I missed it too safe, meaning I hit it too far up the slope on the green, and my ball ended up in one of the chipping areas right of the green, a tough up and down depending on the pin.
During the U.S. Open, you'll see players and caddies pick spots to play shots off of, but if they hit it too hard up the slope, the ball will have too much speed and come back to their feet -- or worse, into a bunker or take another slope and go a completely different direction. (You'll see a lot of the latter on the par-3 third hole, where missing it short and right with speedy greens is basically like writing down bogey or double on your card.)
When we played Chambers, the greens were running around a 9 or 9.5. I don't see how they can make them faster than 11 if they want to keep players from bringing out flamethrowers on Sunday. It seems a little slower than normal U.S. Open speeds is in the cards for the USGA at Chambers Bay.
@shanebacon if the wind starts howling, will this year's US Open play similar to the Open?

— Chris Heavenor (@tommytoedrag) April 28, 2015
Bacon: I asked a few of the caddies at Chambers Bay about wind, and they said it isn't nearly as much of an issue as you'd expect from a links-style golf course. If you look at a map, like the one below, you'll see that this isn't a course right off the ocean, more off the Puget Sound, where the wind can't come howling off the water like at Pebble Beach or Torrey Pines.
I think it can be a club or two wind during the U.S. Open if they get some weather, but I don't think you'll see flagsticks bending over like some might think when first walking on the property.
To answer your specific question; if it does howl, yes, absolutely, this golf course will play extremely, extremely tough, especially considering 14 holes play uphill and at least some of them will play into a wind whichever way it's blowing.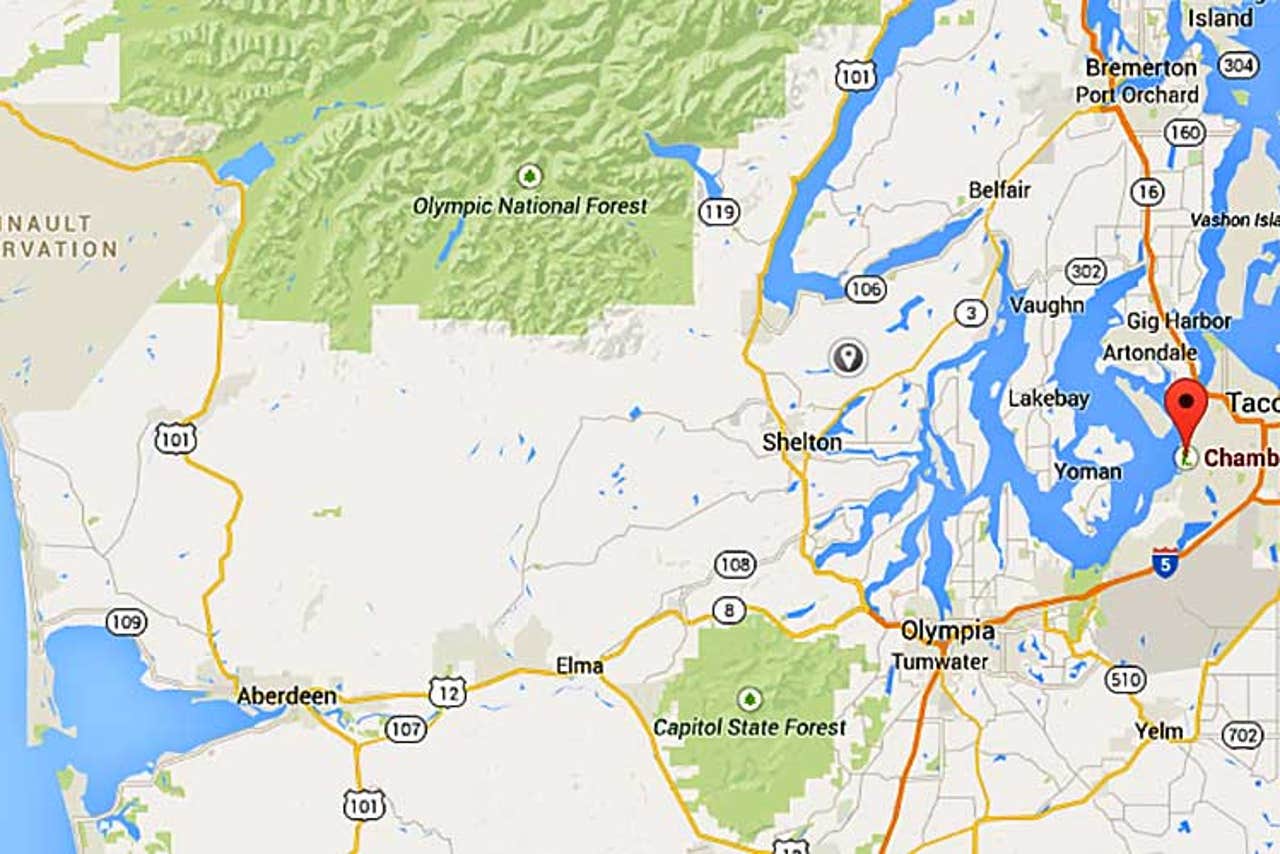 @shanebacon What is this about sloped tees and alternating pars? Any validity to it or just noise before the start?

— Joe Schackman (@Schackmj) April 28, 2015
Bacon: USGA executive director Mike Davis told us in our small FOX Sports gathering that the tee slopes will be a thing, so for now, yes, that's true. During the two rounds I played, I didn't see any tees on slopes, but I also think we as golfers think slopes and envision the fairway on No. 10 at Augusta, and he's more talking about a slight degree of slope one way or another. I don't think guys are going to have to choke up on clubs or play a shot like my colleague Shane O'Donoghue played on the 16th.
Shane, you're welcome for including this pic!
As for alternating par, that is something you'll see, and something I think is super cool. I mentioned this in my piece about Chambers Bay, but the first hole is totally different when you move the tees from a par-4 to a par-5. The day (or days) it opens up at 598 yards, guys will be thinking birdie right off the bat, with an inviting fairway to start the day. When it plays as a par-4, it'll take a precise golf shot (one of the most precise on the course) to get in position to hit a long iron into the green.
And though I like the switch at No. 1 more than the one at 18 (I think 18 plays a lot better as a par-5), a back-left pin and a small shelf at the very back of the green will be good spots for a pin and allow players to hit long irons into the final hole when they play the tees up.
So, yes, I'm on board. Something I'm going to say a lot as we get closer and closer to Chambers Bay: The U.S. Open isn't supposed to be easy. That's the point. Having to change your mindset day to day is totally an OK thing for players.
And let me take a minute to rant about PGA Tour players already complaining about the setup of the U.S. Open: Really, fellas? This is supposed to be easy? And fun? The USGA is supposed to find a way to make a golf course perfect for what you guys want?
No. No, no, no. That's not what this is about. The best in the world play whatever is in front of them. LeBron James doesn't get to pick who defends him. Aaron Rodgers isn't picking which linebacker he wants to rush him. They play against whatever is thrown their way.
The modern-day PGA Tour players seem as coddled as any athletes out there (of course, not all of them, but it's more and more prevalent these days).
Rory McIlroy wins a major, and the complaints are the course was too easy. Now we get a golf course that might play extremely tricky and tough and people are worried and scared, some going as far as to critique the golf course before they have even seen it!
If you don't want to play Chambers Bay, you don't have to play. It isn't an obligation by any means. If you pull out, there are thousands of other PGA Tour players, Web.com guys, mini tour players and amateurs with a dream of being at this event that would happily take your place and get their butts kicked all week by Chambers with a smile on their faces.
This seems like the equivalent of a passenger in first class complaining about how cold his lobster tail is. Hey buddy, there are 150 people in coach that would toss back that lukewarm lobster and sip on the ice-cold (and free) champagne if you aren't satisfied.
Let's be happy that the USGA is trying something different. Embrace it, don't knock it.
I stand with Davis in his thoughts that the moment you complain about Chambers Bay, you've already lost. This is about being mentally tough. We will see who gets that come Father's Day.
@shanebacon what will be the number one challenge for golfers? (Hit the fairway, hit greens, etc.)

— Dalton Johnson (@SmoochJohnson) April 28, 2015
Bacon: I really, really want to say iron play because finding the right spot on these greens will be imperative, but we all know U.S. Opens come down to putting.
Figuring out the slopes and being confident in your preparation at Chambers will be the key to this. The player (and caddie) who spends the most time on Chambers Bay before Thursday of U.S. Open week will have a huge, huge advantage.
Or, say you're a 2015 major winner who played in the 2010 U.S. Amateur at Chambers Bay and who happens to have a caddie on the bag who used to caddie at Chambers Bay. That could also be a benefit. Now, who fits that description?! Hmmm ...
@shanebacon with a new track, it can bring more players into the mix, some sleepers u wouldnt b surprised to contend

— Ryan (@spartygrad) April 28, 2015
Bacon: JORDAN SPIETH! AHHH, THAT WAS THE GUY!
Okay, Spieth isn't a sleeper by any means (he's 8-to-1 in the latest odds, courtesy of Golfodds.com), but can you imagine someone coming in with a better situation than his at Chambers Bay? Spieth has played in a competitive event there before and has a caddie with serious experience on the course and a game that rivals anyone's in the world right now.
Spieth has a great shot at going back-to-back. It's crazy to think, but I'm leaning toward picking him as we sit more than a month out.
If I don't go with Spieth, I'll pick one of the usual suspects: Dustin, Bubba, Kaymer, Phil.
It will be a bombers course for sure, but with the extra-wide fairways, the heavy hitters won't need to be as straight as in years past. I think those five names, along with Mr. No. 1 in the world, will be around come Sunday, especially if his putter stays as hot as it was in San Francisco.
And yes, I understand that very, very weak limb I'm currently sitting on, so for my sleeper I'll go with Gary Woodland.
Bacon: You know, as much as I love Bandon Dunes (and the other three 18-hole courses on the property), I think the golf mecca in Oregon will be relegated to other USGA events in future years and probably not the U.S. Open.
Bandon and Pacific are, simply, just not long enough in my opinion. Grow the rough up all you want, but a place like Chambers Bay has Pacific by some 800 yards from the back tees. Golf isn't getting any shorter these days, and I think the women's four-ball and other USGA events are perfect for Bandon. Let the U.S. Open continue to go to these other places that can play par-4s like par-5s, and allow Bandon and Pacific to host some of the other great USGA events.
@shanebacon the may/pac fight got me thinking, what ppv golf event would you pay most for? I'd say Augusta 7am-3pm coverage's is worth $100

— Lincoln Duff⛳ (@lincolnduff) May 4, 2015
Bacon: Love this question, and I think the default answer is all-day coverage of the Masters. (Seriously, wouldn't a nutty golf fan pay $250 a day, $1,000 for the week, for start-to-finish Masters coverage? The answer is yes.)
I think the best chance for a similar style to what boxing offers is not just two guys going up against each other (Tiger and Rory did this years ago in China, and I remember staying up late to watch it and Twitter being pretty quiet) but two guys going up against each other in a real, serious golf tournament.
So here are my rankings for who -- or what -- would draw the most pay-per-view dollars in a one-on-one final round:
Those are my three. But I think Phil and Tiger battling for a green jacket would get the golf world so excited that fans might not be able to correctly type in their credit card info to pay to watch the golf. That's how jazzed everyone would be.
Bacon: I mean, isn't this an eternal question? Why do exes find love elsewhere but it never worked out with y'all? Why do so many people love "How I Met Your Mother"? Why do certain songs catch on with a group of people while others want to rip off their ears? (I'm looking at you, "Standing in the Hall of Fame.")
Some things work for certain people, some don't, and it is the same with golf courses, golf coaches, golf swings and golf tournaments. Andy North won three PGA Tour events in his entire career, and two happened to be U.S. Opens. Things just work out that way.
Rose and Foley seem to be a great match, and whatever Foley is spitting out is music to Justin's ears. That same noise didn't sound as good to Tiger, and they split. I'm not sure you can read more into it than that.
@shanebacon also...why is Rose so successful under Foley while Tiger seemed so uncomfortable under him?

— Milly Phick (@mickelsonesque) April 28, 2015
Bacon: It has to be Ko. No question about it. Jordan Spieth has been insane the last six months, but nothing in the history of teenage golf has compared to what Ko has done. It's incredible. Absolutely incredible.
Honestly, Lydia Ko should be in the first segment of every sports show. She won't be because for whatever reason most shows would prefer to talk about Tebow or LeBron or whatever Tiger is doing, but Ko just turned 18 and has seven LPGA wins. On top of that, she's doing things like donating her entire paycheck last week to Nepal relief efforts, a great move by someone so young, and she is The Best in the World at her chosen profession.
Could you imagine if there was an 18-year-old who was regarded as the best doctor on the planet? (Doogie Howser aside, of course.) Or an 18-year-old professor who was rocking the Harvard world? I wish Ko got more play. It keeps me up at night that she doesn't.
@shanebacon both are flat out incredible but which start is more impressive? ... Lydia Ko or Jordan Spieth.

— wesley whamond (@wesleywhamond) April 28, 2015
Ko is amazing. I hope she keeps it up. The one knock on her career -- career, of course, is a funny word to write when talking about a teenager -- is she has yet to win a major, but I don't see that lasting very long if she plays one of the five LPGA majors as she has the rest of the tournaments.
Spieth has been great, but nothing has compared to the start of Ko's career.
Bacon: I once used an old graphite shaft to "lock" my sliding glass door in my old apartment in Phoenix. (It wasn't even an X-shaft ... take that, robbers!)
My buddy Kevin also really wants me to make a coffee table for my future man cave out of four Callaway staff bags I have from the four majors a couple of years back (the bags being the table legs, of course).
Anybody have another use from random golf stuff? Share it with us on Twitter at @shanebacon.
@shanebacon ran out of napkins this a.m.,used a Titleist towel.This winter I dug out of a snowy parking lot w/ a 60 wedge.Any odd gear uses?

— Mark Ernest Jr (@golfmarker81) April 28, 2015
Bacon: There are plenty of good gambling games for bigger groups or full foursomes, but my favorite is tossing balls up and playing all the twosomes.
Basically, you toss up balls on the first tee, and two people are paired together for the opening six holes. Play match play, handicaps included, and then switch partners. We usually play the final group in carts (the guys riding together), so that means the middle pairing is the default group that hasn't been paired yet.
I like it because it allows everyone to be included, allows you to restart your round if you're hacking it around the first six holes and gives you a chance to not get killed if you can at least win one of your matches. (Of course, going 0-3 means you could be paying for drinks for many, many weekends, something I nearly experienced this past weekend in Punta Cana ... thank goodness my putter woke up down the stretch).
With three guys, I love playing nine-point. It's easy, fun, and is a bit of a vacation from Wolf.
Nine-point is simple as well. Three guys, playing against one another, with nine points up for grabs each hole. Win the hole outright, and you get five points; second place gets three, and the last-place person on the hole gets one. Two guys beat the other, and it's 4-4-1. Beat the other two who tie, and it's 5-2-2. And if you all tie, 3-3-3 and on to the next. Make the points worth whatever you're comfortable with (50 cents, a buck, five bucks if you're feeling frisky), and go at it. I've also heard a rule that if you beat the next-closest person by two shots, you get all nine points, but we don't normally play that as to make the game a bit more friendly.
A side game that's fun is 2s. It's also simple. Any two you make on the course that day is worth a value (dollar, five dollars, 20 dollars). Everyone has to pay for every 2, so if you make a couple of birdies on the par-3s, you're going to have a great day.
Bacon: That's the one for me. Golf is a game that penalizes you for bad shots. It shouldn't penalize you for a good shot by forcing you to play from a divot in the fairway. A bad bounce on a green is one thing. A ball rolling into a divot in the fairway is a whole other. Rub of the green, in my opinion, doesn't apply here, and relief should be awarded. I hate that golf tournaments can be won or lost because someone didn't fill in their divot ahead of you.
@shanebacon What is the 1 rule of golf that you think should be changed? Spieth called no relief from fairway divot stupid. Agree?

— Anthony Costa (@tonetweets) May 4, 2015
---