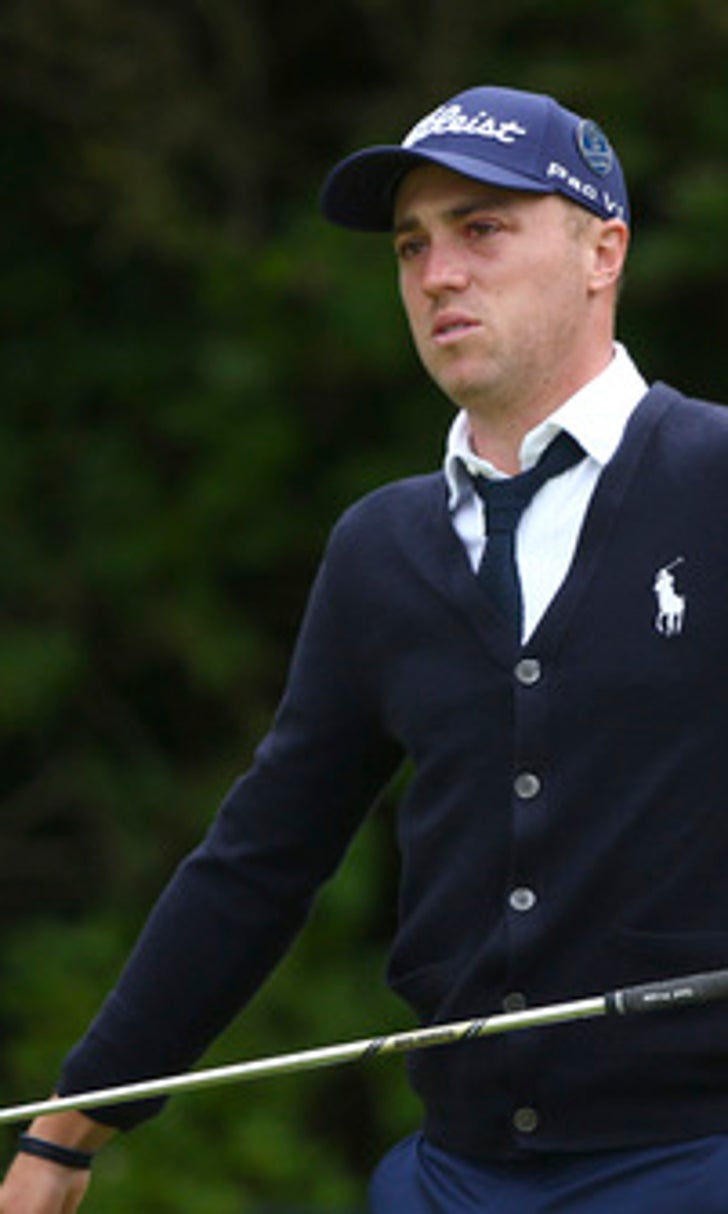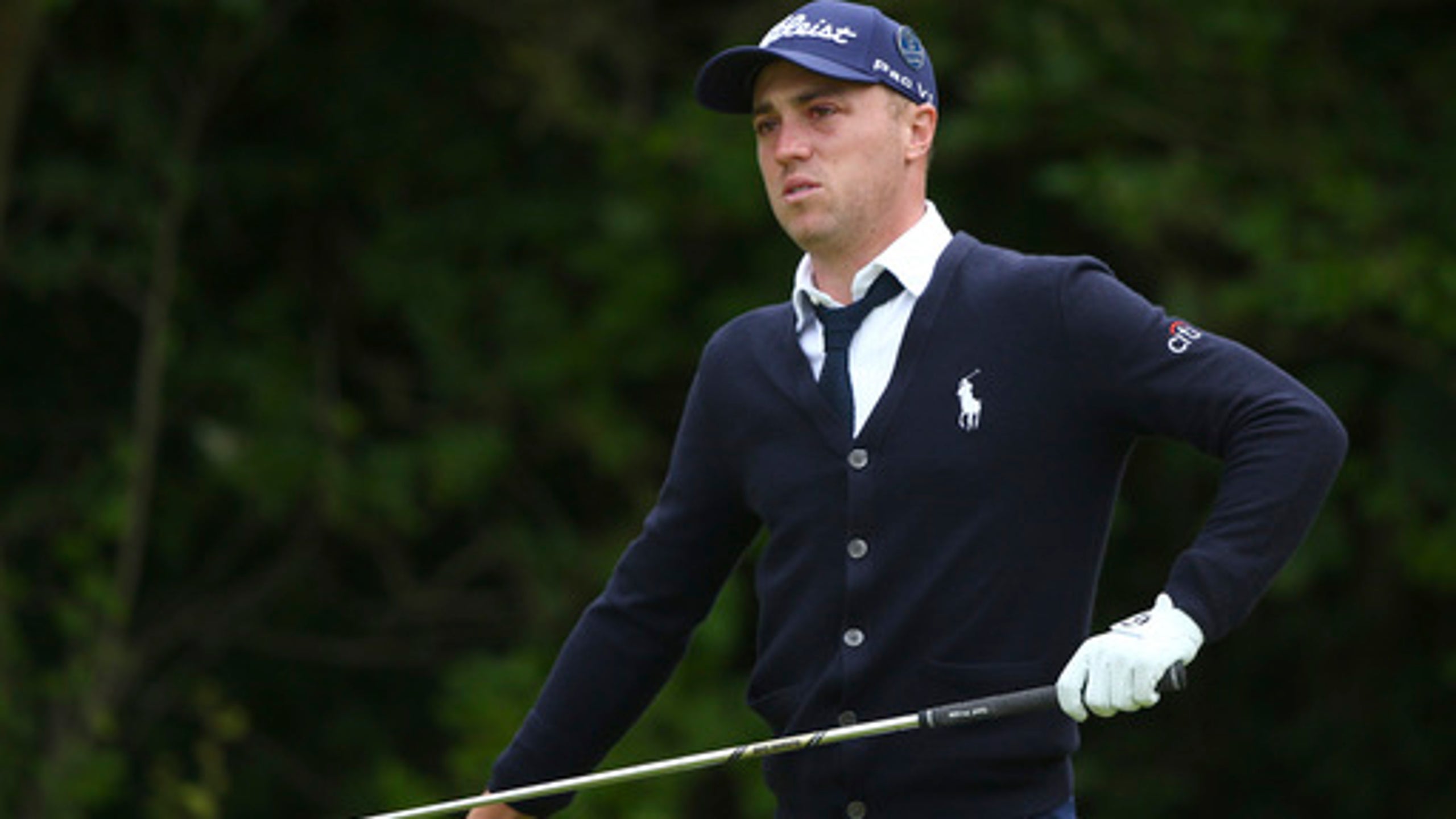 Rahm escapes a 2-shot penalty at British Open
BY AP • July 20, 2017
SOUTHPORT, England (AP) Jon Rahm thought he was moving a loose twig, didn't realize he had violated a rule and eventually was cleared of a penalty in the opening round of the British Open.
It was the second straight tournament in which Rahm was caught up in a rules dispute.
This one occurred on the 17th hole on Thursday when he was playing his second shot out of deep grass. Rahm noticed what he thought was a loose impediment to the right of his ball and went to move it. But it was a vine growing just above the ground with thorns. Lee Westwood noticed and mentioned to Rahm that he was violating Rule 13-2 for improving the area of his intended swing.
The walking rules official was called over and after a brief discussion, Rahm was assessed a two-shot penalty.
That changed in the scoring area when the 22-year-old Spaniard met with David Rickman, the rules director of the R&A.
''It would not have affected my swing unless I hit a 50-yard slice, which was not the case for any player in the world in that situation,'' Rahm said.
Why move it if it wasn't in the way of his swing? Rahm said it was a reflex because he thought it was a dead twig, similar to a player moving away leaves or other loose impediments as a visual distraction.
There was no video of the incident, and Westwood and Patrick Reed were not close enough to him to see for themselves. Rickman, through an R&A official, said he weighed the balance of facts and rescinded the two-shot penalty. The bogey became a birdie. Rahm's 71 became a 69.
''At the end of the day, it's not my call, honestly,'' Rahm said. ''I can describe what happened as honestly and truthfully as possible, as detailed as can happen. And they make the judgment call. It's up to them. They did say it's a very fine line. I would have been fine with whatever the rules official ... they know the rules better than any of us and it's their call.''
Two weeks ago at the Irish Open, Rahm avoided a two-shot penalty in the final round for replacing his ball incorrectly on the sixth green after the European Tour received emails and calls from TV viewers. Andy McFee, chief referee of the European Tour, said Rahm made a ''reasonable judgment'' after having moved his marker one putter head to the side to get it off the line of his playing partner.
Rahm won the Irish Open by six shots.
---
ROUGH START: Mark O'Meara was honored when the R&A asked him if he would be the first to tee off at the British Open because it will be his last time playing and he won at Royal Birkdale in 1998.
The honor quickly turned into mild embarrassment.
It was raining, and O'Meara had his left hand on the driver as he waved to the fans that filled the grandstand. He felt his grip slightly wet, but figuring it wouldn't be a problem, O'Meara took a swing. The ball shot to the right into the gorse, and O'Meara hit another tee shot. That one went into the pot bunker on the left. He wound up starting his final British Open with a quadruple-bogey 8.
He followed with another bogey into the wind. He made double bogey on the par-3 seventh. He was 9 over at the turn. O'Meara wound up with an 81, the highest score of the day. In his 109th round at the Open, it was only his third round in the 80s. His highest was the opening round at Carnoustie in 1999.
''It's not the end of the world. I realize kind of where I'm at in my life,'' O'Meara said. ''But, you know, you still play for your pride. When I play like that, I don't care who plays like that, they're disappointed. And certainly I'm disappointed that I didn't do better today.''
At the age of 60, O'Meara has reached the age limit for the Open. He got one last chance at Royal Birkdale, where he beat Brian Watt in a playoff in 1998 to add the claret jug to the green jacket he won earlier in the year at the Masters.
But it wasn't his day from the first shot on, though O'Meara was happy that he was able to somewhat limit the damage.
''My day was toast after that first tee shot,'' he said. ''But I still had to play.''
---
FASHION PLATES: Justin Thomas had his ''coat'' and tie. Jason Day had his high tops.
Together they made a fashion statement Thursday at the British Open. More importantly, perhaps, both played well.
Thomas, wearing a Polo Golf cardigan and a loosely knotted tie, shot a 67 and was two strokes off the lead. Day shot 69 while wearing white Nike high-top shoes that stood out against his black pants wherever he walked.
''If you wear golf shoes with these pants, they don't look that great,'' Day said. ''So they look all right with these shoes. I'm happy with them.''
Thomas also was happy with his throwback look, which the company had publicized beforehand.
''Obviously I knew it was going to get a lot of publicity and be out there,'' he said. ''But I didn't come here to dress well. I came here to try to play some good golf. And I guess that just happened.''
---
CASEY'S CYCLING: Paul Casey is a cycling enthusiast at home in Arizona, and he took it on the road to Italy two weeks ago.
Casey said he cycled 300 miles, which involved 3,700 feet of climbing, from Verona and up to Corvara. He was accompanied by his caddie, John McLaren, on the occasion of his 50th birthday.
''There was a lot of wine drinking going on, as well,'' Casey said.
Casey has had a resurgence since he brought McLaren, known as ''Johnny Long Socks,'' on his bag. He hasn't won yet, but he had two close calls in the FedEx Cup playoffs last year, losing out to great final rounds by Rory McIlroy and Dustin Johnson.
It's the majors that have his attention. He opened with a 66 on Thursday.
''When Johnny McLaren came on the bag, it was kind of a five-year bag to try and win one of these, win a major,'' Casey said. ''The Open has never been the one I've seem to have fared the best at. But I feel really good about this week. Don't know why. Maybe I'm more in love with links golf than I was before. Certainly this course helps. I really like this course. Not putting that much pressure on myself, but very much wanting to win it.''
---
---