PGA Championship: Shoeless Day saves par across creek
Published
Aug. 9, 2014 11:35 p.m. ET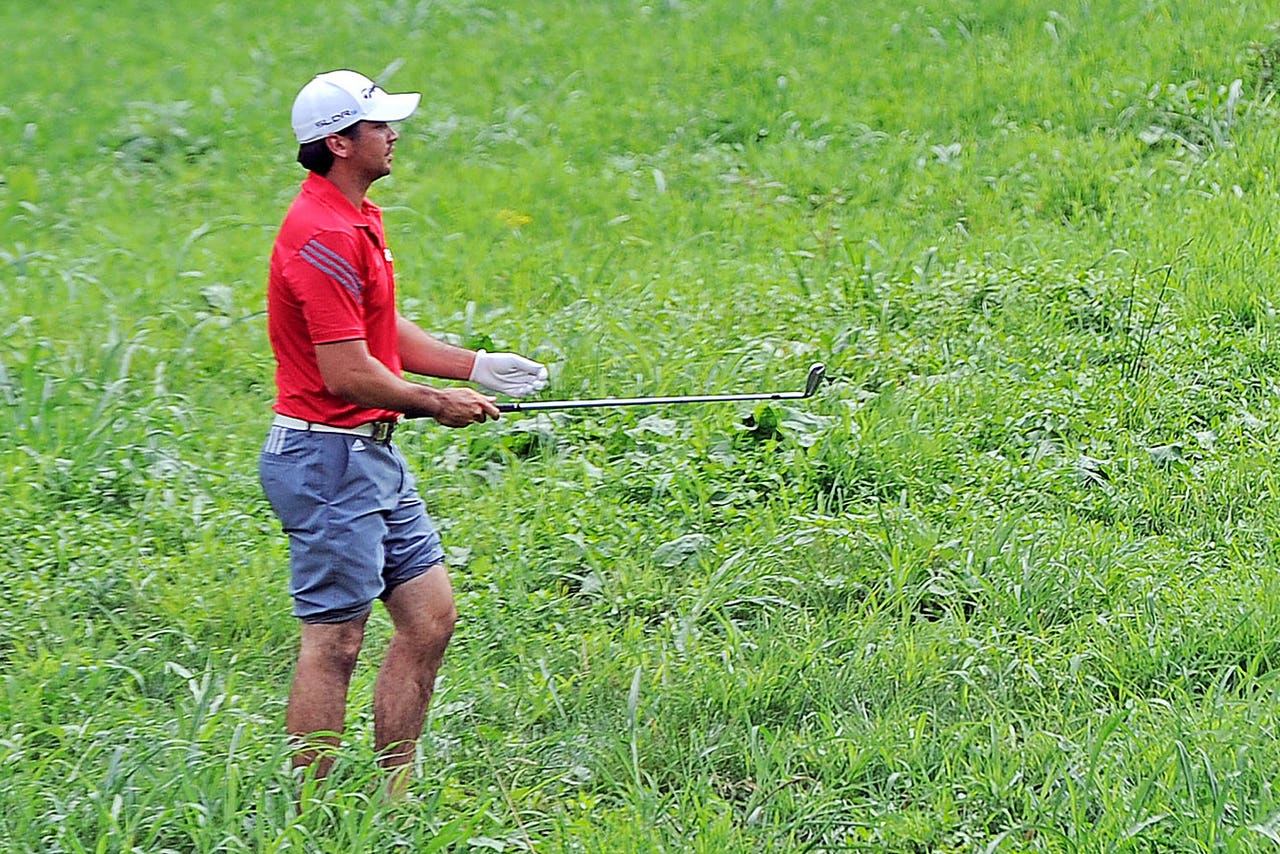 Jason Day removed his shoes and rolled his pants up over his knees to wade through a creek, just like a kid on a warm summer day.
Except he was in the final group at the PGA Championship.
Day at least kept in range of Rory McIlroy going into the final round with a birdie on the last hole at Valhalla for a 2-under 69. Equally important to his chances was an unlikely par he made on the second hole of the third round.
The 26-year-old Australian hooked his tee shot so far left that it cleared the creek and landed in knee-high vegetation.
The ball was found and the adventure began. He removed his shoes and waded across the creek into a swamp. He had his caddie, Colin Swatton, toss a wedge over the creek to him. He didn't bother asking for his shoes.
''I was too lazy to actually get my shoes thrown over,'' Day said. ''I either hit it in my bare feet or put my shoes on and have to take my shoes off. I was like, `We're going to be behind, way behind, so I may as well just hit it with no shoes on.'''
He blasted it out of the weeds and across the fairway into the rough, then hit wedge out to 8 feet and made the putt.''
''It was a great 4 there,'' Day said. ''A lucky 4.''
If he didn't find the ball, he might not have been able to reach the green with his third shot. Three holes later, he was tied for the lead. It just didn't last.
''Little disappointing today with the putter,'' Day said. ''Couple of loose drives but just didn't capitalize on the opportunities that I had out there. I'm going to try and work it out this evening to see if I can get anything going tomorrow.''
FURYK FADES: Jim Furyk was tied for the lead after a birdie on the fourth hole. He three-putted for bogey on No. 8. He bounced back with a birdie on No. 10. Twice he had birdie putts to tie for the lead on the back nine. He was right there.
And then he was gone.
On the lowest day of scoring in PGA Championship history, Furyk played the final eight holes in 2 over. Of all the players within five shots of Rory McIlroy going into Saturday, Furyk was the only one who didn't break par. He shot 72 and was six shots behind.
And on a soft Valhalla course that rewards power, he didn't like his chance.
''I was one back on Saturday and now I'm (six) and have at least a dozen guys ahead of me,'' Furyk said. ''So realistically, this isn't a golf course where a guy my length is going to go out there and shoot 62. And it looks like the rest of the field is going to shoot 66 or 67. Realistically, the way the golf course is set up it's going to be very difficult for me to fire a low enough number to win the golf tournament.''
BUBBA'S APOLOGY: Masters champion Bubba Watson appeared agitated Friday, even to the point where a television microphone picked him up saying the F-word after a poor drive on the 18th hole. Watson apologized on Twitter that evening.
And he said being criticized for it might have been the best thing to happen.
''I really appreciated those people that talk bad about me - not bad about me but toward me, because I need to be held accountable for my actions,'' Watson told reporters from Golfweek magazine and the website for Golf Digest. ''And so the Bible says that you shouldn't act that way. And I acted that way.
''I did wrong, and now I'm going to try and improve.''
Watson didn't improve much on his score. He shot a 73 and was 15 shots out of the lead.
CALORIE BURN: Graham DeLaet got more exercise at No. 7 than he planned, or wanted to, for that matter.
DeLaet hit his second shot at the 599-yard par 5 - which offers players a split fairway - from the left side and thought it carried the pond left of the green before rolling back in. A tournament official ruled otherwise, eventually forcing DeLaet to walk back near where he hit his original shot and play his third from there. He wound up making a double-bogey 7.
''Was there a question where it crossed the hazard,'' reporter asked.
''There was definitely a question there,'' said DeLaet, who wound up shooting 68.
''That hole is long enough as it is,'' he added a moment later, ''and it felt like I walked it at least three times.''
ROCK STAR: Kenny Perry turns 54 on Sunday, and he'll spend it at the PGA Championship in his home state of Kentucky. Perry was among three Champions Tour players to make the cut, and he shot a 69 in the third round. He is 10 shots behind.
''At my age you don't look forward to birthdays,'' Perry said. ''Hopefully, it's a nice day, go out there and have a good round of golf.''
But he can't think of a better place to celebrate it. The fans have treated him like royalty all week.
''I felt like Tiger Woods, a rock star,'' Perry said. ''I really did. In my whole career, I never felt like that. It's been pretty incredible, to tell you the truth.''
AZINGER ON TIGER: Paul Azinger, the only captain of a winning American team in the Ryder Cup the last 15 years, says he wouldn't take Tiger Woods to Gleneagles.
''I don't see how you can take an injured player who is not playing well who has a two-way miss,'' Azinger said during an appearance Saturday on Golf Channel. ''Those are the two biggest concerns - injured and a two-way miss.''
Woods was not on Azinger's 2008 team that won at Valhalla.
Azinger said he believes Woods, who missed the cut at the PGA Championship and did not qualify for the FedEx Cup playoffs, will call U.S. captain Tom Watson and tell him he is not ready to play, which he said would make Watson's decision easier.
''With all due respect to one of the greatest players of all time, I would say you have to pass him up this year,'' Azinger said.
RYDER CUP UPDATE: Barring a collapse, Phil Mickelson is likely to extend his American record by qualifying for his 10th straight Ryder Cup team, a remarkable feat.
The rest of the U.S. team is still up for grabs.
Sunday is the final day for nine Americans to qualify for the Sept. 26-28 matches at Gleneagles. Ryan Palmer, who is tied for sixth, would need a two-way tie for second place to earn enough points to move past Zach Johnson in the No. 9 spot - but only if Johnson doesn't move into the top 30 (he was tied for 50th). There's also an outside chance that Patrick Reed at No. 7 could be bumped if Palmer and Johnson have a big final round and Reed falters.
---