Oakmont's 1st family of caddies likes watching pros 'suffer'
Published
Jun. 18, 2016 9:19 p.m. ET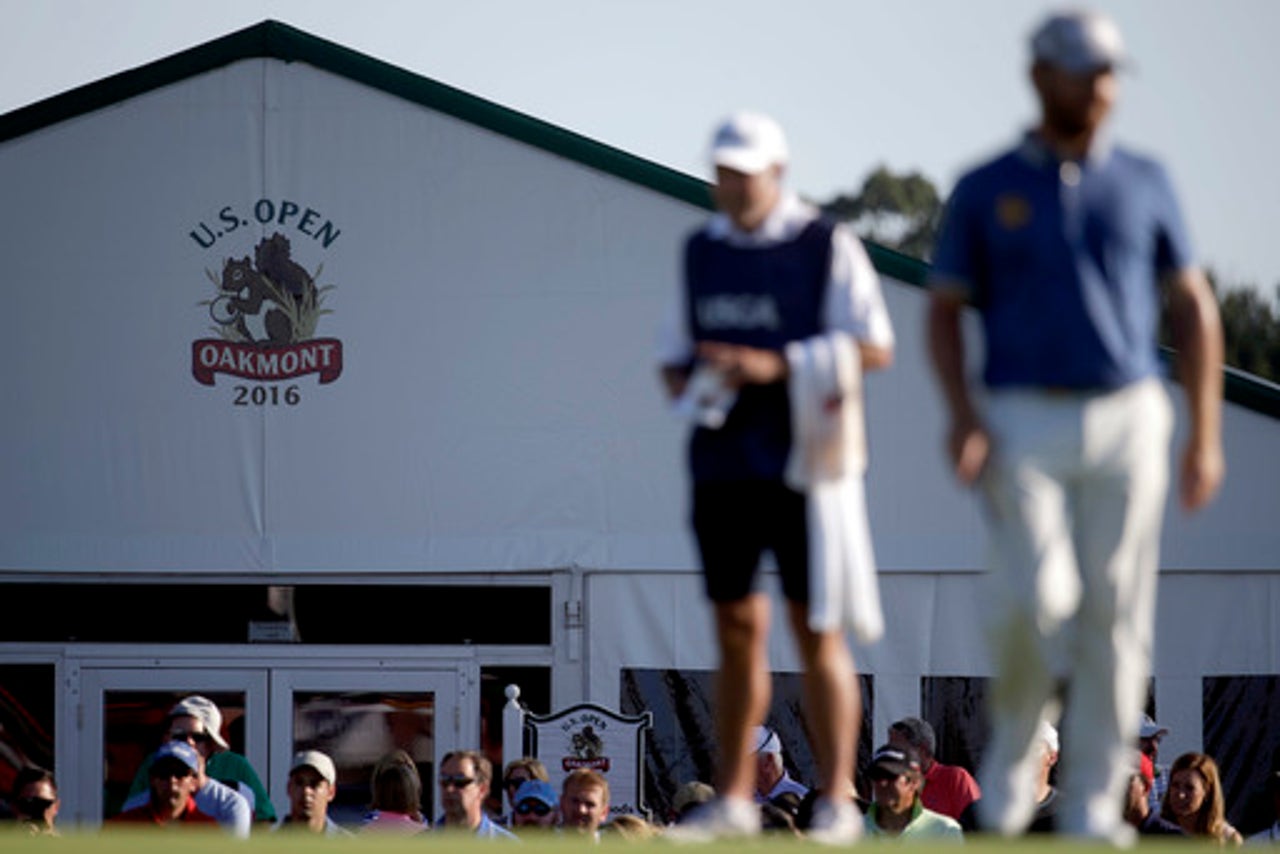 OAKMONT, Pa. (AP) Oakmont Country Club's first family of caddying spans three generations, boasts nearly 100 years of combined experience and has only so much sympathy for the players trying to tame their notoriously tough home course at the U.S. Open.
''Personally, I like seeing them suffer,'' Bob Bugna chuckled softly, taking a break Saturday afternoon from watching golf to run some errands. ''The fairways and greens are pretty much the same as what the members run into, but man, that rough is something.''
Fred Bugna began the family tradition in the late 1950s, taking a few loops around Oakmont on the weekends to supplement his pay as a steelworker. Nicknamed ''Topsy,'' Fred wound up carrying Jack Nicklaus' bag because few caddies were interested in a second-year pro back then, no matter how promising an amateur career he'd had.
When Nicklaus beat Arnold Palmer in a playoff to win the 1962 U.S. Open here, Bugna briefly considered making it a full-time vocation.
''Jack paid him $2,000 out of a winner's purse of $26,000,'' recalled Fred Bugna Jr. ''That was a lot of money back then, and he probably could have gone out on tour, but I guess he figured the work wasn't steady enough.''
Bob, 60, was the first member of the family to follow his father's footsteps and the only one to work a U.S. Open at Oakmont, in 1983. He began in the summer in 1979, turning up at the shed after working the midnight-to-8 a.m. shift at a meatpacking plant. Older brother Fred, 63, joined Oakmont's caddy corps in 1988 and his son, Damon, began working there full-time the following year as a 14-year-old.
Damon, the best player in the family, hoped to pick up a bag for the week. Instead, only four club caddies got hired and he wound up guiding former PGA Tour player Matt Borchert and his caddy through a practice round on Monday.
''This is a different golf course every day,'' Damon said. ''A standard day in summer, the greens are like concrete. These guys caught a break, at least until the middle of today because when it's soft, the course plays a little easier. ... All I'll say is that if it stays dry, and especially if the wind kicks up a little, Sunday could be very, very interesting.''
---
BACK TO OAKMONT: The USGA didn't even wait for this U.S. Open to end before announcing Oakmont will get another one.
USGA President Diana Murphy said during the telecast Saturday that the U.S. Open will return to Oakmont in 2025. It will be the 10th time Oakmont hosts the U.S. Open in a span of just under 100 years.
Murphy also said Shinnecock Hills on Long Island will host the 2026 U.S. Open.
Shinnecock Hills hosted the second U.S. Open in 1896, and then waited 90 years before getting another one. It already is scheduled to have the Open in 2018.
That means the U.S. Open rotation is set for the next 10 years: Erin Hills, Shinnecock Hills, Pebble Beach, Winged Foot, Torrey Pines, The Country Club, Los Angeles Country Club, Pinehurst No. 2, Oakmont and Shinnecock Hills.
---
PENALTY SHOT: Shane Lowry's long and successful day included a penalty shot that nearly derailed him.
Lowry already had two early birdies when he got to the par-3 16th, his seventh hole of the day. He stepped over a 30-foot birdie putt up the hill - and the ball moved.
''I had to penalize myself. It's very frustrating in a tournament like that,'' Lowry said.
And it could have been worse.
He quickly stroked his 30-foot putt for par and left it 8 feet away. Suddenly, he was staring at double bogey which would have erased those two birdies. He holed it.
''I think if I would have missed that, it would have been difficult to get back from there,'' Lowry said. ''That kind of kept me going, and from there on, I just played good golf. In fact, I played good golf all day, didn't hit it in trouble very much. Hit plenty of fairways, plenty of greens, and that's what you need to do out here.
''To hole that second putt was massive for me, and massive for my whole day.''
---
THIS ONE'S FOR YOU, SEVE: Jon Rahm's debut in the U.S. Open included a tribute to the man who has inspired Spanish golfers for more than a generation.
The 21-year-old from Barrika, Spain became the only amateur to make the cut at Oakmont thanks to a 1-under 69 in the second round. He did it wearing blue paints and a white polo, the same uniform worn by countryman Seve Ballesteros during many of his 91 career victories.
''I put this on on purpose, knowing that if at any time I felt like anything was against me, I would look at my clothes and be like, What would Seve do?''' Rahm said.
Rahm borrowed on Ballesteros' imagination to save par on the par-4 ninth from a greenside bunker and again from the greenside rough on the par-4 18th.
''It was mostly to help me keep my mind strong and hit it,'' Rahm said of his outfit. ''That's the whole purpose of putting it on today.''
Rahm, who twice won the Ben Hogan Award given to the top collegiate golfer while playing at Arizona State, will turn professional Monday. Heady territory for a player from a small coastal town of about 1,500 residents in northern Spain. Rahm said his father put him on a plane bound for the U.S. a few years ago and told him to make the best of it.
''He realized the future of the golf is in the States so you better go there,'' Rahm said. ''If you don't like it, the worst that will happen is you can learn English. Turned out great for me. Had a great experience and became probably the best player I could be nowadays.''
---