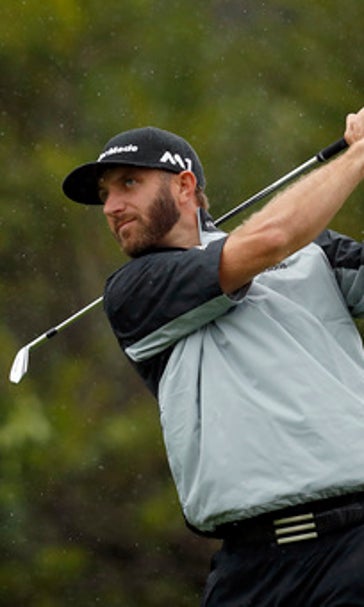 Johnson takes 36-hole lead at rainy Riviera (Feb 18, 2017)
February 18, 2017

LOS ANGELES (AP) Dustin Johnson left the Genesis Open in the twilight Saturday realizing he could be as little 24 hours away from reaching No. 1 in the world.
He wasn't the least bit concerned, mainly because he still had 36 holes ahead of him.
And all that really mattered to Johnson was winning at Riviera, the course he loves that has done nothing but tease him over the last five years.
Johnson had it really easy on a sloppy Saturday of light rain and a muddied course. He only had to play 18 holes of the second round, making three birdies over his last four holes for another 5-under 66 that gave him a one-shot lead at the halfway point of the rain-plagued tournament.
''I want to win this tournament,'' Johnson said. ''Whether I get to No. 1 or not doesn't affect me at all.''
The tournament lost an hour to fog Thursday, then seven hours when heavy rain and wind arrived in southern California on Friday, and two more hours Saturday morning to get the course cleaned up for play.
Jordan Spieth hit his first shot at 9 a.m. and his last shot at 5:40 p.m. That's a total of 10 shots for the day - two pars to close out his second round at 68, and two shots on the par-5 opening hole to start the third round.
Johnson was at 10-under 132 and had a one-shot lead over Pat Perez, who birdied his last two holes for a 66, and Cameron Tringale, whose wedge from 82 yards flew straight into the cup on No. 18 for a birdie and a 64.
Jhonattan Vegas finished his second round well before lunch with four pars for a 68. He was in the group at 7-under 135 along with Patrick Rodgers (67) and PGA Tour rookie J.T. Poston (69).
Sam Saunders, who opened with a 7-under 64 on Thursday and didn't play at all on Friday, stumbled to a 77. He was right on the cut line and was in danger of becoming the first player in four years to go from leading the first round to missing the cut until a long birdie on the 17th. Saunders was nine shots behind.
The PGA Tour got a big break when 71 players made the cut, making it possible to complete 72 holes by Sunday. The third round began Saturday afternoon, though the last two groups did not tee off because of darkness and will face 36 holes on the final day. The weather had cooperated enough that players no longer could lift, clean and place their golf balls in the short grass.
Johnson was in control of his game and the focus going into a marathon Sunday. Play was set to resume at 6:50 a.m.
He said earlier this year that Riviera was the one tournament he wanted to win outside the majors because of his love for the course and how much he loves it, even though it has given him nothing but heartache. He has had a chance to win four times in the last five years.
Now, a victory might be enough to move him to No. 1 in the world. Johnson would have to win the Genesis Open and have world No. 1 Jason Day finish out of the top three to go to No. 1 for the first time.
''I don't really worry about that,'' Johnson said. ''I want to put myself in position to win this golf tournament. That's really all I care about is what it takes to get it done here. The rest of the stuff, the points and the world golf rankings, yeah, I would like to get there but I'm not worried about it.''
Day had another 70 and was eight shots behind and tied for 40th.
Spieth, coming off a victory at Pebble Beach, managed his 19th consecutive round under par on the PGA Tour with a 68 even though he felt as though he hit it short and crooked most of the week. He was at 5 under and in a tie for 11th.
Perez was coming off a bogey on the par-5 ninth when he drove left of the 10th green and hit what he thought was as good a shot as he could that ran onto the green toward the pin. It kept rolling into a bunker, though he hit a nifty shot from the sand to 3 feet for par.
''Another birdie,'' he said as he walked off the green, paying homage to a 313-yard hole that bedevils him.
He saved his best work for the end of the round, chipping in from birdie from deep rough on the 17th and stuffing his approach into 8 feet for birdie on the 18th. Perez already has made a remarkable return from shoulder surgery, winning in his third tournament back in Mexico. Now he's headed back to Mexico in two weeks for a World Golf Championship, and a big Sunday could set him up for another WGC at the Dell Match Play.
Perez said his shoulder pain started to return in Phoenix, but he has shortened his swing and expects no trouble over as many as 36 holes Sunday.
Tringale ran off three straight birdies on the front nine and didn't drop a shot, saving his best for his final shot. After driving right into the eucalyptus trees on 18 and coming up short, he holed out for a 3 to get into the final group.
''Heard it hit the flag and then when people started going crazy, figured it had gone it,'' he said. ''It was a fun way to end.''
Now, the tournament feels as though it's just getting started.
---
---