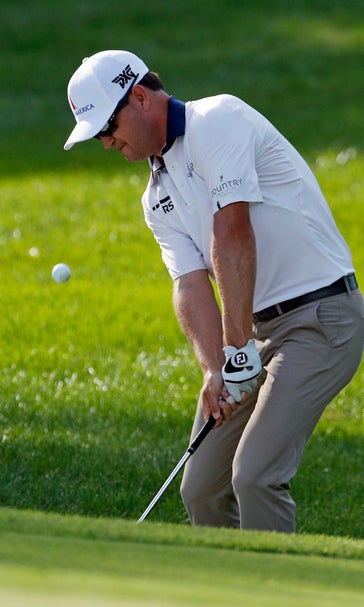 Johnson parlays recon of Bellerive into sharp PGA start
August 10, 2018
ST. LOUIS (AP) — Only two players made the side trip to Bellerive Country Club last week to check out the site of the PGA Championship, squeezing in a quick practice round before the WGC-Bridgestone Invitational in Akron, Ohio.
Zach Johnson thought it benefited him.
Phil Mickelson might have been better off staying at home.
Johnson opened with four-under 66 on Thursday to sit two shots off the lead, a solid start by the two-time major winner on a brutish course that doesn't necessarily suit him. Johnson is hardly one of the big hitters in the field, relying instead on steady iron play and guile around the greens, yet he managed to get around the old-school layout in fine shape.
Johnson thinks that one practice round last week — played using a golf cart, no less! — turned out to be a smart decision in that he was able to catch his breath this week.
"I could really coast into my practice session Monday, Tuesday and Wednesday," Johnson explained. As other players tried to squeeze in rounds, "I didn't do anything Monday."
He still played nine holes Tuesday and Wednesday, leaving him with 36 holes of total practice.
Or, about what everybody else tried to jam into this week.
"I think the key there — I don't know if it's an advantage, but from a recovery standpoint this week and the fact that it's August and the year's been long and the humidity and the heat, I think it was a wise move," Johnson said. "I don't want to say an advantage, but it was a wise move for me so I only had to play 18 holes in a three-day period."
Mickelson likewise worked in a practice round last week, and for a while it looked as if it had also paid off — he was 1 under after his first five holes. But he stumbled with a double-bogey at the par-4 15th, and another double-bogey on his second nine compounded his problems. He was 5 over at one point before two late birdies gave him some hope heading into Friday.
There were others that managed to get in practice rounds last month, such as first-round leader Gary Woodland, but opinions seemed to be mixed on whether they were even necessary.
"This kind of course, you don't need a whole lot of practice," said Pat Perez, who opened with a 67. "When it's that wet and long, it's simple: You hit the fairway, and the greens are so big, you find a way. You make some putts, you're going to play well.
"I'm not saying there's no strategy. I'm not saying that," Perez added. "It's a big course and there is really only one way to play it: Try to hit as far as you can and hit the fairway, and try to attack the pins when the greens are soft. That's kind of what it is."
Big hitters certainly seemed to have an advantage on the beefy course. Woodland drives it as far as anybody, and Rickie Fowler, Dustin Johnson and Jason Day parlayed their prodigious power into easier approach shots and solid rounds that left them firmly in contention.
But there were also exceptions such as Johnson, who averages about 290 yards off the tee. Kevin Kisner and Austin Cook also found their ways around the course just fine.
Justin Rose made it around in 67 after skipping his practice rounds because of a balky back, though he did walk each nine. Tiger Woods managed to shoot 70 despite missing a couple of holes on the front side, which he skipped when rain shortened his Tuesday practice round.
In a roundabout way, Woods and Rose wound up taking Johnson's approach to the week, getting a bit of unintended rest ahead of the first round. It seemed to pay off for them, too.
"You know, the main thing about major championships is make sure you have enough energy. This is a long run. These are marathons. These are four long days," Woods said. "They're slow rounds. They're not quick. Certainly not under these conditions. And with the setup, the rounds are going to be slow.
"I've always tried to maintain, no matter what physical shape I was in going into a major championship, I wanted to be rested on Thursday. That's what I want to do."
---
---