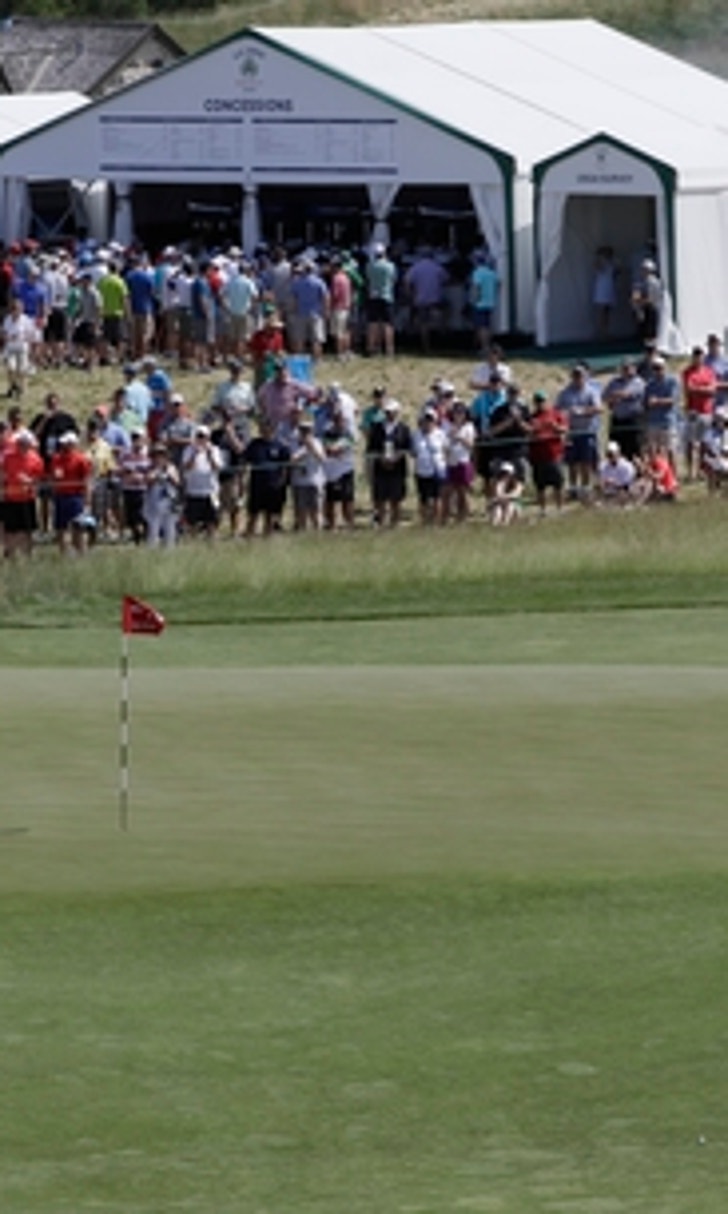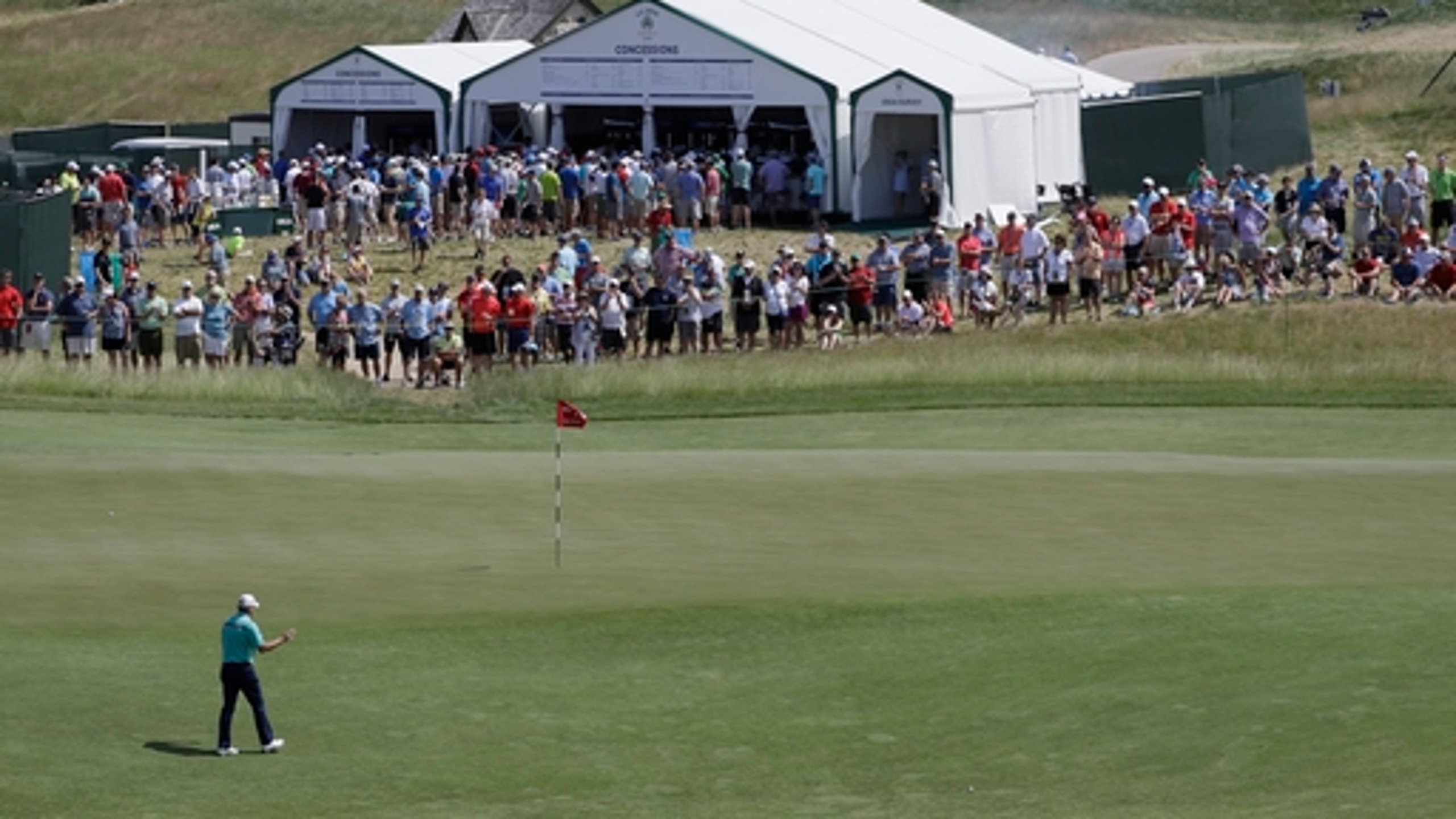 Jamie Lovemark on target on new US Open courses
BY AP • June 16, 2017
ERIN, Wis. (AP) There is something about new U.S. Open venues that brings out the best in Jamie Lovemark.
Two years ago, Lovemark tied for 18th at Chambers Bay in the Open debut for the Washington state course.
He's in contention again going into this weekend at another new Open course, Erin Hills. Lovemark shot his second straight 3-under 69 on Friday to pull within a shot of the lead.
Not bad for someone who had to claim one of the 14 qualifying spots at the tough Columbus, Ohio, sectional last week to make it to Wisconsin.
''Yeah, it's a good spot to be in,'' he said. ''And I'm sure it will be rough this weekend.''
The top of the leaderboard is bunched up, with four players tied for the lead at 7 under, and three more a stroke behind, including Lovemark. Five players were two shots off the lead.
Lovemark has an idea of what to expect this weekend. He's done this before.
''The course will probably be longer. Maybe a reachable par 4, should be firmer and faster, barring any rain,'' he said. ''Just got to get off to a good, slow start, get conservative and kind of work my way into a solid round.''
---
RIDE `EM COWBOYS: Jordan Niebrugge wore an orange shirt for the second round at the U.S. Open, switching to a color he usually dons on Sundays.
He's going to have to get it cleaned to wear it again this weekend.
The Oklahoma State contingent at the Open had a nice showing over the first two rounds at Erin Hills - and that's not even counting first-round leader Rickie Fowler.
Niebrugge, Talor Gooch and Kevin Dougherty, who each played at Oklahoma State, were grouped together in the first two rounds. The trio made the cut.
Ride `em Cowboys!
''We had a lot of fun out there,'' said Niebrugge, from Mequon, Wisconsin. ''Definitely had some mojo out there.''
Two others with Cowboys connections missed the cut of 1-over 145: Peter Uihlein (2-over ) and Alex Noren (5 over).
Fowler, the ninth-ranked player in the world, was a stroke out of the lead, following his opening 65 with a 73.
Daugherty was 1 under going into Saturday, while Niebrugge and Gooch were 1 over.
''Rickie was up there (and) us three played pretty solid,'' Niebrugge said.
---
REAVIE'S RUN: Chez Reavie did what he thought couldn't be done at a U.S. Open.
His 7-under 65 matched Rickie Fowler and Hideki Matsuyama for the low score in the first two rounds at Erin Hills. Reavie moved to 4-under 140, three shots back of the lead on a bunched-up leaderboard.
''I knew I could shoot a few under par and make the cut,'' he said. ''You don't think you're going to shoot 7-under par at the U.S. Open.''
Reavie is playing in his fifth Open, but first since 2012 at The Olympic Club in San Francisco. He advanced to Erin Hills after earning one of nine qualifying spots at the Memphis sectional tournament.
''I did everything I could to make more birdies coming in,'' he said. ''It's tough out there. Fortunately, I was able to keep it at 7.''
---
BACKING OUT: Back problems forced Danny Willett to pull out of another tournament.
The 2016 Masters champion withdrew before his tee time in the second round on Friday. Willett had a terrible opening round, shooting 9-over 81.
The 29-year-old Willett has had recurring back issues during his career.
''Well another disappointing week comes to an end,'' Willett posted on Twitter . ''Working hard to get back but the body and swing not allowing it. ... Sorry guys.''
---
BUSY BADGER: No break for Steve Stricker after the U.S. Open.
The pace might actually pick up when the PGA Tour veteran leaves Erin Hills.
Stricker next week will host his PGA Champions Tour event in Madison, the American Family Insurance Championship. Stricker, who turned 50 this year, will be eligible to play in his own event after sticking to hosting duties when the tournament started last year.
''Next week is for totally different purposes. It's about raising money for our foundation, and giving back to our area and our community,'' Stricker said after shooting even-par 72 on Friday to get to 1 over for the tournament.
The Wisconsin native is a fan favorite in the first Open in his home state.
''I still feel like I've got a lot of good golf in me, and that's what I'm trying to do this week,'' Stricker said.
---
More AP golf: apnews.com/tag/apf-Golf
---
---