Fun Bubba has given way to Business Bubba at PGA
Published
Aug. 6, 2014 1:11 p.m. ET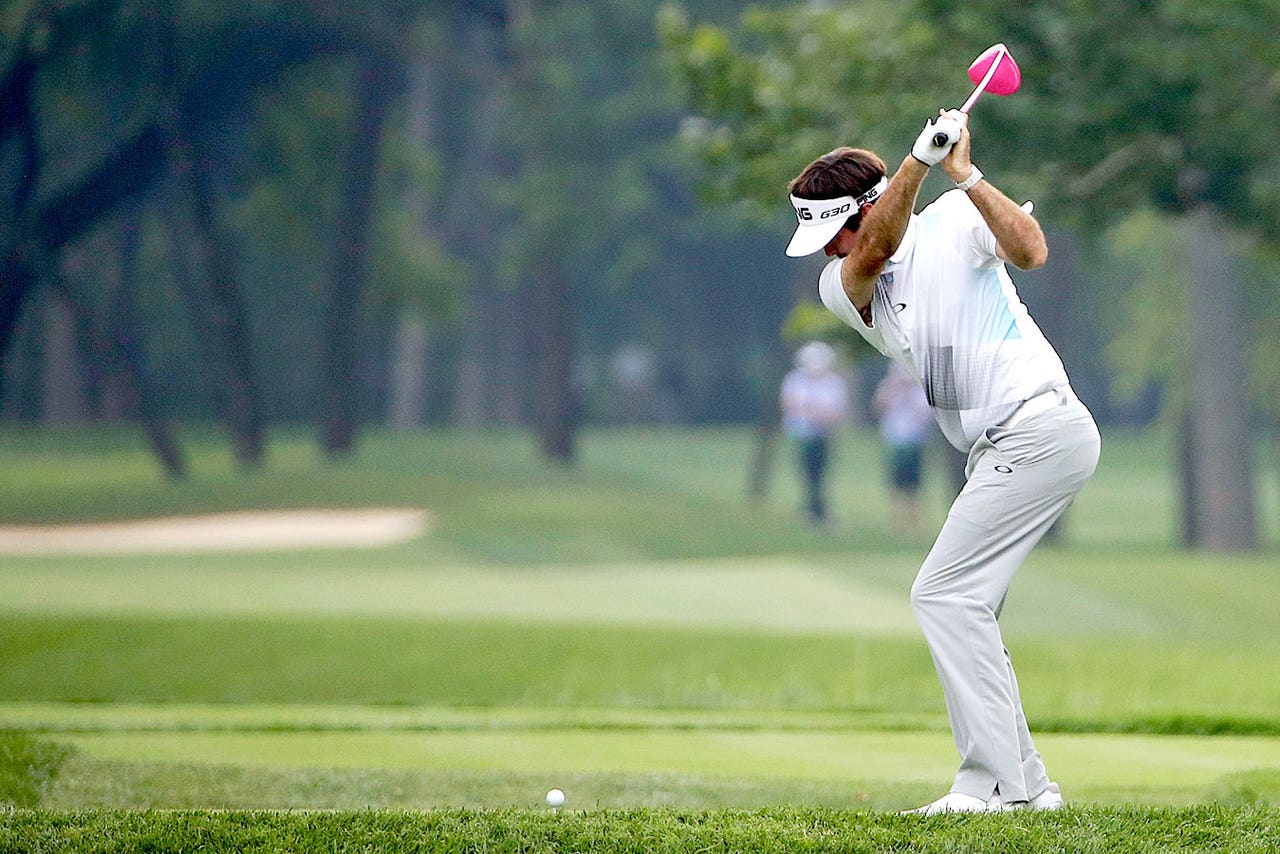 LOUISVILLE, Ky. – Bubba Watson talks often about liking to have fun. The two-time Masters champion likes trying to hit drives the length of 3 1/2 football fields or more. He likes curving wedge shots 50 yards. He likes joking around. It's to the point his brand is based on golfing frolic.
In fact, a couple of years ago, Watson said, "We've coined the phrase Bubba Golf, because it's just fun. I love the game of golf. I love goofin' around. I love shaping shots. I'm having a blast out there."
Thus it comes as something of a surprise that Watson was taking things a little too seriously Tuesday at the PGA Championship. And at a long-drive competition, of all things. You'd think Bubba would want to organize one of those contests himself, not diss it.
The season's final major championship resurrected the long-drive duel Tuesday, conducting it for the first time since 1984. Players had the option of entering and busting a drive off the 10th tee and, in the process, entertaining spectators and creating some interest.
But when Watson got to No. 10, where he plans to hit driver in the tournament, he took a pass on the fun. Instead, he hit a 3-iron about 230 yards down the fairway.
"Longest 3-iron of the day," he quipped later. "I won that competition. Take that."
Some will take his form of protest better than others, of course. And it was a form of protest. The man who likes fun curiously didn't like the idea of the bomber contest. So, in something of a contradictory move, he hit a 3-iron.
"I was just trying to prove a point that nobody cared about," he said.
Game faces in sport, of course, are to be admired. But this was Tuesday. Bubba could have lightened up a little and taken a rip. And then put his game face back on. It's sensible to suggest he would have gained more by participating than declining.
But he took the option allowed him and sat it out. Why? "I'm here to win a championship," Watson said. "I'm not here to goof around." He added that the contest "just seems hokey to me."
He would elaborate during the news conference, saying he was more into business than pleasure.
 "I want to practice the game of golf," he said. "I want to learn this golf course. I haven't seen the 10th hole. I don't see that we should have a competition like that while we're playing a practice round and learning the golf course, trying to win a great championship. There's no reason to make something up in the middle of the practice round like that. That's just me. Like it or not, that's just who I am."
Well, there is a reason for having the event. It's called being fan-friendly. It's about giving back to the paying customer. It's about connecting with those who indirectly pay touring pros' handsome salaries. It's about reaching out.
And it's about having fun. You remember fun. It is supposed to go hand in hand with Bubba Golf.
---