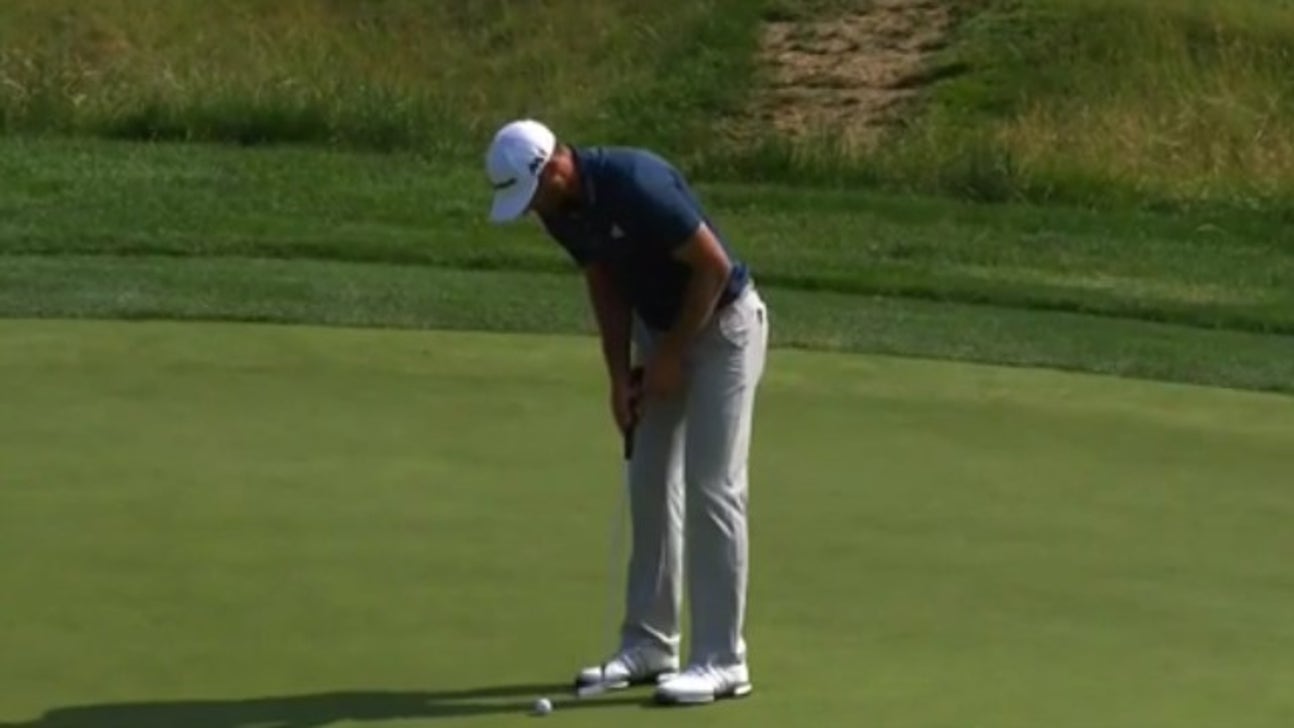 Dustin Johnson might lose the U.S. Open because of 'laughable,' controversial ruling
Published
Jun. 19, 2016 7:12 p.m. ET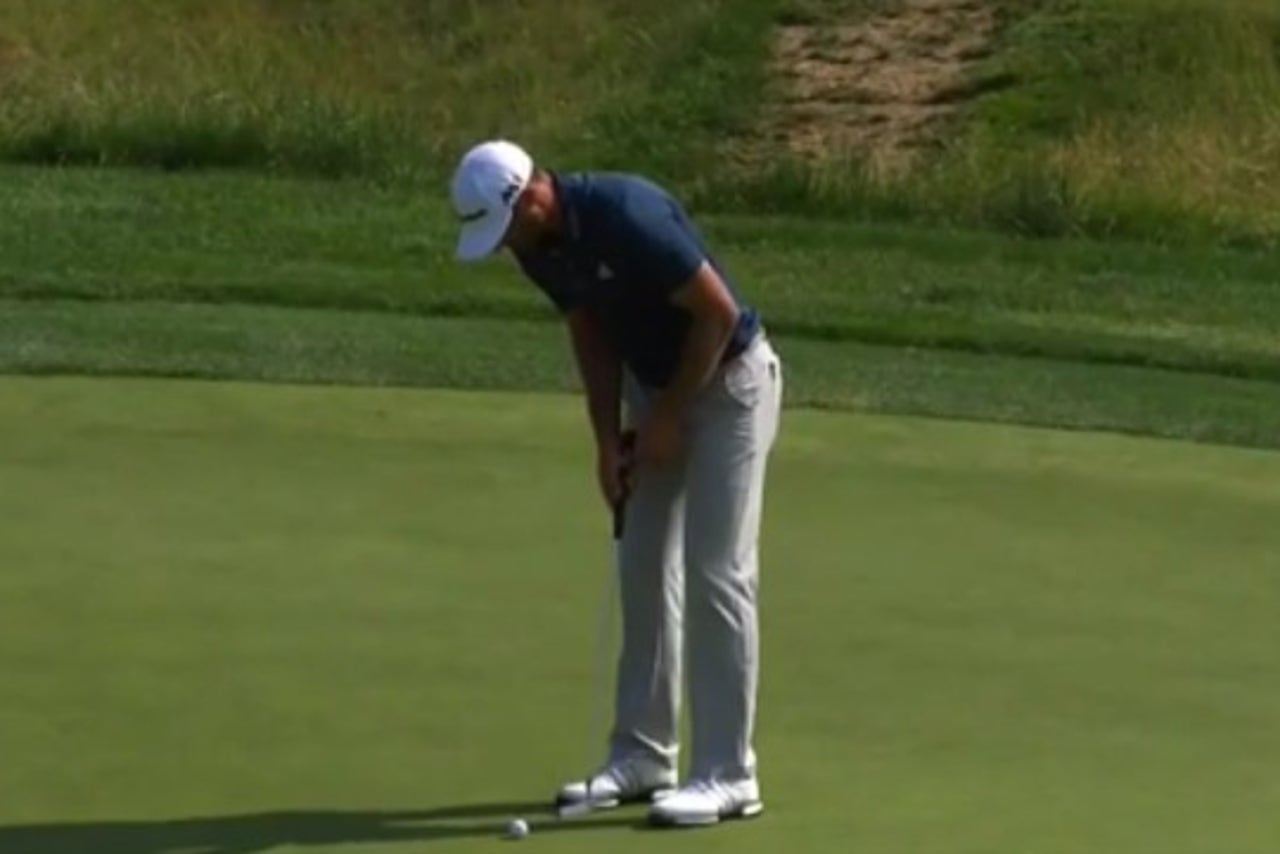 Rory McIlroy called the situation "amateur hour." Jordan Spieth said it was a "joke." Rickie Fowler opted for "laughable." There was no reason to disagree.
In a controversial and somewhat baffling decision, the USGA informed U.S. Open leader Dustin Johnson on the 12th hole that a would-be rules infraction from seven holes earlier would be reviewed after Johnson's round, whereupon he could be assessed a one-shot penalty that might change the results of the championship.
On the fifth green, Johnson took some practice strokes, then floated his putter behind the ball for an instant, whereupon the ball barely, almost imperceptibly, moved. Johnson called in a rules official and seemed to state that he didn't ground his club, which would have resulted in a penalty had the ball moved after getting set. The rules official agreed that Johnson hadn't grounded his club and the incident was forgotten until a USGA official informed Johnson on No. 12 that there would be a review of the situation after the event. At the time, Johnson, who had a rules violation that cost him a chance at the 2011 PGA Championship, was up two strokes.
Reaction was swift and angry. Golfers watching on TV, some of whom had already finished their rounds, sent some fiery tweets about the decision. Even FOX announcers were confused. Former major winner Paul Azinger said, "I've never seen anything like this in my life."
Jeff Hall, the USGA official who informed Johnson of the possible violation, defended the decision in an interview with the FOX broadcast team, saying that it was only fair for the USGA to tell a player on the course there was a chance he might be penalized after the round. That way, the player could make decisions about his round knowing that his score might be different. (If Johnson thought he was tied, he might lay up on the reachable par-4 No. 17. If he knew there was a possibility he could be one behind, he might try to drive the green.) Of course, the obvious retort is that if you don't know what's going to happen, how can you plan for anything at all? Either assess the penalty or don't. There's no need to wait.
It's mind-boggling in so many respects. Imagine an NBA official telling LeBron James on Sunday night that he might have been called for goaltending 20 minutes before but that a decision wouldn't be made until after the game. How could an NFL team call plays on a final drive not knowing if it needed a field goal or a touchdown? The whole thing is preposterous and it's entirely a man-made debacle.
It should be simple: Johnson consulted a rules official walking with his group. That rules official gave the okay that no penalty was committed and that no penalty should be assessed. Voila. That's it. Situation over. 
But golf is a sport that loves its rules and has seen a strict interpretation and adherance to all of them. They have cost a player The Masters because he signed an incorrect scorecard. It's had players lose tournaments because viewers at home called up to report violations they'd seen upon replay. Johnson missed a playoff because he didn't know a rule about grounding in a type of bunker.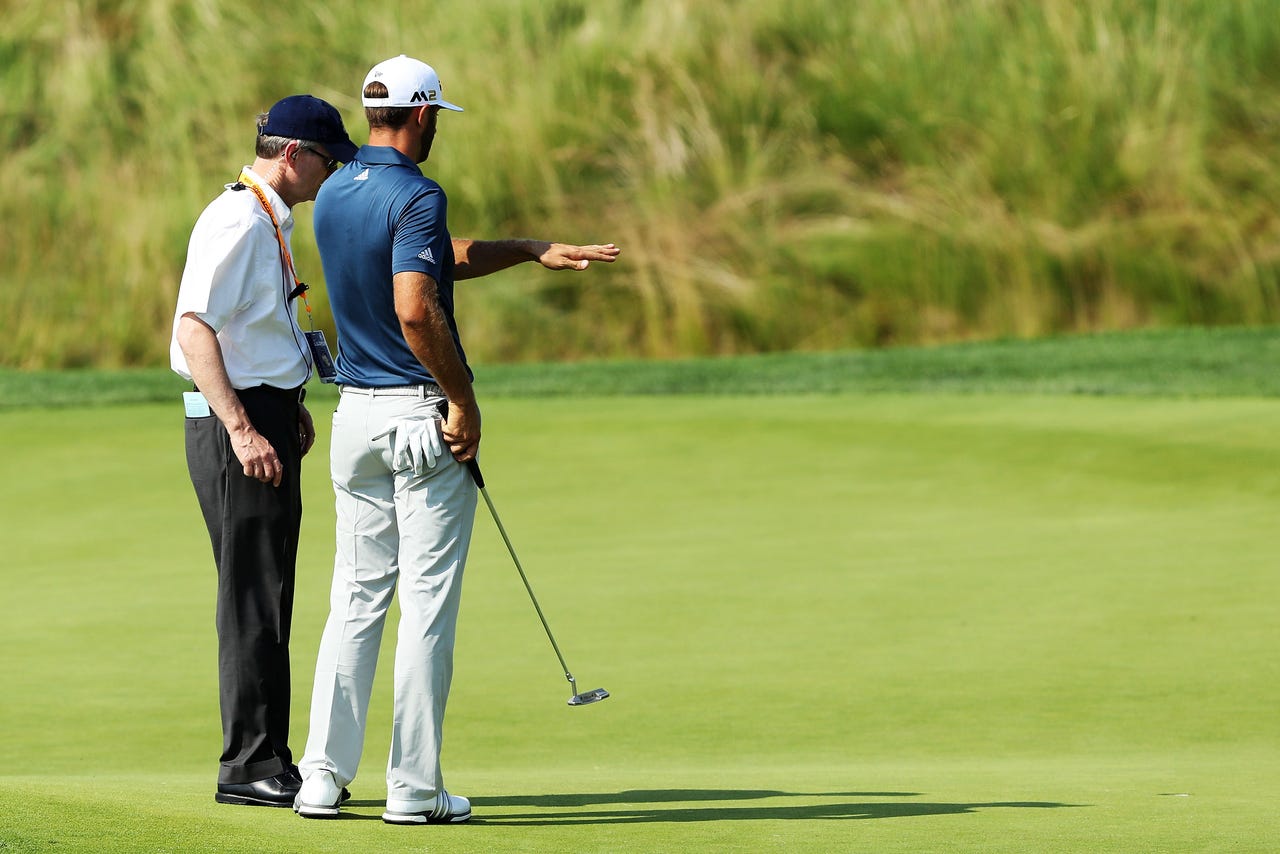 (David Cannon/Getty Images)
So instead of enjoying the last nine holes of the U.S. Open, the players, announcing crew and fans are left to wonder about what will happen on the 19th hole. It's crazy and the lack of trust in the player might be the crazierst of all. There's a Catch-22. If players are supposed to be honest about playing by the rules, then why is golf so Draconian in making sure they actually did? Even if Johnson did ground his club or cause that ball to move (which almost nobody seems to think happened), no one believes that's what Dustin Johnson intended. So now, a player who's had trouble closing out majors before is playing with the idea of an idiotic penalty looming over him. 
Oakmont is hard enough. Don't make it tougher by arbitrarily looking for rule violations to assess.
---