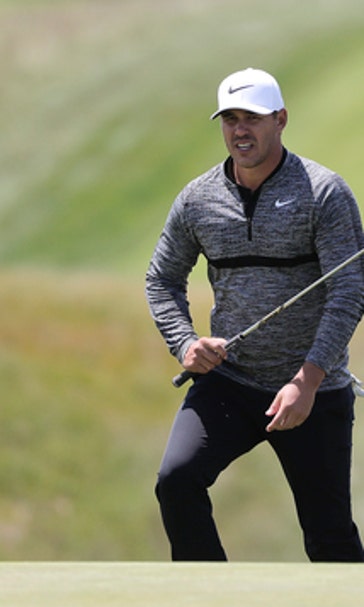 Column: A battle among the best with only 1 major
June 12, 2018
SOUTHAMPTON, N.Y. (AP) Jordan Spieth considers himself lucky.
As hard as he made it look, winning the U.S. Open three years ago felt easy. He was two months removed from his victory at Augusta National. No matter what happened at Chambers Bay, he was the Masters champion for the rest of the year, and a major champion for life.
''House money,'' he described that week.
And then he won another major with a birdie-double bogey-birdie finish, helped by Dustin Johnson three-putting from 12 feet to lose by one. Spieth was 22 when he became the first player in 74 years - Craig Wood in 1941 - to win his first major and then add a second major in his next try.
It didn't come that quickly for Tiger Woods, even after a 12-shot victory at the 1997 Masters in his first major as a pro. Woods played 10 more majors, half of them while overhauling his swing, before he won his next one.
Winning one major is great. Winning multiple majors commands a new level of respect.
''You could make an argument that it could be harder to get the second one than it is the first,'' PGA champion Justin Thomas said Tuesday. ''You could make an argument that every major is the hardest. But I just think that to be known as a multiple major champion as opposed to, `He won the PGA,' it has a little better ring to it. So I hope to have that to my name, sooner rather than later.''
Identifying the best player without a major has been a topic for the better part of 30 years. Given the depth of talent, it might be time for a different question.
The best with only one major.
It's a long list, from as young as Thomas (24) to Henrik Stenson (42).
All it takes is one week, one more major - perhaps this week at Shinnecock Hills - for such a player to enter a different conversation.
Dustin Johnson might lead that list.
He finally broke through for his first major at Oakmont in the 2016 U.S. Open, and given his 18 victories on the PGA Tour, he probably should have more. If not for getting in his own way, he might have more by now.
There was the 82 at Pebble Beach when he had a three-shot lead in the 2010 U.S. Open. He hit an errant drive into a patch of sand that he didn't know was a bunker at Whistling Straits that same year in the PGA Championship. The bogey dropped him into a three-man playoff. Grounding his club in the sand for a two-shot penalty dropped him out of it. And then at Chambers Bay, he was 12 feet away for eagle and the U.S. Open until it took three putts and a par for a runner-up finish.
He is No. 1 in the world, and wants to get major No. 2.
''It's hard to get No. 2 right now, but it was hard to get No. 1,'' Johnson said with a smile. ''I think it's hard to get any of them. It's just a tough task. There's only four majors, and to win a major you have to have everything working very well. You've got to play really good all four rounds. ... I'd love to get that second one. But it's one of those things where, like I said, everything has got to work well for four days.''
Jason Day has 12 victories on the PGA Tour, and only the 2015 PGA Championship among majors. He spent 47 consecutive weeks at No. 1 the year after winning his major, and had only one good chance. Justin Rose won the 2013 U.S. Open at Merion for his first major. Rose has won at least somewhere in the world every year since 2010, and he has won on prestigious courses - Muirfield Village, Congressional, Aronimink, Doral - and he was one putt away from adding Augusta National to that list.
But he's still stuck on one.
So is Adam Scott and Sergio Garcia, Brooks Koepka and Webb Simpson.
Add to that list Louis Oosthuizen, who has been runner-up in all four majors since his 2010 victory in the British Open at St. Andrews.
''I mean absolutely zero, no disrespect to guys that have won one - obviously, myself included,'' Thomas said. ''But it's a lot easier to get hot one week than it is to do it again and win another major. Because when you're a major champion, you have more asked of you. You have more expectations on yourself, more expectations from other people to where if you do get in the hunt, then you're asked, `How is it going to feel to get your second major?' You're constantly reminded of that.''
The top players when Woods was in his prime years were Phil Mickelson, Ernie Els and Vijay Singh. Woods rarely fails to mention Retief Goosen on that list, mainly because when Woods was at his best, Goosen was the only other player with multiple majors. He won his second U.S. Open at Shinnecock Hills in 2004.
Seventeen players at Shinnecock Hills this week have only one major and would love to add another.
If they don't? It's still better than being on that other list occupied by the likes of Rickie Fowler, Hideki Matsuyama and Jon Rahm.
They're young. But they would settle for one.
---
---