Barrier-breaking Charlie Sifford to receive Presidential Medal of Freedom
BY foxsports • November 18, 2014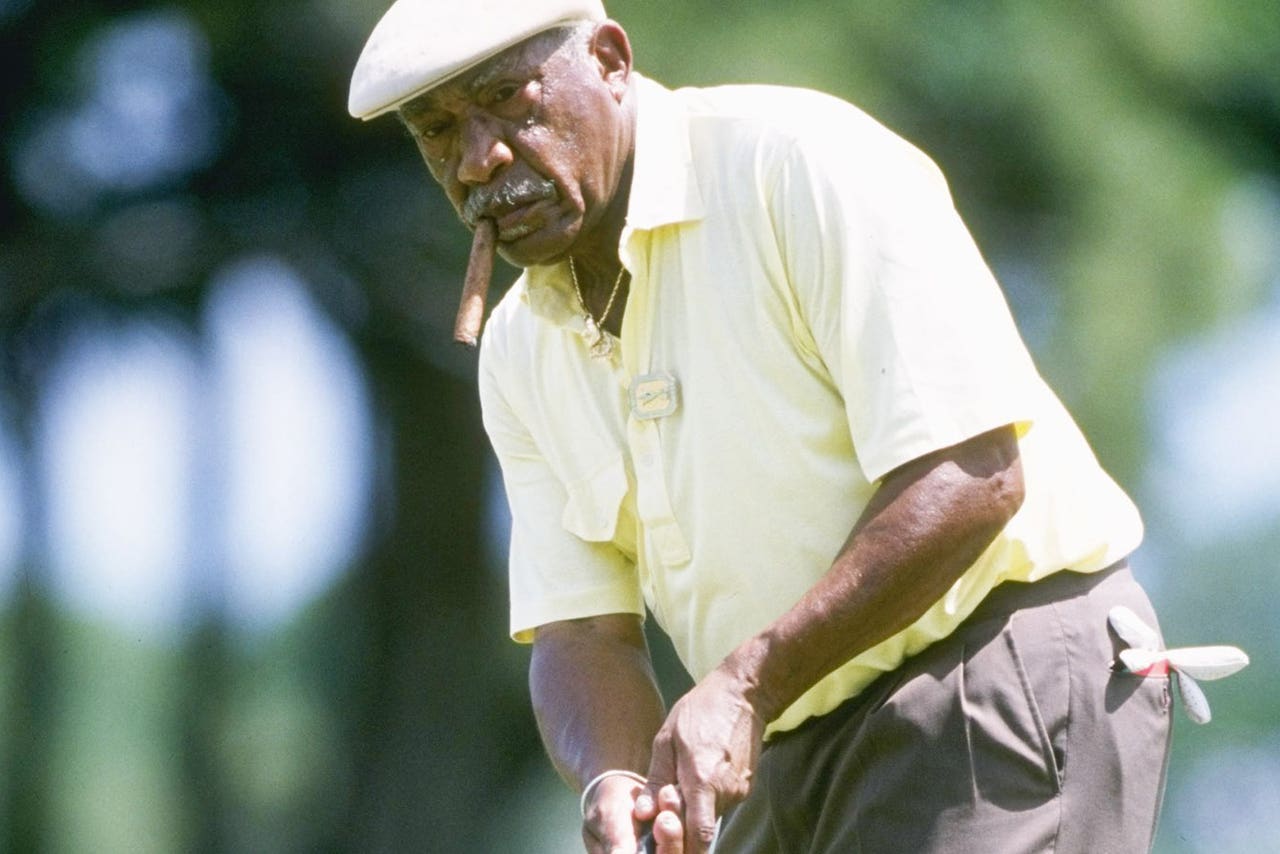 Tiger Woods might not be a world famous athlete were it not for Charlie Sifford and other black golfers who took a stand in the 1950s against the racist policies that denied them their chance to compete in the sport they loved.
Sifford, 92, will receive the Presidential Medal of Freedom on Nov. 24 at the White House, the nation's highest civilian honor. He's previously been inducted into the World Golf Hall of Fame and has received an honorary doctorate from the University of St. Andrews, Scotland for being the first black golfer to receive a Professional Golfers Association tour card. That occurred in 1961 after the PGA, which ran the professional tournament circuit then, reluctantly gave in to pressure and dropped its ''Caucasian only'' membership clause.
While Sifford is an obscure figure outside of golf, those familiar with the game's history compare Sifford to Jackie Robinson, who broke baseball's color barrier in 1947. Sifford, in his 1992 autobiography, ''Just Let Me Play,'' wrote that he believed his struggle even mightier than Robinson's.
Tony Parker, historian for the World Golf Hall of Fame and Museum in St. Augustine, Florida, said the battles fought by Sifford and others benefited more than just black golfers.
''He opened the door for all ethnicities,'' Parker said.
Woods, who along with Jack Nicklaus are considered the greatest golfers of the modern era, told The Associated Press in an email that he might never have taken up the game were it not for Sifford and unheralded greats like Ted Rhodes and Bill Spiller. Woods has long called Sifford the grandfather he never had. Sifford and Woods' father, the late Earl Woods, became fast friends when Tiger was still playing junior golf.
''It's not an exaggeration to say that without Charlie, and the other pioneers who fought to play, I may not be playing golf,'' Wood wrote. ''My pop likely wouldn't have picked up the sport, and maybe I wouldn't have either.''
Renee Powell is a longtime friend of Sifford's. She runs Clearview Golf Club in East Canton, which her father, Bill Powell, struggled to build after returning home after serving in World War II.
Now 68, Powell says she remembers meeting Sifford when she was 12 years old during a United Golf Association event in Pittsburgh. The UGA was the tournament circuit established in the mid-1920s by black golfers. Fittingly, the UGA allowed golfers of all races to compete.
Sifford won the UGA's biggest event, the National Negro Open, six times, including five successive years from 1952 to 1956. He still counts those championships as his most significant victories despite having won PGA tournaments in 1967 and 1969 and the 1975 PGA Seniors' Championship.
Renee Powell followed Althea Gibson, who had won major championships in tennis, to become the second black woman golfer on the LGPA Tour. Powell said she endured some of same treatment that Sifford received, including racial epithets on the course and death threats off it.
She called it ''amazing'' what Sifford and others went through. She said the recognition Sifford has received late in life is important.
''People didn't know the name Charlie Sifford, didn't know a black man accomplished what he did,'' Powell said. ''White people didn't know he made sacrifices for the game of golf. Now maybe they will look it up and find out what he did and why he did it.''
Sifford has long had a reputation for being surly. The trademark cigar he kept clenched between his teeth often failed to mask the bitter anger he felt toward the white golfing establishment. He found it galling that the overseers of golf, a game supposedly built on honor, could be so cruel and callous by denying him his right to fully compete. He was 39 when he got his tour card, an age when professional golfers are typically past their prime.
His son, Charlie Jr., said the indignities his father faced caused ''trust issues.'' It was often left to Sifford's wife Rose to stoke he competitive fires inside her husband. She would urge him to stay out on the road and keep fighting. Sifford and Rose married in 1946. She died in 1998.
''My mother was the main one who really kept him going,'' Charlie Sifford Jr. said. ''She encouraged him and knew how to calm him down when he got mad.''
Charlie Sifford Jr. said his father is excited about the prospect of returning to the White House. He visited Clinton there during his presidency and calls Clinton ''my man.''
Age and thrice-weekly dialysis have taken their toll on Sifford. It's been years since he's felt the soul satisfying click of the club face's sweet spot compressing the golf ball just so. But the game still consumes his thoughts. If there's a tournament to watch, it's lighting up his big-screen TV.
He said he has ''slowly'' made his peace with the game.
''Golf is such a wonderful game,'' Sifford said. ''I loved it to death.''
---