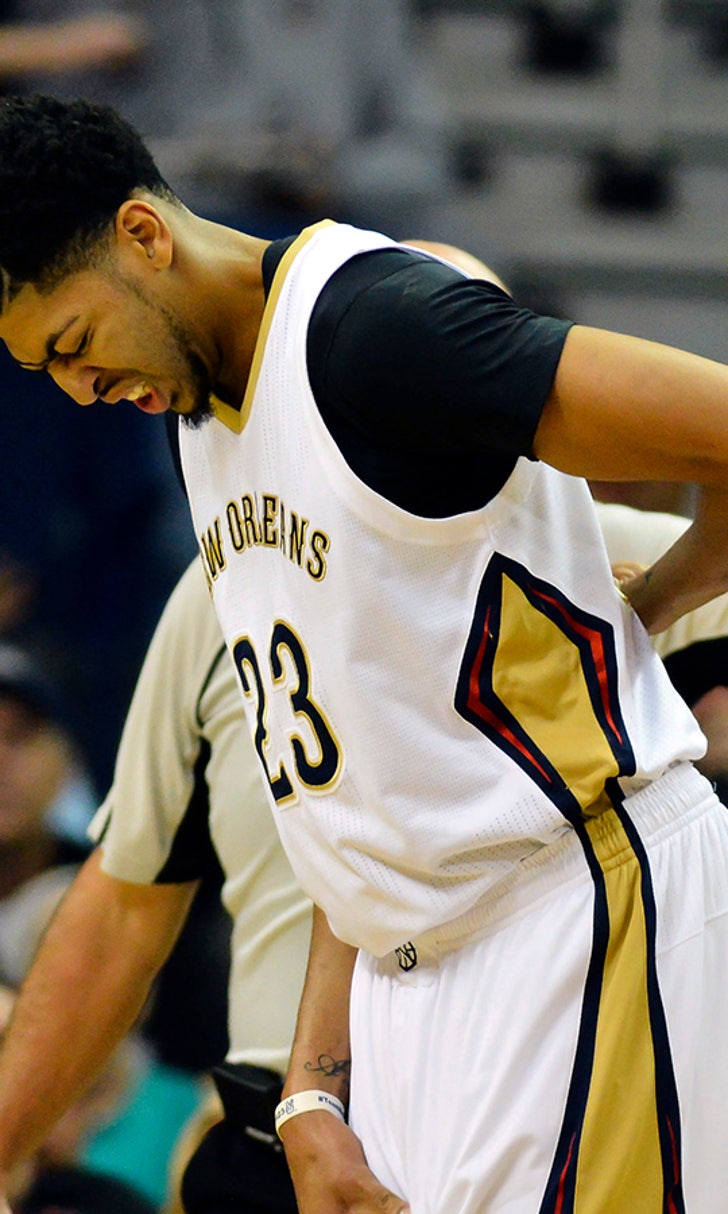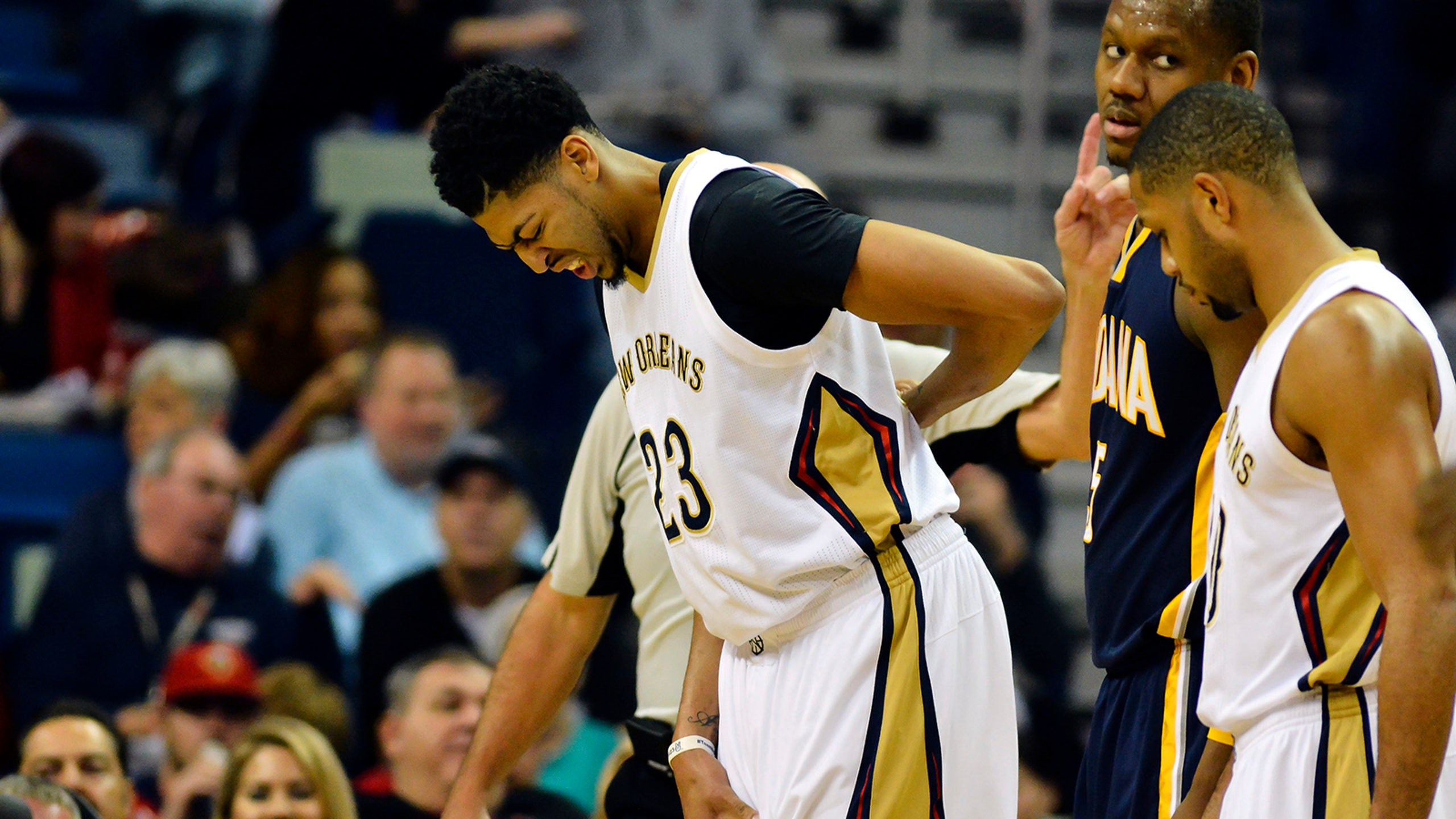 Three Burning Fantasy Basketball Questions (Jan. 13)
BY foxsports • January 13, 2016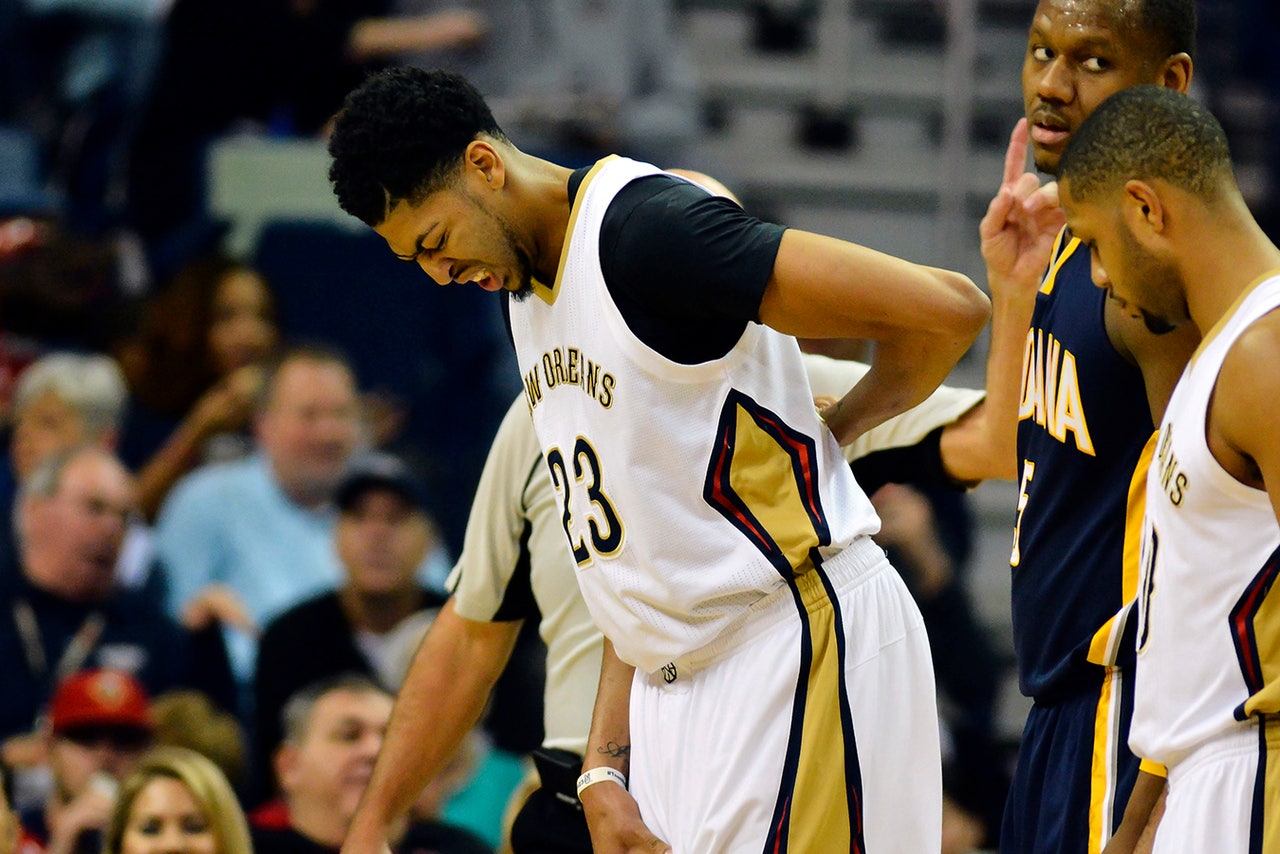 Every week, D.J. Foster will tackle three burning questions in the Fantasy Basketball world. Topics for today: Anthony Davis's shaky future, a player to target in trades, and the best team to stream against. 
1. Is Anthony Davis no longer the consensus first option in keeper leagues?
Coming into this season, New Orleans Pelicans star Anthony Davis was regarded as an MVP favorite and the unanimous top keeper option. All of the sudden, that status doesn't seem so guaranteed.
It's not that Davis has been bad this year. His points and blocks are down, as well as his shooting percentages across the board, Davis has still been a fantasy stud -- when he's played. That's really the issue with Davis, as for the fourth straight year, he's had to sit out games with a variety of injuries and ailments. He's missed five games already this season, and had to leave a handful of others early. The numerous game-time decisions have driven fantasy owners mad.
With Stephen Curry somehow making yet another leap, he should probably be considered the consensus keeper pick. He's managed to avoid the pesky ankle injuries that bothered him earlier in his career for three and a half seasons now, and his absurd three-point shooting practically locks up a category by himself in roto leagues. 
Can we put anyone else ahead of Davis given his injury concerns and the lack of a "leap" this year? Probably not.
You can make the case for Kevin Durant, but he's had much more serious injuries, is older, and doesn't give you enough in the defensive categories like Davis does. Ditto for James Harden. Russell Westbrook turns it over too much. Andre Drummond's free throw shooting makes you punt a category. DeMarcus Cousins turns it over a lot for a big man. Paul George's field goal percentage isn't good enough. Kawhi Leonard doesn't use enough possessions. Draymond Green probably doesn't score quite enough. LeBron is on the decline and is getting up there in age.
Davis's stock has taken a hit this year, but not enough to knock him down too many pegs. There's a chance that a few guys listed above leapfrog him if he continues to pile up the injuries, or if Karl-Anthony Towns starts playing big minutes, but don't sell off Davis. This is likely the lowest his value will be. 
2. Which star is primed for a big second half of the season?
John Wall.
If the playoffs started today, the Wizards would be gone fishing. Luckily there's a whole lot of season left, and plenty of time for Wall to bounce back to his career averages. 
Things haven't come easy for Wall this season. With Bradley Beal hurt (once again), he's had to force the issue more often than not as the Wizards just don't have a ton of talent around him. 
Beal's eventual return is part of the reason for optimism, but what's primarily hurting Wall's value right now is his 4.4 turnovers a game. That's well above his career average of 3.8 a game, so that number could very well decrease as the season progresses. 
It also helps that Washington is playing smaller this season, which should lead to more driving lanes and scoring opportunities, especially when defenses have to stay glued to Beal. Wall is averaging a career-high 19.6 points, 1.5 threes and 2.1 steals this season, so it's not like he's been struggling. He's just in position to get even better, and targeting him in a deal with an owner who is only focusing on the negative (turnovers, field goal percentage) would be a wise move.
If the Wizards are going to make a run, it's going to be Wall who fuels it. 
3. Which teams are the best to stream against right now?
A lot of fantasy players make the mistake of targeting the worst teams in the standings when streaming and naturally expecting big results. It doesn't always work like that. 
Take Minnesota, for example. At 12-26, you would think they would be a great team to stream against. That's not really the case, though, as Minnesota is a respectable 20th in defensive efficiency and play at the league's 20th slowest pace. Less possessions mean less chances for fantasy points. 
What we want is a team that bleeds points, yes, but also plays fast enough and can keep games close so our stars actually play in the fourth quarter. That's a tough mix to find, but I like to look at the league's worst teams in defensive efficiency that are also near the top of the league in pace. With that in mind, here are a five teams to stream against right now, in order:
Teams that are bad, but aren't quite as good to stream against: Minnesota Timberwolves, Charlotte Hornets, Brooklyn Nets. 
Any of those teams can blow up defensively on any given night, but more often than not, a shootout is more beneficial for your fantasy team than a blowout. 
---
---