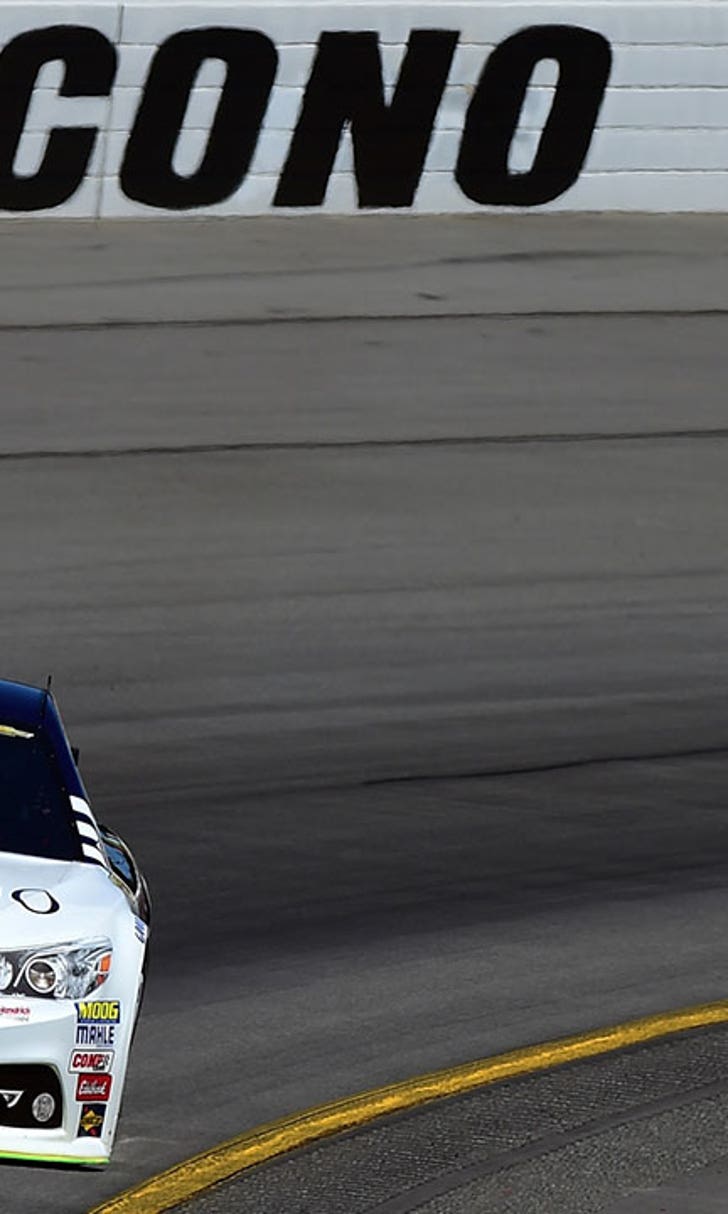 FANTASY NASCAR PREVIEW: Windows 10 400 Driver Picks
BY foxsports • July 31, 2015
This week the NASCAR Sprint Cup Series travels back to Pocono Raceway for the second and final race at the triangular oval for this season. The Pocono races are the closest back-to-back races in the schedule aside from the All Star Challenge and Coca-Cola 600 back-to-back weekends. This short, eight-week interval between races affords the competitors with a unique, quick turnaround from their first race at this facility. With that in mind, it's not unreasonable to expect those drivers who performed well the first time around to have a good chance at repeating their success since they'll likely be unloading the same chassis and running a similar if not identical race set-up. Given the vital information teams gathered here earlier this summer, it's not unusual to see season-sweeps or repeat winners at this 2.5-mile triangle. Repeating one's success at Pocono Raceway is more likely to happen than at almost any other track that the Sprint Cup Series visits. Those drivers and teams that figured out the fastest way around the Tricky Triangle in June should have a leg up now that we've come to the August date at this tri-oval. The style of racing is also very similar to the techniques used at Indianapolis Motor Speedway just this past weekend. Because of this, current momentum and hot streaks will also play a role in Sunday's Windows 10 400.
Considering that this is the second race of 2015 at Pocono Raceway, we need to take a quick look at the loop stats for this unique facility. This track is so unlike any other on the circuit that we'll really need to focus on the last race and recent performances at Pocono for this weekend's drivers. Current trends at this track, including the race this past June, should hold pretty true to form this weekend. As you'll see in the loop stats below we have an easily identifiable group of drivers that love to race on the three-turn Pennsylvania track. The loop stats shown below cover the last 10 years or 20 races at Pocono Raceway.
Season sweeps are not common at Pocono, but they're not unheard of either. Three times in the last decade we've seen drivers sweep the season at Pocono Raceway. Jimmie Johnson did it in 2004 and Denny Hamlin pulled out the broom in 2006. More recently, Dale Earnhardt Jr. grabbed the broom and swept away in 2014. We can certainly learn a lot from looking at the race just a few short weeks ago. It's a better predictor of what could happen this weekend as opposed to recent history or even last season. The "sweep watch" will fall on Furniture Row Racing veteran Martin Truex Jr. this Sunday afternoon. The driver of the No. 78 Chevrolet out-dueled Kevin Harvick at Pocono in June and picked up his first-career victory at the Long Pond oval. It was a surprising effort from the veteran driver and team, and Truex will be the steady odds favorite to win again this weekend.
Jimmie Johnson, Joey Logano and Harvick were the only drivers to give Truex some heated competition that day, and they're likely the best list of candidates to step up their game for Sunday's Windows 10 400. Two drivers who were expected to make a big splash in June's Axalta We Paint Winners 400 were Dale Earnhardt Jr. and Carl Edwards. Both had really high expectations, but both had their separate issues en route to sub-par finishes that afternoon. These two should certainly rebound given their good historical stats at Pocono Raceway and how well both performed last weekend at Indianapolis. One other thing to keep in mind this week in Pennsylvania is that Ford is looking for their first victory at this track since 2010. Keselowski and his Penske Racing teammate Logano will have some added pressure to perform given that Chevrolet and Toyota have pushed this camp to the background at least temporarily at Pocono Raceway. The X-factor this weekend is certainly Kyle Busch. He rides a torrid hot streak into the Pocono Mountains, but he comes to a track where he's never won nor enjoyed much success. Will the No. 18 Joe Gibbs Racing team continue their recent tear in Pocono this weekend? There's definitely a very good chance. Considering the recent race at the 2.5-mile triangle and past history of the track, here are the drivers that should give you the edge in winning your league this weekend.
The Contenders - Drivers in the hunt for the win
Kyle Busch – Pocono Raceway has been a boom-or-bust track for Busch during his colorful NASCAR career. There are signs in recent seasons that this trend is reversing. The No. 18 Toyota team has turned in some of their best performances at the huge triangle in the last five years. Those efforts have netted a pair of runner-up finishes, one third-place finish and three other Top 10s in the last 11 events. Busch comes to the Pocono Mountains as the winner of four of the last five events and riding an epic hot streak. We have to greatly respect the homerun potential that the Joe Gibbs Racing star brings to the table at Pocono Raceway.
Joey Logano – Our Pocono winner from early 2012 will return to Pennsylvania and look to continue building on his recent success at the raceway. Logano has picked up a victory and three Top-5 finishes in his last seven trips to the 2.5-mile tri-oval in the Pocono Mountains. Whatever the Penske Racing driver has figured out about this facility while he was with Joe Gibbs Racing, it seems to have crossed over to his No. 22 Ford team at Penske. Logano qualified on the outside pole, led 30 laps and finished third in this event one year ago. He followed it up with a strong fourth-place finish at Pocono earlier this summer. Logano's runner-up finish at Indy this past week sets up pretty well for this event on a similarly configured flat oval.
Kevin Harvick – The championship standings leader has never won at the three-turn Pennsylvania oval, but recent signs have been pointing to a breakthrough. Harvick has led 44 combined laps and finished runner-up in each of the last two Pocono Raceway events. Those efforts have brought his career Top-5 rate at the oval to a respectable 24-percent. The reigning champion has been within an eyelash of winning several events this year, so Harvick is worthy of weekly contender status from a fantasy racing standpoint. He led a staggering 75 laps this past weekend at Indianapolis so the No. 4 Chevrolet team is dialed-in and running strong coming to Pocono.
Dale Earnhardt Jr. – The NASCAR icon made believers of us last season at Pocono Raceway. The driver of the No. 88 Chevrolet turned in a pair of brilliant, strategic performances to capture his first-career victories at this three-turn oval. The last time the Sprint Cup Series visited Pocono, Earnhardt wasn't so sharp finishing 11th in the Axalta We Paint Winners 400. He should rebound from that effort at the Tricky Triangle this weekend. Prior to the 11th-place finish in June Earnhardt had a four-race Top-5 streak going at Pocono. We see a tremendous amount of upside in an Earnhardt fantasy racing selection in the Windows 10 400.
Solid Plays - Drivers who are near locks for the Top 10 with an outside shot at winning
Jimmie Johnson – Johnson has cooled a bit in recent races, so we've downgraded him from the contenders list to the solid plays list this week for that reason. The six-time champion pulled the season-sweep at this facility in 2004 and he finished a strong third at the 2.5-mile oval in this past June. Johnson is a three-time Pocono winner and he's led well over 700 career laps at this facility in the last 13 years. A Top-10 finish in the Windows 10 400 goes without saying, and if the Hendrick Motorsports star brings his "A" game on Sunday, he could quickly turn this one into another runaway and hide affair.
Kurt Busch – The two-time Pocono winner showed he could carry his excellent Pocono resume from his older teams to his Stewart Haas Racing No. 41 team with his pair of Top-5 finishes in the last three starts at the tri-oval with this team. Busch saddled up at the Tricky Triangle this past June and grabbed the pole position along with an impressive fifth-place performance. It was the veteran driver's 12th-career Top 5 at Pocono Raceway. That works out to a very high 43-percent over 28 starts. Busch will look to equal, if not better, that effort in Sunday's Windows 10 400. He didn't lead any laps here in June and that wrong will more than likely be righted this Sunday afternoon.
Martin Truex Jr. – The highlight of the 2015 season for Truex and the Furniture Row Racing team has to be their big Pocono victory in June's Axalta We Paint Winners 400. Truex led 97 laps that Sunday afternoon and left little to doubt in a dominant victory over Kevin Harvick. The veteran driver of the No. 78 Chevrolet has cooled off since then, but he's still a very strong driver in the Sprint Cup Series to this point. Truex posted his 15th Top 10 of the season with a strong fourth-place performance at Indianapolis this past weekend. So returning to Pocono Raceway this week has to be a major morale boost for Truex and company. While pulling the season-sweep of Pocono seems a remote proposition, there's good reason to believe we'll see Truex's name among the Top-10 finishers in this 400-mile contest.
Ryan Newman – Our steady Pocono hand returns to the scene of his eighth-place finish in this event one year ago. Newman enters this week 12th in the championship standings and with a lot to race for in the Windows 10 400. The Richard Childress Racing veteran will be happy to see the Tricky Triangle this weekend as it is one of his favorite facilities. Newman is a one-time Pocono winner and checks in at a strong 52-percent career Top-10 rate. That averages out to a nice 12.4 average finish at the Pennsylvania tri-oval. For a measure of confidence, hang your hat on the fact that Rocket Man has only finished outside the Top 15 once at this track since way back in 2008, and that was due to an unfortunate crash here in June.
Sleepers - Drivers with good history at Pocono who can provide a solid finish
Brad Keselowski – The Penske Racing star really seems like a boom-or-bust pick this week, but we're leaning towards the boom based on what we've seen out of the No. 2 Ford team of late. Keselowski has led a combined 180 laps over the last three races and has finishes of sixth-, second- and 10th-place at Kentucky, Loudon and Indianapolis. His historical numbers at Pocono Raceway show a victory in 2011and four Top 10s in 11-career starts. Inconsistency has been an issue with Keselowski at this oval, but he's pretty hot coming into this Sunday's Windows 10 400. That should be the edge to carry him to yet another Top-10 finish at the Tricky Triangle.
Matt Kenseth – While Kenseth's career numbers at the three-turn Pennsylvania oval are considered mild-mannered at best. The move to Joe Gibbs Racing in 2013 was career redefining for the former champion, but his Pocono numbers have still lagged. The driver of the No. 20 Toyota has 11-career Top-10 finishes at Pocono and most of those came much earlier in his career at this facility. However, it's his most recent outing that catches our eye this time around. Kenseth's sixth-place finish at Pocono in June snapped a five-race Top-10 drought for the veteran at the tri-oval. Considering that he's riding a three-race Top-10 streak entering this event and coming off a solid seventh-place finish at Indy, we think Kenseth will be strong in this 400-mile event.
Denny Hamlin – Hamlin is the driver rating leader at this oval going into this weekend's Pocono race, but he's not won at the facility since early 2010. He's also battled inconsistency and performance struggles in 2015. Despite all this, he managed a good effort in June at the Tricky Triangle. The four-time Pocono winner qualified eighth on the grid and finished 10th here in June despite his inconsistency. Hamlin is so good at this 2.5-mile triangle that he's a contender for the win on the good years, and an almost sure Top-10 finisher even in the bad years. He rides a three-race Pocono Top-10 streak into Sunday afternoon. The Joe Gibbs Racing star might struggle, but he should surely solider his way to another Top-10 finish at Pocono Raceway.
Jamie McMurray – Things appear to be lining up for a very successful weekend at Pocono for Chip Ganassi Racing. Not only does the No. 42 team have a good look heading to the three-turn oval, but the No. 1 team of McMurray could be a steady performer as well. McMurray owns finishes of 13th-, 16th-, 10th- and a pair of seventh-place finishes in his last five trips to Long Pond, PA. His seventh-place finish here in June was no fluke. It was his seventh-career Top-10 finish at the 2.5-mile tri-oval. There seems to be a lot of indicators pointing towards a Top-15 finish for the CGR veteran at Pocono Raceway this Sunday afternoon.
Clint Bowyer – The MWR veteran checks in with one Top-5 and four Top-15 finishes in his last five trips to Pocono Raceway. When Bowyer hasn't been cracking the Top 10 he's been solidly in the Top 15 as most of those race weekends show. He had a down outing in June's Axalta We Paint Winners 400, but that is the lone blip on the radar screen. These results are pretty typical of his career-long record at the 2.5-mile triangle. Bowyer's 91 laps led and 42-percent Top-10 rate at this facility are respectable numbers. He has no DNFs and has been running at the end of every Pocono race for the last 10 seasons. That's some added measure of security in your fantasy racing lineup.
Kyle Larson – The second-year driver has been getting his act together over the past couple weeks. The CGR driver has one pole position and one Top-10 finish in the last three events coming into Pocono, and he'll look to build on that consistency and momentum. Pocono Raceway has all the markings of a good outing for the No. 42 team. Larson's three-career starts at this unique track have been finishes of fifth-, 11th- and eighth-place. The last of those coming in June's Axalta We Paint Winners 400, which was just a few short weeks ago. If Larson's speed at Indianapolis last weekend is any indication, he'll have a good car for Pocono.
Slow Down - Drivers to avoid this week Paul Menard – Coming off the Top-15 finish at Indianapolis this past week, we could easily get overoptimistic for the No. 27 team this week at Pocono Raceway. We need to remember that the Richard Childress Racing driver has had a tough time at the triangular oval in recent appearances. After posting a pair of Pocono Top 10s in 2011 and 2012, Menard has stumbled there of late. Menard hasn't cracked the Top 25 in his last five visits to the Pocono Mountains. His start there in June was a 31st-place finish that was two laps down to the leaders, and that makes him a shaky prospect for the Windows 10 400. He should return to Top 15 form once the series returns to the intermediate ovals and short tracks later this summer.
Danica Patrick – The up-and-down performances of the last five events entering this weekend may be just a sign of things to come for the No. 10 Chevy team. Patrick's Pocono resume doesn't lift any expectations for a rebound performance this weekend. She has five starts at the Tricky Triangle with 29th-, 35th-, 37th-, 30th- and 37th-place finishes to her credit with one of those being a DNF. Patrick is still figuring out stock cars and oval track racing at this point in her career, and Pocono is probably the most difficult to master of them all. The challenge shows in her five-career starts to-date. It's best to leave Patrick on the fantasy racing bench this weekend.
Tony Stewart – The two-time Pocono winner will return to the mountains of Pennsylvania this weekend and attempt to post his first victory of the season in the Windows 10 400. Stewart has quite a resume at this three-turn oval, and his strong 36-percent Pocono Top-5 rate shows the owner/driver of the No. 14 Chevrolet knows how to run up front at this facility. However, things have turned sour for Smoke in recent trips to Pocono. The drop in performance has mirrored his overall struggles the last two seasons. His last three starts have netted finishes of 13th-, 36th- and 21st- dating back to last season. Considering that Stewart took a fast car to an uncharacteristic 28th-place finish at Indy last week, it's best to stay clear of the No. 14 team this weekend.
A.J. Allmendinger – We're used to putting Allmendinger in the sleepers list occasionally, so it's a change of pace putting him in the slow down list this week. The driver of the No. 47 Chevrolet has been mostly consistent and reliable this season; he's just not a good performer at Pocono Raceway. He slogged his way to a 38th-place finish here in June and that been a typical effort in the last four seasons at this tri-oval. Allmendinger will return and try to improve on that performance but his historical numbers at the huge triangle suggest otherwise. The journeyman driver has only one Top-10 finish in 15 career starts at Pocono and a lowly 25.7 average finish. It's best to skip over the JTG Daugherty Racing driver this weekend.
Taylor is a three-time FSWA Racing Writer of the Year.
Get a FREE RotoWire 10-day trial (no credit card required) at RotoWire.com.
---
---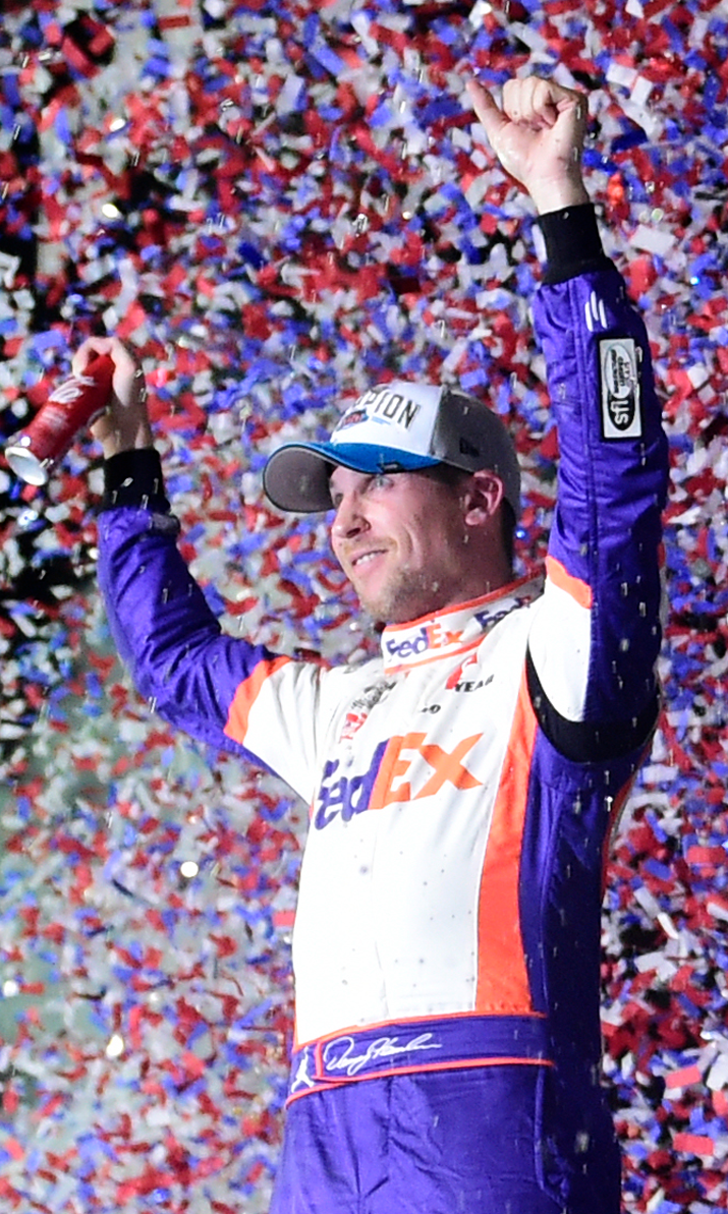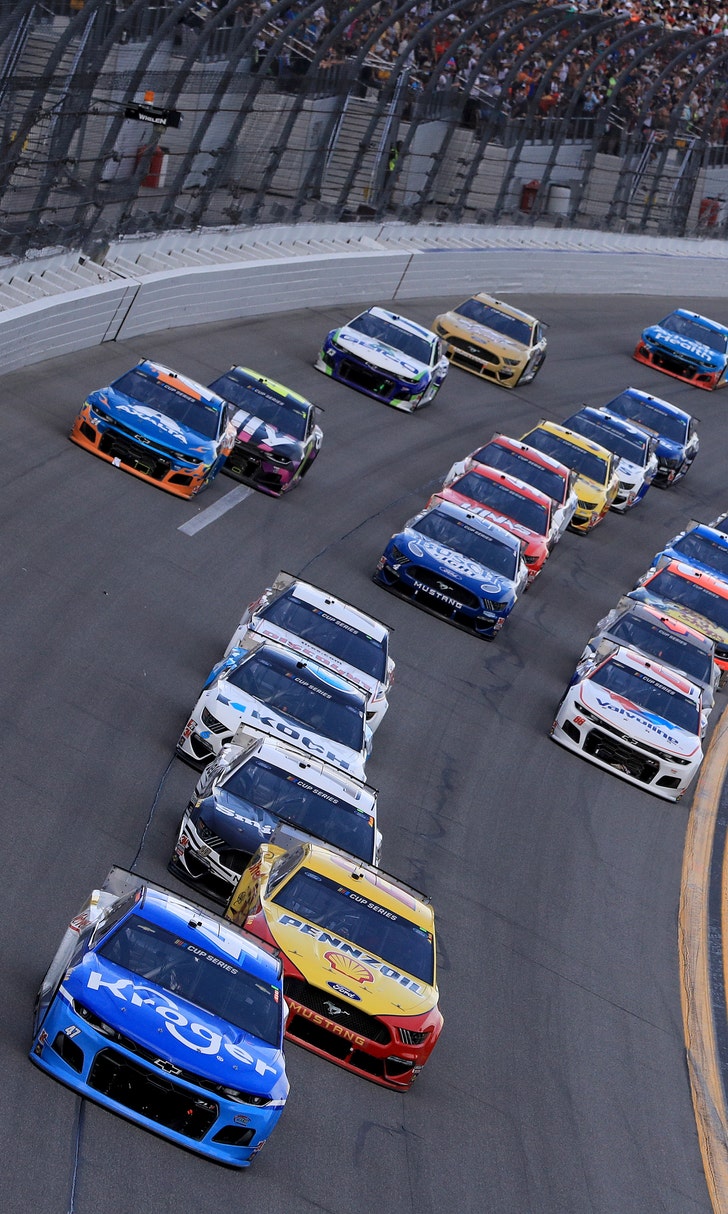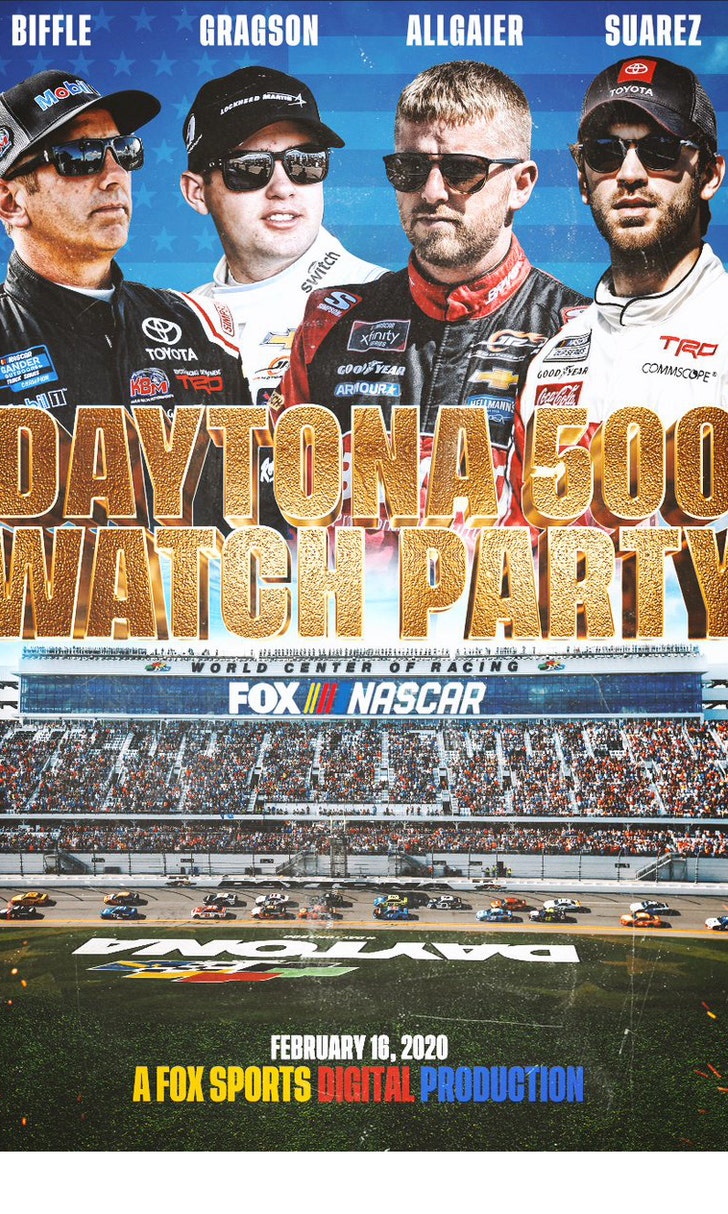 The Daytona 500 Watch Party!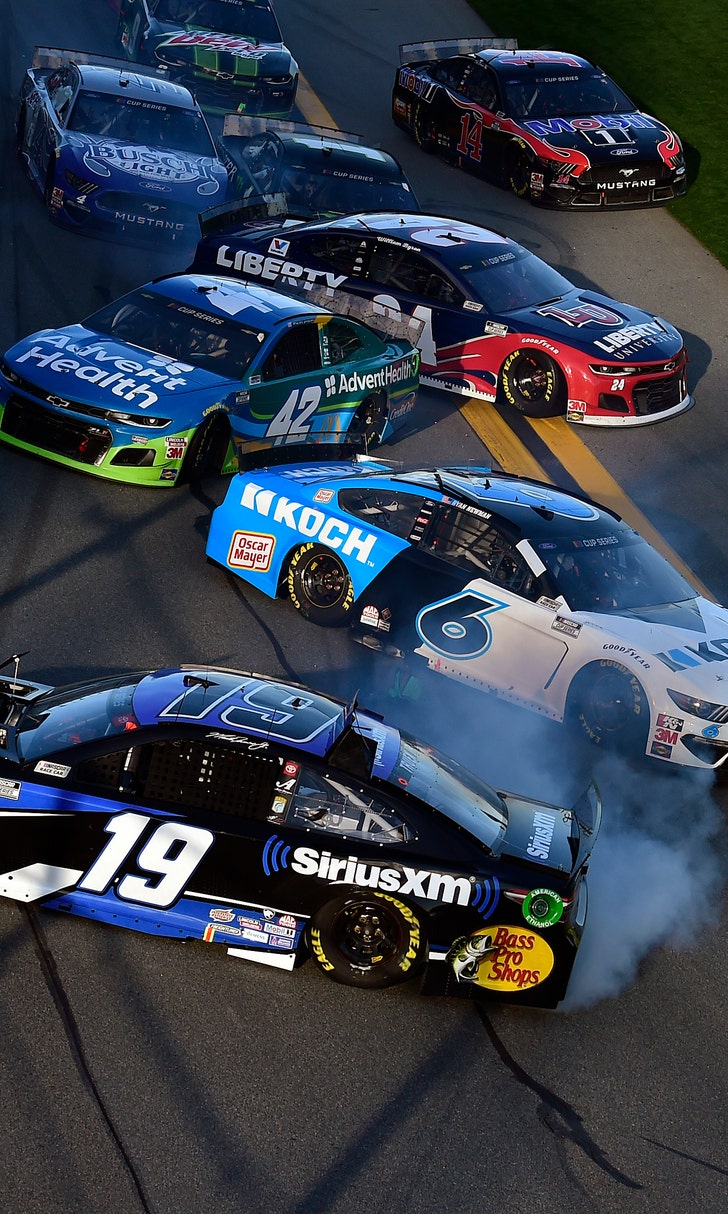 The Numbers Game At Daytona