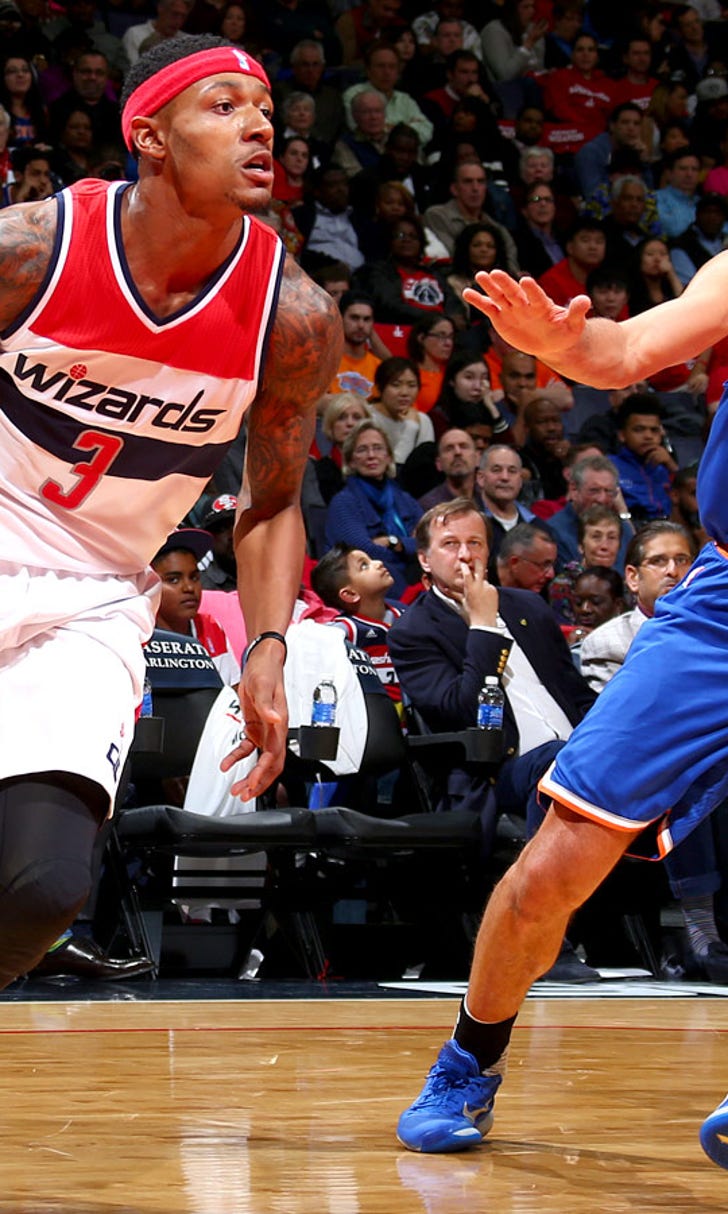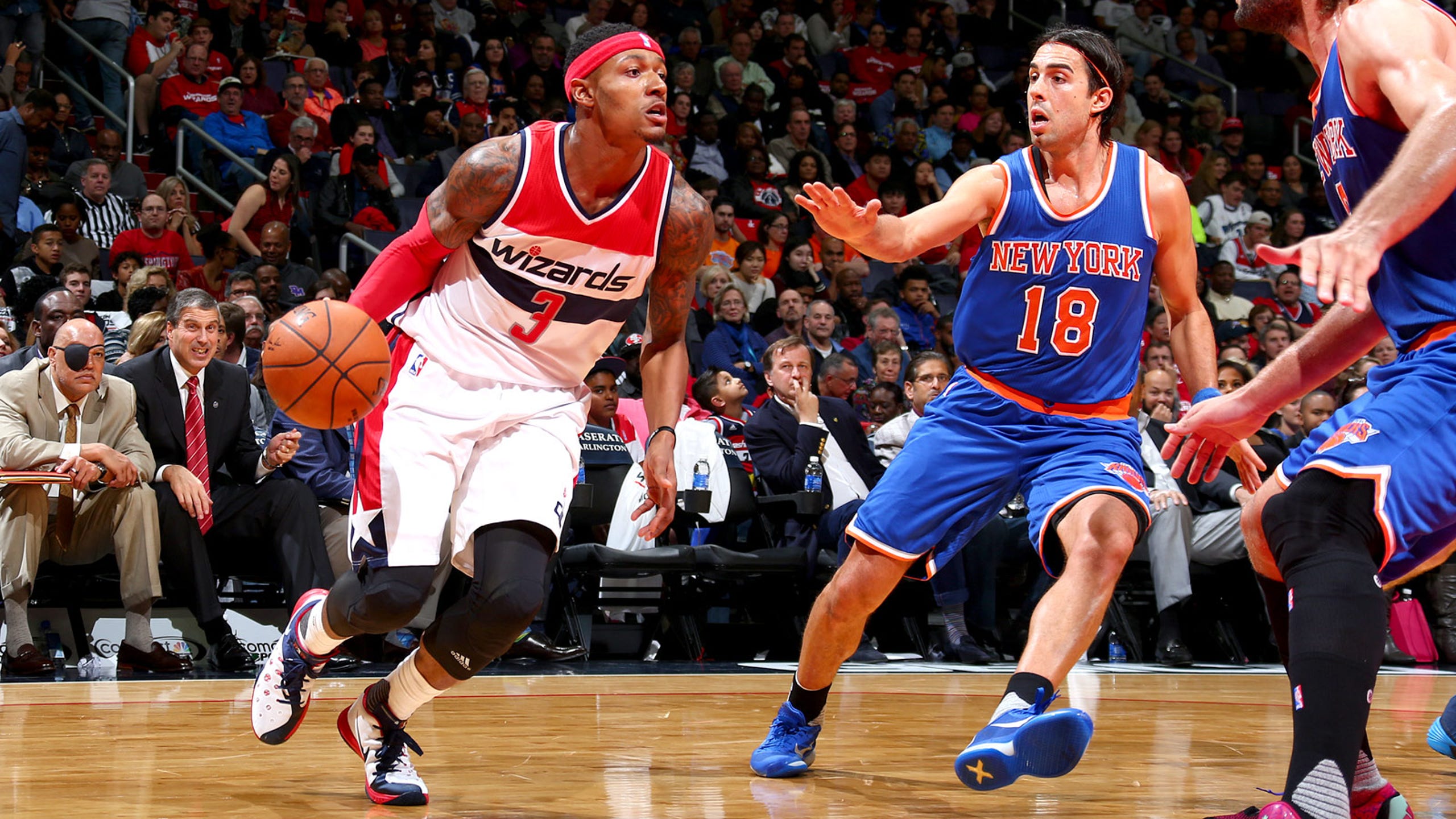 Fantasy Basketball Injury Analysis: Bradley Beal, DeMarre Carroll, Joakim Noah, & more
BY foxsports • January 12, 2016
Bradley Beal
The Wizards have been beset by injury for most of the season, cobbling together a full 12-man unit just twice since Dec. 7. Beal's 15-game absence thanks to a reoccurring leg injury has been the most impactful, though it appears he could be making a return as soon as Monday. Beal has been sidelined by a stress reaction for the fourth straight season, but this episode lasted longer than any of the three previous occurrences. Hopefully the extra time off allowed the Wizards to pinpoint any potential biomechanical issues that are contributing to this chronic issue and Beal can put the problem behind him. While he's never had two episodes in the same season, fantasy owners should tread cautiously over the next few weeks. Look for him to be on a strict minutes restriction for the first few games and potentially sit during one game of this week's back-to-back set Friday and Saturday.
DeMarre Carroll
Carroll's troublesome right knee injury went from bad to worse almost overnight as reports of an unexpected knee surgery surfaced early last week. Carroll had been fighting a right knee injury since early December, missing nine straight with what was ruled a knee contusion. Soreness in the joint resurfaced shortly after his return and the Raptors medical staff felt surgical intervention would be the best course of action.
The surgery was described as an arthroscopic procedure, though the reason for the operation remains unclear. The description clarifies that a tiny scope and other small surgical instruments were utilized but fails to say what was actually carried out. Since no mention of ligament damage has been reported, it is likely a debridement was performed, but even that is conjecture. The early reports estimate Carroll will miss six to eight weeks, a timeline better aligned with a debridement and not a more extensive repair.
James Johnson has replaced Carroll in the starting unit but Terrence Ross seems to be the biggest beneficiary. Neither has put up incredible stats since Carroll's departure but Ross' 16-point performance Sunday is a nice starting point. Still, neither player is a realistic option this week with the Raptors scheduled for just one game as a part of an overseas trip to London. Players for the Magic, Toronto's opponent for the Global Game, will also see their stock drop with the abbreviated schedule.
Mike Conley
The Grizzlies have played their last three games without their starting point guard. Conley has been bothered by a sore Achilles, an injury that tends to be more limiting for speedy or explosive players. Memphis hopes Conley will be ready to return Tuesday against Houston but will continue to lean on Mario Chalmers if he is unable to play. Despite shooting 35 percent from the field, Chalmers has been an adequate fill-in, averaging 17.7 points, 6.3 rebounds, 5.7 assists and 2.3 made three-pointers per game over the last three.
Joakim Noah
The Chicago frontcourt will be a bit more crowded Monday with Noah expected to return from a shoulder injury. The energetic center has missed nine straight games after spraining his left shoulder in a loss to the Nets. He participated in contact drills over the weekend, clearing the way for his return. Rookie Bobby Portis worked his way into the rotation during Noah's three-week absence and should stay there, albeit in a reduced role. Still the situation remains a bit precarious as Noah continues to be linked to trade rumors and his season productivity hasn't been particularly fantasy friendly. Furthermore, Noah's comments following the injury suggest more occurred than a simple sprain and the stability of the joint will be quickly tested. I'm avoiding Noah for the immediate future and would exhaust all my options before heavily investing in him.
Fast Breaks
Anthony Davis
The Pelicans big man missed Sunday's game against the Clippers after injuring his back diving into the stands in the team's previous outing. Davis suffered a back contusion on the play and is considered day-to-day. He is an elite fantasy option though his tendency to pick up these seemingly minor injuries is frustrating. Understand this part of what comes with owning the All-Star forward and hope he's back in action soon.
Derrick Favors
Favors' back spasms continue to linger and the Jazz remain noncommittal about a potential return date. As previously discussed, spasms are a symptom of an underlying issue. While a muscular-related injury is the most common culprit, other more problematic injuries can result in spasms. The Utah medical team is tasked with treating the spasms and ending the pain-spasm cycle while also addressing the root of the problem. Until then, look for Favors to remain in street clothes. Fortunately, the return of Rudy Gobert minimizes the impact of Favors' absence and could buy the Jazz some additional time to ensure his long-term health.
Dwight Howard
The Rockets center also missed time with a back injury though his diagnosis was less vague. Howard did not play Thursday due to tightness in his lower back but the stiffness dissipated over the weekend. He returned Sunday, scoring 21 points and collecting 17 rebounds in a win over the Pacers. Howard does have a history of back-related problems, including a surgically treated herniated disc during the 2011-12 season. However, his quick return is a good sign that this latest episode is nothing more than minor and fantasy owners should utilize Howard as they would normally.
D'Angelo Russell
The Lakers rookie was in the middle of a breakout performance Thursday before an ankle injury prematurely ended his night. Russell had a season-high 27 points against the Kings before suffering a sprained right ankle in the game's waning minutes. After the game, the injury was described as a moderate ankle sprain though Russell was surprisingly back the following night. His return lasted just seven minutes, as he was unable to adequately run or cut, and he did not play Sunday against the Jazz. If the sprain is indeed moderate then it seems likely he sits a few more games. Lou Williams would see a slight increase in minutes should Russell remain out.
Stotts works as a Certified Athletic Trainer (MAT, ATC, PES, CES) and is a former winner of the Best Fantasy Football Article from the Fantasy Sports Trade Association.
Follow @RotowireATC on Twitter.
Get a FREE RotoWire 10-day trial (no credit card required) at RotoWire.com
---
---