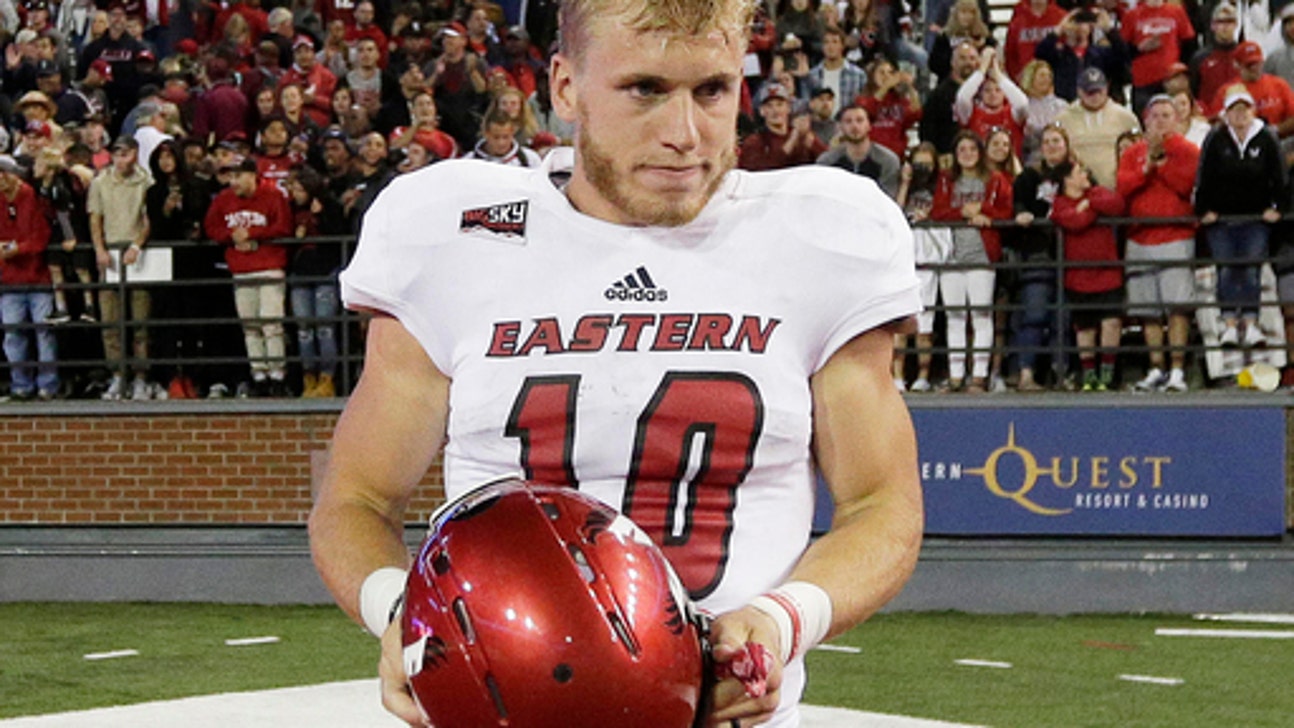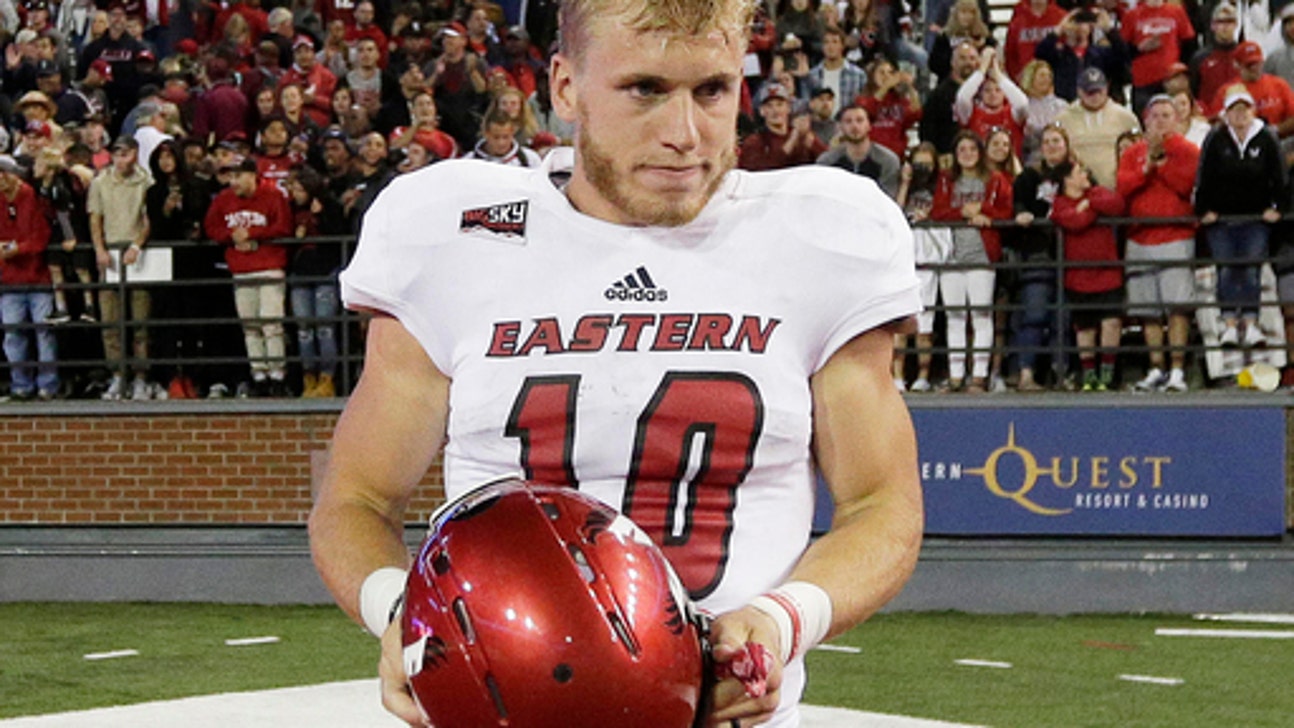 Youngstown beats EWashington 40-38 to advance to title game (Dec 17, 2016)
Updated
Mar. 4, 2020 12:45 p.m. ET

CHENEY, Wash. (AP) Hunter Wells fired a 6-yard touchdown pass to Kevin Rader in the end zone as time expired to lift Youngstown State to a 40-38 victory over Eastern Washington on Saturday to advance to the FCS national title game against James Madison.
Youngstown State (12-3) started the winning drive on its 42 with 4:24 left in the game, and used up the clock as it marched for the score.
Tevin McCaster rushed for 154 yards and three touchdowns for Youngstown State, which will be seeking its fifth national title.
Cooper Kupp caught 10 passes for 180 yards and two touchdowns for Eastern Washington (12-2), which saw its 11-game winning streak snapped.
The Penguins will play for the national championship Jan. 7 against James Madison, which beat North Dakota State 27-17 on Friday. The loss broke North Dakota State's string of five consecutive FCS titles.
Saturday's game was played in bitter cold, with the temperature dropping to single digits as the game progressed.
Youngstown State's Jalyn Powell intercepted a Gage Gubrud pass on the first drive of the game. The Penguins marched down the field, with McCaster rushing in from the 4 for a 7-0 lead.
Eastern Washington replied with a drive that stalled on the 4, and settled for a 21-yard field goal by Roldan Alcobendas.
The Eagles scored again on Gubrud's 4-yard touchdown pass to Kupp late in the first quarter for a 10-7 lead.
After Youngstown punted, Gubrud connected with Kendrick Bourne on an 83-yard touchdown pass for a 17-7 lead. Bourne caught the ball near midfield and outran three defenders.
Zak Kennedy kicked a 42-yard field goal to cut Eastern's lead to 17-10 late in second quarter.
Eastern was forced to punt on its next possession but Youngstown State's Alvin Bailey fumbled the catch and the Eagles recovered. Sam McPherson hit Kupp on a 32-yard touchdown pass for a 24-10 lead.
The Penguins replied with a 69-yard drive, with McCaster running the last 20 yards to cut Eastern's lead to 24-17 at halftime.
Youngstown drove to the 3-yard line on the opening drive of the second half, but had to settle for Kennedy's 20-yard field goal. The Eagles replied quickly with an 18-yard touchdown pass from Gubrud to Shaq Hill to push their lead back to 31-20.
Gubrud was intercepted at the goal line by Billy Hurst and the Penguins scored on an 11-yard pass from Hunter Wells to Alvin Bailey, cutting Eastern's lead to 31-27 early in the fourth.
Eastern went three-and-out and Youngstown State got the ball at midfield. They went ahead 34-31 on McCaster's 12-yard touchdown run, his third of the game.
Eastern marched 80 yards on its next possession, with Hill running over from the 1 for a 38-34 lead with 4:24 left in the game.
That set up the Penguins' winning drive.
Gubrud completed 18 of 33 passes for 353 yards and three touchdowns, but suffered two interceptions.
Kupp is an All-America who won the Walter Payton Award last season as the top player in FCS and could become the second two-time winner when it is handed out Jan. 6.
The Eagles won the 2010 national title. Youngstown State has won four national titles, in 1991, 1993, 1994 and 1997.
BIG PICTURE
Youngstown State: Running back Jody Webb ran for 101 yards, while Wells completed 16 of 24 passes for 244 yards and two touchdowns. Coach Bo Pelini is playing for a national title in only his second season with the Penguins.
Eastern Washington: Kupp came in having caught 418 passes for 6,284 yards and 71 touchdowns in his career. The receptions and touchdowns are FCS records, while the yardage is the most for any receiver in the history of all levels of college football. Eastern Washington opened the season by upsetting Washington State of the Pac-12, a team that recovered to post eight wins and advance to the Holiday Bowl.
UP NEXT
Youngstown State will play James Madison for the national title on Jan. 7. In Frisco, Texas.
---
More AP college football: www.collegefootball.ap.org and https://twitter.com/AP-Top25
---