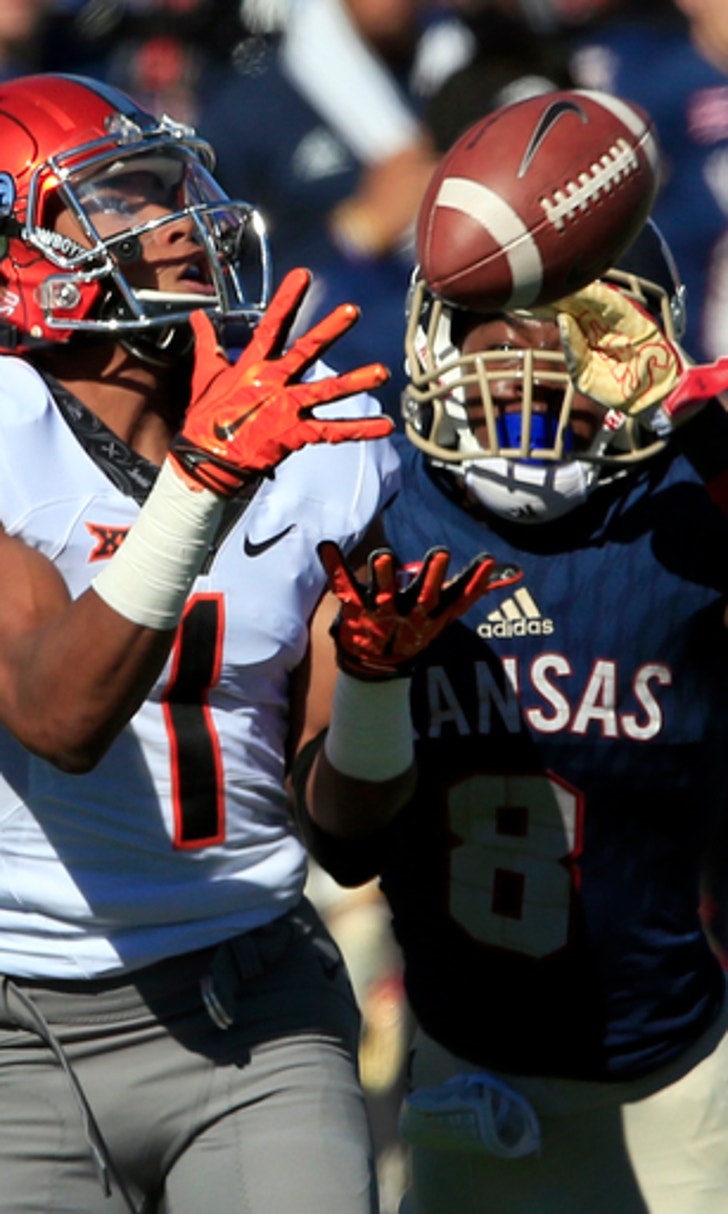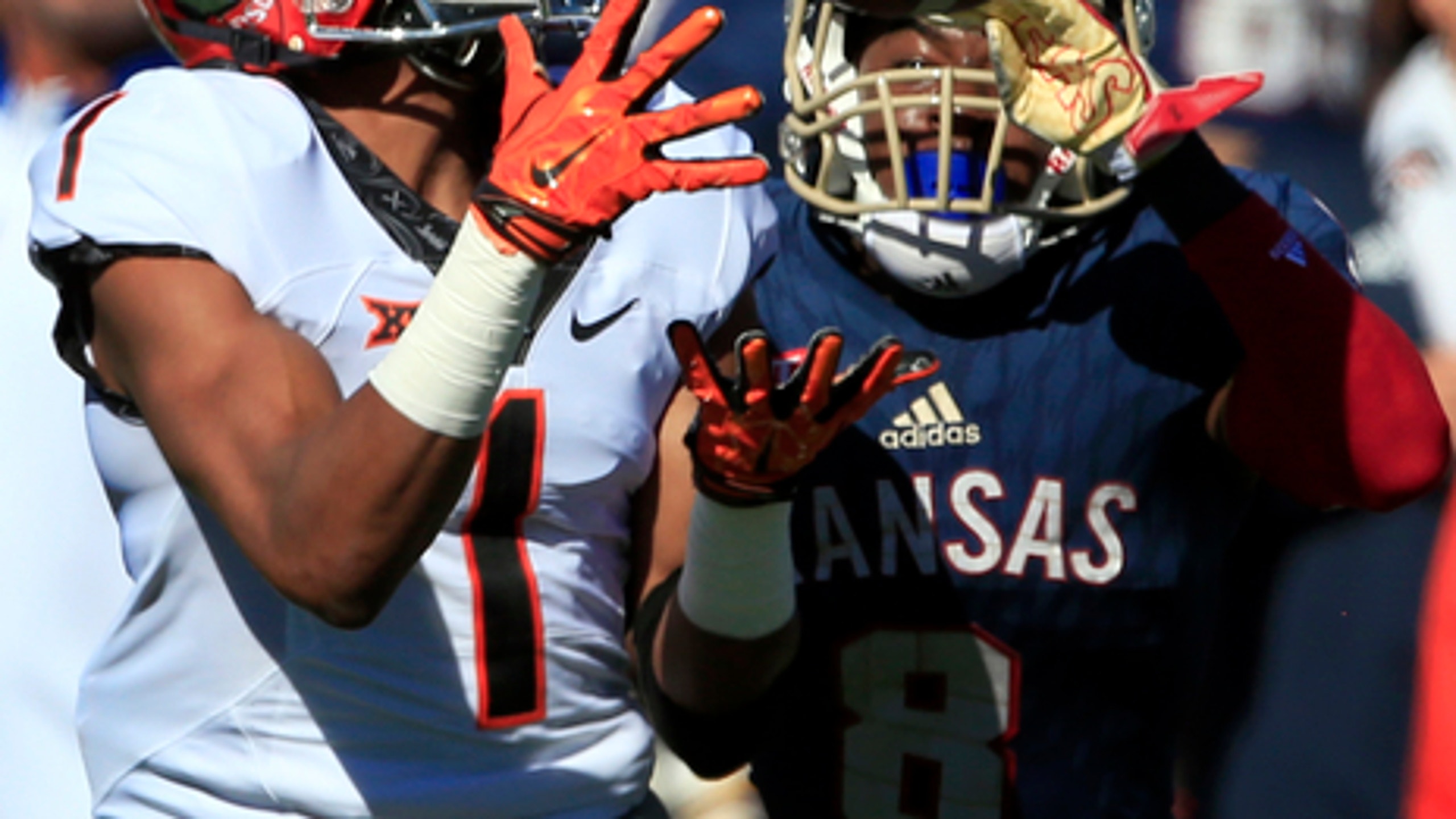 WR McCleskey stepping up for Oklahoma State
BY foxsports • October 24, 2016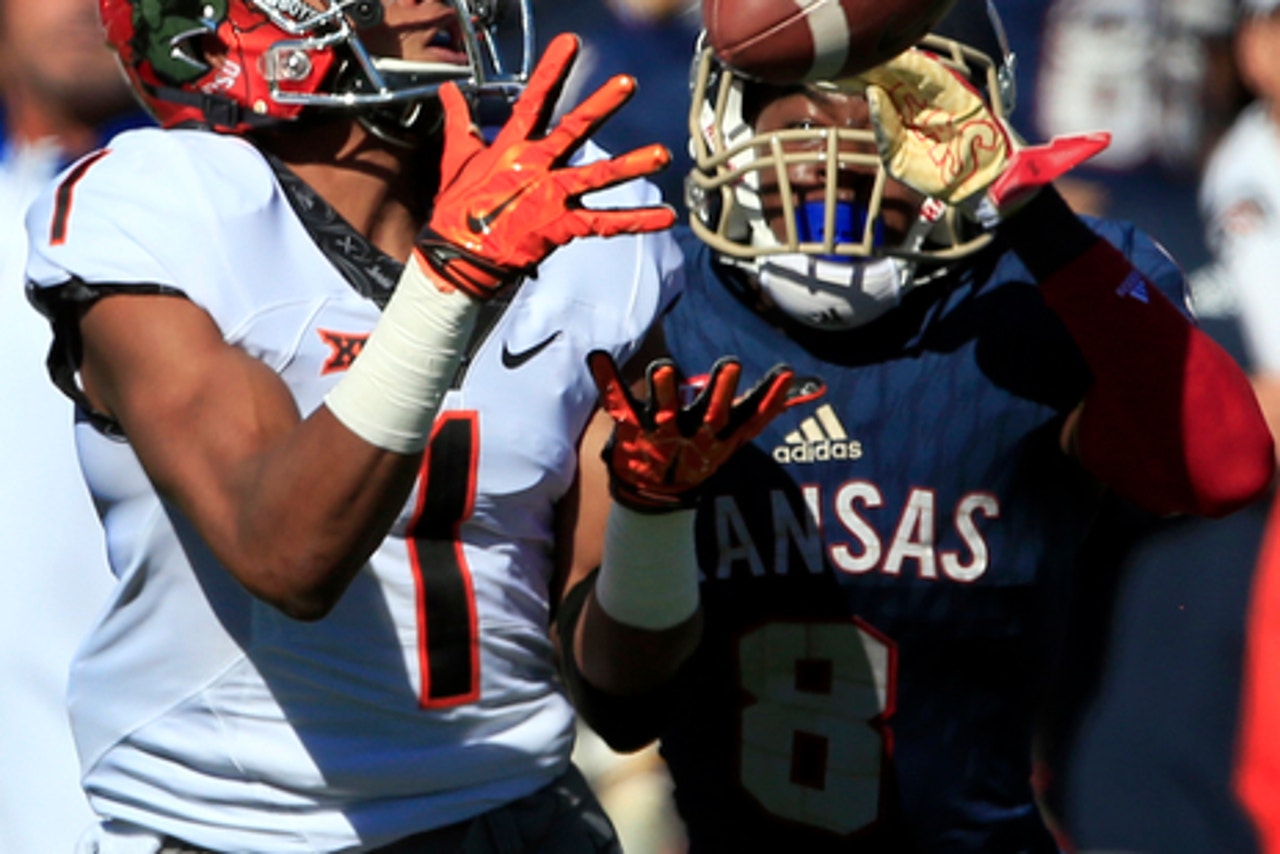 STILLWATER, Okla. (AP) Jalen McCleskey is making the most of coverage schemes focused on James Washington. And it's paying off in a big way for Oklahoma State.
Kansas used double coverage to limit Washington to one reception for 9 yards on Saturday, but McCleskey responded with six catches for a career-high 129 yards to help the Cowboys to a 44-20 victory.
The sophomore receiver has turned into a potent target for Mason Rudolph and Oklahoma State (5-2, 3-1 Big 12), totaling 38 receptions - one more than Washington - for 536 yards and four touchdowns.
''Teams lately have been taking away James,'' said McCleskey, who is listed at 5-foot-10, 170 pounds. ''Just going into the game knowing that if they take away James, that me and (fellow receivers Chris Lacy and Jhajuan Seales), we're going to have to make plays, because we're going to most likely be in single coverage. When they call our number, we just have to make the play.''
McCleskey already has exceeded his numbers from his freshman year, when he had 29 receptions for 253 yards and three touchdowns. He gets another opportunity to step into the spotlight when Oklahoma State hosts No. 10 West Virginia (6-0, 3-0) on Saturday.
''He's got really good instincts, he's got tremendous hands,'' offensive coordinator Mike Yurcich said. ''He's a well-rounded receiver. Now, he's got to do some things in the blocking game better, but at the same time, he's really not built for blocking too much. But he's got great speed, he's got great change-of-direction, his hands are tremendous. He'll continue to improve, and he's a very heady player.''
The Cowboys' relatively new rushing ability also has been a key part of overcoming the attention being paid to Washington. Freshman Justice Hill gained 162 yards and a touchdown on 22 carries against Kansas and ranks fifth in the Big 12 with 565 yards.
''It's a simple game, it's math - if they're going to defend (the pass), then you have to be able to run the ball,'' Oklahoma State coach Mike Gundy said. ''If you can't run the ball, it makes for a long day. Inside receiver and running game is what opens up in most cases, if you're going to get over-the-top coverage on a certain receiver.''
For his part, McCleskey relishes the challenge of being a go-to receiver.
''I always want to see James and all the other receivers play well, too,'' he said. ''But if they take away one player, then somebody else has to step up and be that next guy up, so being able to do that really helps the team win.''
Gundy credits some of McCleskey's football intelligence and attention to detail to his upbringing. His father, J.J. McCleskey, played 78 games as a defensive back for the New Orleans Saints and Arizona Cardinals from 1993-2000.
''Just the gym rat concept environment that he's raised in,'' Gundy said of the benefits of having an NFL alumnus as his dad. ''Obviously, he's gifted genetically. He's worked on his speed and hands throughout his career. I'm guessing that his dad had probably shared things with him that helped prepare him to play at a high level like he is right now. And he's a very intelligent young man. He gets it, and all the big picture around him doesn't really affect him too much.''
McCleskey has learned to use his undersized body as an asset and has never viewed being smaller as a detriment, even though he routinely puts himself in harm's way against much bigger defenders.
''That's mental toughness, just knowing that you're going to get hit, but you got to go out there,'' said McCleskey, who also has gained 64 yards on seven punt returns this year. ''Most definitely (there are benefits to being smaller). My speed, being able to get through the defense, being able to make people miss while running through the middle, things like that. If you just go out there and play fast, most likely you're not going to get hit as much.''
---