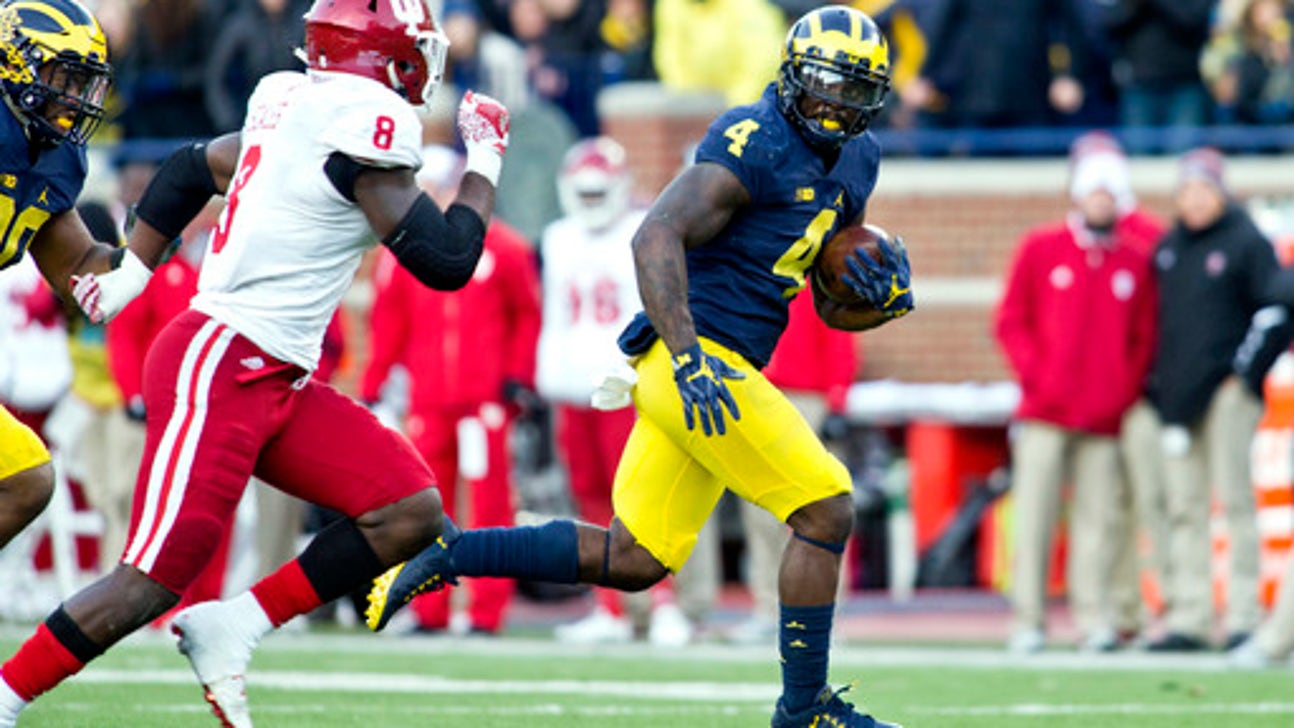 Without Speight, No. 4 Michigan shakes off Indiana, 20-10
Published
Nov. 19, 2016 9:02 p.m. ET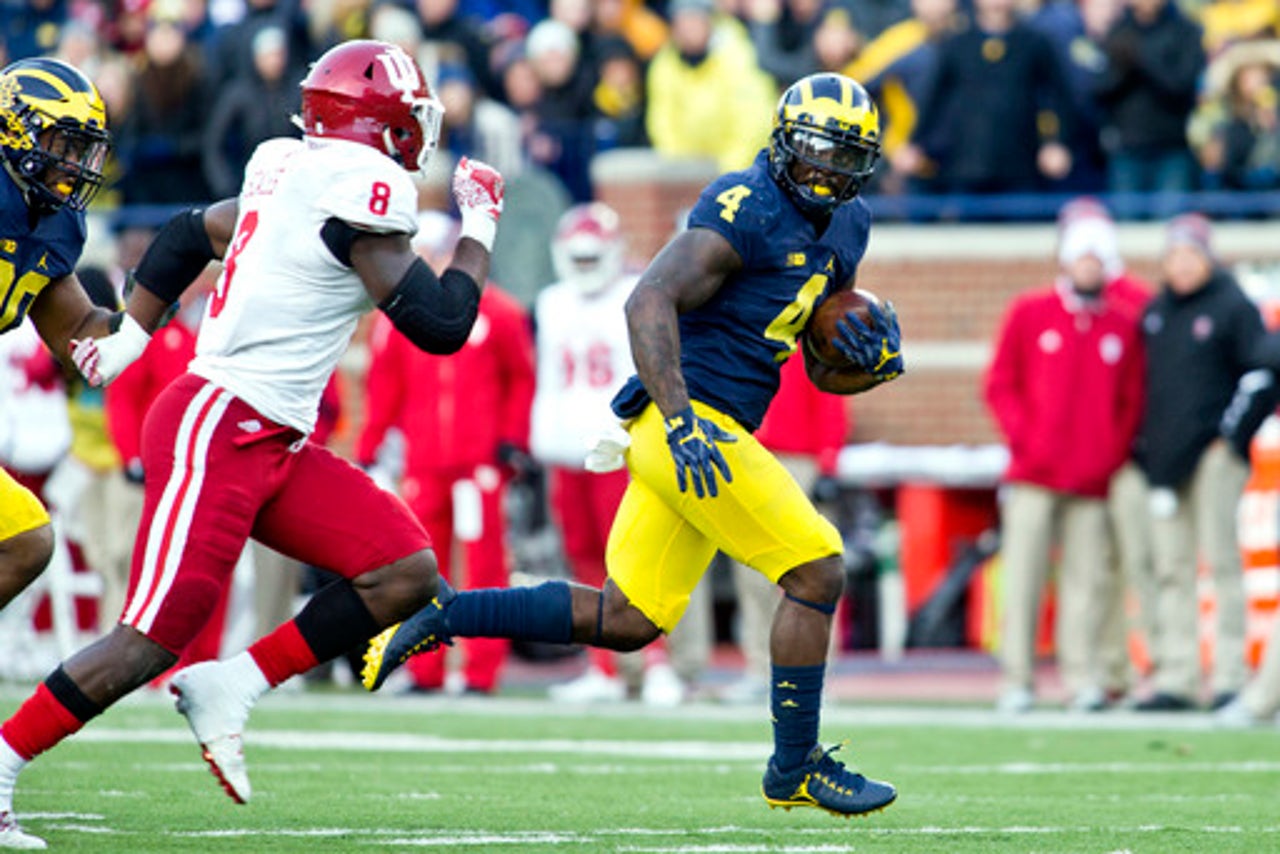 ANN ARBOR, Mich. (AP) Michigan found out just how valuable quarterback Wilton Speight is the hard way.
De'Veon Smith ran for two touchdowns in a 3:33 span late in the third quarter, finishing with a career-high 158 yards rushing, to help the fourth-ranked Wolverines shake off Indiana with a 20-10 win Saturday.
John O'Korn made his first start for Michigan (10-1, 7-1, No. 3 CFP), replacing its injured starting quarterback, and struggled to lead an offense that was averaging 45 points and 232 yards passing.
''Luckily, our run game and our O-line had my back,'' O'Korn said.
O'Korn was 7 of 16 yards for just 59 yards.
''I'm not real pleased with the way I threw the ball, but that's part of the battling the elements,'' O'Korn said on a blustery day that left the field covered in snow in the fourth quarter.
O'Korn's best play was a 30-yard run, escaping a collapsed pocket on third down to set up Smith's shifty, 34-yard run that put the Wolverines up 13-10 with 4:02 left in the third. Smith's 39-yard run later in the quarter put them ahead 20-10.
''That was huge,'' Michigan coach Jim Harbaugh said. ''We were struggling, making third-down conversions. And there was not just one, but two defenders pressuring John.''
For two-plus quarters, it looked like the Hoosiers (5-6, 3-5) might win one of the most significant games in school history. Indiana has beaten only one top-five team, No. 3 Purdue in 1967, the last year it won at Michigan Stadium. The Hoosiers haven't knocked off a top-10 team since beating No. 9 Ohio State in 1987.
Indiana's Richard Lagow was 14 of 29 for 191 yards and Devine Redding was held to 50 yards rushing on 22 carries a week after running for 108 yards and two touchdowns in a loss to then-No. 12 Penn State.
''Offense did some things they needed to against a great defense,'' Indiana coach Kevin Wilsons said. ''Just wasn't good enough.''
THE TAKEAWAY
Indiana: The Hoosiers have been good enough to be competitive with ranked teams this season. That's a sign of improvement. If Indiana avoids getting upset by rival Purdue at home, it will earn consecutive bowl bids for the first time since 1990 and 1991.
Michigan: The Wolverines desperately need to get Speight healthy enough to play the second-ranked Buckeyes on the road. He beat out O'Korn for the job this season behind closed doors at practice. In public, it was easy to see why Harbaugh chose Speight ahead of O'Korn. The Houston transfer missed open receivers when he had time and looked flustered when his offensive line didn't do its job in pass protection.
POLL IMPLICATIONS
Despite the relatively lackluster win, Michigan may stay where they are in The Associated Press college football poll and College Football Playoff rankings.
UP NEXT
Indiana: The Boilermakers will have a shot to spoil the Hoosiers' shot to become bowl-eligible.
Michigan: The Buckeyes are waiting, aiming for their fifth straight win in the series and 12th in 13 years. If the Wolverines win, they will advance to the Big Ten title game with a chance to win their first Big Ten title since 2004 and to earn a spot in the playoff.
''This one is for the all the marbles,'' Jabrill Peppers said. ''Everything we want is right in front of us.''
---
More AP college football at www.collegefootball.ap.org and https://twitter.com/AP-Top25 . Follow Larry Lage on Twitter at www.twitter.com/larrylage .
---