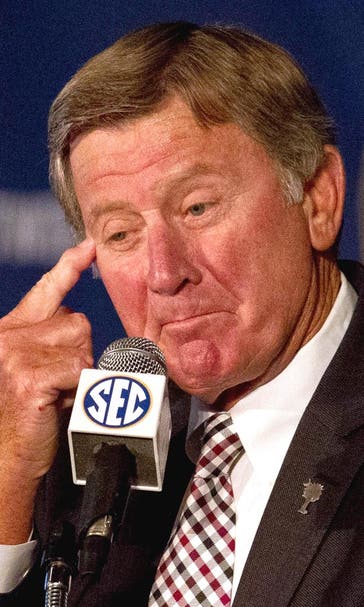 With zero SEC titles, South Carolina must do more than beat Clemson
BY Stewart Mandel • July 15, 2014
HOOVER, Ala. -- Florida had never won an SEC championship prior to Steve Spurrier's arrival there in 1990. Gators fans were presumably thrilled when he notched the first of six. By the time he left 12 years later, they considered any non-championship season a failure.
The bar was even lower when Spurrier came to South Carolina in 2005. The program had an all-time losing record, for one thing. It had joined the SEC only 13 years earlier and had never reached the league title game, much less win a championship.
Nine historically successful seasons later, the Ball Coach has racked up three straight 11-win seasons and the school's first-ever set of Top 10 finishes. But the Gamecocks have yet to hoist any championship trophies.
That wouldn't sit well at Florida or Alabama, but at South Carolina, they're too busy basking in their five straight wins over longtime in-state tormentor Clemson.
"If you ask our fans at South Carolina, I can assure you a majority would say, we would rather beat Clemson than win the SEC," Spurrier said Tuesday at SEC Media Days. "Personally I'd rather win the SEC."
Helped by a string of coveted in-state recruits like cornerback Stephon Gilmore, running back Marcus Lattimore and defensive end Jadeveon Clowney, Spurrier has elevated the program's ceiling to previously unimaginable heights. But it's time to up the expectations another notch. Between the caliber of talent South Carolina's accumulated and its recent competitiveness against the best teams in its conference, the Gamecocks really ought to cap one of these seasons somewhere more glamorous than the Capital One or Outback Bowl.
"We got a pretty good team, we think," Spurrier said at the podium Tuesday. "Most of the magazines got us about [No.] 9, 10, 11 in the country, something like that. Hopefully we can live up to that prediction." 
Why stop there? What about the top four, college football's new sacred number? That would likely require South Carolina finally ascending all the way to the top of its conference.
"We've won a lot of games, but we still have only won one division [title], haven't won an SEC," Spurrier said. "Those are goals that we have a shot at that could happen for the first time in school history. As far as the playoff, who knows? Shoot, yeah, we would have a chance."
The most maddening aspect of South Carolina's otherwise satisfying recent run is that for three straight years, it's defeated the team that wound up winning the SEC East -- Georgia in 2011 and '12 and Missouri last season. Two years ago it throttled the visiting Bulldogs, 35-7. Last season it pulled off a dramatic double-overtime comeback road win over the Tigers.
The problem is those teams did not lose another conference game, while South Carolina lost two. And they've often been games the Gamecocks had no business losing. In 2011 the Gamecocks fell at home to a depleted Auburn team that went 4-4 in conference play. Last year it lost on the road to an eventual 5-7 Tennessee team.
The teams they beat went to Atlanta instead of them.
"You're sitting on your couch watching like dang, man, that should have been us," said senior offensive lineman A.J. Cann.
Spurrier is no fan of the SEC's 6-1-1 scheduling format, which leads to imbalances with various teams' crossover opponents. Two years ago, the Gamecocks had to visit 10-3 LSU, losing 23-21, while Georgia's West division road game was at 3-9 Auburn. The schedule does South Carolina no favors again this year, with a Thursday night opener against Texas A&M and an Oct. 25 visit to defending league champ Auburn. Georgia, by contrast, visits Arkansas, winless in SEC play last season.
But enough with the scheduling excuses. If the recruiting rankings are to be believed, South Carolina should compete with anyone in the conference.
The Gamecocks lost a fantastic quarterback in Connor Shaw, but his replacement, senior Dylan Thompson, has already seen significant action due to Shaw's injuries. He's 3-0 as a starter, and Spurrier made a somewhat odd point of noting he was the only quarterback in the country to beat Fiesta Bowl champion UCF last year. Thompson will get plenty of help from 1,183-yard rusher Mike Davis and talented receivers Damiere Byrd and Shaq Roland.
South Carolina's biggest question is its defensive line, which must replace No. 1 draft pick Clowney and fellow starters Chaz Sutton and Kelcy Quarles. Sophomores Gerald Dixon and Darius English and juco transfer Abu Lamin will vie to be the new standouts alongside returning tackle J.T. Surratt.
"South Carolina's not going to fall off," said Surratt. "We've got some young guys, but they're going to step up."
Spurrier will forever be known as an offensive coach, but his defense, led for three years by coordinator Lorenzo Ward, has unquestionably been the backbone of South Carolina's recent success. The Gamecocks ranked second in the SEC in scoring defense last season (20.3 points per game) and allowed just 18.2 and 18.4 the two years before that.
Even with six returning starters, Ward faces a serious challenge this season handling the personnel turnover both up front and in the secondary, where cornerback Victor Hampton left early for the NFL. But looking at the rest of South Carolina's division, Georgia had two key defensive backs dismissed this offseason, Missouri is replacing all-conference defensive linemen Michael Sam and Kony Ealy, Florida and Tennessee are coming off losing seasons, Vanderbilt lost savior coach James Franklin and Kentucky is a non-factor.
If not now, when will South Carolina return to Atlanta?
"Every year's a different story," said Surratt. "This year we've got a story to tell and it starts Aug. 28."
Eleven wins and another win over Clemson would be another happy story. But at this point it's plenty reasonable for South Carolina to expect even more.
MORE MANDEL FROM HOOVER:
In year of transition, SEC badly needs boost in starpower
Stewart Mandel is a senior college sports columnist for FOXSports.com. Before joining FOX Sports, he covered college football and basketball for 15 years at Sports Illustrated. His new book, "The Thinking Fan's Guide to the College Football Playoff," will be released in August. You can follow him on Twitter @slmandel. Send emails to MandelMailbag@gmail.com.
---