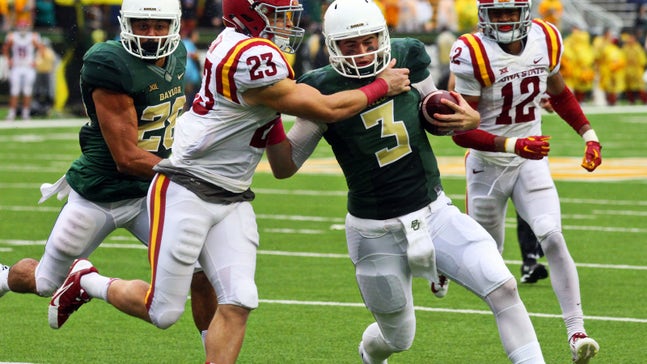 With CFP rankings rolling out Tuesday, Bears expect seat at the table
Published
Nov. 2, 2015 12:31 p.m. EST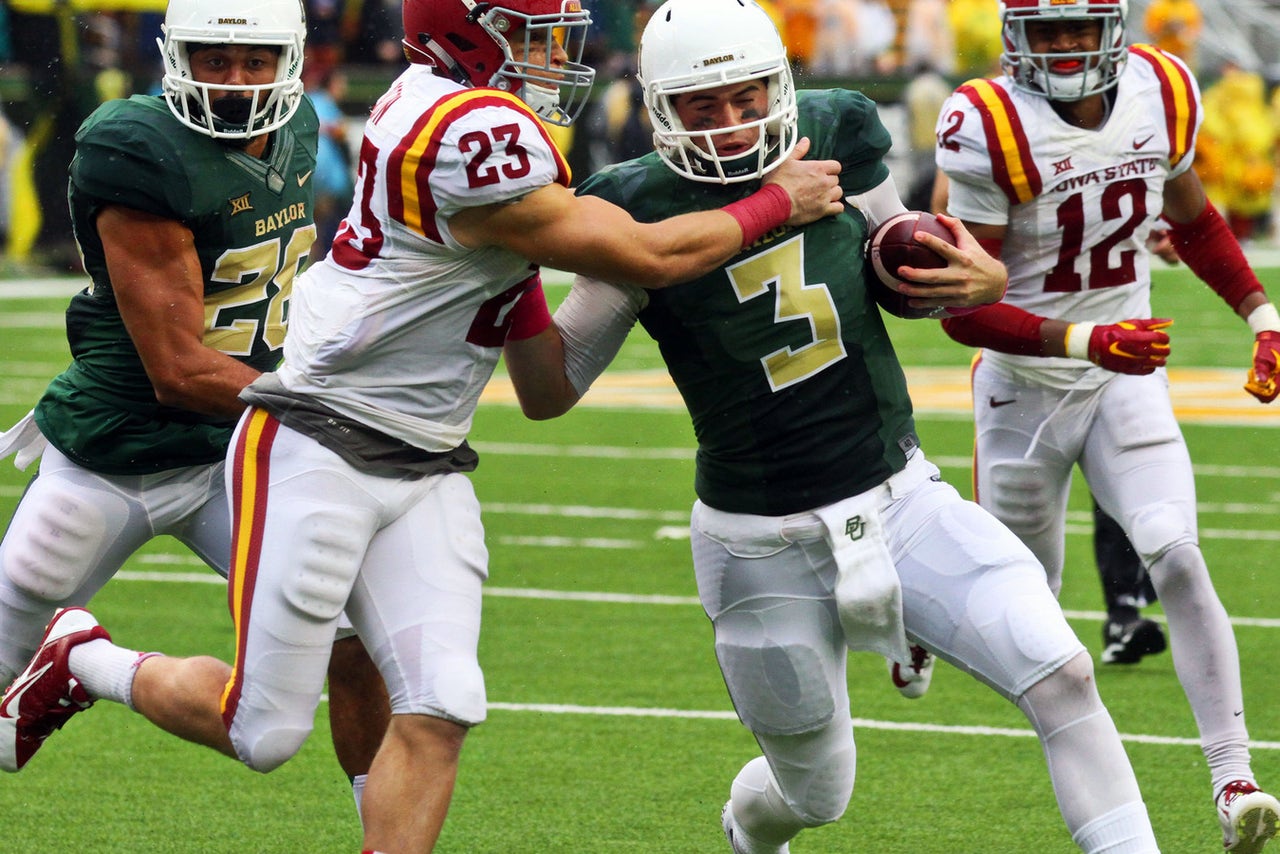 The Jarrett Stidham era -- at least for the remainder of the 2015 season -- begins Thursday night. But two days before that, the No. 2 Baylor Bears will know where they stand in the College Football Playoff hunt.
The first CFP rankings will be revealed Tuesday night, and even though the undefeated Bears lost starting quarterback Seth Russell to a season-ending neck injury in their last game, the expectation in Waco is that Baylor (7-0, 4-0 Big 12), the two-time defending league champs, will start in the top four. The top four teams in the final poll in little more than a month from now will advance to the national playoff.
And starting position certainly seems important. Start in the top four and Baylor would have to believe if it wins its remaining five games it will be in.
Start out of the top four and Baylor has to hope for help elsewhere. None of the top four teams in the latest AP top 25 poll -- Ohio State, Baylor, Clemson and LSU -- and which figure to be the top four in Tuesday's CFP rankings, play each other, although all have difficult matchups looming.
TCU, which split the Big 12 title with Baylor last season and was dumped from No. 3 to No. 6 by the CFP committee in last year's final rankings despite winning its finale by 52 points, could be in the difficult spot of starting just outside the top four and having to work its way in. TCU and Baylor, both of which were angry at being left out of last year's playoff, meet in Fort Worth on Nov. 27.
The Horned Frogs (8-0, 5-0) have lived on the edge this season while playing through numerous injuries to defensive starters. A narrow escape at Texas Tech followed by another one at Kansas State a few weeks ago green-lighted voters in the AP and coaches poll to leap Baylor ahead of TCU in their respective rankings.
And although Baylor has yet to play a ranked opponent, still has the meet of its conference schedule ahead of it (Oklahoma State, Oklahoma and TCU) and now passes the QB torch to a true freshman, it appears its well-oiled offense which leads the nation in yards and scoring, has been impressive enough to keep Baylor ahead of TCU and get it an initial top-four spot.
Although one AP voter predicted that TCU will land in the top four Tuesday and Baylor will not.
Nothing is guaranteed until the rankings are made official. You don't have to go any further than ask Baylor coach Art Briles to know that.
---