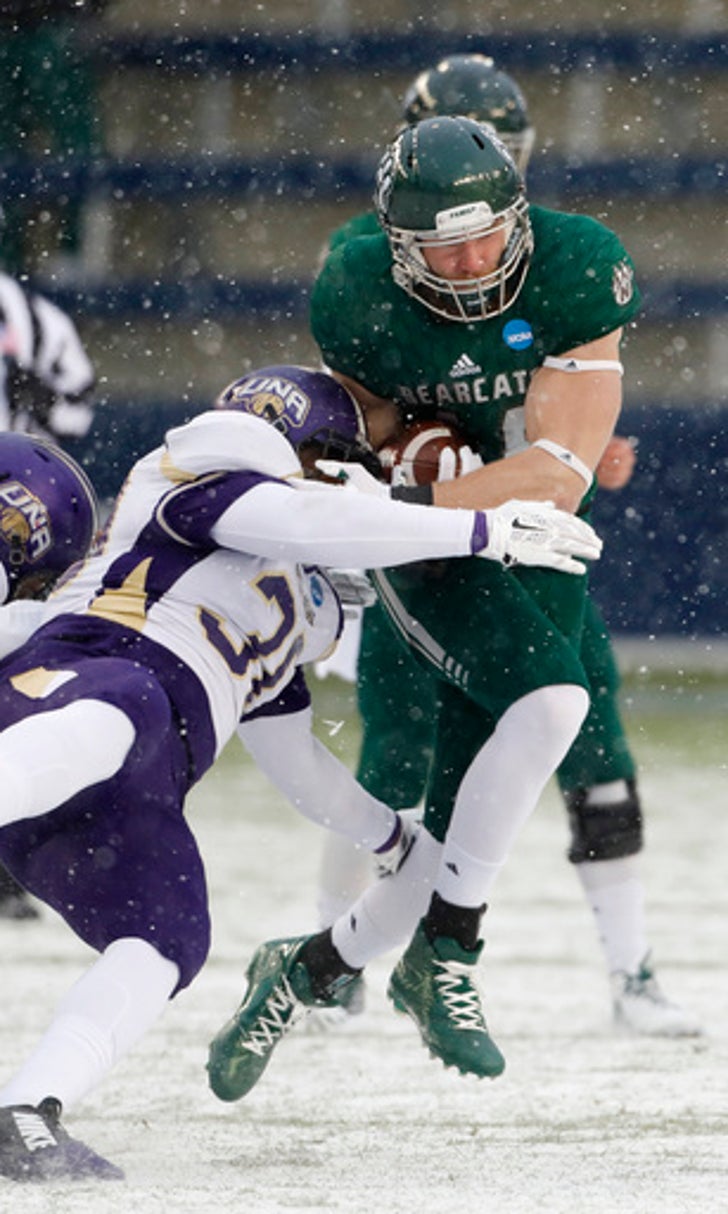 Wintry conditions too much for North Alabama
BY AP • December 17, 2016
KANSAS CITY, Kan. (AP) North Alabama couldn't physically prepare for the Kansas City weather conditions it faced Saturday in a 29-3 loss to Northwest Missouri in the NCAA Division II championship game. It just wasn't possible.
The temperature registered at 13 degrees with a wind chill of minus-4 at kickoff. At the same time, at North Alabama's campus in Florence, just over 600 miles away, the temperature was 70 degrees.
''It's not like we're going to have a big snow machine out on the practice football field,'' quarterback Jacob Tucker said. ''As far getting physically used to the elements, you just can't do it.''
Tucker said after he'd get tackled, his hands would get wet, and then as he began calling the following play, his hands would start freezing.
He didn't want to use the inclement weather as an excuse for his performance, but he couldn't come up with any other conclusions.
''It was something that I hadn't experienced before,'' Tucker said. ''It was a challenge for me and it was a challenge that I didn't step up to, because I made some bad throws because of it.''
Tucker completed 15 of 41 passes for 179 yards and threw one interception in the game.
Several North Alabama players warmed up in sleeveless shirts. Others warmed up without leggings on. Regardless of the Lions' attempted tactics to prepare for the cold, nothing seemed to work and Northwest Missouri State blew right through North Alabama.
In Bobby Wallace's 28-year head coaching career, he couldn't come up with a game that had remotely similar conditions.
''I coached eight years at Temple and I never saw a game like this before,'' Wallace said. ''Two of the three championships in the 90s was cold. The first was cold and rainy and the other one was just cold but we weren't playing in snow.''
Wide receiver Dre Hall, a Tennessee native, echoed both Tucker and Wallace's sentiments.
He said he had difficulty in both timing and running his routes.
''It messed with us a little bit,'' Hall said. ''I remember coming off the sideline and everybody was thinking, `this snow is three inches thick. How are we going to run in it?'''
Hall said he told his teammates that they had to pick their knees up. But even then, the receiving corps had difficulties.
Not only did the receivers have a hard time running in the snow, North Alabama's ground game was dismal as well, only having 22 yards rushing through the entirety of the game.
Tucker took the majority of the carries, 21 of 33, and only came away with 26 yards. Beasley's efforts on the ground didn't add much either, only having four carries for 29 yards.
Wallace knew coming into the game that their rushing efforts weren't going to match up evenly with Northwest Missouri.
''We tried to put a couple of guys back there, but neither one of them would be what you could call a 1,000-yard rusher,'' Wallace said. ''Our offensive line, we have some injuries this year and it was just a mismatch. Their defensive line is great. It's the best defensive line we've seen all year long. We'd just be running into (a) wall if we tried to run straight ahead.''
Even though North Alabama lost, Wallace was proud of his team and the effort his team gave.
''To be honest with you, I know that I'm as proud of our group as they are over there with what they've achieved,'' Wallace said. ''This group of seniors has won four conference championships, and that's never been done in the history of the conference, and played in the national championship game. If you think that's easy, it's not.''
---
---