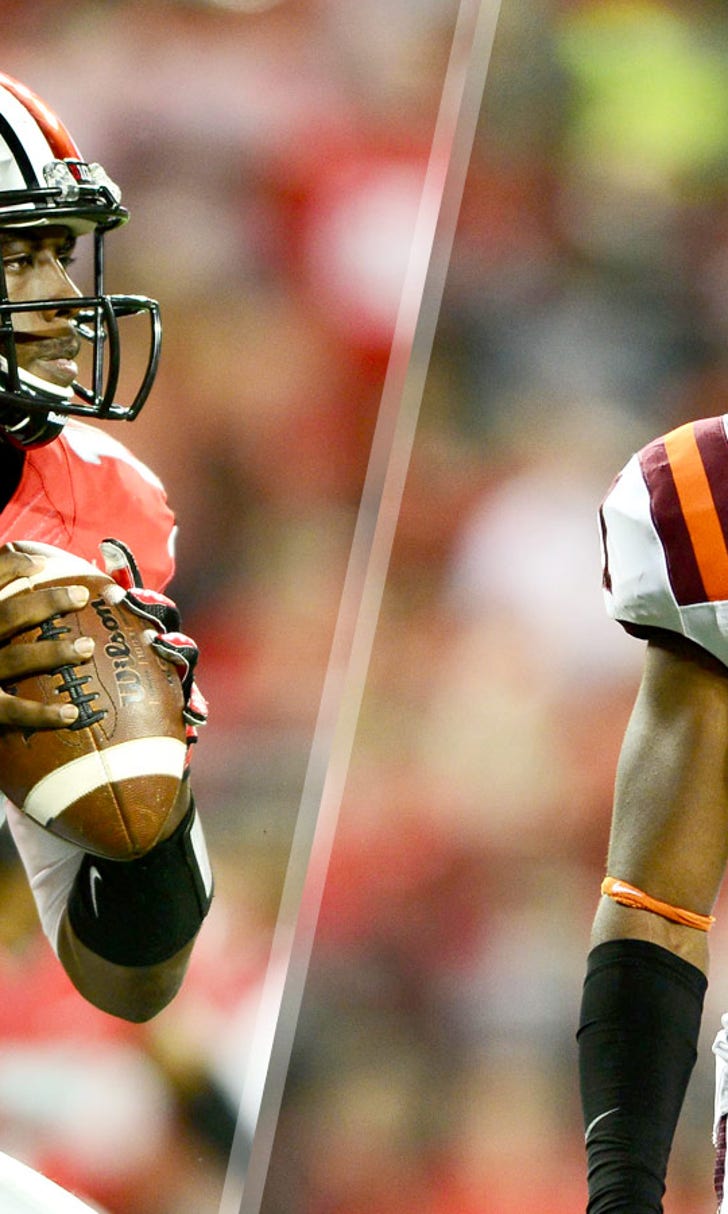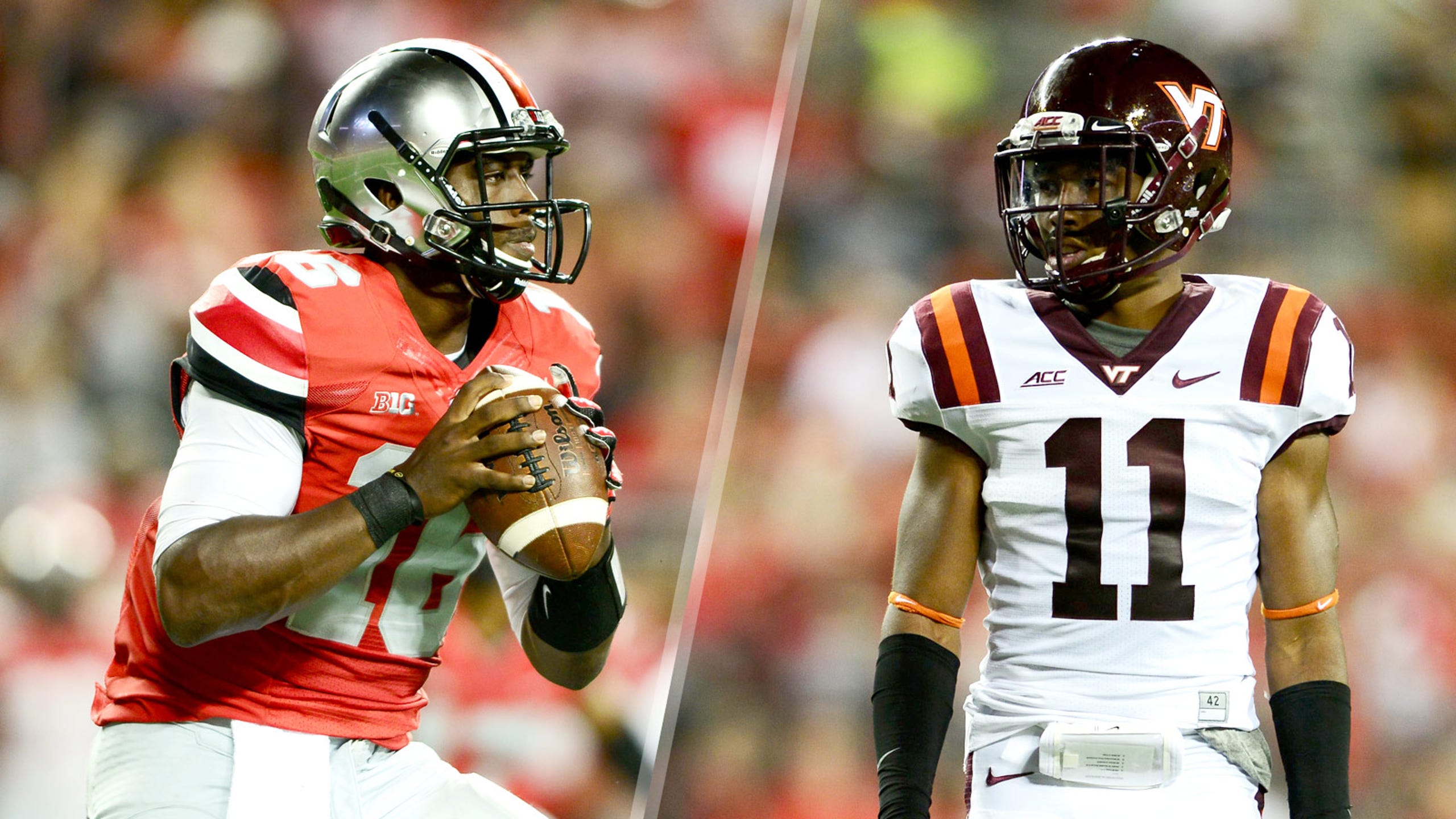 Why Ohio State-Virginia Tech can give us biggest upset of the year
BY Stewart Mandel • July 29, 2015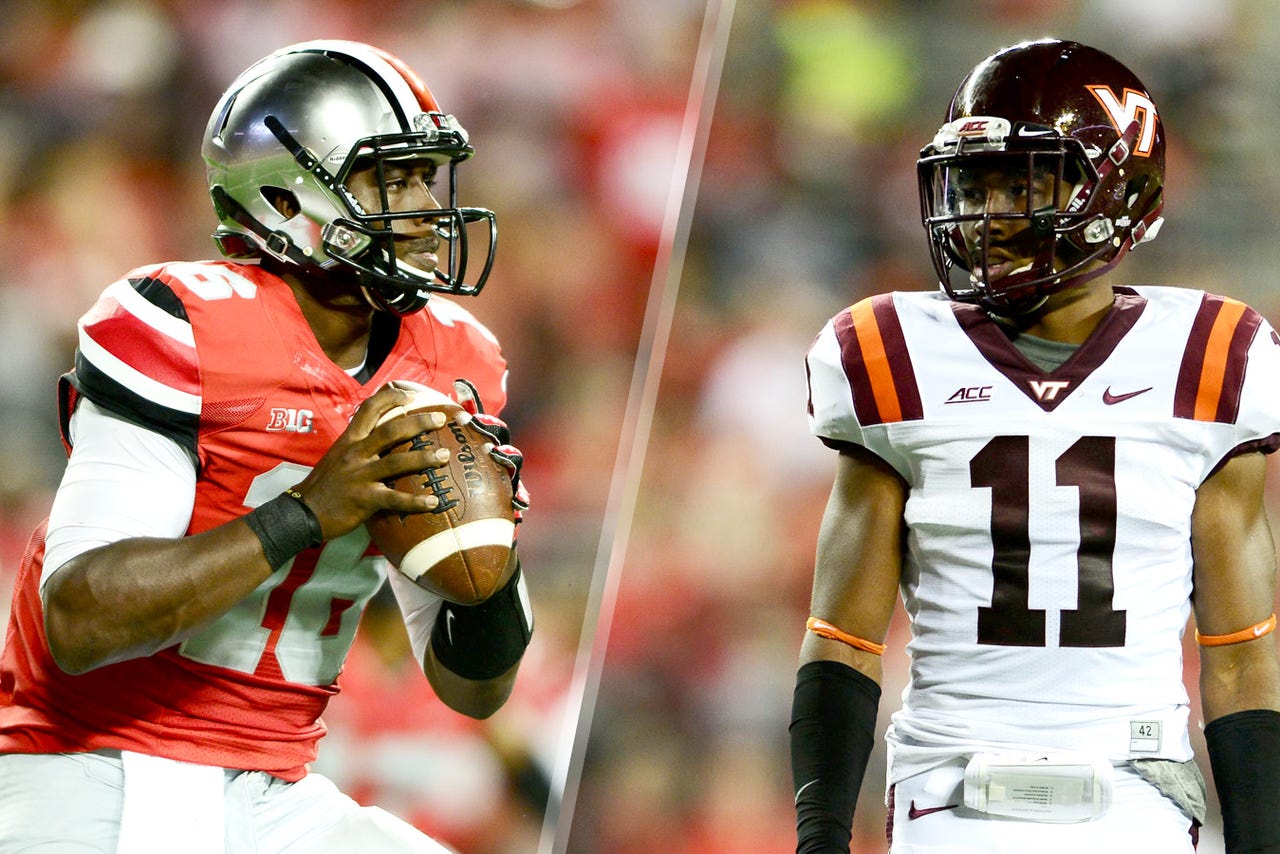 Editor's note: Send questions for future Mailbags to stewart.mandel@fox.com.
***
By now you know the Ohio State's Braxton Miller-to-receiver news, which prompted quite a few emails this week to the tune of "Just how unstoppable will the Buckeyes' offense be?" or "How will anyone stop Ohio State's offense?"
Suffice to say, they're going to really good. But all the more intriguing is the fact that J.T. Barrett and/or Cardale Jones will make his/their season debut against a pretty good defense in its own right.
Not that anyone's noticed.
What upset in the first two weeks of the season would cause the biggest shockwaves?
-- John Culbreath, Tulsa, Oklahoma (via Facebook)
Well, that's easy -- Virginia Tech taking down the overwhelming national title favorite on Labor Day night.
Recently I've seen several articles saying Vegas currently sees Ohio State as a double-digit favorite in every game on its 2015 schedule (even against Michigan State). While I agree the Buckeyes are more talented than any team they'll face, I don't consider it a given that they'll walk into Lane Stadium on a Monday night and blow out a Virginia Tech team that A) I believe to be a legit sleeper team nationally, B) beat Ohio State last year and C) enters its stadium to this.
It's no secret Frank Beamer's Hokies have struggled the past few years, most notably last season, when they infamously lost 6-3 in double overtime against lowly Wake Forest and needed a last-minute touchdown against Virginia just to get bowl eligible. Virginia Tech's offense, to put it nicely, was abysmal. Bud Foster's defense, on the other hand, was largely its usual splendid self, ranking 11th in Football Outsiders' S&P efficiency rankings. And this year's unit could be special. Defensive lineman Luther Maddy and cornerback Brandon Facyson, both former All-ACC performers who missed most of last season, return to join All-American cornerback Kendall Fuller and All-ACC linemen Dadi Nicolas, Ken Ekanem and Corey Marshall.
On paper at least, Virginia Tech's defense is positively Ohio State offense-esque. How fun will it be to see the two collide?
Understandably, everyone will be tuning in to see Jones/Barrett, Ezekiel Elliott, Miller and the like, and they may well run the Hokies off their own field. But what if it's only 17-10 going into the fourth quarter? The stadium would get downright hostile. The pressure on OSU would start mounting. And Twitter will have, of course, blasted Meyer for picking the wrong QB.
Other potential upsets are far more likely, but John specifically asked for one that would cause the biggest shockwaves. Can't ask for bigger than that. The universal title favorite would suddenly be iffy to even reach the playoff, and Virginia Tech would go from off the radar completely to prime contender.
Typically in the spread schemes that teams like Clemson, Ohio State and Oregon use, the called QB run is a large part of the offense. However the risk has always been that the starting QB gets hurt and a presumably less-talented backup has to come in. We assume this is why Marcus Mariota ran the ball less than 10 times per game despite being one of Oregon's best runners. Will Ohio State's having almost no drop-off when the backup comes in lead to more QB runs?
-- Josh Loschen, Marshfield, Wisconsin
It's hard to imagine the QB run game could be any bigger a component than it already is. Meyer, more than most coaches, holds little trepidation about letting his quarterback run. Obviously, Tim Tebow was the prime example. In three seasons as Florida's starter he averaged nearly 15 rushing attempts per game, and there were weeks when that number climbed well into the 20s. In 2012, when Miller was essentially Ohio State's entire offense, he ran at least 20 times in half the games. The next year he ran at least 16 times in nine games. And in last year's playoff, even with the Buckeyes down to essentially no backup behind Jones, the big guy ran 17 times against Alabama, 21 against Oregon.
Meyer seems to realize what many coaches refuse to acknowledge: A quarterback is much more likely to get hurt by a monstrous pass-rusher plowing into him on a pass attempt (which is exactly what happened to Miller when Clemson's Vic Beasley sacked him in the 2014 Orange Bowl). Just look at the NFL, where QBs are constantly getting hurt despite a host of precautions.
Stewart, what is the big hub bub that Notre Dame should not be considered for the playoff if it does not join a conference? I am not an Irish fan, and agree at this point they should be in a conference. But you know what ND doesn't do? Schedule FCS schools like Clemson or Missouri do.  That should be a disqualifier for the playoff.
-- Forest, Montesano, Washington
It's bizarre, isn't it? Notre Dame is coming off an 8-5 Music City Bowl season, yet a lot of coaches out there are suddenly concerned about the Irish's playoff access. Gary Pinkel's seemingly out-of-nowhere comments began the whole thread. I'm not surprised that ACC coaches would say the same when asked, given that Notre Dame is playing ACC teams every year, sharing in their bowl partnerships and conference revenue but still not actually a member. You can see why that'd cause some grumbling.
That being said, not only do ACC coaches lack the power to force Notre Dame to join their conference, but the College Football Playoff itself can no sooner force a school to join a conference than it can force the Big 12 to hold a championship game, force the SEC to play nine league games or force Texas and Texas A&M to schedule each other.
Always remember my golden rule of college football: No one is in charge.
The thing I'd tell Dabo Swinney, Dave Doeren and everyone else quoted in that article is that no, the sport is not uniform, but the whole purpose of having a selection committee is to weigh those discrepancies. It did just that last year when it picked four 13-game conference champions and left out 11-1 TCU and Baylor. The Irish could well meet the same fate one year. Or, the opposite could hold true. Or, on the off chance Doeren's NC State team is a contender this year, the committee could look at a schedule that includes Troy, Eastern Kentucky, Old Dominion and South Alabama, put it up against an ND schedule whose four worst opponents include two other Wolfpack foes (Wake Forest and Boston College) and say . . . really Dave Doeren?
By the way, Notre Dame's last game this season is at Stanford. What odds would you give me that the Cardinal go in ranked higher than one of the two teams in the ACC championship game?
Stewart -- just read your piece on SEC whining. I would hate to be your email account this week! Do you have a top-four of crazy -- er, impassioned -- SEC fan rejoinders to share with us?
-- Mark Gribbin, Richmond, Virginia
Sadly, angry reader emails -- a fixture of this column for so many years -- are almost non-existent at this point. Twitter now seems to be the medium of choice for directing angst at sportswriters, and those things come and go so quickly I never remember to save them for future use.
Of the emails I did receive, though, they were actually split between "thank you" (non-SEC fans) and "your [sic] an idiot" (SEC fans).
Great article exposing the Southern Excuses Conference. Suck it, Whiners!
-- Scott Saxton, Windsor, Ontario 
See what I mean?
Hey Stewart -- love the new Facebook Mailbag submissions. This past week there has been a lot of talk about the Big 12, possible expansion, and what really went down a few years ago when four schools bailed out. One silly comment that was made was that Nebraska should move back to their old conference. Please, PLEASE tell me that was simply the musings of a misguided coach/blogger/crack fiend and not a likely possibility.
-- Thom Roose, Cincinnati, Ohio
Ah yes, realignment rumors. You never fail to amuse me.
Nebraska left the Big 12 in 2010 due in large part to the league's chronic dysfunction (fueled at that time by Missouri openly lobbying to join the Big Ten). Five years later, the Big 12 is still marked by divisiveness, odd marriages and questions about its stability. So yes, absolutely, Nebraska is going to reverse course on the steady, markedly unified and filthy rich (and about to get that much richer) Big Ten to go back to the Big 12. Suuure. But according to Lee Barfnecht of the Omaha World Herald, whose realignment stories last week fueled this latest round of buzz, "The topic of Nebraska looking at a mulligan on conference affiliation was -- and maybe still is -- hot in these parts." Hence, the (unfounded) rumors.
Aside from that, the details Barfnecht reported about five Big 12 schools reaching out to the Big Ten in 2010 were absolutely correct, according to sources in the conference. But I wouldn't read too much into that. During those chaotic few weeks when Texas nearly bolted to the Pac-10 and Texas A&M first flirted with the SEC, everyone in that league was exploring all of their options. They had no choice. And while this line at the end of his story -- ". . . the Big Ten has done its 'homework' to evaluate Oklahoma and Kansas as potential members" -- worked realignment fanatics into a frenzy, I'm told "nothing is happening" on that end. Even if the Big Ten does decide to go to 16, it would have to want those two schools badly enough to go to court and challenge a Grant of Rights deal that all current Big 12 schools signed through 2025.
So check back in a decade.
Hey Stewart. Love the column. We're all familiar with the 2012 West Virginia and 2014 Oklahoma Bowl Effect [where a team gets wildly overrated coming off a tremendous bowl performance], but is it possible there's an opposite effect in which we downplay a team's prospects based on its bowl game? If so, who do you see in that role this year?
-- Russell, Fort Worth, Texas
Of course -- Oklahoma. A year ago people were fighting for spots on the Sooners' bandwagon following a Sugar Bowl upset of Alabama that bore no resemblance to the way they played all season. A year later, Bob Stoops' program is considered in crisis due largely to a colossal bowl flop against Clemson that bore no resemblance to how either team performed all season (with Tigers quarterback Cole Stoudt reprising the role of OU's Trevor Knight a year earlier). Oklahoma had an unquestionably disappointing 8-5 season, but it's not like the Sooners made a habit of losing 40-6 like they did in the bowl game. On the contrary, three of their losses came at the wire to TCU (37-33), Kansas State (31-30) and Oklahoma State (38-35).
Even with that bowl debacle on its record, Oklahoma finished 13th in the aforementioned S&P rankings. Any discussion of this year's Sooners should probably be about whether they will return to or approach the top 10, not whether they'll barely crack the top 25. I'd say much the same thing about Ole Miss coming off its Peach Bowl debacle against TCU. The Rebels beat three double-digit win teams last season (Boise State, Alabama and Mississippi State). A fourth, TCU, humiliated them, but that doesn't mean the other three results should be dismissed when considering Ole Miss' 2015 potential.
Stewart: At Penn State, fans feared for years that JoePa would complicate his retirement and the hiring of a new coach by declaring his son Jay the successor. I hope it goes without saying that everyone would have preferred that "nightmare" scenario to the true nightmare that happened. Now, Bill Snyder has come out and said he wants his son Sean to succeed him as coach at Kansas State when he retires. I find myself again wondering how exactly a school deals with this sort of declaration from a coaching legend. How do you see this playing out?
-- Foster, Wilmington, North Carolina
It's an interesting and potentially dicey situation for a couple of reasons. For one thing, Snyder, now 75, already retired once. At that time he gracefully stepped back, only to watch the school hire an outsider, Ron Prince, who mucked up the program so badly in three years that Snyder himself came back to the rescue. So you could see why he'd want more say in whom he entrusts to be the next coach at Bill Snyder Family Stadium. Furthermore, Sean Snyder is arguably much more qualified to take over the program than Jay Paterno would have been at Penn State. While only technically a coach for the past five years, Sean has been the program's director of operations for two decades. If anything he's more in tune with the daily ins and outs of running a power program than a regular position coach, who deals with only his own little corner of the larger enterprise.
Ultimately, it's not an exact parallel. Paterno, as has been well-documented, called all the shots in Happy Valley. The president and AD were his puppets. Snyder, though he carries a lot of weight, works for two of the more influential voices in college athletics in AD John Currie and president Kirk Schulz (who serves on the NCAA Executive Committee). When the time comes, they'll hire whoever they think's best for the job, be it Sean Snyder or an outsider. And it matters when exactly that time will be. If Bill Snyder decides to run off into the sunset after another 10-win season, you better be awfully sure you've got the right guy if you're going to tell him you're going a different direction. If he goes 5-7, it might be a much different decision.
If a Group of Five team ran the table and beat three or four power conference teams in the process, what would its ceiling be in terms of playoff rankings? An example this year is Western Kentucky playing LSU, Vanderbilt and Indiana.
-- Ross from Louisville, Kentucky
You know the whole debate (endorsed by Art Briles) whether Baylor and TCU would have fared better with the selection committee last year had they been called Oklahoma and Texas? I don't agree on that one, but committee members are human, humans are prone to brand-based biases, and I'm guessing that's more pronounced with the Group of 5 teams. Boise State has been beating top teams nationally for years, which undoubtedly played a role in why the committee saw past the Broncos' two losses last year and elevated them to highest of the bunch. A team like Western Kentucky, on the other hand, has no such history to speak of, so it has to do more to prove its worth.
The Hilltoppers are worth examining, though, because they figure to be one of the most explosive teams in the country this season behind quarterback Brandon Doughty. WKU could be this year's Marshall -- the team it memorably beat 67-66 in overtime last year -- but with a better schedule. Realistically, LSU is the only one of that trio that could be a top-25 team, but for hypothetical sake let's say Indiana goes 8-4, too. (I don't have high hopes for Vandy.) Would those two victories, plus wins over decent Louisiana Tech and Marshall teams, be enough to compensate for playing more than half a schedule against teams ranked in the 80s-110s? Maybe enough to finish highest of the Group of 5 champs, but not likely anywhere near the top four.
Nothing any of those SEC coaches said is anything but the truth. It pains me to agree with anything Gus Malzahn says, but he's right. If you're beloved Buckeyes played an SEC slate they probably wouldn't even make the playoffs. Even you can see there's a huge difference between a one-off scenario and the meat-grinder schedule that is the SEC. And the little Irish....please..what a joke. Gracious what passes for journalism these days. Cracks me up...get paid for uninformed non-sense... ROLL TIDE
-- Mark, from somewhere
At least I got one of these. Your welcome.
Stewart Mandel is a senior college sports columnist for FOXSports.com. He covered college football and basketball for 15 years at Sports Illustrated. You can follow him on Twitter @slmandel and Facebook. Send emails and Mailbag questions to Stewart.Mandel@fox.com.
---