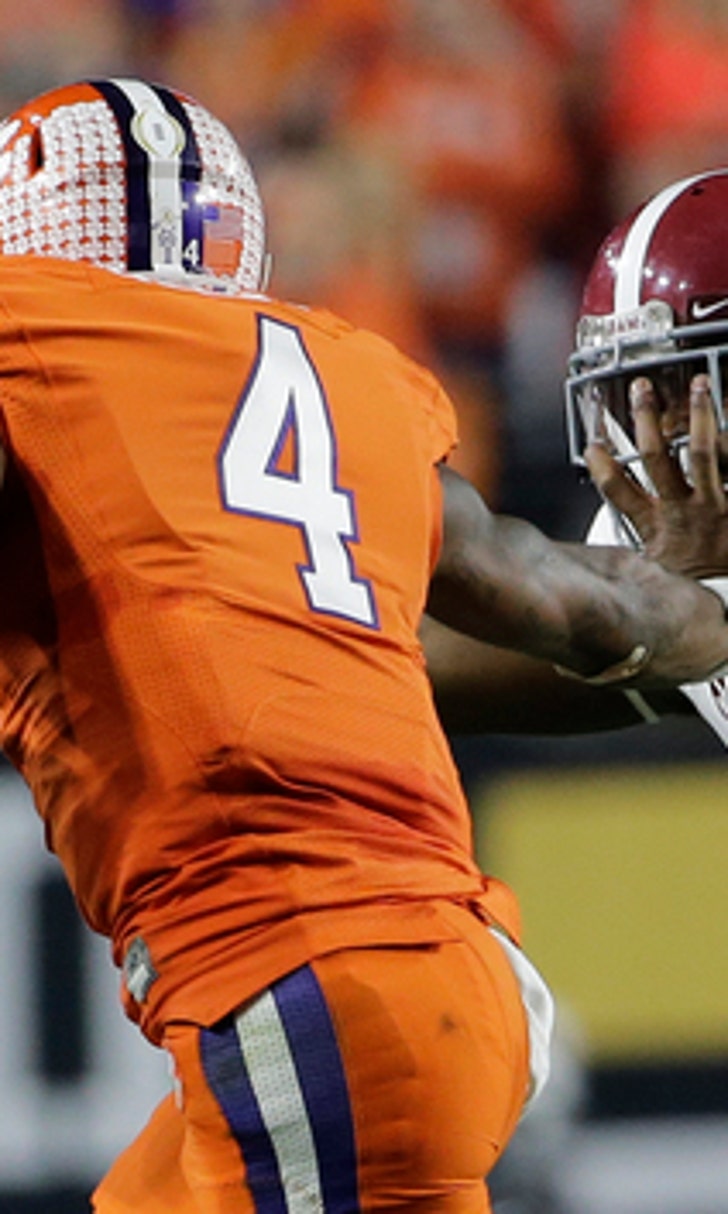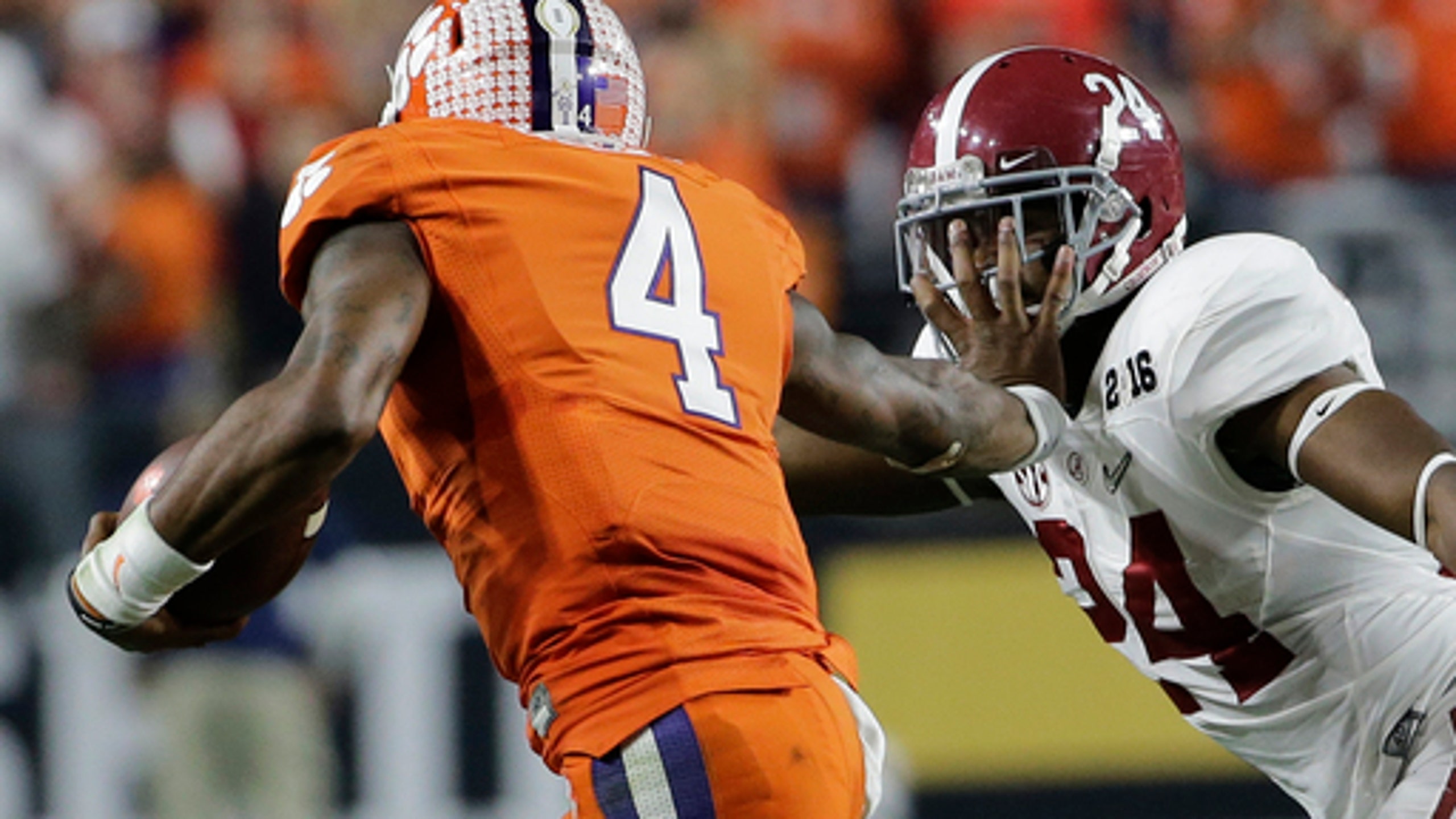 Watson's big night can't lift Clemson to title
BY foxsports • January 12, 2016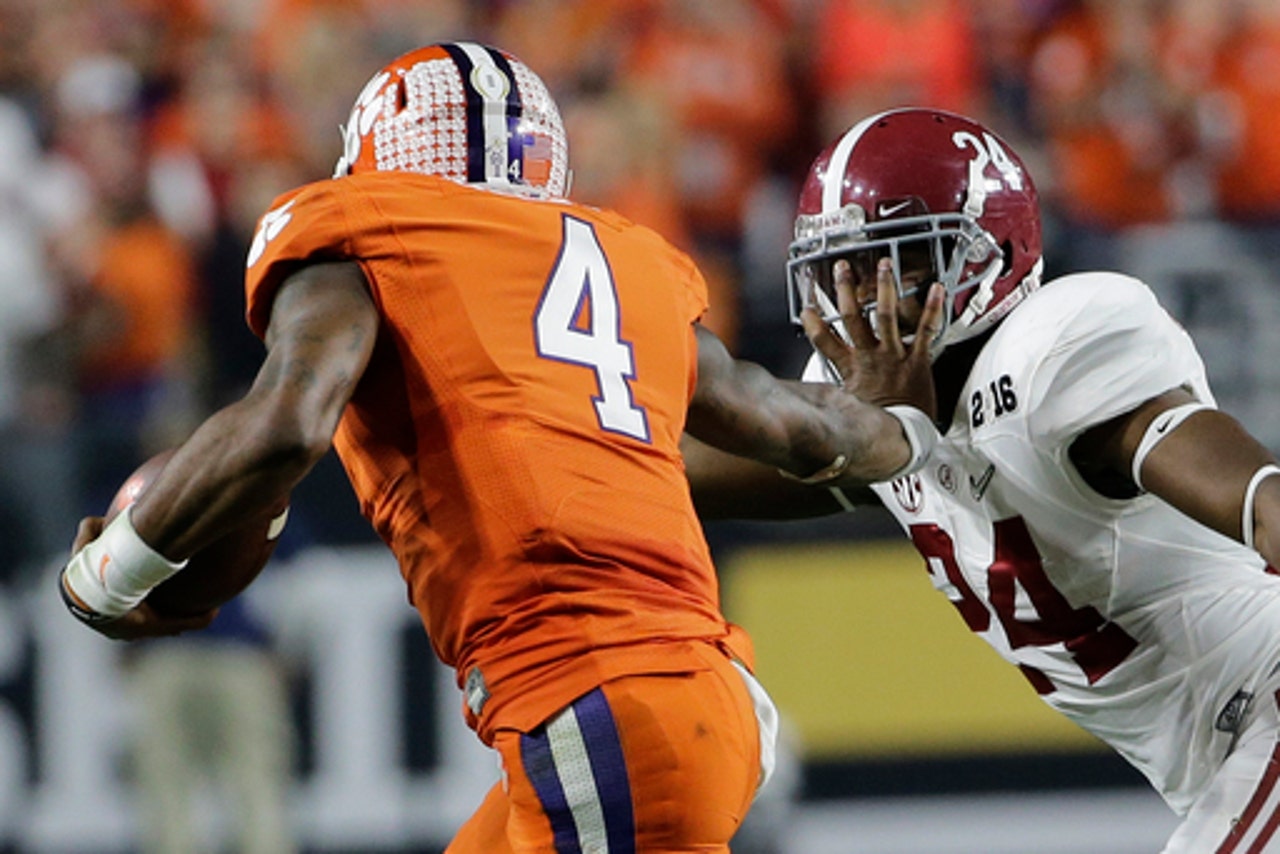 GLENDALE, Ariz. (AP) Get ready, Heisman. Deshaun Watson's coming for you.
Clemson's sublime sophomore marked himself a clear front runner for college football's top individual prize with a stellar performance on the biggest stage of his career. The only drawback? Watson and the Tigers couldn't pull out a victory, falling to Alabama 45-40 in the national championship game Monday night.
If anyone though Watson would be rattled by Alabama's huge, fast defensive line, they were quickly proven wrong. Watson threw for four touchdowns and accounted for 478 yards of offense, the Tigers topping the Crimson Tide almost everywhere but on the scoreboard.
Watson was about the only one not impressed by his showing.
''At the end of the day I wanted the W,'' he said. ''All the stats don't really matter to me. I just wanted to get the win and do something we hadn't done in 34 years.''
It might not be that long before Clemson contends again, especially with Watson back next season.
Watson, who finished third behind Alabama's Derrick Henry and Stanford's Christian McCaffrey in the Heisman Trophy voting, had carried the Tigers (14-1) all season. He broke the Atlantic Coast Conference mark for total yardage held for 13 years by NC State quarterback Philip Rivers.
Even in defeat, Watson passed his toughest test.
''No question, no doubt about it,'' Clemson coach Dabo Swinney said when asked if Watson was the country's best player. ''He's special, he really is.''
Alabama coach Nick Saban was impressed, too.
''We thought, to be honest with you, we could do a better job against their quarterback,'' Saban said. ''He did a fantastic job in the game.''
Watson had two scoring passes to Hunter Renfrow in the opening half, the first coming as he sweetly dropped the ball into his receiver's arms between two Alabama defenders.
Alabama had allowed only 19 points in the opening quarter its first 14 games before giving up two touchdowns to Watson's Tigers.
Watson finished with 405 yards passing, the most any quarterback has hung on the Crimson Tide this year. He also ran for 73 yards.
Watson's had bigger stat showings, his career best coming with 435 yards passing in his first game as a starter last season against North Carolina.
His performance was reminiscent of Vince Young's dramatic effort in leading Texas past USC in the 2006 Rose Bowl for a national title. Young's 467 total yards - 200 rushing, 267 passing - represented a seminal effort for dual-threat QBs and Watson was better. He just didn't bring home the title.
Watson said the trek to next season starts when he returns to campus this week. Asked where he can improve next season, offensive lineman Eric Mac Clain quickly interrupted, ''Nowhere.''
Watson disagrees. He said he's got to work on his accuracy and get stronger. He understood his mistake in a first-half interception that gave Alabama the chance to tie the game and blunt Clemson's momentum.
Clemson, though, could not back up its quarterback.
Alabama seized control on special teams, first with an onside kick that two plays later, led to a 51-yard TD pass from Jake Coker to O.J. Howard. Then came Kenyan Drake's dramatic 95-yard kickoff return score after Clemson had closed within 31-27.
It was just the second time Watson lost as a Clemson starter. He came into the season a question mark, a superbly talented dual-threat with a history of injuries.
Watson had surgery last December to repair the ACL in his left knee. He said from the outset that he wouldn't let that change his style - and Watson did not.
He led Clemson to its 15th ACC title in December and a second straight blowout bowl victory over Oklahoma, this one in the national semifinals.
Watson's play, though, could not make up for Clemson's mistakes on defense and special teams. Those are correctible, Watson said, and will be fixed before next season - and another run at a national title.
''You'll see us in in Tampa next year,'' he said.
---
AP College Football website: collegefootball.ap.org
---
---