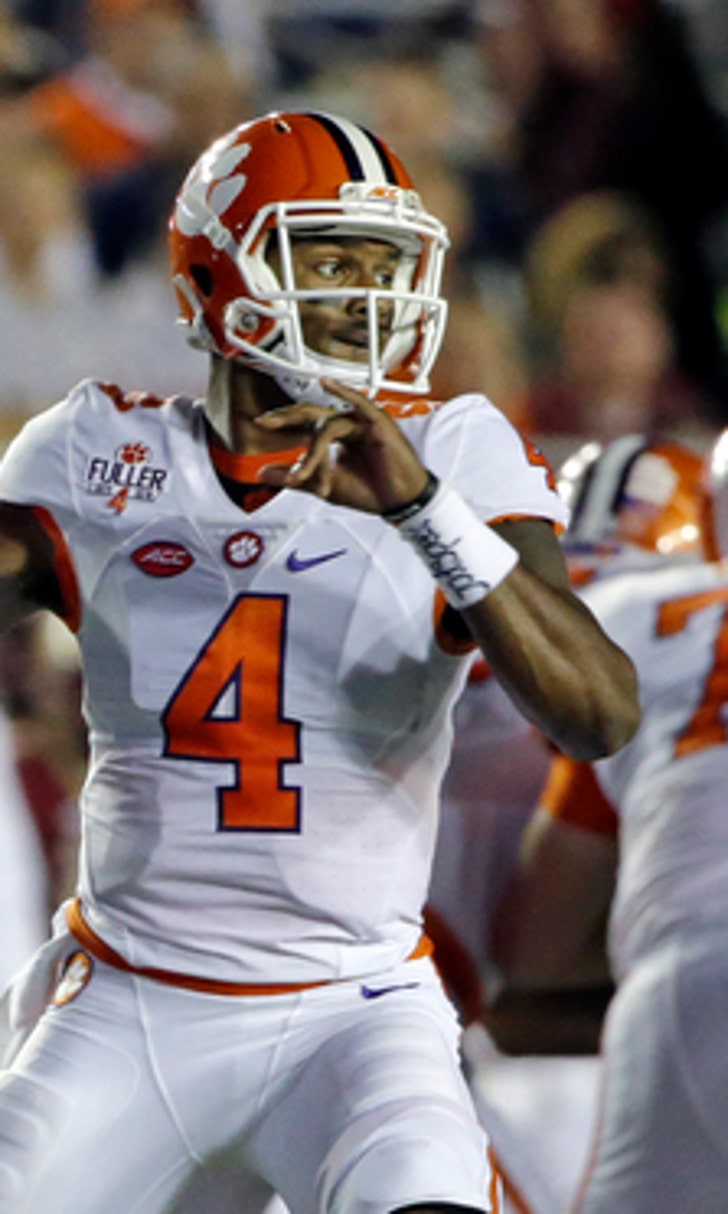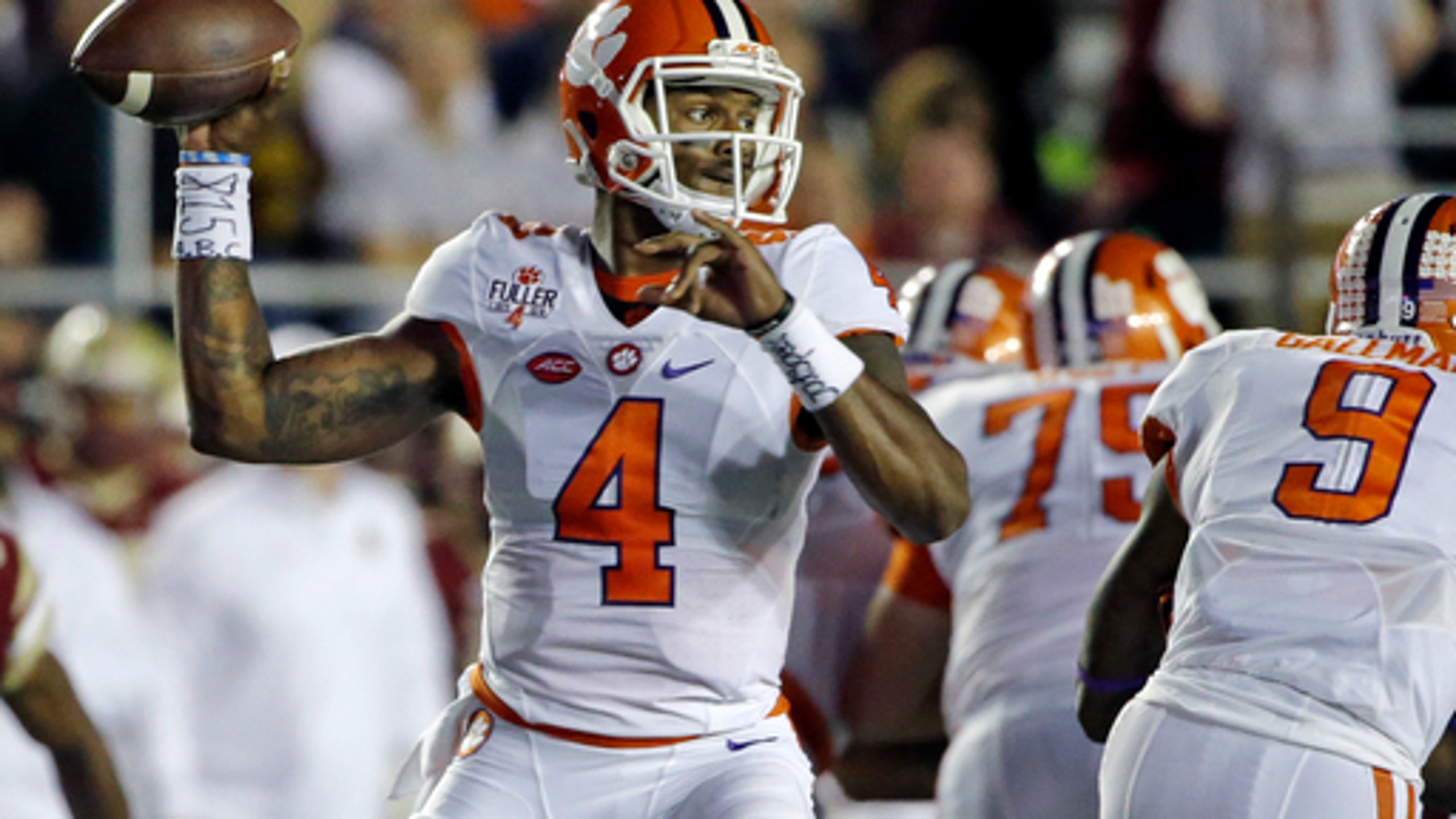 Watson and No. 3 Clemson take of care business at BC, 56-10
BY foxsports • October 8, 2016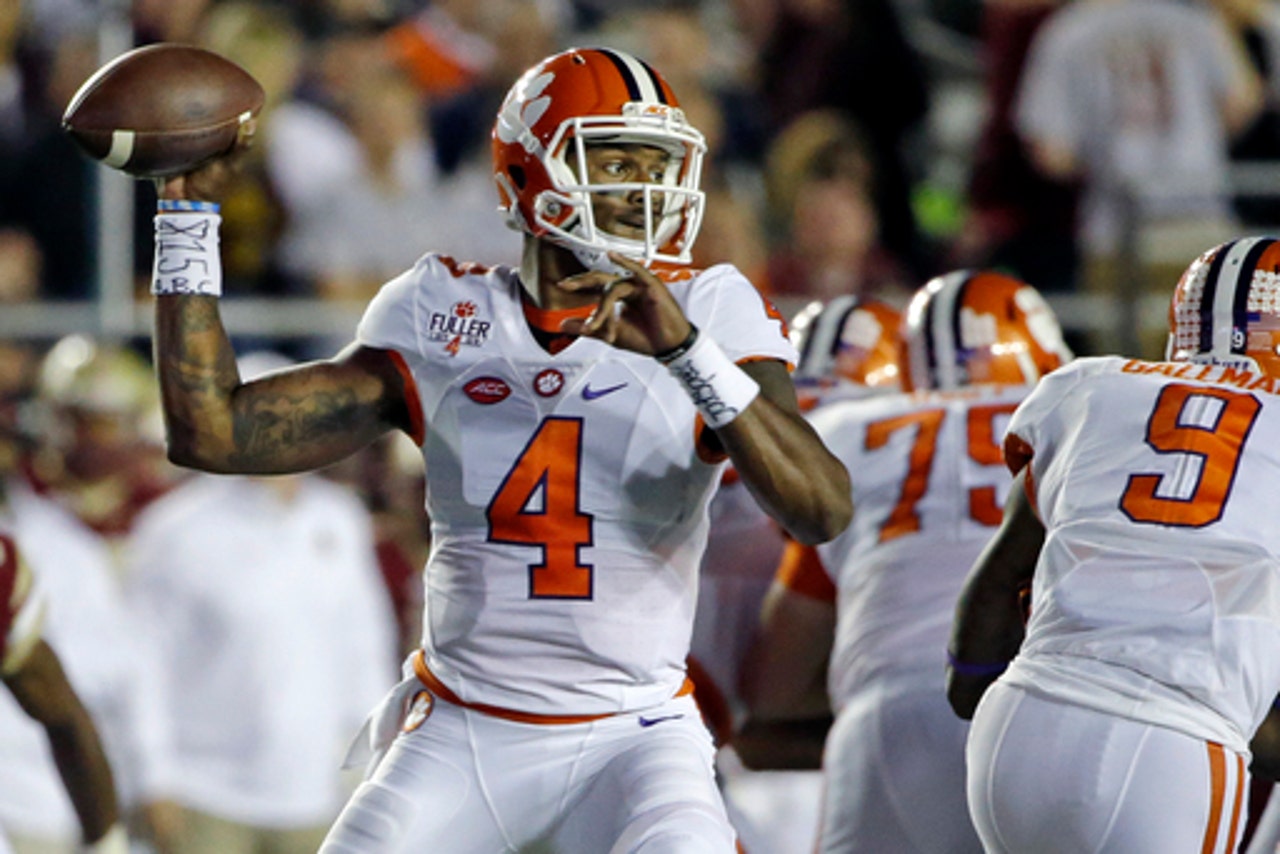 BOSTON (AP) Deshaun Watson threw four touchdown passes and helped clear the way for Wayne Gallman's 59-yard scoring run with a block and No. 3 Clemson beat Boston College 56-10 on Friday night.
Clemson (6-0, 3-0 Atlantic Coast Conference) extended its conference winning streak to 12 games and its road winning streak to eight, which matches a school record set from 1978-79.
''I've been doing this a long time. There's a reason that record's only eight. It's really hard to do,'' Swinney said, doing his postgame news conference with the big bronze O'Rourke-McFadden Trophy that goes to the winner of this rivalry sitting on the table next to him.
Boston College (3-3, 0-3) lost its 11th consecutive ACC game.
Clemson broke three plays of at least 50 yards in the first quarter, two for touchdowns and another that set up a score. Watson picked off a defender on the edge to help spring Gallman for the game's first touchdown. Watson's 59-yard touchdown pass to Jordan Leggett made it 21-0 late in the first half. That was all the Tigers needed.
''Those three plays were costly right there,'' Boston College coach Steve Addazio said. ''The last thing I wanted to see us do is give up some big plays.''
TAKEAWAY
Clemson: Hard to expect an A-plus effort from the Tigers, who were coming off a draining, dramatic victory against Louisville and traveled north on short rest. There were plenty of Clemson fans in the sellout crowd of 44,500, but not much intensity in Alumni Stadium. Still, the Tigers took care of business and seemed to come out of the game healthy.
Swinney said the team hit ''a wall'' on Tuesday. He cut back the practice schedule, gave the players and coaches a little extra rest and they came back rejuvenated.
''It was a taxing week, but our guys didn't complain. They just went through the grind,'' Swinney said. ''They just did a great job. I love that mentality of that team. We came up here to play our best game of the year. We had our best game of the year.''
Boston College: The Eagles just can't match-up against this level of opposition. BC's best first-half drive covered 80 yards and got inside the Clemson 1. Twice on fourth-and-goal, quarterback Patrick Towles fumbled the snap because center Jim Cashman, who was playing in place of the injured Jon Baker, was knocked into the backfield by Tigers tackle Scott Pagano. The first one was wiped out by an offside penalty by Clemson, so Pagano did it again.
HOMECOMING
Clemson star defensive tackle Christian Wilkins, from Springfield, Massachusetts, had four tackles, two for loss, including a sack, in his first college game in his home state.
UP NEXT
Clemson: The Tigers return home to face North Carolina State on Oct. 15.
Boston College: If the Eagles are going to break the ACC losing streak, the next game could be their best opportunity. Boston College hosts Syracuse on Oct. 22 in a matchup of one team that can't play offense (BC) and another that can't play defense (Syracuse).
---
Follow Ralph D. Russo at www.Twitter.com/ralphDrussoAP
More college football coverage at http://collegefootball.ap.org/
---