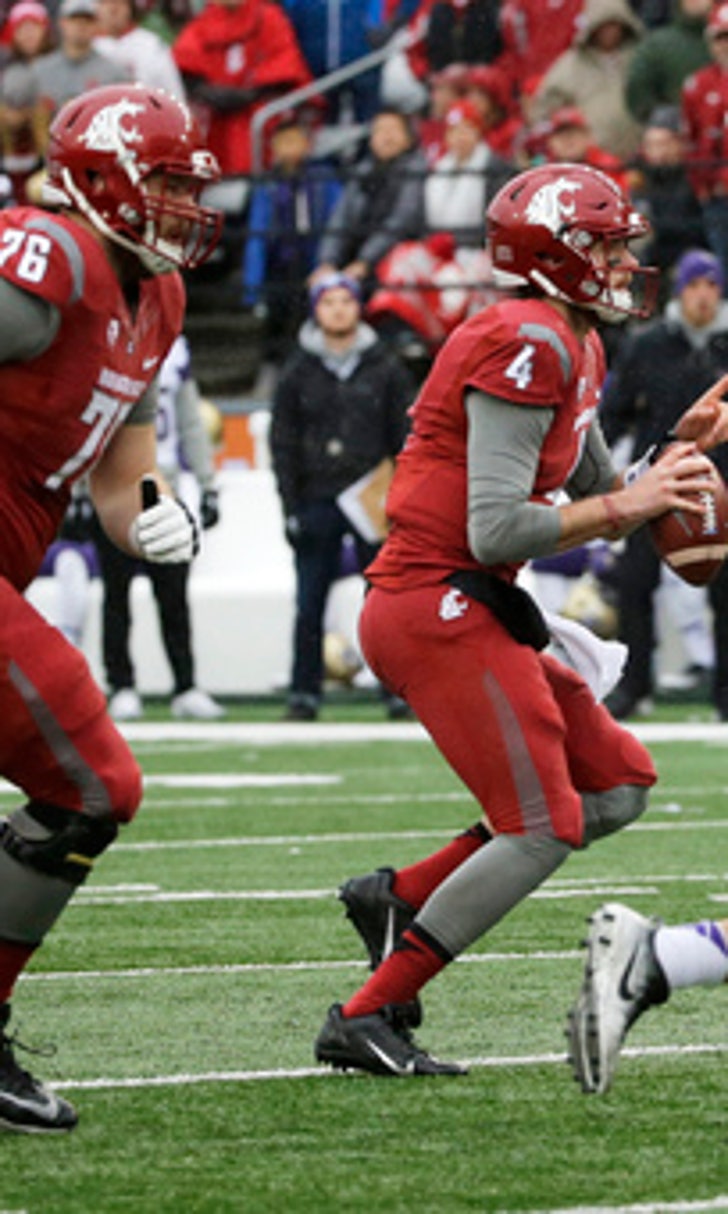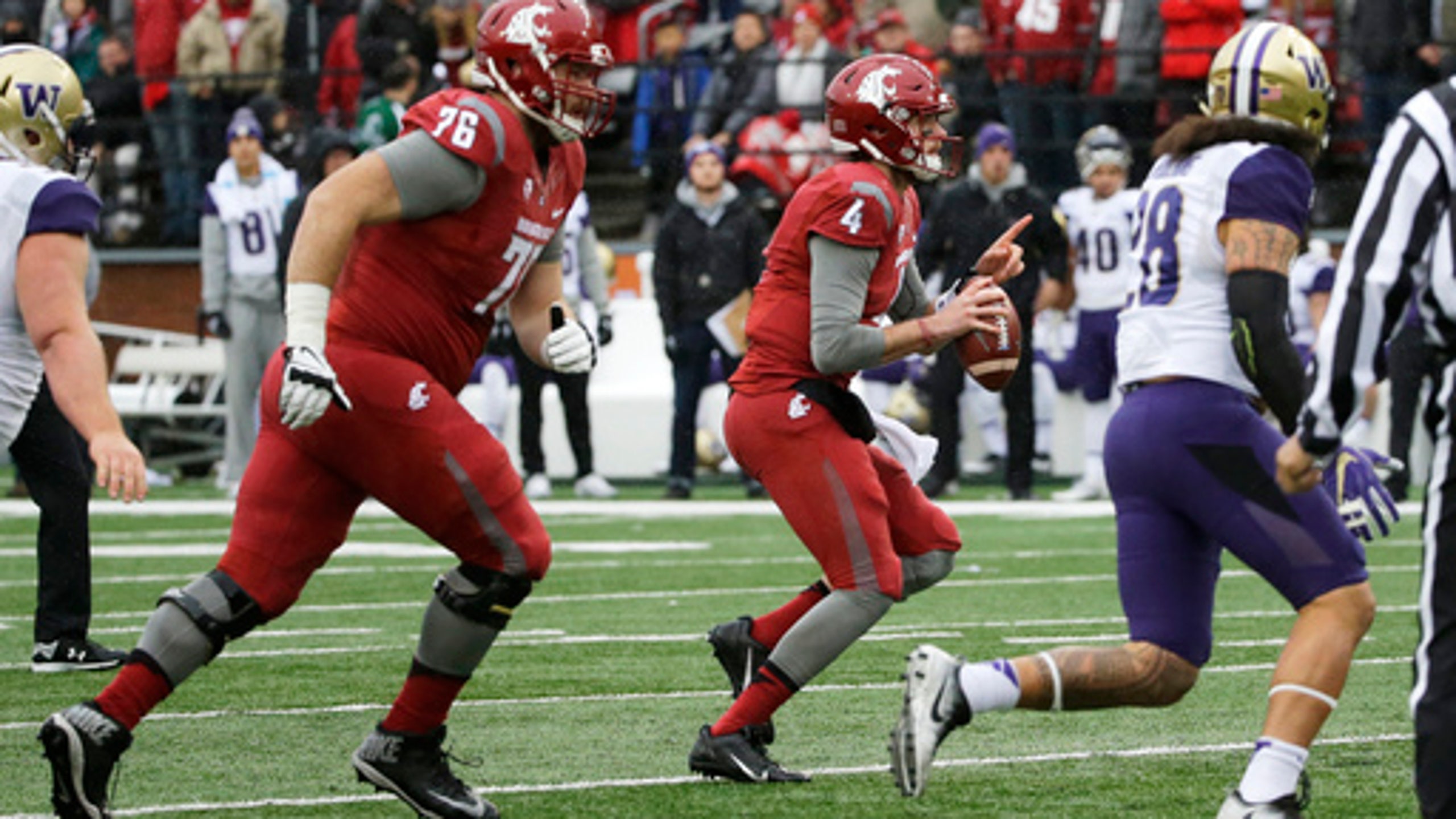 Washington St looking for 1st season-opening win under Leach
BY AP • September 1, 2017
SPOKANE, Wash. (AP) Season openers have not been kind to coach Mike Leach.
Leach has lost all five of his openers since arriving at Washington State in 2012. That includes losses the past two years to FCS schools from the Big Sky Conference.
The 24th-ranked Cougars will be trying to break that streak when they face Big Sky member Montana State on Saturday night in Pullman, Washington.
Leach isn't exactly panicking about his team's performance in openers, noting that many inexperienced players were on the field for those games.
''Adjusting to the first game has been difficult for some of our young guys,'' Leach said. ''They played out of necessity.''
This season, ''we have more guys that know their roles,'' Leach said. ''We have more experience than we've had.''
Washington State lost to Portland State in the opener two years ago and to Eastern Washington last year. Both times the Cougars recovered to advance to bowl games.
Washington State finished 8-5 last season, won its first seven Pac-12 games to challenge for the North title and was invited to the Holiday Bowl. The high-powered offense scored at least 50 points four times last season, a school record. The Cougars also set team records with 496 points and 67 touchdowns.
The Cougars welcome back record-setting quarterback Luke Falk for his senior year and a bevy of talented running backs as they open the season ranked in the preseason AP Top 25 for only the third time in the program's history.
Montana State, meanwhile, finished 4-7 last year, the first under coach Jeff Choate, a former Washington State assistant under Leach.
''He's an enthusiastic guy, high energy and highly motivated,'' Leach said of Choate.
He noted that Montana State improved as the season went on.
''They had their best games late and I think they will continue to improve,'' Leach said.
Montana State is led by quarterback Chris Murray, who was the Big Sky freshman of the year after rushing for 860 yards and 12 touchdowns last season.
Choate said his team will have its hands full Saturday, and marveled at Washington State's progress since he coached there in 2012.
''It's amazing to look back and see the progress of that program over that time,'' Choate said. Leach ''sticks to his plan, and he believes strongly in his system and he doesn't deviate from it.''
''A lot is made of the fact that they've struggled in openers, and I'm sure coach Leach has their attention,'' Choate said. ''I don't feel like they'll overlook us at all.''
The last time the teams played, Washington State escaped with a 23-22 win in Pullman in 2010.
Other things to watch Saturday:
FALK'S ARM: Falk is the NCAA's active leader with 10,893 career yards, 89 touchdowns and 351 passing yards per game. He needs 412 passing yards to break Connor Halliday's career record of 11,304 at Washington State. Falk threw for 4,468 yards and 38 touchdowns last season.
RUNNING BACKS: Washington State's Jamal Morrow, Gerard Wicks and James Williams rushed for an average of 120 yards a game last season, caught passes for another 1,034 yards and scored 31 total touchdowns, giving the Air Raid another dimension. Leach has never before had a group of running backs who rushed for 1,000 yards and caught passes for 1,000 yards in the same season.
HOME SWEET HOME: Washington State opens with five straight home games and then has only two home games the rest of the season. Leach is not sure how he feels about that unusual schedule. ''I'll know more about what I think about that at the end of the season,'' Leach said.
COME ON DOWN: Former ''The Price is Right'' contestant Jamal Morrow is a lucky Cougar. He has been a team captain for the past 22 games, and the Cougars have won the coin toss in 17 of those games. Morrow appeared on the game show in 2013.
PLAYING BIG: Montana State linebacker Mac Bignell is a preseason All-American who has made 22 consecutive starts and forced eight career fumbles.
---
More AP college football: http://collegefootball.ap.org and http://www.twitter.com/AP-Top25
---
---