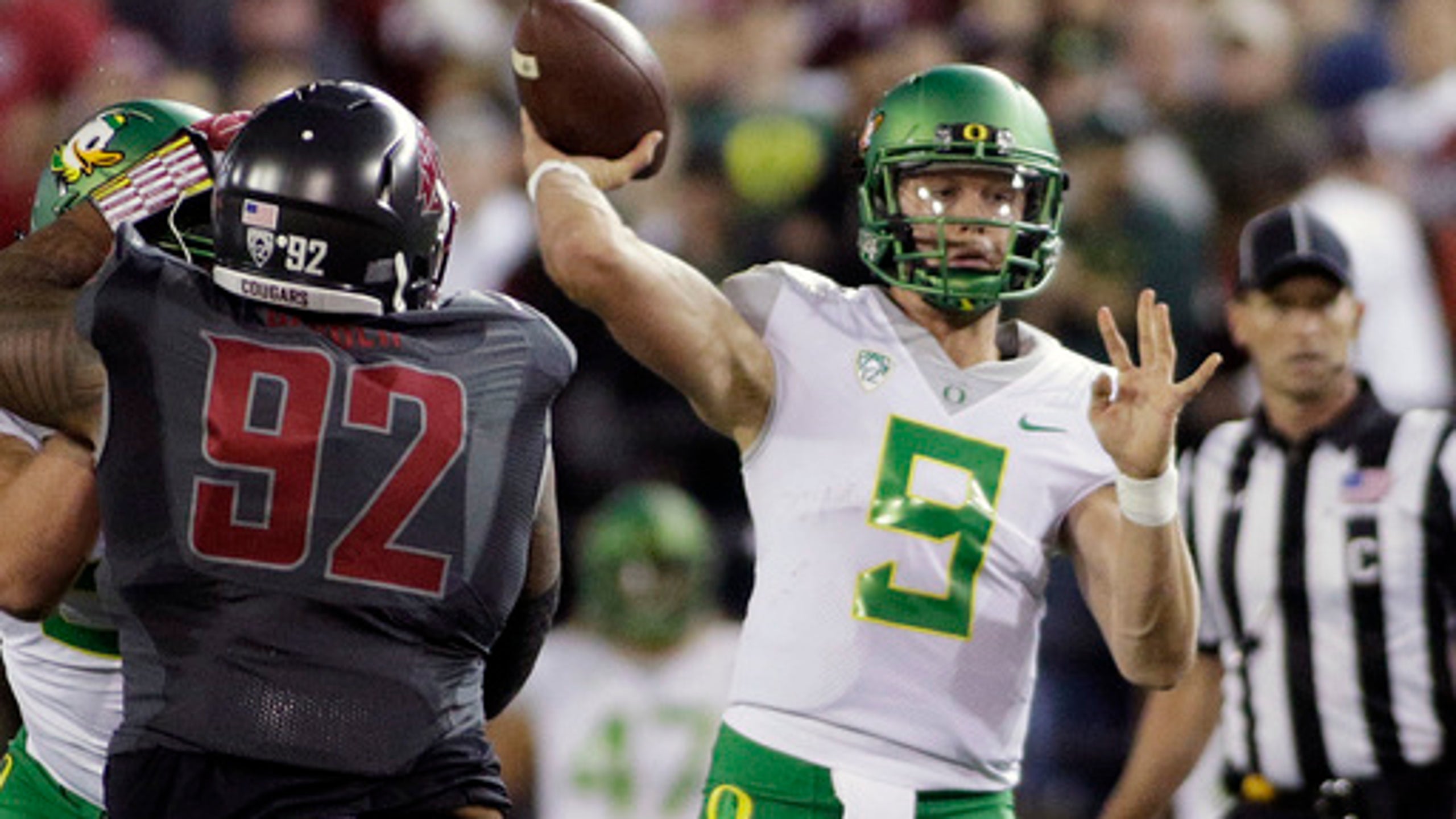 Washington looks to end 12-game losing streak against Ducks
BY foxsports • October 7, 2016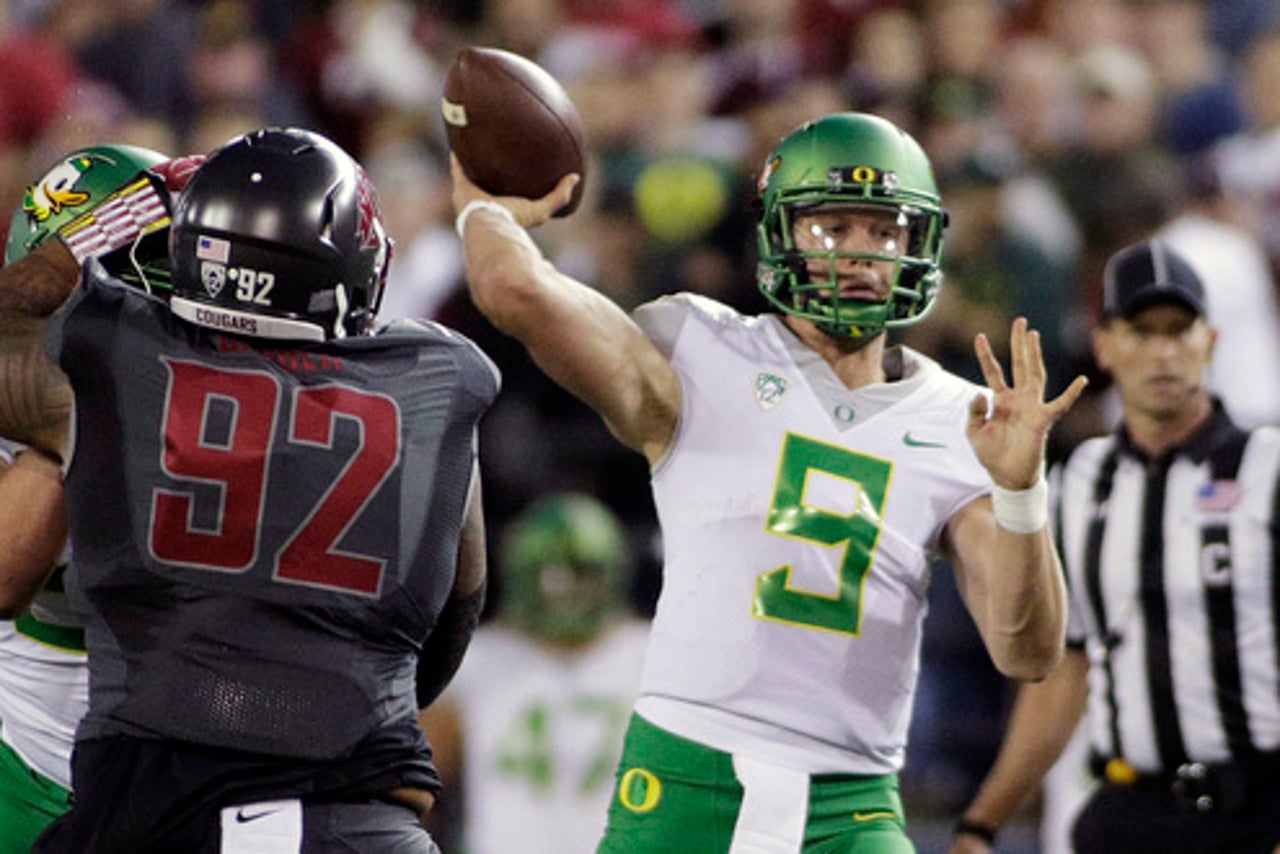 EUGENE, Ore. (AP) The last time Washington won at Autzen Stadium was in 2002, when the Huskies upset the No. 23 Ducks and then drew the ire of the fans by dancing on the ''O'' at midfield.
After nearly a decade of dominance within the conference, Oregon (2-3, 0-2 Pac-12) is limping into Saturday's rivalry game against the No. 5 Huskies (5-0, 2-0) with a three-game losing streak, while Washington is rising in its third year under Chris Petersen.
The Huskies also defeated Oregon back home in Seattle in 2003, but that was the last time they've won in the series. The Ducks have since won 12 straight.
Following Washington's 44-6 victory over Stanford last week, fans at Husky Stadium chanted ''Beat Oregon!''
While ending the streak may be important to the fan base, it doesn't really change a thing when it comes to Washington's preparation, Petersen said. He hasn't mentioned the streak to the players.
''We know it's important. But all these games are important. I mean, I want our guys to just do what they've been doing - just preparing hard and staying focused on the right things and showing up on Saturday with great energy and playing as a team,'' Petersen said. ''You can't tell them, `OK, now we're going to prepare really hard.' That's ludicrous.''
Oregon has totally different concerns at this point. Reeling from the uncharacteristic losses, Oregon may start freshman Justin Herbert at quarterback.
Herbert has been competing in practice this week with Dakota Prukop, a graduate transfer who started in Oregon's first five games.
Prukop completed 14 of 22 passes for 132 yards and one interception in Oregon's 51-33 loss at Washington State last weekend. The Ducks showed a spark on their final series when Herbert led the team on an 85-yard drive capped by his 4-yard run for a touchdown.
''We're going to put the best guy out there, at that and every other position, to help us win this game,'' Oregon coach Mark Helfrich said.
PURPLE HAZE: Washington has been the best in the country at getting to the quarterback. The Huskies have 21 sacks through five games, tied with Ohio for the most in the FBS. Eight of those sacks came last week against Stanford as the Huskies defensive line overpowered the Cardinal on the line of scrimmage.
What's even more impressive with Washington's success getting to the quarterback has been its ability to do it without blitzing. It's been the Huskies front four - sometimes five - rushers that have recorded most of the quarterback sacks thus far.
DYE'S RETURN: After a mysterious absence last weekend, Oregon freshman linebacker Troy Dye is expected to return against the Huskies. There were rumors about why he didn't travel to Pullman but Helfrich made a point this week of suggesting it was injury-related. Oregon doesn't disclose injuries as policy so it's unclear exactly what was going on.
Doesn't matter much anyway this week because he's back. Dye has been a bright spot on the Ducks' defense, which has struggled this season.
''He's just one of those guys that works extremely hard every rep of practice, whether it's defense or special teams,'' Helfrich said. ''That's absolutely contagious. We need more guys like that.''
DAWG SLED: Whether it's Myles Gaskin or Lavon Coleman, Washington is getting excellent production from its running backs.
After Coleman broke out with 181 yards against Arizona two weeks ago, it was Gaskin's turn to show off with 100 yards rushing and two touchdowns against Stanford. Coleman did his part as well, rushing for 74 yards and a score, and the Huskies finished with 214 yards on the ground against the Cardinal.
That's not good news for Oregon. The Ducks are allowing 210 yards per game on the ground, including 280 yards rushing and six touchdowns to pass-happy Washington State last week.
GETTING CLOSER?: Last season the Ducks beat Washington 26-20 in Seattle, which was the closet margin of victory in the 12-game winning streak.
WAIT, WHAT?: Oregon will wear navy blue uniforms on Saturday. Yep, you heard that right: navy with yellow accents, ala Michigan and Cal. The throw-way-back uniforms pay homage to the ''Webfoots'' team that won the 1916 Rose Bowl. The helmets feature the Oregon state flag.
---
AP Sports Writer Tim Booth contributed to this report.
---