American Athletic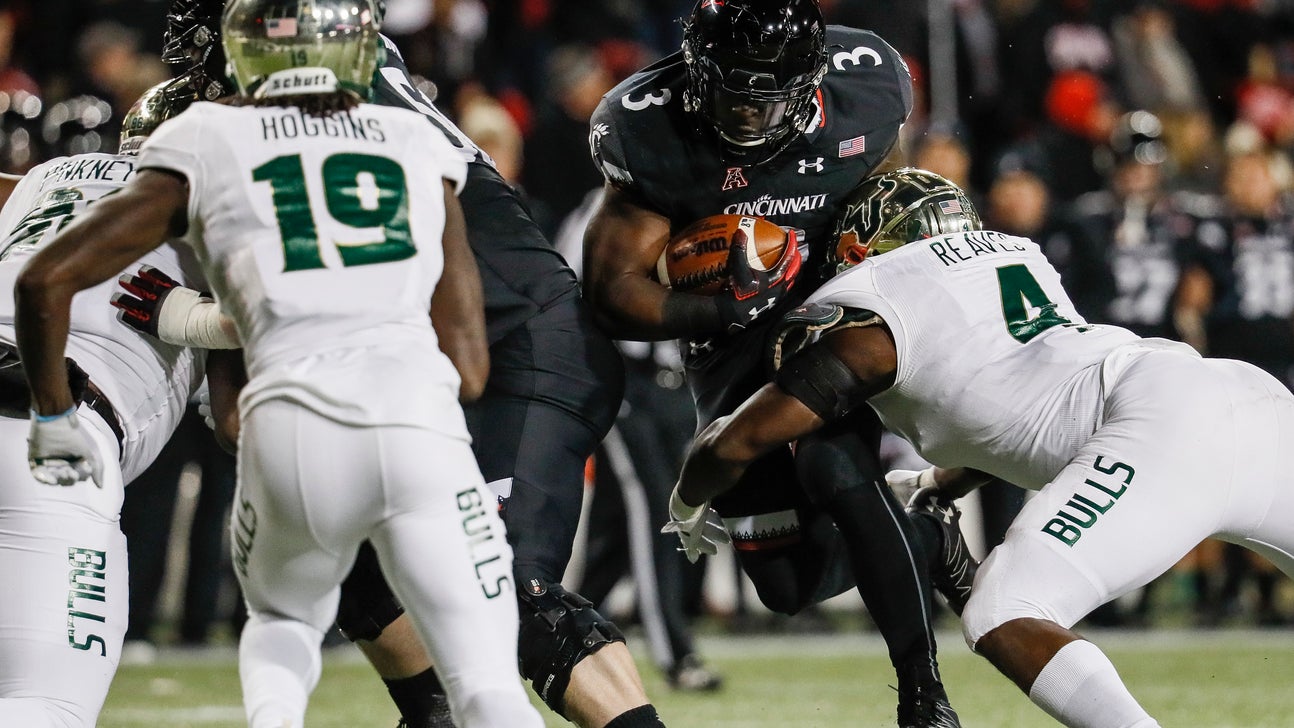 American Athletic
Warren's 4 TDs lead No. 25 Cincinnati over USF 35-23
Updated
Mar. 4, 2020 5:16 p.m. ET
CINCINNATI (AP) — Coach Luke Fickell describes his running back as "built for November." So far, his surprising Bearcats are, too.
Michael Warren II ran for three touchdowns and caught a pass for another score Saturday night, leading 25th-ranked Cincinnati to a 35-23 victory over South Florida that kept the Bearcats in the chase for the American Athletic title.
The Bearcats (9-1, 5-1) remain a game behind unbeaten UCF for the AAC East lead. No. 11 UCF beat Navy 35-24 and hosts Cincinnati next Saturday.
Cincinnati moved back into the Top 25 after a 42-0 win over Navy. The Bearcats are leaning on their versatile running back in their most important games. Warren came through again.
"I don't know what to say about him," Fickell said. "Sometimes you're not sure he's going to be able to continue doing what he's done. His ability to do everything is what makes him special."
Warren had a 13-yard touchdown catch in the first half. He ran for three touchdowns in the third quarter, including a 57-yarder, and set a school record with his 18th TD of the season.
"I wasn't aware," the sophomore said about his record. "I didn't even know what the numbers were."
His teammates know something special happens when he gets the ball. Warren has scored in all but one game this season.
"Just keep the cameras on Mike," defensive end Kimoni Fitz said. "He's always making plays."
South Florida (7-4, 3-3) has lost three straight conference games for the first time since 2013. It didn't help that the Bulls were missing their prolific quarterback against the league's stingiest defense.
Blake Barnett hurt his shoulder during a 41-15 loss to Tulane . The Bulls waited until the end of the week to decide Barnett wouldn't be able to play.
His backups got a few big plays, but not much else.
Sophomore Chris Oladokun made his first career start and threw for a 72-yard touchdown on his first attempt. Junior Brett Kean replaced him in the second quarter and threw a 38-yard touchdown to Mitch Wilcox on his third attempt, helping USF take a 16-14 halftime lead before Warren took over.
"We watched Blake all week and hoped he'd get better, but by Friday we had to make a decision to go with the two quarterbacks," coach Charlie Strong said. "With what they were trying to do to us we thought Chris could use his legs to make some plays to get out of danger. The quarterbacks played all right." Oladokun was 10 of 22 for 165 yards. Kean was 4 of 10 for 67 yards.
THE TAKEAWAY
South Florida's defense wanted to show significant improvement after giving up 57 points — a school record — in a loss to Houston followed by 41 against Tulane. The Bulls were better for a half, but the defense was on the field a lot with the offense unable to move consistently.
Cincinnati accomplished its main goal — staying in the title chase. Now it's head-to-head for the East lead.
BABY IT'S COLD OUTSIDE
About 20 South Florida players warmed up shirtless, but some of them wore facemasks against the sub-freezing temperatures. Not to be outdone, about a dozen Bearcats also went topless during warmups. It was the Bulls' first game in sub-40-degree temperatures since a 31-6 loss at Rutgers on Dec. 7, 2013.
"Coach told us on Sunday, I believe, that we're coming out with our shirts off and setting the tone," Oladokun said. "We came out with great energy but in the second half we got a little flat."
ON THE RUN
Warren has run for 17 of his touchdowns, tying David Small's school record from 1993. Warren finished with 151 yards and became the school's 12th 1,000-yard rusher, its first since George Winn in 2012.
ROAD WOES
South Florida hasn't beaten a ranked team on the road since a 23-20 victory at No.16 Notre Dame on Sept. 3, 2011.
WILCOX SETS A RECORD
With his diving touchdown catch, Wilcox set a school record for most yards receiving by a tight end in a season. He has 468 yards, topping the previous mark of 390. Wilcox finished with seven catches for 90 yards.
UP NEXT
South Florida plays at Temple on Saturday.
Cincinnati lost to UCF 51-23 last year at Nippert Stadium in a game shortened by storms.
---
---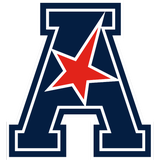 Get more from American Athletic
Follow your favorites to get information about games, news and more
---